We may earn money or products from the companies mentioned in this post.

Ko Lipe Reef – Thailand (Photo courtesy of Forra Diving – Day Tour and TripAdvisor)
This is the one hundred and seventy-eighth in a series of reviews of the best diving destinations around the world.  In this post, the focus is on Ko Lipe, Thailand.  In addition to this series on diving destinations, the best worldwide liveaboard diving locations and services are reviewed in their own series.  To check them out, or others in this series, click on Liveaboards/Resorts on the menu at the top and choose a title from the list.
Have you been diving in Ko Lipe before?  If so, I'd love to know about your experience.  What dive shop or liveaboard did you use?  Which dive spots are the best and what are the conditions there regarding the visibility, current, water temperature, sealife attractions, etc.?  Please post your response in the comments section at the bottom and we'll all learn something we can use.
Ko Lipe Diving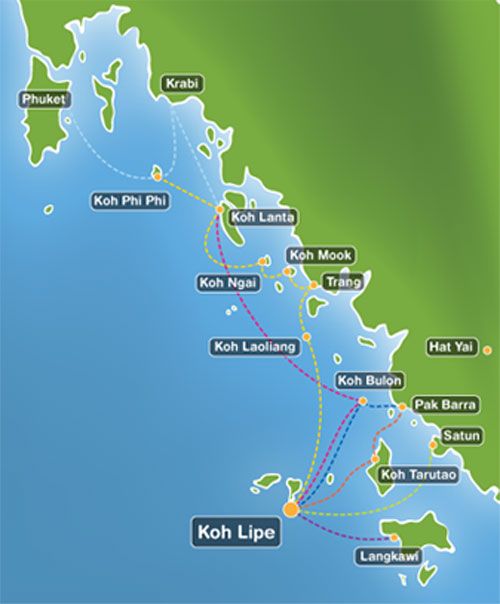 Background – Ko Lipe, which means Paper Island, small at 2 kilometers x 1 kilometer, is located in the Strait of Malacca 70 kilometers (38 miles) off the coast of the southern tip of peninsular Thailand just north of the Malaysian border.  It is on the western edge of the largest nature reserve in Southeast Asia, the Tarutao Marine National Park.  On the far eastern side of the island near Sunrise Beach, there are several villages where 500 of the original indigenous people of Ko Lipe, the Chao Ley or Sea Gypsies live.  Elsewhere, tourism is a huge business which at times results in water shortages and waste disposal problems.
Undersea World – The dive sites accessible from Ko Lipa encompass over 30 islands and as part of the long protected marine park the reefs are in excellent condition.  There is great biodiversity on granite-based reefs with lots of soft and hard corals, and a variety of gorgonians and sponges including large barrel sponges.  Most of the sites are shallow fringing reefs suitable for all levels but there is more challenging topography including some richly encrusted current bathed pinnacles.
The islands are home to a vast array of macro critters, reef tropicals, and megafauna that includes this list:  squid, cuttlefish, octopus, seahorses, nudibranchs, mantis shrimps, morays, crabs, banded cleaner shrimp, peacock flounders, ghost pipefish, flatworms, spiny lobsters, cowries, sea moths, lionfish, scorpionfish, snake eels, stonefish, sea kraits, angelfish, batfish, boxfish, butterflyfish, damselfish, frogfish, yellowback fusiliers, blue-spotted stingrays, crocodilefish, barracuda, catsharks, nurse sharks, leopard sharks, marble rays, mobula rays, snappers, sweetlips, unicornfish, surgeonfish, wrasses, tuna, manta rays, and whale sharks.  There are locations in the park where there is also a possibility of dolphins, sperm and minke whales, and dugongs.  Be sure to take a look at the videos to get a taste of the diversity and condition of the sites.
Seasons and Conditions – Diving is possible all year in Ko Lipe.  The busiest season is when it is driest from November through April especially around New Year.
Air temperature average daily highs stay in a range of 31-34°C (88-93°F) all year.
The dry season is from November through April.  From May through October it rains 18-23 days per month with the hardest rains from August through October.  They are usually scattered showers rather than non-stop rain such that diving isn't often interrupted for long.
The water temperature at the surface is around 29-31°C (85-88°F) throughout the year.  Most divers will never need thicker than a 3mm wetsuit.
Currents are generally mild but strong at times in some locations based mainly on tidal flows.  Seas can be rough when it is raining and at times during the dry season due to seasonal east to west winds.  Westside sites are more protected at that time.
Visibility ranges from 5-30 meters (16-100 feet) but most of the time will be better than 15 meters (50 feet).
There are sites suitable for all levels of diver from beginner to advanced levels.  8 or more dive shops are available that can provide a full range of diving coursework, equipment rental, guiding, and boat cruises.  PADI, SSI, SDI, and CMAS are all represented.
None of the major liveaboard yachts travel to Ko Lipe.  However, there are quite a few that cruise sites in the Andaman Sea on the west side of Thailand.  Here are several with links for booking and details: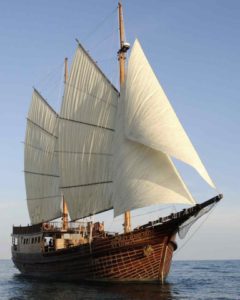 SY Diva Andaman, Similans and Mergei Archipelago Liveaboards – Check the Price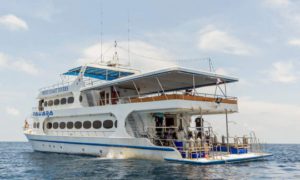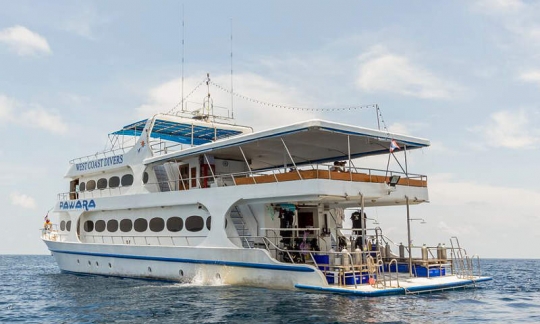 MV Pawara, Similans and Andaman Sea Liveaboards – Check the Price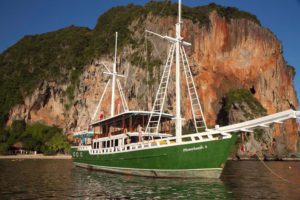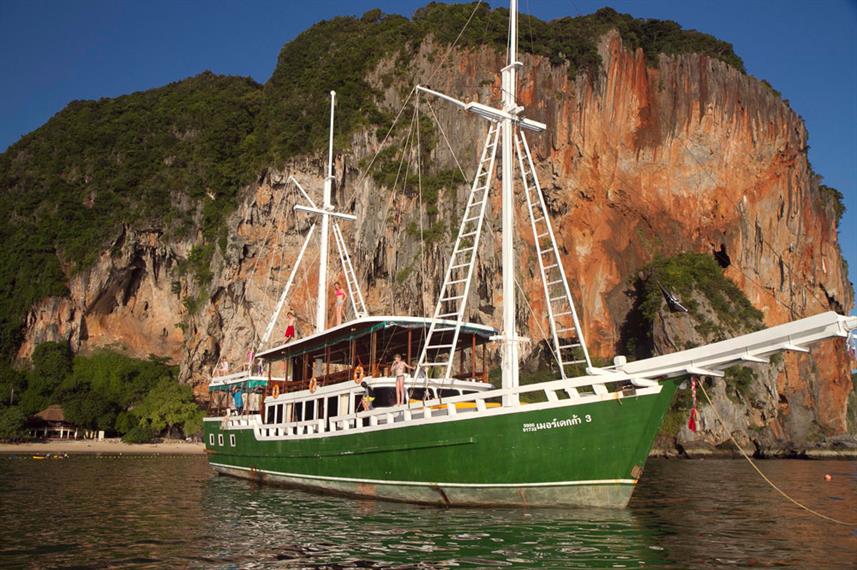 Merdeka 3, Southern Andaman Sea Liveaboards – Check the Price
Here are my reviews for dive sites in Malaysia, the Andaman Sea, and the Gulf of Thailand:
Dive Sites Map courtesy of Sabye Sports Dive Adventures Thailand and TripAdvisor
Selected Ko Lipe Dive Sites
Ko Usen: 5-25 meters (16-82 feet), small island off the southern end of Sunrise Beach, Ko Lipe, rocky slope with large coral bommies, sea fans, and barrel sponges, look for macro critters and highlight marine life like flying gurnards, stick pipefish, mantis shrimp, octopus, morays, pufferfish, boxfish, schools of surgeonfish and fusiliers, gentle to strong current possible, suitable for all levels
Stonehenge: 5-25 meters (16-82 feet), a range of granite pinnacles reminiscent of the famous Druid ruins, lots of soft corals, gorgonians, red anemones, and barrel sponges providing habitat for nudibranchs, frogfish, ornate pipefish, lionfish, morays, batfish, barracuda, jacks, leopard sharks, and possibly whale sharks, mild to strong current possible, suitable for all levels
8 Mile Rock:  16-50 meters (52-164 feet), 8 miles (13 kilometers) south of Ko Lipe, several pinnacles peaking at 16 meters (52 feet), rich invertebrate growth with portions covered in anemones and sun corals, a variety of macro critters like scorpionfish, lionfish, morays, and ornate ghost pipefish to go with pelagics like sailfish, barracuda, and jacks, giant groupers, leopard sharks, and possibly manta and mobula rays, and whale sharks, mild to strong currents bring nutrients for feeders, during the biggest tidal drift currents may be too strong and visibility poor, suitable for advanced divers
Ko Yang South:  5-30 meters (16-100 feet), diverse subsea terrain with shallow sheltered bays, steep rocky walls, deeper are large boulders, lots of soft corals, look for pipefish, shrimps, sea kraits, porcupine puffers, butterflyfish, spiny lobsters, and juvenile angelfish, mild currents, suitable for all levels
Yong Hua Wreck:  30-45 meters (100-148 feet), 75-meter (246-foot) fish processor that sank in a fire more than a decade ago, resting on her port side, encrusting gorgonians and soft corals are developing, look for scorpionfish, lionfish, groupers, big schools of barracuda, jacks, and tuna, mild to strong currents, suitable for experienced divers
Sail Rock:  5-18 meters (16-60 feet), undersea ridge parallel to the south coast of Ko Butang, lots of hard corals and sponges, nooks and crannies house nudibranchs, banded boxer shrimp, and flatworms, other highlights include pufferfish, schools of batfish, stingrays, and hawksbill turtles, mild to strong currents possible, suitable for all levels
Ko Pung: 5-35 meters (16-115 feet), in the channel between Ko Butang and Ko Rawi, rich diversity, rocky terrain with big coral bommies, sea fans, and purple and white soft corals, macro critters like seahorses, lots of reef tropicals, turtles, mild to strong currents possible, suitable for advanced divers
Ko Adang-Hin Yai (Huge Rocks):  5-30 meters (16-100 feet), on the west coast of Ko Adang, terrain of gigantic boulders encrusted with purple, white, and pink soft corals, coral bommies, tube corals, and sea whips,  look for marble rays and nurse sharks underneath, juvenile emperor angelfish, clown triggerfish, sponge snails, mild to strong current possible, very fast drift is possible, suitable for advanced divers
Things to Do in Ko Lipe (aside from scuba diving)
Many sites and activities on the small island of Ko Lipe take advantage of the sea and scenic landscape.  There is a significant tourist infrastructure and nightlife, though not on the wild side like some of the other destinations in Thailand.  Here are some of the highlights to check out:
Sunrise on Sunrise Beach, Yoga Class, Environmental Trash Clean-up, Bioluminescent Plankton Tour, Koh Adong Day Trip & Beach, Hike to Ko Lipe Viewpoint or Pirate Waterfall, Sea Kayaking, Art Garden Batik Workshop, Visit the Temple, Walking Street, Sunset Beach, Massage on the Beach, Nightlife at Pattaya Beach, OMG! Sports Bar, Long Boat Island Tour, Maya Bar, Fire Show, Souvenirs, Sangsom Cocktail at Sea La Vie, Thai Seafood Dishes.
This video is a brief introduction to some of what awaits.
Air Asia and Nok Air both have at least daily flights from Bangkok to Hat Yai Airport.  From there both offer an island transfer service that includes a bus to the port and the ferry to Ko Lipe.
A variety of boats are available from many of the ports and popular islands in the Andaman Sea in Thailand and Langkawi in Malaysia during the high/dry season from November to May.  During the low/wet season when seas are rougher the only ferries are coming from the port at Pak Bara.
For getting around to the other local islands boats can be rented and tours arranged.
Reasonably priced motorcycle taxis (with sidecars) are available to take you around the island.
A few resorts have cars.
No motorcycles or cars are for rent but bicycles are available.
Most distances can be covered by walking.
For additional transportation and tourist details, especially regarding detailed boat transfer information, go to Wikitravel-Ko Lipe.
Hotels and Diving – In Ko Lipe there are more than 100 lodging options running from $9-$437 per night and at last count 10 dive shops in operation, most located within or associated with hotels.  They offer a full range of services that include equipment rental, diving certification classes from beginner through tec-rec, dive guides, and boat tours.  PADI, SSI, SDI, and CMAS are all represented.  The website linked below has the details and can arrange a booking for the lodging.  You can easily find the location on the map provided on their site.  The rates are guaranteed to be the lowest and it is free to cancel or change dates.
Photography in Ko Lipe
With the interesting underwater terrain, encrusting reef life, a variety of fish, macro critters, mantas, whale sharks, and interesting shoreside targets, as well, there are many excellent photo opportunities.  For information and reviews of dive cameras, click here:
A cushion for emergencies provides peace of mind when on vacation.  I recommend this diving insurance as they have worldwide coverage and give scuba divers a quality insurance and medical assistance service.
Feedback and Comments
I hope you found this post on scuba diving in Ko Lipe interesting and useful. If you have any questions or ideas, please feel free to share them in the comments section.  I'd love to know of any experience you have.  If there is no comments section directly below, click here:  >>comments<<