We may earn money or products from the companies mentioned in this post.

Seahorse – Khao Lak, Thailand (Courtesy of TripAdvisor)
This is the one hundred and thirty-ninth in a series of reviews of the best dive resort locations around the world.  In this post, the focus is on Khao Lak, Thailand. In addition to this series on dive resort locations, the best worldwide liveaboard diving locations and services are reviewed in their own series.  To check them out, or others in this series, click on Liveaboards/Resorts on the menu at the top and choose a title from the list.
Have you been diving in Khao Lak before?  If so, I'd love to know about your experience.  What dive shop or liveaboard did you use?  Which dive spots are the best and what are the conditions there regarding the visibility, current, water temperature, sealife attractions, etc.?  Please post your response in the comments section at the bottom and we'll all learn something we can use.
Scuba Diving Khao Lak Thailand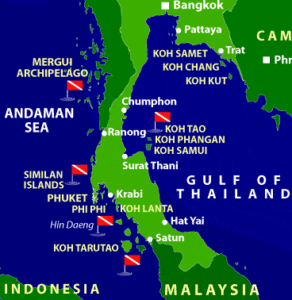 Background – Khao Lak, which means Lak Mountain in Thai, is a 20-kilometer (12.5-mile) strip of coastal villages and resorts in Phang Nga Province 100 kilometers (62.5 miles) north of Phuket.  The beautiful beaches have a backdrop of forested mountains reaching a peak of 1,050 meters (3,440 feet) in Lam Ru National Park.  The 2004 tsunami wreaked havoc killing 4,000 (over 10,000 unofficially) with beach properties, resorts, and vegetation destroyed to distances more than 2 kilometers (1.2 miles) inland.  In spite of the tragedy, Khao Lak has rebounded well and today the relatively uncrowded (when compared to Phuket) beaches, parks, and mountains, and accommodations in a broad range from Spartan to luxurious, provide an excellent lower key, relaxing vacation destination that leaves a good portion of the original Thai culture and social framework in place.
Undersea World – The seas around Khao Lak are characterized by white sandy beaches and rocky formations.  What people come for are three great wrecks all within 60-90 minutes from shore and at recreational diving depths with excellent marine life.  The massive schools of fish are truly astounding with major players being yellowtail barracudas, yellow snappers, and fusiliers, along with batfish and interesting macro critters like nudibranchs, frogfish, scorpionfish, and lionfish in the nooks and crannies.  Hawksbill and green turtles are often present and Manta Rays seasonally from January through March.  Most operators offer day trips to the Similan Islands 60 kilometers (37.5 miles) or 2-3 hours by speedboat to the west.  This world-class site consists of 11 major islands and a number of islets that are protected and make up the Similans National Park.  Open seasonally from May to mid-October, a spectacular subsea topography of boulders, pinnacles, and canyons provide habitat for an extremely rich coral reef with hard and soft corals, gorgonians, and barrel sponges, macro and other marine life similar to that of the wrecks with greater variety and the possibility of reef sharks, leopard sharks, whale sharks, and pelagics to go along with the mantas and turtles.
Seasons and Conditions – Diving is possible all year in the Khao Lak area.  Please note that the Similans National Park is closed from May to mid-October due to rough seas.
Air temperature is always warm with average daily highs from 31-35°C (88-95°F) with the warmest time in February and March and the coolest in August and September.
The range for water temperature is 27-30°C (80-86°F) with the warmest in June and the coolest in January.
Currents are often mild but there are sites where they can get strong, especially in the Similan Islands.
The rainy season is from April through November when it rains 15-24 days a month roughly corresponding to the southwest monsoon. The dry season from November to March corresponds with the northeast monsoon.
Visibility is variable based on the site, season, and plankton bloom.  The best visibility is during the dry season.  For most sites, the range is from 10-30 meters (35-100 feet).  There are some locations where it may get as poor as 5 meters (16 feet) at times, especially when there is rain or wind.  The plankton bloom in January through March will also cause a decrease in visibility but has the benefit of drawing whale sharks and manta rays at that time.
There are sites suitable for all levels of diver from beginner to advanced levels.  25 or more dive shops are available that can provide a full range of diving coursework, equipment rental, guiding, and boat cruises including those taking 2+ hours to get to the Similans.
A number of liveaboard yachts travel to the Similans, the Mergui Archipelago, and more southerly destinations in the Andaman Sea.  Here are several liveaboard reviews and links to some great yachts for booking and details: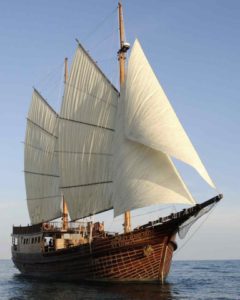 SY Diva Andaman, Similans and Mergui Archipelago Liveaboards – Check the Price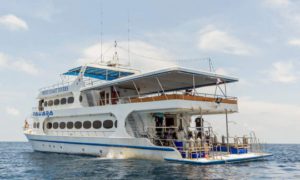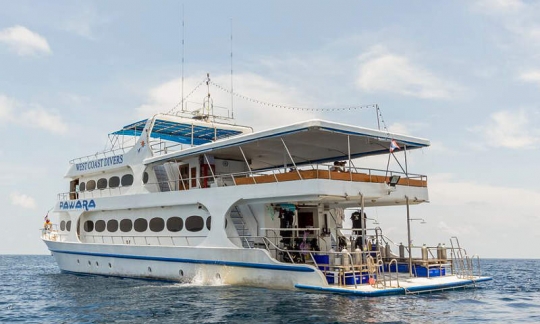 MV Pawara, Similans and Andaman Sea Liveaboards – Check the Price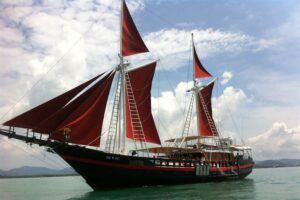 The Phinisi, Similans and Andaman Sea Liveaboards – Check the Price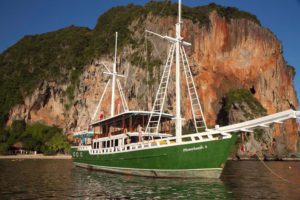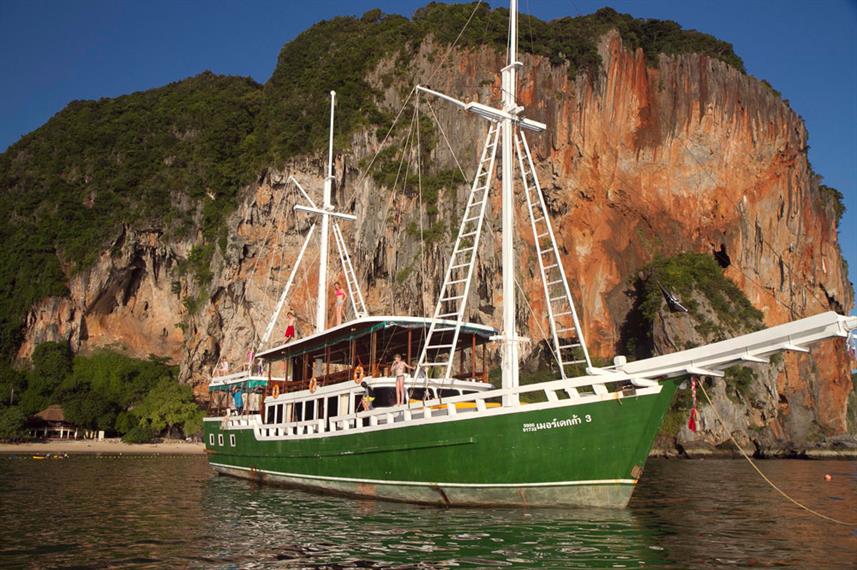 Merdeka 3, Southern Andaman Sea Liveaboards – Check the Price
For my reviews on other great diving locations in Thailand and Cambodia, please check out these posts: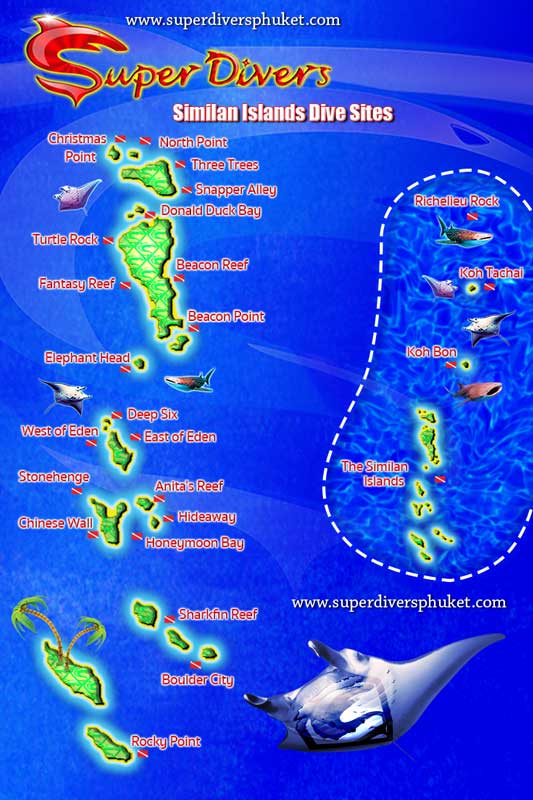 Selected Khao Lak & Similan Dive Sites
Khao Lak Sites
Bunsoong Wreck: 14-20 meters (46-66 feet), 19 kilometers (12 miles) from Tap Lamu pier, 60-meter (197-foot) tin ore processor that sank in 1984, the tsunami of 2004 broke it into 5 pieces, penetration is not allowed, rich marine life including swarms of yellowtail barracuda and yellow snappers, lots of porcupine puffers, batfish, blue-lined snappers, bluefin jacks, pompano, several species of moray eel, scorpionfish, lionfish, mantis shrimp, gobies and partnering shrimps, and stingrays in the sandy areas, bluefin trevallies, current is usually mild, suitable for all levels of diver
MV Sea Chart I Wreck: 25-40 meters (82-130 feet), 60-90 minutes away by speedboat, 84-meter (276-foot) bulk carrier with a load of ironwood and teak which sank in bad weather in 2009, resting on her starboard side, quite a bit of soft coral and encrusting life which will get richer through the years, home to lots of marine life including massive schools of fish like rainbow runners and yellow snappers, batfish, lionfish, ghost pipefish, frogfish, nudibranchs, and great barracuda, penetration is possible into the wheelhouse, the propeller and part of the cargo is spread around on the seabed, suitable for experienced level, nitrox, and technical divers
Premchai Wreck:  10-22 meters (35-72 feet), 40 minutes from the Tap Lamu pier off Thai Muang Beach, tin dredger that sank with a cracked hull in 2001, resting upside down and mostly intact, well encrusted with hard corals, clams, and some soft corals, honeycomb and banded moray eels, scorpionfish, and lionfish in the nooks and crannies, huge schools of fusiliers, yellowtail barracudas, and snappers, smaller schools of batfish, suitable for all levels of diver
Similan Islands Sites
North Point: 10-35 meters (35-115 feet), shallow reef with staghorn corals next to the channel close to the island, lots of boulders on the deep sand bottom with swim-throughs and channels at around 20 meters (66 feet), highlight marine life includes bluefin and giant trevallies, unicornfish, macro critters like pipefish, nudibranchs, and purple fire gobies, on the sandy bottom there are frequent sightings of whitetip reef sharks, blue-spotted stingrays, and leopard sharks, currents can be moderate to strong, suitable for experienced level divers
Donald Duck Bay: 5-20 meters (16-66 feet), named for a rock that is shaped like a duck's beak, rocky area extending from the island with patch reefs of soft and hard corals and sea fans, sandy bottom at 20 meters (66 feet) with patches of coral, lots of macro life like clownfish in their anemones, nudibranchs, morays, lobsters, shrimps, crabs, squid, and reef tropicals including butterflyfish and triggerfish, turtles are common, mild current, good for night dives, suitable for all levels of diver
Beacon Reef: 5-35 meters (16-115 feet), fringe reef with a steep drop-off, multiple hard corals including brain, pore, staghorn, and bottlebrush coral, the Atlantis X wreck is in the center of the reef providing more interesting habitat, marine life includes pufferfish, angelfish, morays, triggerfish, and schools of snappers, fusiliers, emperor fish, and bluefin jacks, mild to moderate current possible, suitable for all levels of diver depending on depth attempted
Elephant Head: 5-40 meters (16-130 feet), 3 big boulders breaking the surface like an elephant's head, piles of boulders with passageways, swim-throughs, and channels, sandy bottom at the maximum depth, morays, various shrimps, octopus, and morays in the nooks and crannies, blacktip and whitetip reef sharks outside the boulders, other highlights are schools of snappers, butterflyfish, and sweetlips, blennies, and gobies, medium to strong current possible, suitable for experienced level divers
West of Eden: 12-35 meters (40-115 feet), sloping bottom of rubble with large boulders encrusted with soft corals, sea fans, crinoids, and anemones, marine life otherwise is rich including turtles, bluefin jacks, angelfish, sea kraits, big schools of yellow snappers, look for macro critters like frogfish and pipefish in the nooks and between corals, current is moderate, suitable for all levels of diver depending on depth
Khao Lak has loads of beautiful scenery and activities and is a moderately developed international tourist area.  Here is sort of eclectic mix of attractions to consider:  Turtle Festival, International Tsunami Museum, Cooking Classes, Kapong Hot Springs, Biking Tour, Lam Ru Falls, Golf, Thai Food, Ban Niang Night Market, Surfing, Bars & Nightlife, Thai Muang National Park, Tong Chong Fah Falls, Beach Hopping, Kayak in Phang Nga Bay, Khao Sok National Park, Fresh Market.  For more ideas check Wikitravel-Khao Lak.
The two videos below offer you a small taste.  The first has a nice feel for the scenic beauty and the second runs quickly through a few of the highlight spots for a tourist to hit.
Air – The easiest way to get to Khao Lak is to take a domestic flight from Bangkok to Phuket and then make your way by road to Khao Lak from there.  Many hotels can arrange transit for you.  If that isn't available, the second choice is a 2-hour taxi ride which is reasonably priced considering the distance.  Buses are available for the trip but not convenient to use from the airport.
Bus – There are many long-distance bus services available in Bangkok to get you to Phuket and on to Khao Lak.  The trip to Phuket takes 12 hours or more.  Pricing is much cheaper than for the flight.
Around Khao Lak – Bicycles and motorbikes are both for rent for around the same daily rate.  Motorbikes do not come with insurance.  If there is an accident you will likely pay for damages to the vehicle and the local person regardless of who is at fault.  Songthaews (small 4-wheel pick-ups) are available during daylight hours and cheap.  Otherwise, there are taxis which try to use a sort of cartel inspired influence over songthaews to monopolize transportation when they can.
For additional details on transportation and tourist matters, go to Wikitravel-Khao Lak.
Hotels and Diving – In Khao Lak there are around 200 lodging options running from $5 to $450 per night.  More than 25 dive shops are in operation, some located within or associated with hotels.  They offer a full range of services that include equipment rental, diving certification classes, dive guides, and boat tours.  The website linked below has the details and can arrange a booking for the lodging.  You can easily find the location on the map provided on their site.  The rates are guaranteed to be the lowest and it is free to cancel or change dates.
Photography in Chumphon
With the colorful coral reefs, a variety of reef tropicals, macro critters, manta rays, whale sharks, wrecks, and intriguing onshore targets, as well, there are many excellent photo opportunities.  For information and reviews of dive cameras, click here:
A cushion for emergencies provides peace of mind when on vacation.  I recommend this diving insurance as they have worldwide coverage and give scuba divers a quality insurance and medical assistance service.
Feedback and Comments
I hope you found this post on Khao Lak scuba diving interesting and useful. If you have any questions or ideas, please feel free to share them in the comments section.  I'd love to know of any experience you have.  If there is no comments section directly below, click here:  >>comments<<