We may earn money or products from the companies mentioned in this post.

HTMS Chang Wreck – Koh Chang, Thailand (Courtesy of TripAdvisor)
This is the one hundred and thirty-seventh in a series of reviews of the best dive resort locations around the world.  In this post, the focus is on Koh Chang, Thailand. In addition to this series on dive resort locations, the best worldwide liveaboard diving locations and services are reviewed in their own series.  To check them out, or others in this series, click on Liveaboards/Resorts on the menu at the top and choose a title from the list.
Have you been diving in Koh Chang before?  If so, I'd love to know about your experience.  What dive shop or liveaboard did you use?  Which dive spots are the best and what are the conditions there regarding the visibility, current, water temperature, sealife attractions, etc.?  Please post your response in the comments section at the bottom and we'll all learn something we can use.
Scuba Diving Koh Chang Thailand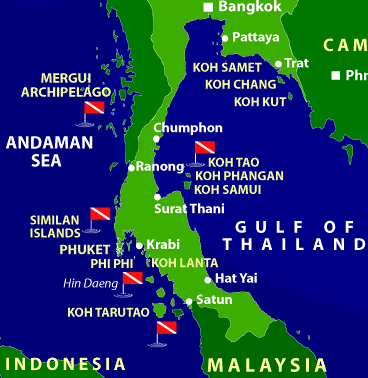 Background – Koh Chang is the largest island in an archipelago of 52 situated near the Cambodian border 310 kilometers (194 miles) from Bangkok.  It is 30 kilometers (19 miles) long and 14 kilometers (9 miles) wide with a resident population of around 5,000. Little known until the Battle of Koh Chang between Thailand and the French in 1941, it remained a fairly quiet place until backpackers discovered it in the 1970s.  Further impetus for tourism happened with the establishment of Mu Koh Chang Marine Park in 1982.  It has really taken off and become a major tourist destination only in the last 10 years.  There are high mountains with Khao Salak Phet at 744 meters (2,240 feet), stone cliffs, and waterfalls set in a rain forest that covers 70% of the island, with wildlife including an array of birds, snakes and reptiles, deer, stump-tailed macaque monkeys, and small Indian civets.  The west side has the major beaches and tourist activity while the east side is a little quieter.
Undersea World – With more than 30 dive sites ranging in depth from 5-43 meters (16-141 feet), the conditions are suitable for a range of divers from beginner to advanced or technical.  There is a variety of undersea terrain with rocky outcrops, boulders, pinnacles, and walls with reefs rich in hard and soft corals, gorgonians, sea fans and whips, and a variety of cnidarians.  Most of the diving is done from boats departing from the Bang Bao Pier to sites in the west and toward the southeast.  There are several wrecks with the highlight the 117-meter (384-foot) HTMS Chang at 30 meters (100 feet) in depth, rich in macro critters and schooling fish.  Other attractions in the archipelago include reef sharks, leatherback turtles, great barracuda, batfish, porpoises, schools of yellow snappers, fusiliers, and surgeonfish, groupers, cardinalfish, moray eels, blue-spotted stingrays, raggy scorpionfish, colorful tubeworms, pelagics like cobia and tuna, and whale sharks which are common in April and May.  Visibility is often great and much of the reef is pristine.  Koh Kood to the south has many great sites but is out of range for most of the daily trips from Koh Chang.  Special arrangements would need to be made or you could stay at the accommodation on Koh Kood for access to those sites.
Seasons and Conditions – Diving is good all year in the Koh Chang Archipelago.
Air temperature is always warm with average daily highs from 30-35°C (86-95°F).
The range for water temperature is 28-30°C (82-86°F).
Currents are usually mild but there are sites where it can get strong.
The rainy season is from May through October.
Visibility is variable based on the site and the season.  The best visibility is during the dry season.  For most sites, the range is from 10-30 meters (35-100 feet).  There are some locations where it may get as poor as 5 meters (16 feet) at times.
There are sites suitable for all levels of diver from beginner to advanced levels.  20 or more dive shops are available that can provide a full range of diving coursework, equipment rental, guiding and boat cruises.
None of the major liveaboard yachts travel to Koh Chang.  However, there are quite a few that cruise sites in the Andaman Sea on the west side of Thailand.  Here are several with links for booking and details: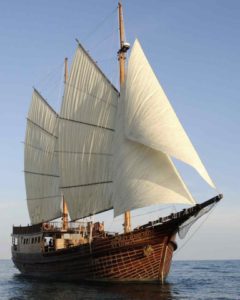 SY Diva Andaman, Similans and Mergei Archipelago Liveaboards – Check the Price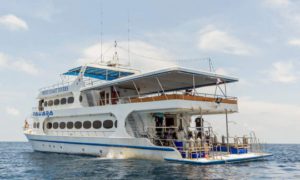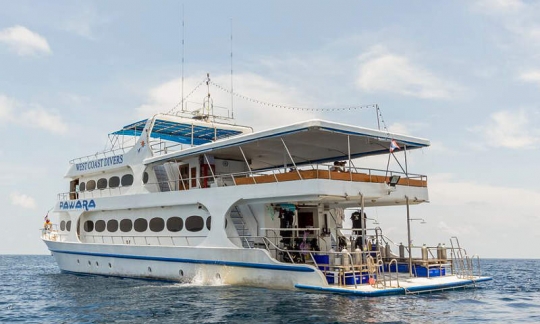 MV Pawara, Similans and Andaman Sea Liveaboards – Check the Price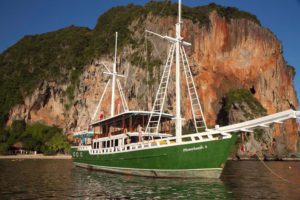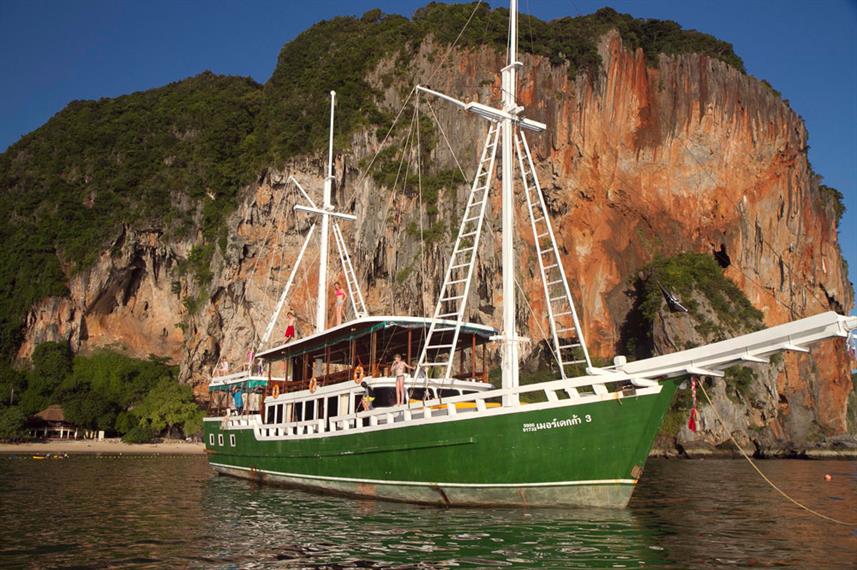 Merdeka 3, Southern Andaman Sea Liveaboards – Check the Price
For my reviews on other great diving locations in Thailand, Cambodia, and Burma, please check out these posts:
Selected Koh Chang Dive Sites
HTMS Chang Wreck: 30 meters (100 feet), formerly the USS Lincoln County, recommissioned into the Royal Thai Navy, 117-meter (384-foot) vessel scuttled in 2012 to become an artificial reef, lots of penetration possibilities into holds, cabins, and briefing rooms, the captain's cabin and mast are reachable at 12 meters (40 feet), the topdeck is at 20 meters (66 feet), rich marine life including huge schools of yellow snappers and barracuda, batfish, groupers, octopus, and macro critters in the nooks and crannies, suitable for experienced level divers (check the video below)
Hin Luk Bath: 5-24 meters (16-80 feet), pinnacle considered one of the best sites, boulders surround it with valleys, crevices, and swim-throughs providing good habitat for fish and macro critters, lots of marine life, especially between 5-15 meters (16-50 feet), highlights are lots of colorful Christmas tree worms, damselfish, parrotfish, butterflyfish, angelfish, shoals of snappers, fusiliers, and bannerfish, big groupers, barracuda, and occasional dolphins, suitable for all levels of diver
Blueberry Hill (Hin Tai Nam): 16 meters (52 feet), includes a coral garden and a more barren rocky area, macro critters like nudibranchs, lots of fish including blue-spotted stingrays, moray eels, groupers, and batfish, suitable for all levels of diver
Hin Raab South (called Hin Laab by locals): 16 meters (52 feet), rocky area with lots of hard and soft coral that can be divided into 3 sites, one site is around a big rock, another to the north side has a small canyon, and the third is the T11 wreck, all rich in marine life including blue-spotted stingrays, stonefish, moray eels, porcupine puffers, parrotfish, big barracuda, and possible turtles, suitable for all levels of diver
T11 Wreck: 16 meters (52 feet), 30-meter (100-foot) Thai Navy ship scuttled in 2013 to become an artificial wreck, it was used as target practice and is substantially broken apart, parts are still identifiable including the bridge, wheelhouse, main deck cabin, control room, and storage chambers, has lots of the same marine life to be seen at the other two Hin Raab South sites, suitable for all levels of diver
Koh Rang Pinnacle (Hin Ga Daeng), 30 meters (100 feet), one of several sites in the Koh Rang National Park located 1 kilometer northwest of Koh Rang, not particularly rich in corals but has the possibility of turtles, and lots of fish including triggerfish, sweetlips, schools of batfish, porcupine puffers, barracuda, and macro critters like scorpionfish, nudibranchs, and shrimps, strong currents are possible, suitable for experienced level divers
Three Finger Reef (Hin Kuak Ma): 16 meters (52 feet), Koh Rang National Park site 1 kilometer northeast of  Koh Rang, highly regarded site, includes a rock with a slope on the south side that has eels, stonefish, nudibranchs, and other macro critters, on the other side of the rock there are lots of fish like blue-spotted stingrays, moray eels, angelfish, parrotfish, and occasional bamboo sharks and turtles, possible current, suitable for all levels of diver
Things to Do in Koh Chang (aside from scuba diving)
Koh Chang offers beautiful scenery and outdoor activities, as expected, to go along with tasty food and cultural events.  Here are a few to consider:  hiking and trekking, bird watching, learn Thai cooking, sea kayaking, meet retired elephants at White Sand Beach, a variety of restaurants, Jungle Queen Live Music Bar, waterfalls, motorbike or cycle touring, jungle trails, seafood, beaches, island hopping, boat charters, Thai boxing, Thai massage, relatively mellow nightlife, Chang beer.
This video does a pretty good job of introducing many options.
Air – Koh Chang doesn't have an airport.  You'll have to land in Trat city and be transported by road to one of two ferries which make the crossing to Koh Chang.  There is a one hour flight three times a day from Bangkok's Suvarnabhumi Airport (BKK) to Trat airport.  From there it is possible to take a door to door transit which includes the ferry crossing.
Bus – From Bangkok's Suvarnabhumi Airport there is a free express shuttle bus from outside the arrivals concourse to the airport's bus terminal where you can catch a bus to Trat.  Otherwise, there are numerous bus services making the journey from Bangkok to Trat.  It is a 5-6 hour trip.  Extensive details are here.
Boat – There are two ferries to Koh Chang.  One goes from Ao Thammachat on the mainland to Ao Sapparot on Koh Chang.  This is the "fast" ferry that takes about 30 minutes once departed.  Departures are every 45 minutes.  The second ferry runs from Center Point Pier on the mainland to Center Point Ferry known as Dan Kao on Koh Chang.  This is the "slow" ferry taking 45 minutes.  This one departs hourly from 6 am to 7 pm.  A long line of taxis will be at the arrival areas.
Taxis are available from the airport, but most drivers will decline the trip for fear of having no return passenger available.  Airport limousine or minibus service can be arranged from the airport all the way to your hotel on Koh Chang if done early enough for the driver to make it back on the last ferry.  From the city of Bangkok many limousines, cars, or minibusses are available and arranged easily online or through your Bangkok hotel.
Songtheaws have routes around the main road of Koh Chang. Most are fairly new and in good shape.  The pricing is mostly reasonable, but don't accept a ridiculous fee.
Taxis in the pier areas of Koh Chang have an unofficially fixed rate for the primary island destinations.
Rental cars and motorbikes are both available at reasonable rates. Check with your hotel.
For additional details on transportation and tourist matters, go to Wikitravel-Koh Chang.
Hotels and Diving – In Koh Chang there are more than 300 lodging options starting at $4 per night.  A couple of dozen dive shops are in operation on Koh Chang and nearby Koh Mak and Koh Kood, some located within or associated with hotels.  They offer a full range of services that include equipment rental, diving certification classes, dive guides, and boat tours.  The website linked below has the details and can arrange a booking for the lodging.  You can easily find the location on the map provided on their site.  The rates are guaranteed to be the lowest and it is free to cancel or change dates.
Photography in Koh Chang
With the colorful coral reefs, a variety of reef tropicals, macro critters, stingrays, groupers, wrecks, and intriguing onshore targets, as well, there are many excellent photo opportunities.  For information and reviews of dive cameras, click here:
A cushion for emergencies provides peace of mind when on vacation.  I recommend this diving insurance as they have worldwide coverage and give scuba divers a quality insurance and medical assistance service.
Feedback and Comments
I hope you found this post on Koh Chang scuba diving interesting and useful. If you have any questions or ideas, please feel free to share them in the comments section.  I'd love to know of any experience you have.  If there is no comments section directly below, click here:  >>comments<<