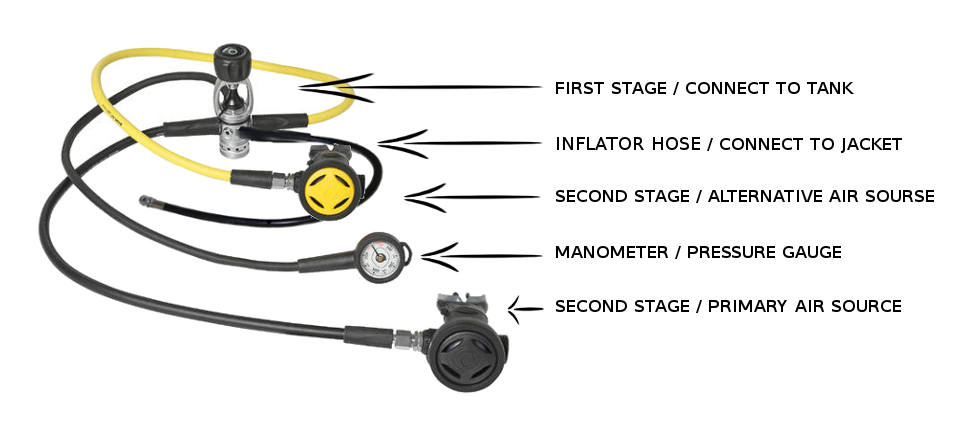 Updated June 7, 2021
A scuba regulator is perhaps the most important piece of equipment you have as a diver. It is a key item to keep you alive underwater, providing the ability to breathe the high-pressure gasses stored in your scuba tank safely and comfortably. When you are underwater, having one of the best scuba regulators will help you to breathe more comfortably so that you are able to have the most enjoyable sub-sea adventure.
Where should you begin your search to find the best scuba regulator for you? There are hundreds of regulator models with a variety of specs on the market today, so it might be a bit confusing to make your selection. Keep it as simple as possible. Where and how are you going to use it and which features would you like to have? Which models suit those needs best? After reading countless ratings and reviews and talking to divers, I have put together a list of the best scuba regulators on the market today to make your choice a lot easier. You will also find a quick buying guide as well as reviews to help you make the right choice.
If you have any questions or concerns, please use the comments section at the bottom.  I'd love to know your thoughts.
For other scuba regulator reviews, please check out these popular posts:
Cold Water Regulators     Budget Regulators
Best Scuba Regulators of 2021 Buying Guide
What is the water temperature where you plan to dive? This will determine if you need a sealed or unsealed regulator.
Unsealed Regulators – For warm water destinations like those in the tropics, almost any regulator will do.
An unsealed regulator means that water can get into the first stage which is alright when diving in warm water. These models are generally cheaper than sealed models.
Sealed Regulators – For cold water diving, you need a sealed regulator. You want the water to stay outside the first stage because at low temperatures the water could freeze inside blocking airflow. An environmental seal also keeps the first stage free from salt, sediment, and other contaminants.
Diaphragm or Piston
The first stage can have either a piston or diaphragm construction. If you are a recreational diver either one is okay, although most divers prefer piston-type first stages because they have fewer moving parts and are considered more reliable. Even though they tend to be more expensive, they are recommended as the better choice for deep diving.
Balanced or Unbalanced
No matter how much air is left in the tank or the depth you are at, a balanced regulator will have consistent airflow. An unbalanced dive regulator will become harder to breathe from the deeper you go and as the air in the tank decreases. If you plan on deep diving you should get a balanced regulator. Unbalanced ones are a little cheaper, though, and dive shops often use them for rental when deep diving isn't planned.
DIN or Yoke
DIN Valve – With the DIN system, the regulator is screwed directly into the tank valve. This creates a stronger and more reliable seal, which is also more streamlined. It is used a lot by cold water and technical divers and is more common in Europe.
Yoke Valve – With the yoke valve the regulator is mounted over and around the tank valve. The yoke or A-clamp is the more popular of the two, particularly in North America. It's also much easier to mount a regulator on a tank with this type of valve.
If you do decide to go with a DIN system, you can get a DIN to yoke adapter that will allow you to use a DIN regulator on a yoke valve.
Number of Ports
A standard regulator setup for recreational diving has a primary second stage, a backup octopus, a high-pressure gauge, and a BC inflation hose. Today most regulators come with 4 low-pressure (LP) ports and 1 or 2 high-pressure (HP) ports. The more ports you have, the easier it will be to comfortably set up your gear. Having 2 high-pressure ports can come in handy if you have or plan to get an air-integrated dive computer with a transmitter as you'll need an extra port where you can attach it.
Diver Adjustable
Higher-end dive regulators may have a couple of features that allow you to customize your breathing. A Venturi Switch prevents free flows on the surface while enhancing breathing performance underwater. An Inhalation Adjustment Knob allows you to fine-tune you're breathing by increasing or decreasing your inhalation resistance with the turn of a knob.
10 Best Scuba Regulators of 2021
Scubapro Evo MK25 Evo A700
With the MK 25 Evo A700, you can easily breathe irrespective of the position and depth that you have reached.
It has 5 low-pressure ports on a swivel and opposing high-pressure ports, allowing you to mount the regulator up or down.
A great buy if you are looking for a high-performance regulator.
Beautiful chrome-plated brass body
Balanced 1st and 2nd stage for exceptional ease of breathing
Extended Thermal Isolation System (XTIS) increases cold water performance by 30%
Diver adjustable Venturi switch to control unwanted free flows on the surface
Diver adjustable inhalation effort resistance on the 2nd stage to fine-tune your breathing on the go
Overall Rating: 5/5
The top-performing regulator in Sherwood Scuba's regulator line is the SR2. It is a technologically advanced version of the SR1, offering superior breathing performance.
The sealed first stage features a 360° swivel and the 2nd stage has a single adjustment knob to control both Venturi and breathing resistance.
This excellent regulator is compact and enables effortless breathing.
Five low-pressure ports on a 360° swivel for optimum hose routing and comfort
Pneumatically Balanced 2nd stage delivers ease in breathing
Single adjustment knob for Venturi and Breathing resistance makes breathing adjustment fast and easy
It is a completely dry and environmentally sealed scuba regulator.
Comes with five low-pressure ports with an additional two high-pressure ports making it easy to set up
Provides optimum balance thanks to its two-piece piston design
Offers an amazing intermediate pressure control
Overall Rating: 5/5
It also
provides the same unprecedented performance and reliability the Atomic "T" series is famous for, and now comes with a 3 years/300 dive not contingent on the service lifetime warranty.
Even though it is quite expensive, you can rest assured that you are getting the quality that you are paying for.
First and second stage components precision machined from solid titanium for durability and reliability
Sealed, balanced piston first stage keeps water and other contaminants from interfering with the performance
Pneumatically balanced 2nd stage delivers extreme ease in breathing
Titanium 2nd Stage Comfort Swivel helps reduce jaw fatigue and unwanted hose tugging
Automatic flow control allows for hands-free Venturi control
Rapid adjustment knob for breathing resistance
3 year / 300 dive service interval
Overall Rating: 5/5
View More From Atomic Aquatics
Compact, lightweight, and easy-to-service, it makes a great choice if you are just getting into the sport and don't want to invest in a more expensive model.
It has a venturi adjusting switch that helps you minimize free flow on the surface, and also enables maximum airflow at depth.
Additionally, the Aqualung Calypso Regulator is a good choice for dive resorts or new divers due to its low price.
Compact, lightweight, easy to service
Good breathing performance
Large Venturi switch to control free flows
Low price
Overall Rating:  4.5/5
Aqua Lung Core
It comes with a Venturi that has a large switch and the Aqua Lung ACD system, a feature that previously was only offered on Aqua Lung's high-end regulators.
The amazing breathing paired with an attractive price point gives you the best value for your money.
It is also available in a supreme version that is environmentally sealed, has a lip shield, and is detuned for cold water diving.
A balanced diaphragm 1st stage provides you with superior and consistent breathing.
Good in cold water, highly resistant to freezing in water temperatures lower than 50 degrees F
Great price for a scuba regulator considering the high-level features
Auto-Closure Device (ACD) keeps unwanted water and other contaminants out of the first stage when removed from the tank.
Large Venturi Switch to control free flows
Ergonomic Comfo-Bite mouthpiece
Overall Rating:  4.6/5
The Apeks XL4+ is a good choice for cold water and technical diving.
Unique over-balanced diaphragm design allows medium pressure gas in the hose to increase at a faster rate than ambient on the descent for better performance at depth.
It's unusually compact and lightweight and designed to prevent icing up.
Over-molded 1st stage endcap and environmental diaphragm to prevent ice build-up
Comfortable, compact, lightweight 2nd stage for decreased jaw fatigue
Ergonomic Venturi lever is easy to locate and use
White nylon braided hose for better cold water performance than a rubber hose
Durable, flexible rubber exhaust tee for good bubble diversion
Overall Rating:  4.8/5
The Hollis DC7 500SE has a side exhaust design that is great for photography sending the bubbles outside the frame of the camera.
This sturdy and reliable regulator has an overbalanced first stage that provides greater intermediate pressure to the second stage for ease of breathing and is environmentally sealed for cold water environments.
Mountable from the left or right, it is suitable for different configurations including doubles and sidemount.
Environmentally sealed
Orthodontic mouthpiece for comfort and less fatigue
Can be configured for sidemount or doubles
Includes lightweight braided hoses
Overall Rating:  4.8/5
The Cressi Ellipse Titanium MC9 is a high-performance, versatile regulator at a moderate price.
Small and lightweight with titanium and plastic components, it is environmentally sealed for good performance in cold water.
The balanced second stage has an elliptical shape that permits a larger diaphragm and along with a high-performance downstream valve design it results in less breathing effort.
Environmentally sealed
Adjustable venturi and inhalation
Jacketed hose
Ultralightweight
Reasonably priced
Overall Rating:  4.6/5
Zeagle F8
Knobs for airflow and venture control are easy to grip for use with gloves.
The balanced diaphragm design and improved exhaust valve make for easy breathing no matter the depth and less exhalation effort.
Fully environmentally sealed first stage
Pre-dive airflow switch, easy to grip for use with gloves
Adjustable venturi
Turreted first stage for more versatility
Easy-grip mouthpiece
Lightweight
Overall Rating:  4.8/5
The MK17 is the balanced diaphragm counterpart to Scubapro's top-of-the-line MK25 balanced piston model.
Paired with the Evo A700, it's a highly crafted system that will perform well in all settings from dirty to very cold water.
Like the MK25 system, it is a work of art.
Environmentally sealed
Metal second stage
First stage heat exchanger to help prevent freeze-up
Adjustable Venturi and airflow with easy-grip knobs for use with gloves
Balanced diaphragm design for easy breathing at any depth
Diver adjustable Venturi switch to control unwanted free flows on the surface
Diver adjustable inhalation effort resistance on the 2nd stage to fine-tune you're breathing on the go
Overall Rating:  5/5
Scuba Regulator Comparison Table
Picture
Picture
Regulator
Scubapro MK25 Evo A700
Sherwood SR2
Atomic T3
Aqua Lung Calypso
Aqua Lung Core
Apeks XL4+
Hollis DC7 500SE
Cressi Ellipse Titanium MC9
Zeagle F8
Scubapro MK17 Evo A700
Regulator
1st Stage Type
Balanced Piston
Balanced Piston
Balanced Piston
Unbalanced Piston
Balanced Diaphragm
Over-Balanced
Diaphragm
Over-Balanced
Diaphragm
Balanced Diaphragm
Balanced Diaphragm
Balanced Diaphragm
1st Stage Type
Ports
2HP/5LP
2HP/5LP
2HP/5LP
1HP/4LP
2HP/4LP
2HP/4LP
2HP/4LP
2HP/4LP
2HP/5LP
2HP/4LP
Ports
Adjustable Inhalation
Yes
Yes
Yes
No
No
No
No
Yes
Yes
Yes
Adjustable Inhalation
Adjustable Venturi
Yes
Yes
Automatic
Yes
Yes
Yes
No
Yes
Yes
Yes
Adjustable Venturi
Cold Water Rated
Yes
Yes
Yes
No
Supreme Version
Yes
Yes
Yes
Yes
Yes
Cold Water Rated
Price
$$$
$$
$$$$
$
$$
$$
$$
$
$$
$$$
Price
Rating
5
5
5
4.5
4.6
4.8
4.8
4.6
4.8
5
Rating
For other scuba regulator reviews, please check out these popular posts:
Cold Water Regulators     Budget Regulators
Feedback and Comments
I hope you have found this review of the best scuba regulators to be useful.  If you have any questions or comments or your own personal review, please feel free to share in the comments below.  If there is no comments section directly below, click here:  >>comments<<