We may earn money or products from the companies mentioned in this post.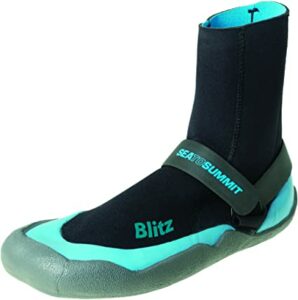 When you head out for a day of kayaking you anticipate the excitement and the challenge of what the conditions lay out for you.  Normal preparation includes using a kayak, paddle, and the associated gear that affords the best capability to match the water, weather, and task at hand.  The shoes you wear are a part of it and can be a major factor in comfortably and safely meeting the challenge.
The best kayaking shoes are designed to provide features that can vastly enhance and improve the experience.  You want the appropriate combination of many factors that can include comfort, warmth, durability, a good-gripping sole, protection from bumps, scrapes, and a rough bottom or terrain, drainage, breathability, and others depending on conditions.
That's a substantial number of things to consider when selecting the best kayaking shoes for your situation.  To help you decide, some of the best with a range of features are reviewed below.  To start there is a comparison table followed by reviews with key features, photos, and videos, followed by a buying guide.
If you have any questions or concerns, please let me know in the comments section at the bottom.
For more reviews of kayaks, boats, and accessories, please check out these popular posts:
Kayak Helmets     Kayak Wetsuits     Kayak Roof Racks     Kayak Carts     Kayak Drysuit Review     Kayak Paddles     Kayak Life Vests Women     Kayak Life Vests     Marine VHF Radios     Small Outboard Motors     Kayak Trolling Motors     Kayak Fish Finders     Marine GPS     Marine Binoculars     Women's Kayaks    Touring Kayaks      Tandem Kayaks     Whitewater Kayaks for Beginners     Lake Kayaks     Ocean Kayaks     Fishing Kayaks     Beginner Kayaks     Recreational Kayaks     Inflatable Kayaks     Inflatable Boats     Canoes
Best Water Shoes Kayaking
Best Water Shoes Kayaking Comparison Table
| Shoe | Photo | Thickness | Cut | Price |
| --- | --- | --- | --- | --- |
| NRS Boundary Dry Boots | | 5mm | Knee | $$$ |
| Neosport Paddle Low Top Boots | | 3mm | Low | $ |
| Sea to Summit Ultraflex Booties | | 3mm | Low | $$ |
| Stohlquist Tideline Boots | | 5mm | Ankle | $$ |
| Kokatat Nomad Neoprene Kayak Shoes | | 3mm | Knee | $$$$ |
| NRS Freestyle Wetshoe | | 3mm | Ankle | $$ |
| Kokatat Scout Boot | | 3mm | Ankle | $$ |
| Sea to Summit Blitz Booties | | 3mm | Ankle | $ |
| Speedo Surfwalker Pro 3.0 Water Shoe | | 1.5mm | Low | $ |
| Aleader Mesh Slip On Water Shoes | | NA (Mesh) | Low | $ |
| Shoe | Photo | Thickness | Cut | Price |
| | | | | |
Waterproof, Cozy, Warm & Comfortable, Two Strap Closure, Protective Thick Sole
Knee cut
Waterproof 5mm neoprene uppers with durable blind-stitched and double-taped seams
7mm neoprene insoles
2mm plastic midsole for protection from sharp objects
6mm outsole, durable on rough surfaces
Ladder lock strap for a water-tight top seal
Velcro cross strap for a secure fit
Ankle pads to protect against bumps
Glideskin interior for a good seal on the calf
Currently only a few sizes available
Wetsuit-Style Warmth, Secure Fitting, Puncture-Resistant Traction Sole, Easy On & Off, Reasonable Price
Low Cut
3mm neoprene upper
Stitched and glued seams
Durable thermoplastic rubber traction sole
Puncture-resistant hardened sole insert
Ankle barrel cinch-cord
Adjustable hook & loop arch strap
Sizes from 5-13
Reasonably priced
Sea to Summit Ultraflex Booties
Warm Water Use, Flexible Thin Sensitive Traction Sole, Comfortable, Easy On & Off, Secure Fit, Multi-Watersport Suitability
Low Cut
3mm neoprene upper
Optimized non-chafing stitch-lines
Synthetic lining
Flexible relatively thin rubber outsoles for traction and sensitivity
Secure Y-pull Velcro strap system
Suitable for a variety of watersports (kayaking, SUP, surfing, rafting, windsurfing, and sailing)
Sizes from 5-12
Reasonably priced
Cold Water & All-Around Use, Matches Well With a Wetsuit, Comfortable Ergonomic Fit, Durable Traction Rubber Sole, Reinforced Toes & Heels, Reasonable Price
Ankle Cut
5mm neoprene upper
Ergonomically-shaped footbed for good fit and comfort
High traction vulcanized rubber outsoles with Stohlquist tread pattern
Rubber toe and heel caps for reinforcement
Heavy-duty YKK zippers with gusseted zipper openings
Sizes from 6-13
Reasonably priced
Kokatat Nomad Neoprene Kayak Shoes
Waterproof, Warm & Comfortable, Soft Double-Sided Lining, Durable Vulcanized Sole, Toe & Heels, Calf Protection, Not Cheap
Knee cut
Waterproof PU coated 3mm neoprene upper with a soft double-sided lining
Glued and blind-stitched seams
Single-handed lacing system for a secure fit
Neoprene lace covers to avoid snagging
Breathable waterproof upper gaiter
Durable vulcanized rubber toe caps, heel counters, and outsoles
5-12 women's, 6-13 men's sizing
A little expensive
Durable, Flexible, Lightweight, Low-Volume, Comfortable, Warm, Great for Freestyle Kayakers, Good Price
Ankle Cut
Flexible 3mm Terraprene neoprene upper
Quick-drying VaporLoft fleece lining
Neoprene Hydro-cuff slip-on closure
1.5mm textured rubber outsoles
Rubber support bands for reinforcement
Webbing ankle grab tab
Roomy toe-box
Sizes from 5-12
Reasonably priced
Zipperless, Lightweight, Easy On & Off, Adjustment & Secure Fit, Good Grip, Comfortable, Reasonable Price
Ankle Cut
3mm neoprene upper
Durable glued and blind-stitched seams
Easy adjusting hook and loop strap
Good gripping vulcanized rubber outsoles, heel counter, and toe cap
Zipperless, slip-on
Ankle grab tab
5-12 women's, 6-13 men's sizing
Reasonably priced
Warm, Sturdy, Zipperless, Easy Adjustment & Secure Fit, Heavy-Duty Rubber Sole, Comfortable, Budget Price
Ankle Cut
3mm neoprene upper
Chafe-free flatlock stitching
Easy adjusting Y-pull hook-and-loop strap for a secure fit
High cuffs to overlap with a wetsuit
Good traction, heavy-duty, stiff rubber soles
Zipperless, slip-on
Currently available in sizes 5-10
Low priced
Speedo Surfwalker Pro 3.0 Water Shoe
Ultra-Lightweight, Flexible Snug Fit, Breathable, Comfortable, Easy On & Off, Good Traction, Budget Price
Low Cut
1.5mm stretchy neoprene upper with mesh inserts
S-trac thermoplastic rubber outsole with non-slip grip
Cushioned inner sole
Quick-drying
Lightweight – 10 ounces
Heel grab loop
Perfect for a range of watersports and general beach/water use
Available in 4 color combinations
Sizes from 7-14
Low priced
Aleader Mesh Slip On Water Shoes
Warm Water Use, Lightweight, Stylish, Breathable Mesh Upper, Ventilated Outsole, Easy On & Off, Traction Grip, 21 Color Combos, Budget Price
Low Cut
Durable breathable mesh fabric upper
Durable, lightweight Solyte midsole
Cushioned ComforDry sock liner
Rubber outsole with solid-grip traction
Pattern of holes in the outsole for quick drainage and breathability
Great for shoreside use and a range of watersports
Comes in 21 stylish color combinations
Sizes from 5-12 (13 sizes)
Low priced
Best Water Shoes Kayaking Buying Guide
Water Temperature is the major factor used in determining what sort of material is used in water shoes for kayaking.  When the water is cold, a waterproof shoe or one made of thick neoprene can keep your feet warm.  For warmer water focus can be diverted to breathability and lighter materials to avoid overheating.
In warm water, shoes can be low cut and made of thinner neoprene, mesh, or other lightweight material.  Some paddlers even prefer a rubber sandal style.  For colder water, the cut can be above the ankle or even to the knee for more warm coverage.  Wetsuit-style shoes use neoprene up to 5mm thick or thicker.  Some models are sealed to be completely waterproof and take that coverage to the knees.
Shoe Height – As touched on above, water shoes for kayaking come in three cuts, low, ankle, and knee.
Low-cut shoes are for warm water use and are generally lighter, flexible, and the most comfortable of the three.
Ankle-cut shoes can handle cooler water, are more versatile, and generally more durable with a thicker sole than low-cut shoes.
Knee-cut shoes are for the coldest water where paddlers anticipate wading in water deep enough to warrant the added length.  Paddlers who often get wet like surf kayakers often prefer knee-cut shoes.  These, too, have thicker outsoles to handle rocks and terrain encountered when wading.
Terrain – What kinds of surfaces will you be walking on when you go kayaking?  Will you be in sand, pebbles, or mud?  Will you be porting your kayak over jagged or even slippery rocks.  This should all be considered when selecting your footwear.  There are shoes with heavy rubber soles to handle hard and pointed surfaces and others with tread more conducive to reducing slippage on smooth surfaces.  Still, others have holes in the soles for quick drainage.
Fit – A snug fit is important especially with neoprene water shoes.  You don't want water pooling or extra circulation when they are too loose.  Also, you want to avoid debris or sand getting in which can not only be uncomfortable but also cause blisters or infection.
On the other hand, too snug a fit can cramp your toes and cut off circulation.  If you are wearing a wetsuit sock or other sock inside, make sure to account for that in the fitting.  By the way, cotton socks should be avoided.  They absorb water and stay wet.  Quick-drying nylon or polyester with moisture-wicking qualities works better.
If you don't have a chance to try them on such as when purchasing online, check the buyer feedback, and seller advice on how to gauge the sizing guidelines.  Do they run according to size, larger, smaller, or what?
For more reviews of kayaks, boats, and accessories, please check out these popular posts:
Kayak Helmets     Kayak Wetsuits     Kayak Roof Racks     Kayak Carts     Kayak Drysuit Review     Kayak Paddles     Kayak Life Vests Women     Kayak Life Vests     Marine VHF Radios     Small Outboard Motors     Kayak Trolling Motors     Kayak Fish Finders     Marine GPS     Marine Binoculars     Women's Kayaks    Touring Kayaks      Tandem Kayaks     Whitewater Kayaks for Beginners     Lake Kayaks     Ocean Kayaks     Fishing Kayaks     Beginner Kayaks     Recreational Kayaks     Inflatable Kayaks     Inflatable Boats     Canoes
Feedback and Comments
I hope you found this post on the best water shoes for kayaking interesting and useful. If you have any questions or ideas, please feel free to share them in the comments section.  If there is no comments section directly below, click here:  >>comments<<