We may earn money or products from the companies mentioned in this post.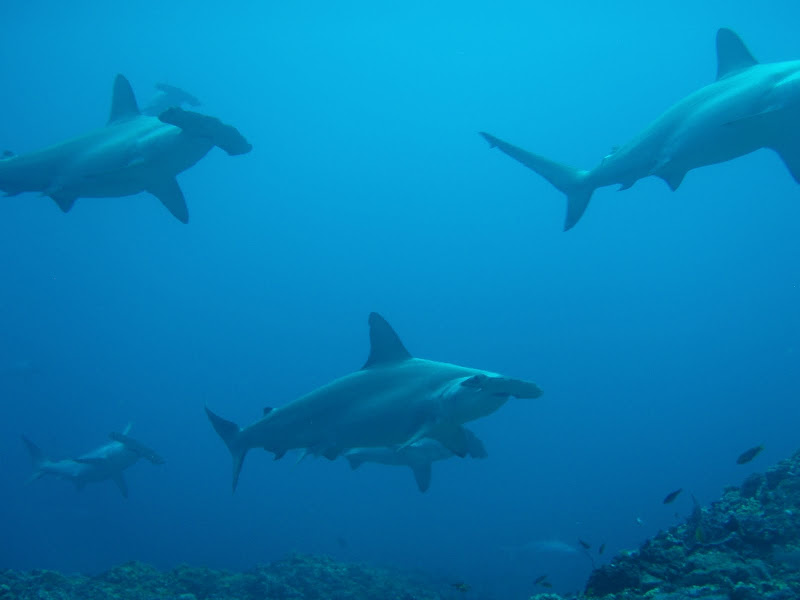 This is the twenty-seventh in a series of reviews of the best dive resort locations around the world.  In this post, the focus is on Green Island, Taiwan.
In addition to this series on dive resort locations, the best worldwide liveaboard dive locations and services are reviewed in their own series.  To check them out, or others in this series, click on Liveaboards / Resorts on the menu at the top and choose a title from the list.
Have you ever been diving in Green Island before?  If so, I'd love to know about your experience.  What dive shop or liveaboard did you use?  Which dive spots are the best and what are the conditions there regarding the visibility, current, water temperature, sealife attractions, etc.?  Please post your response in the comments section at the bottom and we'll all learn something we can use.
Green Island Scuba Diving
Background – 33 km (21 miles) from Taitung off the southeast coast of Taiwan is Green Island.  At high tide, it has an area of 15 square kilometers (5.83 square miles) and a population of around 2,600 depending on the season.  During martial law that lasted from 1949-1988 and a few years beyond that, it was used as a penal colony.  Today it is a popular tourist destination.  It is volcanic in origin and has native wildlife that includes deer, goats, chameleons, giant bats, coconut crabs, and resident and migratory birds.
Undersea World – When the prison was in operation there was no fishing or other human disturbance of any consequence to the sea around Green Island, as all activities around it were restricted.  I recall from my time living in Taiwan from 1986-89 that very little private boating and hardly any scuba diving took place at all anywhere around the country.  The government was very concerned about its relationship with the mainland and kept a very close eye on all seafaring activities.  After closing the prison the restrictions were lifted and many destructive practices took place, for a time, involving commercial fishing and the aquarium trade, that took a toll on the reef.  When scuba diving started to become popular these practices were outlawed and it is now a marine reserve.  Sealife has recovered to a major degree, diving is more popular than ever and Green Island is developing a reputation as a premier diving location.  The rich and diverse fringing reef has more than 200 species of coral and 300 species of fish.  Off of the southeast corner of the island near the world-famous sulfur and saltwater hot springs is a site called Shark Point with powerful currents and in season hundreds of shoaling scalloped hammerhead sharks.  On the west-central coast in Nan Liao Bay is reputed to be the world's largest coral bommie, at 16 meters (54 feet) in height and 31 meters (104 feet) in diameter.  This bell-shaped behemoth takes a good few minutes to swim around.  The reef around Green Island is not too dissimilar to that much further south in the Philippines.  Highlighted creatures include nudibranchs, pygmy seahorses, moray eels, banded sea snakes, large fan corals, titan triggerfish, cuttlefish, pufferfish, lionfish and on the larger side, batfish, dogtooth tuna, mahi-mahi, trevally, green and hawksbill turtles, eagle and manta rays, and humpback and sperm whales, not to mention the hammerheads.  Overall there are approximately 30 dive sites including a couple of wrecks.
Seasons and Conditions – It is warm in Taiwan with daily highs in a range from 25-32°C (77-90°F).  Water temperatures range from 24-29°C (75-85°F) with the coolest in January and February and the warmest from July to September.  Visibility is generally quite good, at times to 40 meters (130 feet).
For a review of another top Taiwan diving locations, click here: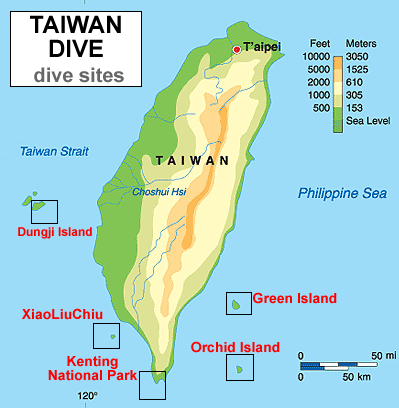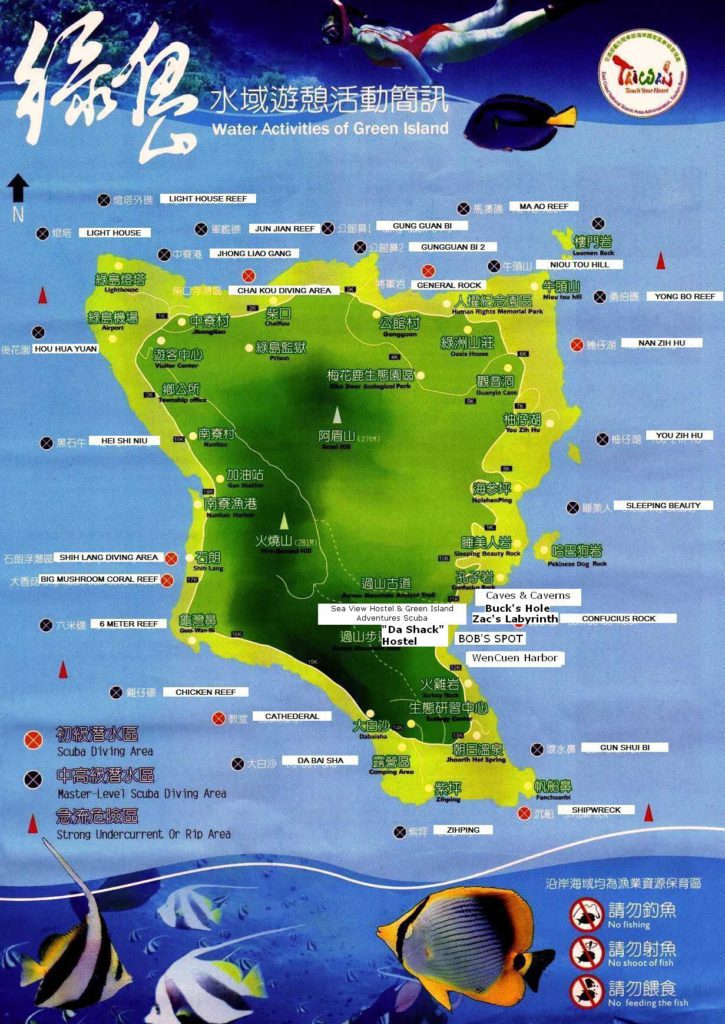 Selected Green Island Taiwan Dive Sites
Shih Lang: west side shore dive, good for 4-5 dives, reef covered with soft corals and anemones, hard corals, several varieties of nudibranch, tunicates, turtles, moray eels, unicornfish, surgeonfish schools, several varieties of triggerfish, parrotfish, wrasses, including rock mover wrasses, angelfish, sweetlips, anthias, damsels, dartfish, pufferfish, commensal and anemone shrimp, banded sea snakes, beginner level
Chicken Head (Chicken Reef): to 50 meters (170 feet), rock that drops off, rich reef life like on Shihlang, big gorgonians, octopus, schooling jacks, black snappers, possible hammerheads, experienced level
Da Bai Sha: twin pinnacles that top out at 28 meters (93 feet), rich and diverse reef life similar to Chicken Head and Shih Lang, oriental sweetlips, clown triggerfish, experienced level
Big Mushroom: near Shih Lang, the huge coral bommie described in the Undersea World section, rich diverse reef life like that at Shih Lang, turtles, garden eels in the sand, beginner level
Gun Shui Bi (Shark Point): negative entry to 25-35 meter (83-115 feet) bottom, strong current, hook or grab a rock and look for hammerheads up to 250 in number, December to March is the best time for them, good nitrox dive, advanced level (see video below)
Pyramids: metal artificial reef structure with a lot of fish and invertebrates
Sea Cucumber Flats (Hai Shen Ping): east side shallow shore dive, lots of hard coral and stony bottom, diverse fish life, beginner level
Zhao Rih Hot Spring: shore dive near the spring, diversified soft and hard corals, lots of fish, beginner level
*If you have dived Green Island, please fill me in with descriptions of the dives you did in the comments section. Thanks.
International flights to Taiwan mostly land at Taoyuan International Airport, a one-hour bus ride from Taipei where you can take a domestic flight from Songshan Airport to Taitung.  A few flights from Asian countries land at Kaohsiung International Airport where you can avoid the bus ride and directly catch a domestic flight to Taitung.  From there small aircraft offer a 15-minute flight to Green Island.  These tickets need to be booked in advance.  Ferries are also available from Taitung town or Fugang Harbour to the north, which takes one hour.  This is often a choppy ride.
There are at least 30 hotels on Green Island ranging from $20-$150 per night.  Several of them have dive operations included.  Otherwise, there are several dive shops of varying quality.  You are well-advised to examine them a bit before selection.  Equipment and services are better in some shops.  Several are clearly a cut above.  Blue Safari has a good reputation.  This website is a good source for the available housing options and can arrange a booking:
Green Island Activities (aside from scuba diving)
Green Island is not large, so activities are limited.  One thing you will have an opportunity to enjoy every day is Taiwan's cuisine.  There will be a variety of seafood well prepared even in small joints.  One, of only three in the world, sulfur and saltwater hot springs is on the southern end of the island for a therapeutic and relaxing bath.  You can visit the Lu Dao (Green Island) lighthouse and the Green Island Human Rights Cultural Park.  Hiking, renting a scooter to ride on the ring road around the island and visiting an abandoned aboriginal settlement are also options along with the obvious swimming, snorkeling, and other seaside activities.
Green Island Photo Opportunities
With the macro life, beautiful, diverse reef life, lots of fish and scenic shore-side environment, there are many excellent photo opportunities.  For information and reviews of diving cameras, click here:  Best Underwater Cameras Compared and Reviewed
A cushion for emergencies provides peace of mind when on vacation.  I recommend this diving insurance as they have worldwide coverage and provide scuba divers a quality insurance and medical assistance service.
Feedback and Comments
I hope you found this post on Green Island scuba diving interesting and useful. If you have any questions or ideas, please feel free to share them in the comments section.  I'd love to know of any experience you have diving there.  If there is no comments section directly below, click here:  >>comments<<