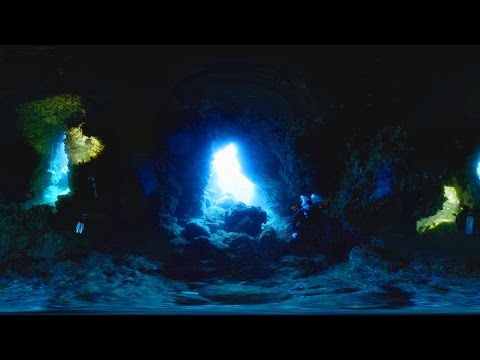 Updated June 10, 2021
This is the twenty-eighth in a series of reviews of the best dive resort locations around the world.  In this post, the focus is on Orchid Island, Taiwan.
In addition to this series on dive resort locations, the best worldwide liveaboard dive locations and services are reviewed in their own series.  To check them out, or others in this series, click on Liveaboards / Resorts on the menu at the top and choose a title from the list.
Have you ever been diving on Orchid Island before?  If so, I'd love to know about your experience.  What dive shop or liveaboard did you use?  Which dive spots are the best and what are the conditions there regarding the visibility, current, water temperature, sealife attractions, etc.?  Please post your response in the comments section at the bottom and we'll all learn something we can use.
Scuba Diving Orchid Island Taiwan
Background
Of volcanic origin, Orchid Island, known as Lanyu in Chinese, is situated 65 kilometers (41 miles) east of the southern tip of Taiwan and is 45 square km (28 square miles) in area.
In modern times it was administered by the Japanese as an ethnic reserve for the Yami people (otherwise known as Tao and other names), an aboriginal group.  When the Japanese lost control in 1945, this status was maintained until 1967, when it was lifted by the ROC government.
The population today of just over 5,000 consists of 4,200 Yami and 800 Han (Chinese).  The Yami cultural traditions are still strongly in evidence including fishing and farming as primary livelihoods.
A source of contention and concern for the locals is the nuclear waste storage facility built on Lanyu by the central ROC government that placed 100,000 barrels of the stuff derived from Taiwan's 3 nuclear power plants there.  It does not appear to pose any safety concerns today, however.
There are 8 mountains above 400 meters (1,300 feet) and a beautiful rocky shoreline with a 60 km (38-mile) road on the circumference of the island providing access.
One important note of cultural sensitivity: When visiting Yami villages, immodest dress and tiny bikinis on women is considered rude.
Undersea World
In its relative isolation, this volcanic island is, in the eyes of many, the top scuba diving and snorkeling site in Taiwan.
There are shallow fringing reefs with intricate rock formations, caverns, crevices, walls, and swim-throughs, and an outstanding large Korean freighter shipwreck to explore.  Green turtles nest on the shores and the reef is home to 4 species of sea snake and the occasional humpback whale passing through.  The coral reef is pristine and rich with a lot of hard corals, sea whips, and sea fans, to go along with sponges, soft corals, tunicates, crinoids, and other attached invertebrates.
Other highlights include trumpet fish, fusiliers, clown triggerfish, cuttlefish, moray eels, lionfish, puffers, nudibranchs, lobster, shrimp, anemones, blue-spotted stingrays, grouper, dogtooth tuna, schooling jacks and barracuda, hawksbill turtles, and infrequently whale sharks.
Seasons and Conditions
It rains every month, all year, but that doesn't need to interfere with the diving.  Summer temperatures are warm, with highs of 27-28°C (80-82°F).  In winter (December-February) it is cooler with highs of 20-21°C (68-70°F).
Spring and summer water temperatures run 26-28°C (79-82°F).  In winter it goes to as low as 22°C (71°F) so that most divers will want a 5 mm wetsuit with a hood at that time.
Visibility is normally excellent at 30-40 meters (100-130 feet).
There are times and locations when there is significant current and surface conditions can be rough.  A rule of thumb is that the west side is best in summer and the north and east are best in winter.
For reviews of two other top Taiwan diving locations, check out these popular articles: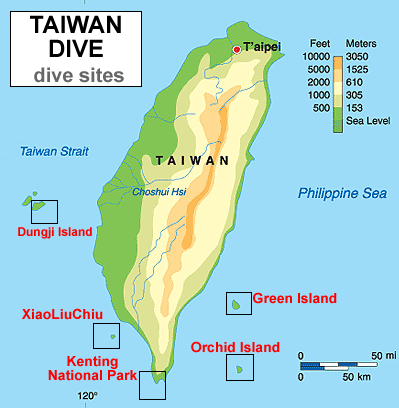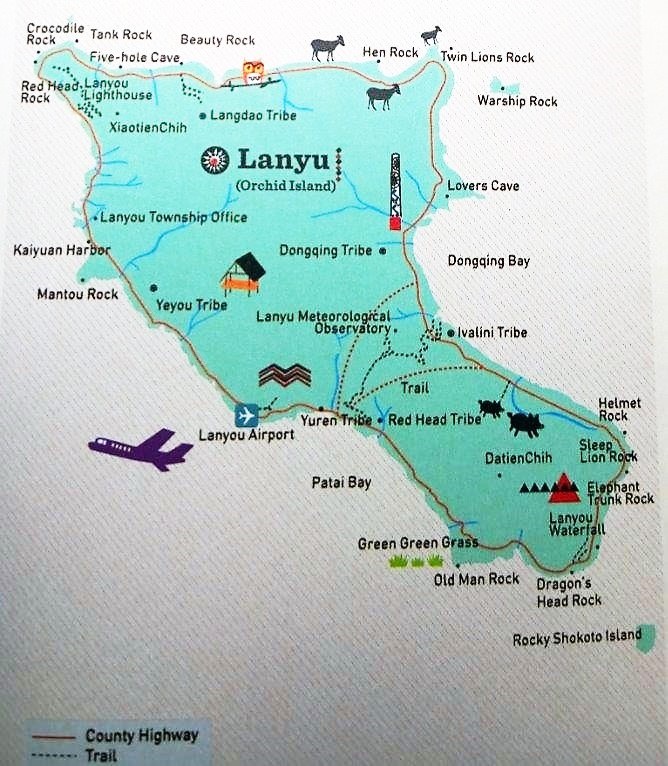 Selected Scuba Dive Sites – Orchid Island Taiwan
*Note: During the flying fish fishing season, from roughly March through May, diving may not be allowed on offshore sites.  This fishing is part of a very strong cultural tradition for the Yami.  Here is an article with videos describing it:  Taiwan: Flying Fish Season on Orchid Island
Korean Shipwreck: to 40 meters (130 feet), can reach at 22 meters (73 feet), 200-meter (650 foot) Korean freighter resting in Badai Bay (Padai on the map), capsized by a typhoon in 1983, in 3 pieces, swim-throughs, hard and soft corals, sea fans, crinoids, large jacks, dogtooth tuna, lionfish, pufferfish, blue-spotted stingrays, strong current possible, November to March is the best time to dive the wreck, experienced level (see video below)
Blue Hole: at 13-16 meters (43-53 feet), outside Kaiyuan fishing harbor, 10 meters (35 feet) long tunnel, opens to a beautiful reef, soft and hard corals, large tabletop corals, barrel sponges and sea fans, 2-meter (6 foot) moray eel, cuttlefish, cowries, tritons, beginner to experienced level
Jyakmey Monomanok: to 20 meters (67 feet), lots of anemones and clownfish, popular snorkeling site, beginner level
Jyakmey Monomanok Outer Reefs: 3 to 21 meters (70 feet), 200 meters (650 feet) beyond Jyakmey Monomanok, two reef sections with a channel between them, sea goldies, popular snorkeling site, beginner level
Lover's Cave: to 30 meters (100 feet), east side site, vertical walls on a canyon, strong current, experienced level
Twin Lions Sea Cave: 13 meters (43 feet) at the entrance, a cavern with holes in the top provide a skylight with a narrow swim through, top snorkeling site, experienced level
Airport Outer Reef: 20 meters (68 feet), reef breaks the surface, rich marine life and pelagics, traditional fishing ground for the Yami, strong current, experienced level
Yayo Drop-off: (Yeyou on the map), 22-100 meters (73-325 feet), drop off that starts about 100 meters (325 feet) from the beach in front of the village, strong current, experienced level
Jimavonot Outer Reef: northside site, 16 meters (54 feet), 15-meter (50 foot) tunnel swim through, beginner level
Little Mushroom at Longmen Harbor: (in comparison to the Big Mushroom by Green Island) 13 meters (43 feet), out of a sandy bottom an 8 meter (25 foot) tall coral bommie, rich with fish life, strong current possible, beginner to experienced level
*If you have dived Orchid Island, I would greatly appreciate it if you could give me descriptions of the dives you did in the comments section. Thanks.

Orchid Island Services
Transportation
International flights to Taiwan mostly land at Taoyuan International Airport, a one-hour bus ride from Taipei where you can take a domestic flight from Songshan Airport to Taitung. From there Daily Air has passenger turboprop aircraft that provide 20-minute flights to Orchid Island.  These tickets need to be booked in advance.
Ferries are also available from Taitung town or Fugang Harbour to the north of the city, which takes 2.5 hours.  From October to March these are only available twice a week. This is often a choppy ride.
A few flights from Asian countries land at Kaohsiung International Airport, where you can organize transportation to Kenting, where ferries are also available for a 2.5 hour trip to Orchid Island available only from March to October.
Once on the island, there is an infrequent bus service.  Many rent bicycles and scooters to get around.
Diving
There are 3 dive shops operating on Orchid Island for instruction, guiding, and rentals.
Housing
None of the major booking agencies handle the guesthouses on Orchid Island.  You could quite likely just show up and find one.  They are unlikely to be fully booked up.  If you speak Chinese or can get a translator to help you, these websites can help arrange booking a guesthouse or homestay: Lan Se Da Men or Lan Yu Min Su, or UU Lanyu.  They have phone or chat apps to contact.  A warning: Prices are likely to be high for relatively spartan accommodations.
If your plan involves staying the night in Taitung, this website is a good source for the available housing options and can arrange a booking:
Orchid Island Things to Do (aside from scuba diving)
Orchid Island is not a bustling tourist destination, but rather is a good place to lay back and enjoy nature, in addition to scuba diving.  Exploring the island by hiking, bicycle or scooter is an option.  Heaven Lake is a good place for a hike.  Twin Lions Rock is a nice spot for stargazing.  There are 2 steep roads leading up to the weather station where there are excellent views.  As time goes on there are more and more bars and restaurants especially catering to tourists, but the local cuisine is unique and interesting, not to mention tasty.  Visiting Yami villages and meeting the people there and around the island is a cross-cultural experience even for Chinese tourists.  Naturally, there is also boating and other seaside activities to enjoy.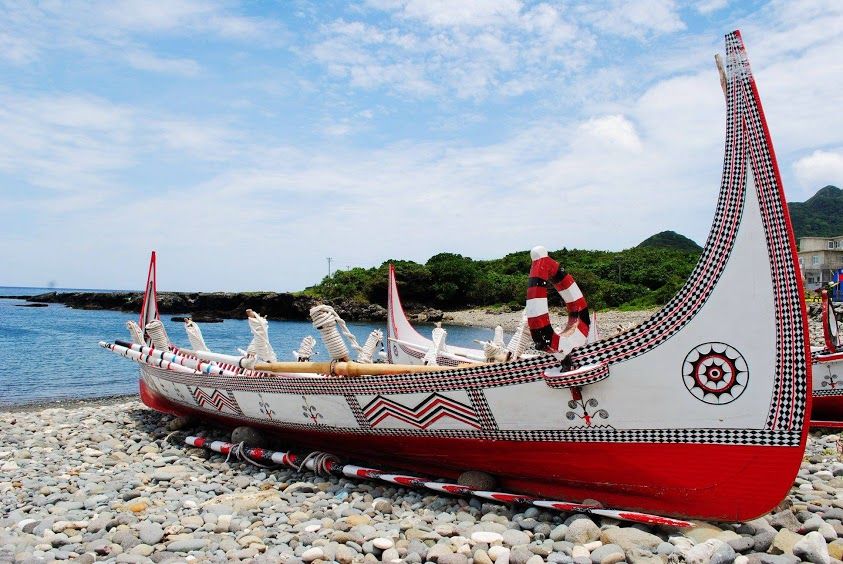 Orchid Island Photo Opportunities
With the macro life, beautiful, diverse reef life, lots of fish, the Blue Hole, Korean wreck, and scenic shore-side environment, there are many excellent photo opportunities.  For information and reviews of diving cameras, click here:  Best Underwater Cameras Compared and Reviewed
Scuba Diving Trip Insurance
A cushion for emergencies provides peace of mind when on vacation.  I recommend this diving insurance as they have worldwide coverage and provide scuba divers quality insurance and medical assistance service.
Feedback and Comments
I hope you found this post on Orchid Island scuba diving interesting and useful. If you have any questions or ideas, please feel free to share them in the comments section.  I'd love to know of any experience you have diving there.  If there is no comments section directly below, click here:  >>comments<<