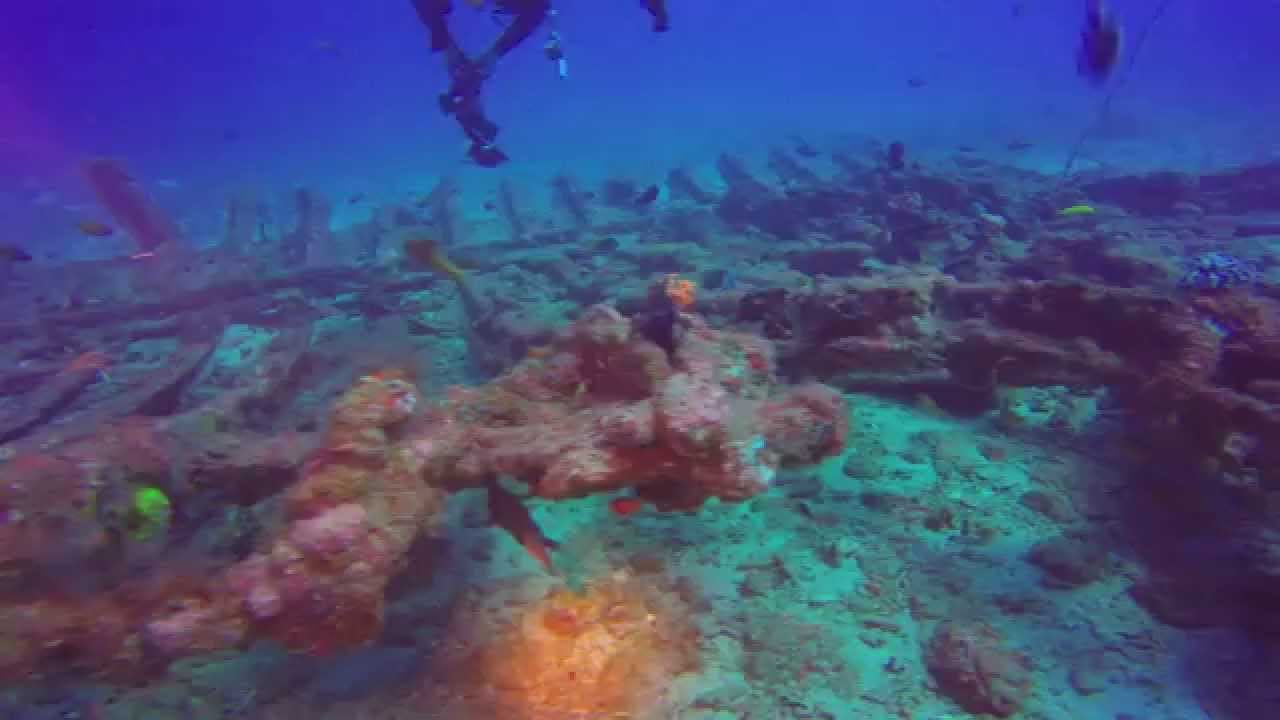 Updated June 5, 2021
This is the one hundred and twenty-seventh in a series of reviews of the best dive resort locations around the world.  In this post, the focus is on Kenting Park, Taiwan. In addition to this series on dive resort locations, the best worldwide liveaboard diving locations and services are reviewed in their own series.  To check them out, or others in this series, click on Liveaboards/Resorts on the menu at the top and choose a title from the list.
Have you been diving in Kenting before?  If so, I'd love to know about your experience.  What dive shop or liveaboard did you use?  Which dive spots are the best and what are the conditions there regarding the visibility, current, water temperature, sealife attractions, etc.?  Please post your response in the comments section at the bottom and we'll all learn something we can use.
Scuba Diving Kenting Taiwan
Background
Created in 1984, Kenting National Park is situated on the southernmost point of Taiwan on the Hengchun Peninsula.  90 kilometers (56 miles) from Kaohsiung, it is part of the Hengchun Township with a population of 31,000.
One of the most popular tourist destinations Taiwan has to offer it has 6 million visitors annually.
There is an interesting topography with mountains in the north, coral tablelands in the east and south, bordered with cliffs and limestone caves in the east, and foothills in the south, along with fringing reefs for us scuba divers.
On land and at sea the biodiversity is very rich for the region.
With annual temperature lows only reaching 18°C (65°F), it is always a warm inviting place for vacationers and weekend tourists.
Undersea World
No one will mistake Kenting for Sipadan or the Maldives but with 1,100 species of reef fish, a number endemic, and 60% of the world's hard and soft corals represented on her reefs there is some pretty interesting diving to be had.
The Kuroshio Current flows eastward just offshore bringing warm nutrient-rich water that has enticed and encouraged attractions like big schools of barracuda, hawksbill and green turtles, eagle and manta rays, sharks including bull and whale sharks, pelagics like swordfish, and the possibility of humpback whales.
It's true that there are some difficulties that the protected marine park has not completely overcome.  Fishing occurs nearby and insufficiently treated raw sewage from the influx of tourism is doing some damage.  Many tourists have poor littering habits and some of the shallow reefs get tromped on by divers and swimmers.
All that aside, the weather is warm year-round, visibility is usually pretty good, and it is generally not too crowded with divers.
On top of that, there are more than 20 dive sites with several wrecks and other as yet unmentioned marine life like 471 species of bivalves, schools of anthias, sergeant majors, blue-lined snappers and jacks, emperor and regal angelfish, several species of parrotfish, and wrasses, porcupine puffers, sea hares, nudibranchs, seahorses, pipefish, cornetfish, and moray eels, among many others.
Currents can be strong and one needs to beware of jet-skiers in places.
Here are my reviews of two other top Taiwan dive destinations:
Seasons and Conditions
Diving is possible all year in Kenting.
Average daily air temperature highs reach 32°C (90°F) in July and dip to 25°C (77°F) in January.
Water temperature ranges from lows of 23-27°C (73-81°F) in January and potential highs of 30°C (86°F) in July meaning a 3mm or perhaps 5mm wetsuit should handle thermal protection needs when the water is at the coldest.
The rainy season is from June through September with a risk of typhoons in that time period.
Visibility is usually pretty good with a possible range of 5-25 meters (16-82 feet).
There are times and locations where the current can be strong and surface conditions rough.
Kenting has sites suitable for all levels of diver.  There are a number of dive shops in the area offering the full range of diving coursework, equipment rental, guiding, and boat cruises.
Liveaboard Diving
There are no liveaboard yachts cruising the Kenting area.  There are, however, several of wonderful vessels doing safaris in the relatively nearby Philippines.  Here are my reviews and links to two of the liveaboard yachts: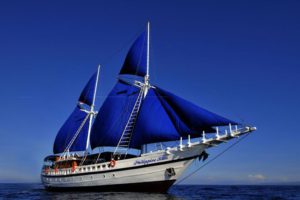 SY Philippine Siren, Philippines Liveaboard Diving – Check the Price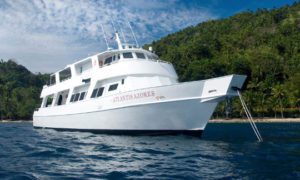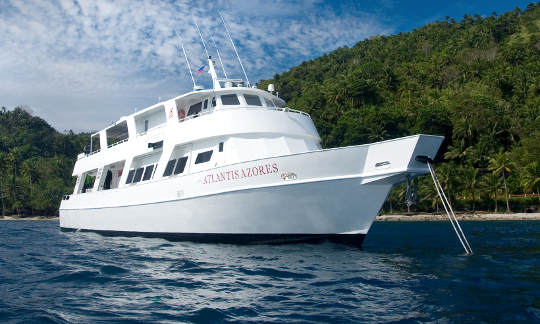 PY Atlantis Azores, Philippines Liveaboard Diving – Check the Price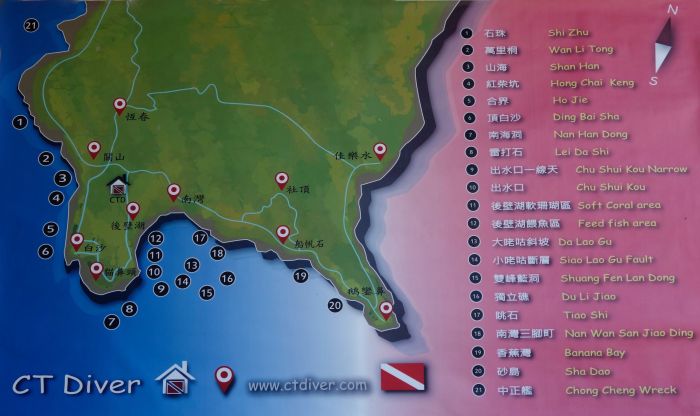 Selected Kenting Dive Sites
3) Shan Han: 18 meters (60 feet), shore entry, shallow mini-canyons, reef tropicals, macro critters like scorpionfish, cone shells, feather stars, sea kraits, turtles, and a possibility of blue-spotted and ribbontail stingrays in April and May, suitable for all levels of diver
4) Hong Chai Keng 13 meters (43 feet), shore entry, more shallow mini-canyons, a variety of reef tropicals and coral, suitable for all levels of diver
10) Chu Shui Kou: 15 meters (50 feet), shore entry, possible highlights include convict snake eels, black sailfin blennies, cuttlefish, squid, flame scallops, flounders, crabs, crocodile fish, schools of yellowtail barracuda, and possible great barracuda, suitable for all levels of diver
11) Soft Coral Garden: 15 meters (50 feet), shore entry, lots of soft corals (obviously), numerous species of nudibranchs, shrimps, other macro critters, reef tropicals, bluefin jacks, suitable for all levels of diver
15) Shuang Fen Lan Dong: 35 meters (115 feet), boat entry, a wall with soft coral, shrimps, crabs, sea fans with pygmy seahorses, strong current possible, suitable for experienced level divers
20) Sha Dao (Sand Island) Wreck: 32 meters (105 feet), boat entry, well encrusted, discovered a few years ago, probably some sort of fishing vessel, much of the structure has collapsed, many lionfish, schooling anthias, porcupine pufferfish, angelfish, stonefish, suitable for experienced level divers
Blue Hole: 32 meters (105 feet), boat entry, 2 long tunnels, rich coral, highlights include pygmy seahorses, turtles, and stingrays, strong current possible, suitable for experienced level divers
Things to Do in Kenting (aside from scuba diving)
One of the most popular tourist destinations in Taiwan, Kenting National Park, and the surrounding area, offers a fascinating seaside landscape, flora, and fauna.  Some highlight places and activities to consider include the Chuhou Special Scenic Area, Eluanbi Park, and Lighthouse, Fongchueisha (Dune), Maobitou, Houbihu (Marina), Chuanfan Rock (Sail Rock), Kissing Rocks, Mystery Cave, Longpan Park (very windy), Baisha (White Sand) Bay, the Gangkou Suspension Bridge, Sheding Natural Park, Kenting National Forest Recreation Area, swimming, surfing, jet-skiing, snorkeling, go-karts, and motorbike touring.  In your tour, you will encounter a good variety of birds and reptiles, and Formosan macaque monkeys to watch and admire.  Back in town don't miss the restaurants, bars, shopping, and night market.
This video provides a nice glimpse.
Kenting Transportation, Hotels, & Diving Services
Transportation
Air – Kaohsiung International Airport has direct flights from many Asian cities.
Bus – Frequent two-and-a-half-hour rides link Kenting with Kaohsiung International Airport, Taiwan Railway Administration's Kaohsiung Station, and Taiwan High-Speed Rail's Zuoying Station.
Taxi – From Kaohsiung, a shared taxi is cheaper than a bus and offers door-to-door service.
Tour Vehicles – From Kaohsiung to Kenting and after you get there, group tour buses and smaller vehicles can escort you to most places you want to go.
Rental Cars and Motorscooters are available.  Both can make travel much more convenient.
For further details on transportation and other tourist tips, please go to Wikivoyage – Kenting.
Hotels and Diving
There are more than 500 lodging options in the Kenting environs starting at $7 per night.  Several dive shops in the area offer a full range of services that include equipment rental, diving certification classes, dive guides, and boat tours.  Many are within or associated with lodging.
The website linked below has the details and can arrange a booking for the lodging.  You can easily find the location on the map provided on their site.  The rates are guaranteed to be the lowest and it is free to cancel or change dates.
Photography in Kenting
With the colorful coral reefs, a variety of reef tropicals, macro critters, sharks, rays, pelagics, and scenic shoreside targets, there are many excellent photo opportunities.  For information and reviews of dive cameras, click here:
Scuba Diving Trip Insurance
A cushion for emergencies provides peace of mind when on vacation.  I recommend this diving insurance as they have worldwide coverage and give scuba divers quality insurance and medical assistance service.
Feedback and Comments
I hope you found this post on Kenting scuba diving interesting and useful. If you have any questions or ideas, please feel free to share them in the comments section.  I'd love to know of any experience you have.  If there is no comments section directly below, click here:  >>comments<<