We may earn money or products from the companies mentioned in this post.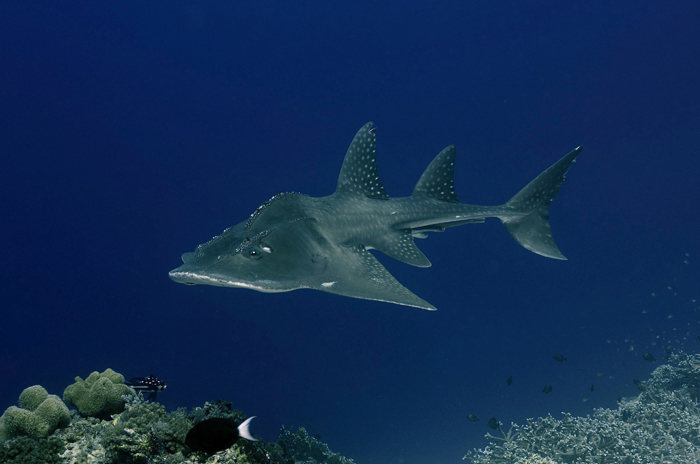 This is the sixteenth in a series which introduces and describes the various dive services and sites for worldwide liveaboard dive safaris.  This one focuses on Tubbataha Reef liveaboards in the Philippines.
In addition to this series on liveaboards, the best worldwide dive resort locations and services are reviewed in their own series. To check them out, or others in this series, click on Liveaboards / Resorts on the menu at the top and choose a title from the list.
Have you ever been diving on Tubbataha Reef before?  If so, I'd love to know about your experience.  What dive shop or liveaboard did you use?  Which dive spots are the best and what are the conditions there regarding the visibility, current, water temperature, sealife attractions, etc.?  Please post your response in the comments section at the bottom and we'll all learn something we can use.
My Tubbataha Diving Adventure
In the summer of 1999, I was lucky enough to make a trip to Tubbataha to dive there for the first time.  I was working in the dive shop at the Shangri-la Hotel on Mactan Island in Cebu and had commissioned a speedboat to be made for the shop over in Puerto Princessa on Palawan.  After investigating the shipping options for getting the boat to Cebu, it was decided to take a sailboat over there and tow it back.  That meant I could get in some adventure diving along the way.  The sailboat was a 39 footer owned and captained by Ernie Long from Whitetip Divers scuba equipment store in Cebu.  Ernie's assistant, my dive shop buddy, Tony Weston, and I filled out the 4 man crew.  The boat was not very spacious, but we managed to put about a dozen full tanks in the cockpit to carry us through any diving we might do.
It was slow going at 5 knots or less.  The second day we arrived at Little Apo Island off Dumaguete and did a nice dive there.  We didn't linger for a second dive and pushed ahead across the Sulu Sea keeping in mind we were on a mission.  A couple of days later we came upon the eastern tip of the northern atoll of Tubbataha Reef.  We didn't have any real prior knowledge of the reef or even know exactly where we were, but in retrospect, it appears when we jumped in the water for the first dive we were somewhere between Shark Airport and Washing Machine.  There was a very stiff current taking us northeast across and eventually off the reef.
We descended to around 20 meters and cruised with the drift. Whitetips were everywhere swimming in all directions surrounding us.  Big schools of jacks and barracuda came and went as they fed.  Twelve eagle rays used the drift to swim with us at about the same speed, also feeding by dropping to the bottom rooting in the sand and rubble for a few feet like a snowplow and then ascending a few meters to chew.  For me, this was the most miraculous dive I have ever done.
For our second dive, we moved west along the south side of the north atoll about halfway down for another beautiful dive on the very rich wall, this time without much current.  It was another great dive with more sharks and schooling fish and an opportunity to look into the nooks and crannies for smaller critters.  Shortly after getting back on board, the Philippine Coast Guard/Navy approached us in a small speedboat and took us to what is labeled the Ranger Station on the map below.  They evidently needed to see a permit which we did not have and weren't aware was necessary.  They confiscated the boat's documents and took us to the station.  At that time the station was a two-room shack mounted on a foundation of four concrete piles.  The floor was at about a 25-degree angle which made grabbing tables or bracing against the wall necessary to make your way around the rooms.  The senior officer seemed to be in reasonable control of his faculties in spite of being obviously drunk.  Some of the others of the 6 or 7 played little bullying and teasing games with us and appeared to be even more intoxicated, actually what I would call sloppy drunk.  They were all armed and flashed their guns around from time to time.  It was concerning as I have seen men in the Philippines in similar positions of power and drunk fire their guns and even hit people.  Fortunately, the leader seemed to keep them under some level of control.  After a few hours with them, they put us back on our boat and about 24 hours later they gave back the boat's documents and let us go.
There is a second half to this story that was equally eventful.  I'll leave that for another day.  The main point of this narrative was to introduce you to the very exciting diving on Tubbataha Reef.  I should also point out that the people in charge of policing the reef these days are much more reasonable and conscientious than that crew we ran into.
Tubbataha Reef Diving
Labeled one of the 7 wonders of nature in the world, the Tubbataha reef is situated in the Sulu Sea about 150 km (94 miles) from the capital of Palawan, Puerto Princessa.  The Philippines has created the 97,030-hectare Tubbataha Reefs National Park, designated a Marine Protection Area.  This means no legal fishing, rules for anchoring and other environmental protection measures are in place.  The park is made up of the north and south atolls and Jessie Beazley reef to the north.
Due to sea conditions, authorized diving there runs for about four months from March to June.  The only way for most to see it is on a liveaboard.  Very few vessels operate there and annually there are only a few hundred divers.  Due to such a limited season and number of slots for divers, it is advised to book your place early.
If you are able to make a booking, you'll be treated to one of the most pristine untouched reefs in the world with spectacular sea life.  There are 300 species of coral and over 600 species of fish.  There is often significant current which bathes the reef in nutrients providing an excellent habitat for the local fauna as well as pelagic visitors.  Available large sea life is a bucket list for divers including:  11 species of shark that includes whale, whitetip, grey reef, silky, tiger, nurse and guitar sharks (actually guitar sharks are a kind of skate), 13 species of whale and dolphin, green and the endangered hawksbill turtles, manta, eagle, giant reef, and several varieties of stingray, napoleon wrasse, bumphead parrotfish, barracuda, trevallies and giant schools of reef fish including surgeonfish and Moorish idols.  The macro life is equally fascinating with nudibranchs, frogfish, shrimps, crabs and exceptionally rich and diverse soft and hard coral reef life.
Water temps from March to June run from 27-30 degrees C (80-86 degrees F).  For me, that is t-shirt or lycra suit worthy.  Most divers will want 3mm of protection.  Visibility can be as low as 5 m (16 ft) when there are a lot of nutrients in the water to a max of 35 m (114 ft).  Photographers will be delighted.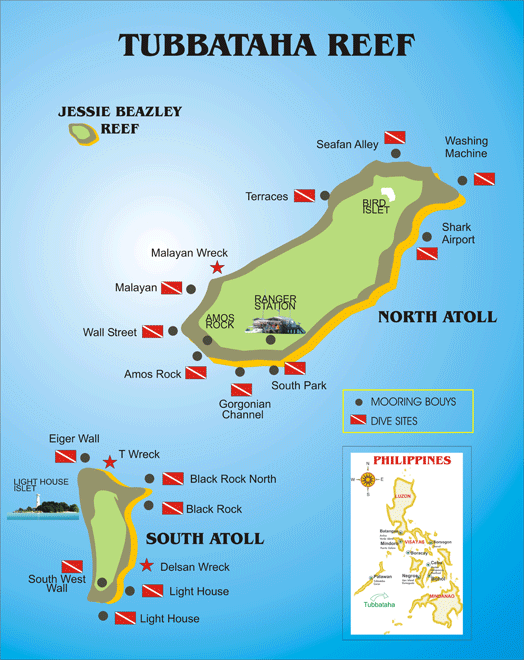 Best Liveaboard Dive Boats – Tubbataha Reef
MV Seadoors
SY Philippine Siren
PY Atlantis Azores
Solitude I
MV Discovery Adventure
Infiniti
MV Discovery Palawan
MV Dolphin
MV Resolute
All Star Stella Maris
Narayana
MY Azalea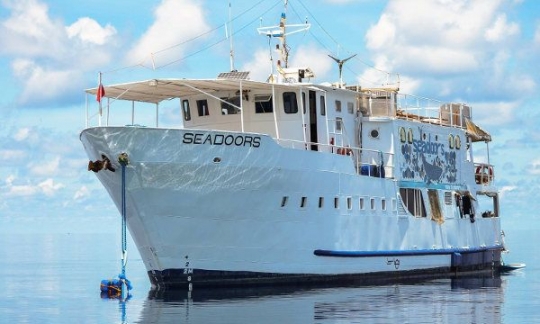 Cruises Tubbataha, Sulu Sea, Malapascua, Visayas
Tubbataha trips from March 15 to June 8
Tubbataha itinerary: north atoll, Malayan wreck, black rock, triggerfish city, south atoll, Ko ok, Delsan wreck, shark airport, wall street, Jessie Beazley
All cabins have ensuite bathrooms, windows
Local and French cuisine
Experienced English and French-speaking divemasters (max 4 divers per DM)
Nitrox available for enriched air certified divers
Rebreather facilities
Underwater scooters available for Visayas trips
Steel-hulled boat
Staff Choice – SY Philippine Siren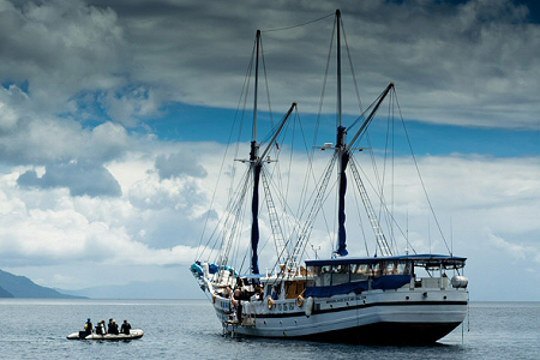 Cruises Tubbataha, Visayas, Malapascua, Donsol
Tubbataha trips from March 17 to May 1
Tubbataha itinerary: Delsan Wreck, Black Rock, Washing Machine, Donato's Wall, Shark Airport, Amos Rock, Staghorn Point, Jessie Beazley Reefs, Malayan
Cabins have ensuite bathrooms, TV, DVD & music players
Asian and International cuisine
Free local beers
Massage, laundry service, sea kayaks
Experienced English speaking divemasters (6 divers per guide)
Free Nitrox for enriched air certified divers
Large boat
2 Automated life rafts, each accommodating 25 passengers
2 motorized dinghies
Most Popular – PY Atlantis Azores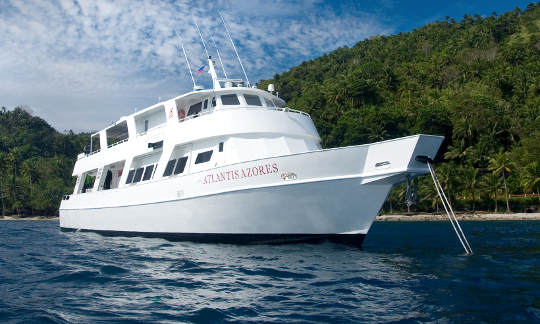 Visits Tubbataha, Bohol, Malapascua, Anilao, Apo Reef, Coron
Tubbataha trips from April 6 to June 15
Tubbataha itinerary: Seafan Alley, Washing Machine, Shark Airport, South Park, Gorgonian Channel, Amos Rock. Malayan Wreck, T Wreck, Black Rock, Lighthouse, South West Wall
All cabins have ensuite bathrooms
Filipino and International cuisine
Nitrox available for enriched air certified divers
Re-breather facilities
Cameras: 3 tier table, charging station, rinse tanks
Aluminum hull boat
3 Life rafts, each accommodating 12 passengers
MV Seadoors

SY Philippine Siren

PY Atlantis Azores
Length

25 m
40 m
32 m
Guests

16
16
16
Crew

12
12
10
Equipment

$172+/trip
free
dive computer $6/day
$195/trip
dive computer $75/trip
Nitrox

$14/day
free
$150/trip
Single Room

+75%
+100%
+85%
Price/Day

$272
$305
$349
For other posts about Philippine diving, check these:
Scuba Diving Trip Insurance
A cushion for emergencies provides peace of mind when on vacation.  I recommend this diving insurance as they have worldwide coverage and provide scuba divers a quality insurance and medical assistance service.
Feedback and Comments
I hope you found this post on Tubbataha Reef scuba diving interesting and useful. If you have any questions or ideas, please feel free to share them in the comments section.  I'd love to know of any experience you have.  If there is no comments section directly below, click here:  >>comments<<