We may earn money or products from the companies mentioned in this post.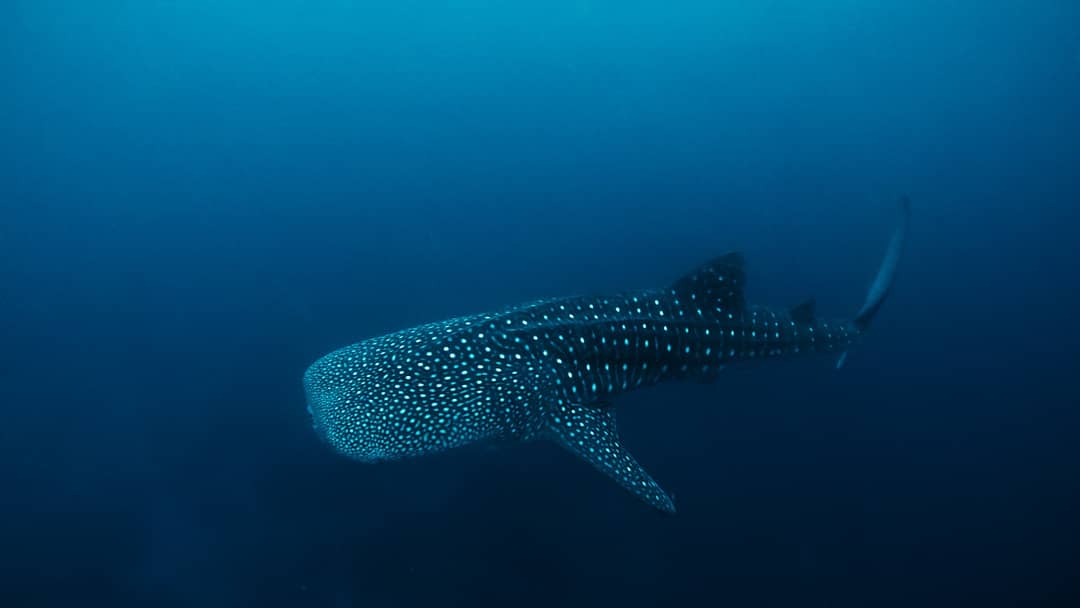 This is the eleventh in a series of reviews of the best dive resort locations around the world.  In this post, the focus will be Sogod Bay, Southern Leyte, Philippines.
In addition to this series on dive resort locations, the best worldwide liveaboard dive locations and services are reviewed in their own series.  To check them out, or others in this series, click on Liveaboards / Resorts on the menu at the top and choose a title from the list.
Have you ever been diving in Sogod Bay before?  If so, I'd love to know about your experience.  What dive shop or liveaboard did you use?  Which dive spots are the best and what are the conditions there regarding the visibility, current, water temperature, sealife attractions, etc.?  Please post your response in the comments section at the bottom and we'll all learn something we can use.
Sogod Bay Diving
Off the southern point of Leyte are Limasawa, where Magellan visited, and the Medicare Islands with steep walls, deep canyons, and rich coral reefs. There is a great variety of animal life including mandarin fish, turtles, eagle rays, frogfish, batfish, nudibranchs, very large black and table corals, barrel sponges and gorgonian fans and the possibility of a strong current.  On occasion, hammerheads are also sighted.
Padre Burgos has some great shallow water night dives with intriguing creatures for the photographer like seahorses, frogfish, eels, octopus, and various crabs, among many others.  Otherwise, there are abundant sweetlips, fusiliers, schools of barracuda, tuna and jacks and beautiful hard and soft corals and gorgonians.
From November to May, Panaon Island and Sogod Bay are most famous for pelagics including whale sharks, dolphins and manta rays.  The Napantao Fish Sanctuary has a large wall and when the current is strong there are similar large schools of fish and a generally very rich coral reef.
Popular Sogod Bay Diving Sites
Burgos Pier – functional pier jutting 150 meters into the sea, good muck and night diving, fishing off the pier still occurs 4 days a week, rubbish provides habitat for flatworms, octopus, banded cleaner shrimp, razorfish, slipper crabs, stargazers and lots of lionfish
Bunga Bend – 15-35 meters, diverse fish and coral, pygmy seahorses, ghost pipefish, mantis shrimp, ribbon eels, nudibranchs
Medicare North and South – lots of soft corals and barrel sponges, mandarin fish, eagle rays, turtles, batfish, frogfish, moderate current
Limasawa Island – 6 sites, steep walls, gorgonians, black corals, nudibranchs, Adrian's Cove and Zack's Cove sites have steep walls from 20-50 meters, strong current possible, hammerheads, pelagics, whale sharks, mantas
Sonok Point – two world-class sheer walls to 50 meters, hard and soft corals, rich and diverse reef, whale sharks
Napantao Wall – in Napantao MPA (Marine Protected Area), wall to 50 meters, schooling reef fish including purple and yellow anthias, green branch corals, large pelagics
Max's Climax – wall from 8-45 meters, good macro, hard and soft corals, strong current possible, pelagics, sweetlips, snappers, crabs, shrimps, pygmy seahorses, decorator crabs
Environmental Protection
A lot of Sogod Bay has not received environmental protection as much as places less out of the way like Anilao and Puerto Galera.  However, 11 MPAs (Marine Protected Areas) have been created and fairly effectively protect and promote the undersea environment.  No coral harvesting or cyanide fishing is tolerated anywhere in the Sogod Bay area.  There is a crown of thorns starfish infestation in some places that is being addressed.
Season, Air and Water Temperature, Visibility
It is always warm and diving is possible year-round.  Air temperature ranges from 80-96°F (26-36°C) and water temps from 80-86°F (27-30°C). Seas are calmest from November to May and that is the best time to dive and to see whale sharks.  From June to October, the chance for a typhoon is greater with rougher seas and boats prevented from getting out, on occasion.  Visibility is usually good and can reach 30 meters.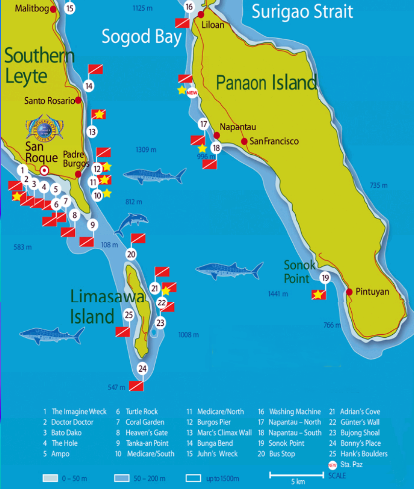 For other posts about Philippines diving, please check these:
Southern Leyte Accommodation
Recently one major liveaboard yacht has added the Sogod Bay area to its cruise itinerary.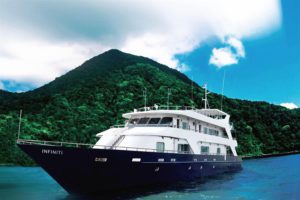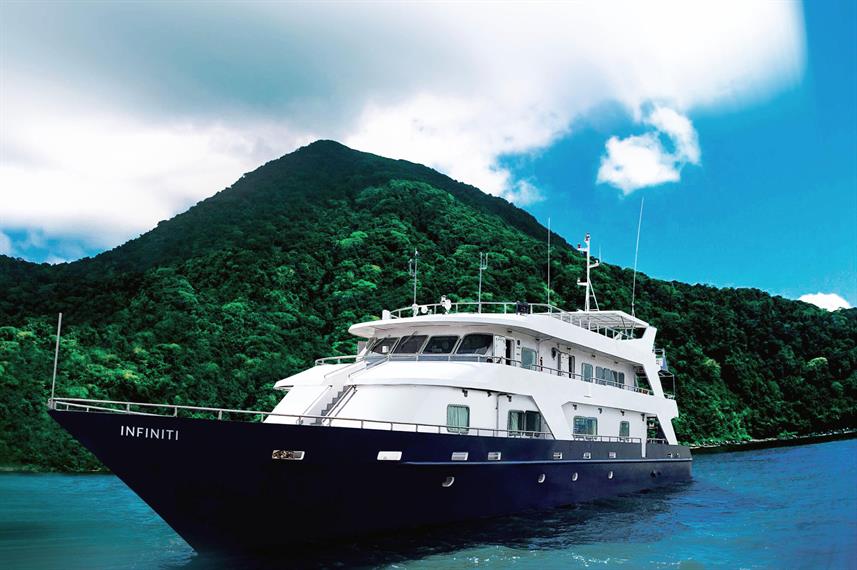 MV Infiniti, Sogod Bay Liveaboard – Check the Price & Details
In addition to the soul liveaboard going to this region, fortunately, there are a number of resorts and hotels on the southern tip of Leyte in the Padre Burgos area, ranging from budget to luxury.  Several of them are specifically diving resorts.  From November to May the area can get more crowded in anticipation of the whale shark season, and at the Christmas, Chinese New Year, and Easter holidays it may get busy, as well.  Early booking is recommended at these times.  Offseason discounts are often possible for the rest of the year.  This website is a good source for the available options and can arrange a booking:
After landing at Mactan International Airport, a 3-hour fast ferry service is available to Maasin, near Sogod Bay.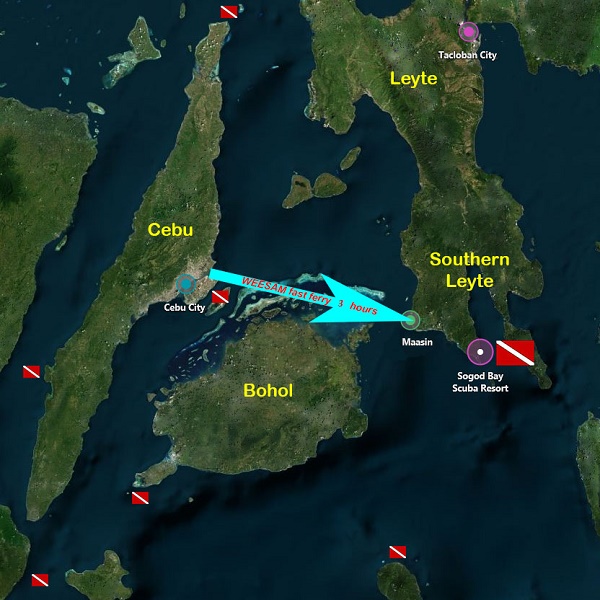 Sogod Bay Photos
With the macro life, beautiful, diverse coral reef and many larger fish, including whale sharks, there are many excellent photo opportunities.  For information and reviews of diving cameras, click here:
Scuba Diving Trip Insurance
A cushion for emergencies provides peace of mind when on vacation.  I recommend this diving insurance as they have worldwide coverage and provide scuba divers a quality insurance and medical assistance service.
Feedback and Comments
I hope you found this post on Sogod Bay scuba diving interesting and useful. If you have any questions or ideas, please feel free to share them in the comments section.  I'd love to know of any experience you have diving there.  If there is no comments section directly below, click here::  >>comments<<