We may earn money or products from the companies mentioned in this post.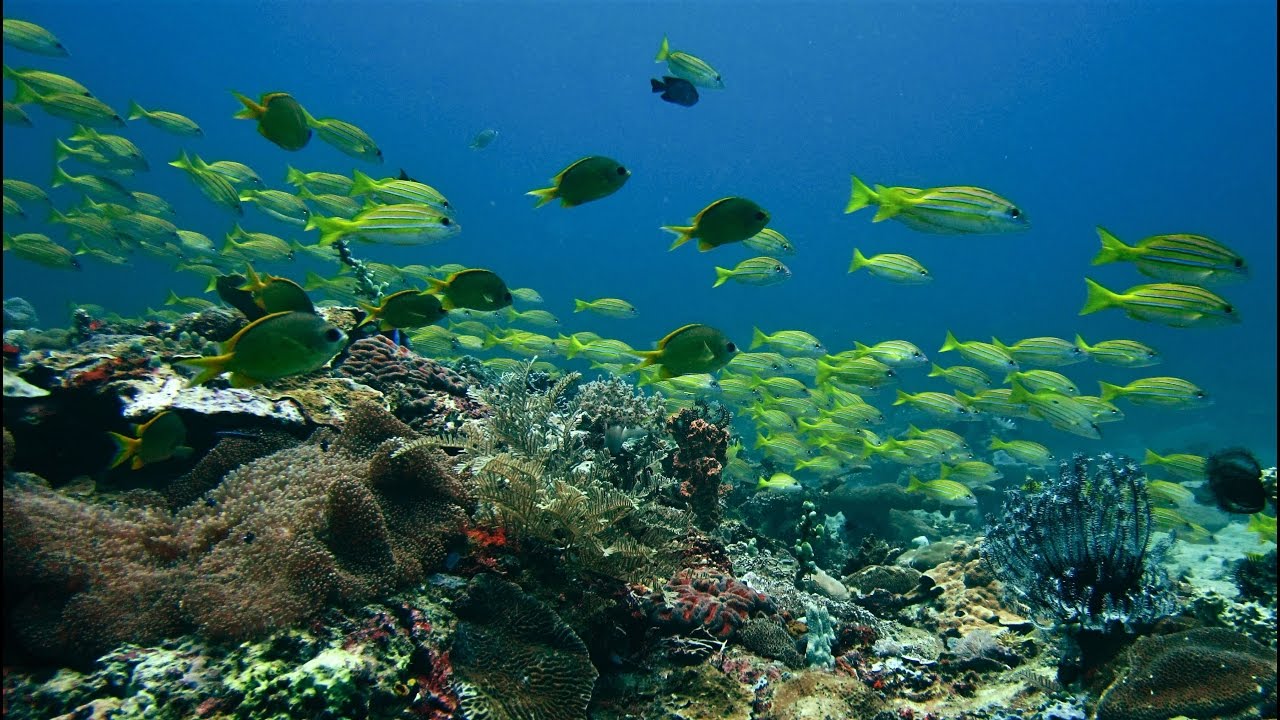 This is the fifty-ninth in a series of reviews of the best dive resort locations around the world.  In this post, the focus is Puerto Princesa, Palawan, Philippines.
In addition to this series on dive resort locations, the best worldwide liveaboard dive locations and services are reviewed in their own series.  To check them out, or others in this series, click on Liveaboards/Resorts on the menu at the top and choose a title from the list.
Have you ever been diving in Puerto Princesa before?  If so, I'd love to know about your experience.  What dive shop or liveaboard did you use?  Which dive spots are the best and what are the conditions there regarding the visibility, current, water temperature, sealife attractions, etc.?  Please post your response in the comments section at the bottom and we'll all learn something we can use.
Puerto Princessa Scuba Diving
Background – Puerto Princesa is the capital of Palawan Province and is the westernmost city in the Philippines.  It is the least densely populated city in the country with a population less than 260,000.  Palawan is situated between the South China Sea to the west and the Sulu Sea to the east, 306 miles (567 kilometers) from Manila.  It is a friendly city that has been acclaimed as "Clean and Green" with eco-tourism an important part of the economy.  The island has rich biodiversity and scenic wonders from tip to tip.  Beautiful beaches, endemic wildlife and until recently, completely isolated human civilizations are claims to fame.  Puerto Princesa is known as the gateway to the UNESCO underground river system in Sabang and great diving at the Tubbataha Reefs and other beach and diving destinations moving northward along the island, like Port Barton, San Vicente, Taytay Bay, El Nido and Coron at the end.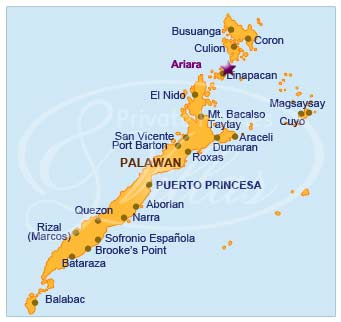 Palawan Map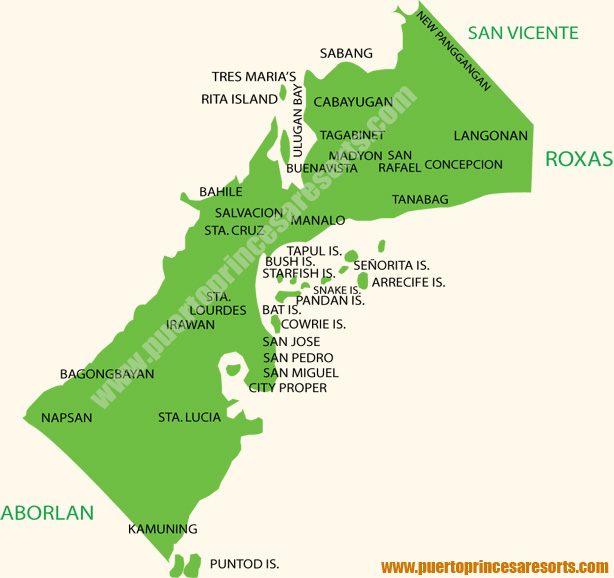 Undersea World – The coral reef around Puerto Princesa pales when compared to its nearby neighbor, Tubbataha Reef.  I guess just about everyplace does.  The corals are not as pristine, rich or diverse.  However, the sites are easily accessible without having to spend thousands of dollars on a liveaboard and there is some pretty interesting stuff to be seen.  There are walls and pinnacles, rocky reef areas interspersed with sand, grass and coral heads with a good variety of soft and hard corals, sponges, tunicates and other encrusting life. Chances are you will see some very unusual and intriguing macro critters like gobies, blennies, scorpionfish, lionfish, frogfish, nudibranchs, octopus, crabs, shrimp, squid and many more, not to mention a lot of colorful reef fish including triggerfish, cardinal fish, butterflyfish, surgeonfish, yellowback fusiliers, snappers, sweetlips, angelfish and batfish.  Many sites have big sea fans and the ones just outside Puerto Princesa Bay often have significant exciting drift making for excellent feeding opportunities for schooling barracuda, jacks and tuna, manta rays, reef sharks and even whale sharks.  In addition in the grassy areas, there is a decent chance you will see a dugong, something you won't find on Tubbataha.  Turtles are prevalent in all areas.
For other posts about Philippines diving, please click on these:
Seasons and Conditions – It is possible to dive year-round in Puerto Princesa, however during the wet season visibility can be compromised.  The rainy season runs from June to December with the driest time from February to May.  It is always warm with average daily highs running from 31-33°C (87.8-91.4°F).  The water temperature stays in a range from 26-30°C (78.8-86°F).  Most people need no thicker than a 3 mm wetsuit when the water is at its coolest.  Visibility can reach lows in the rainy season of 5 meters (16 feet) to highs of 35 meters (115 feet).  At times current can be strong at some of the sites.  There is diving suitable for all levels and lots of snorkeling areas.  A number of dive shops operate in Puerto that provide a full range of dive courses, equipment rental and guiding around Puerto Princesa Bay and Honda Bay.  A number of them can help you organize trips to more distant sites including to Tubbataha during that season from March to June.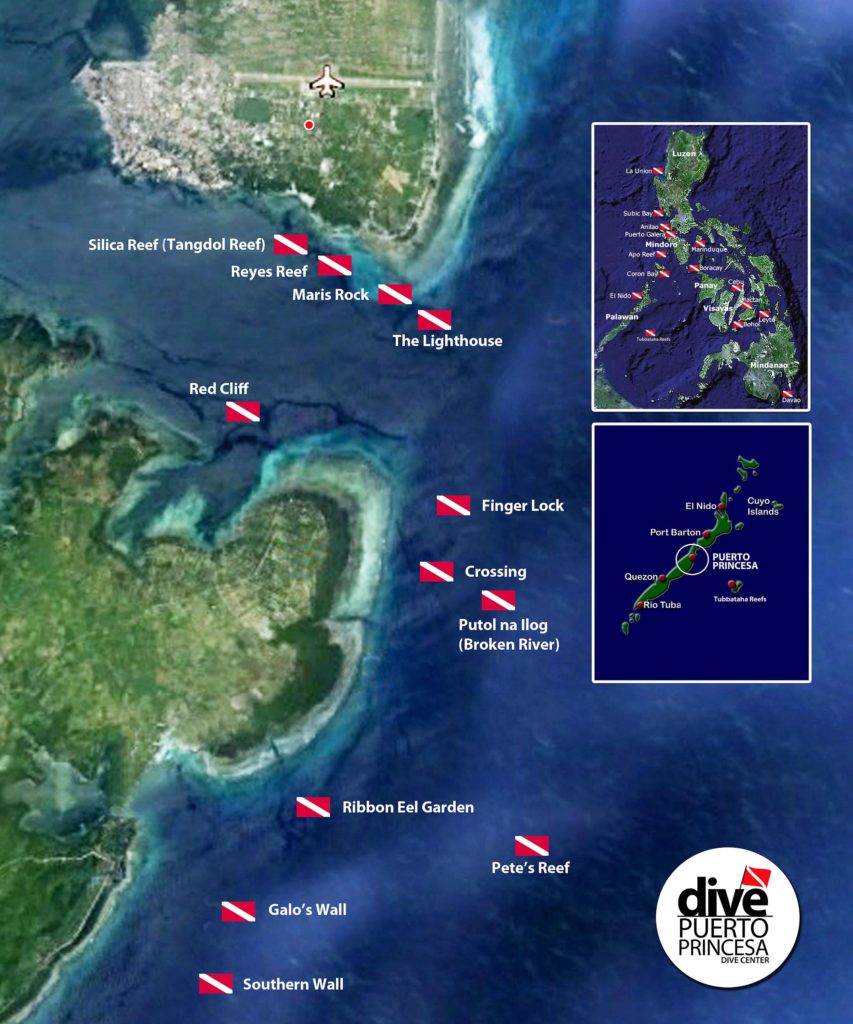 A Sampling of Puerto Princesa Dive Sites
White Beach and Red Cliff (two sites): inside Puerto Princesa Bay, slopes  and drop-offs starting at 7 meters (23 feet), easy conditions for training, good coral site with lots of reef fish, turtles and rays in the soft coral areas, possibility of manta rays, whale and hammerhead sharks, Red Cliff has a muddy area good for muck diving for macro critters, all levels
Cuttlefish Shawl: 20 meters (68 feet), reef fish including angelfish, cuttlefish, barracuda, turtles, reef sharks, occasional dugongs, all levels
Lighthouse:  sandy area with interspersed corals starts at 12 meters (40 feet) and continues to 30 meters (100 feet), caverns, multicolored sea fans, sea pens, nudibranchs, frogfish, schooling reef fish, reef sharks and rays, strong current possible, experienced level
Mares Rock: 34 meters (115 feet) maximum depth, in the mouth of Puerto Princesa Bay, sloping reef, macro critters like crustaceans, octopus, nudibranchs, schooling jacks and barracuda, tuna, turtles, strong current possible, experienced level
Crossing: 4-26 meters (12-85 feet), sand, grass and corals, good macro life, nudibranchs, moray eels, scorpion fish, frogfish, triggerfish, a variety of reef tropicals, turtles, strong current possible, good drift dive, experienced level
Putol Na Ilog: reef top at 9 meters (30 feet), descends to 30 meters (100 feet), grassy top, possible dugongs feeding, coral on slopes, huge sea fans, macro life, schooling reef fish, blue triggerfish, jacks, rays, reef sharks, strong currents possible, experienced level
Pete's Reef, Galo's Wall, Tablehead (3 sites):  all south of Puerto Princesa Bay, Pete's reef is a shoal cresting at  21 meters (70 feet), coral patches, big barrel sponges, rich reef life, eels, rays, big schools of barracuda and jacks, strong currents possible, experienced level
Honda Bay, to the north of Puerto Princesa Bay, also has a number of sites at Pandan Island, Arreceffi Island, Panglima Reef, Helen's Garden, Henry's Reef, and others all accessible within an hour by boat.
Puerto Princessa Photos
With the interesting underwater terrain, colorful anemones, sponges, corals and encrusting invertebrates, nudibranchs, crabs, octopus, squid and other macro critters, schools of fish, turtles, sharks, and fascinating scenery and historical sites on land, as well, there are many excellent photo opportunities.  For information and reviews of dive cameras, click here:
Puerto Princesa International Airport has daily connecting flights from other cities in the Philippines including Manila, Cebu, and Iloilo.  Taxi and transfer service from the airport is available to take you to your hotel or anywhere around Puerto Princesa.  Tricycles (motorbikes with a sidecar) can transport you around the city and car rental is also available.
A number of dive shops operate in the Puerto Princesa area year round that provide a full range of services including equipment rental, dive courses, guiding and boat dive cruises.  There are at least 184 accommodations of every level available from $3 to $557 per night.  The website linked below is a good source for the available options and can arrange a booking.  Their rates are the lowest and it is free to cancel or change dates.
Things to Do in Puerto Princesa (aside from scuba diving)
Tourists to Puerto typically are interested in seaside activities and a number of other fascinating excursions to do some sightseeing and get some excitement, as well.  Here is a list of some of the options:  float trip into the underground river, visit the Palawan Wildlife Rescue and Conservation Center, ride a zip line or explore a cave at Ugong Rock, get out your camera for the hilltop views at Mitra's Ranch, go for a Puerto Princesa city bay walk, tour the Palawan Butterfly Eco Garden and Tribal Village, watch some fireflies at Iwahig, tour the Palawan Heritage Center Museum, retrace some history at Plaza Cuartel Park (WW-II penal colony for US prisoners of the Japanese), go for a dolphin watching cruise, enjoy the sun and sea at the various beaches including Sabang . . . . . .   Check out the videos below for a glimpse of life in Puerto Princesa and a few additional ideas.
A cushion for emergencies provides peace of mind when on vacation.  I recommend this diving insurance as they have worldwide coverage and provide scuba divers a quality insurance and medical assistance service.
Feedback and Comments
I hope you found this post on Puerto Princesa scuba diving interesting and useful. If you have any questions or ideas, please feel free to share them in the comments section.  I'd love to know of any experience you have diving there.  If there is no comments section directly below, click here:  >>comments<<