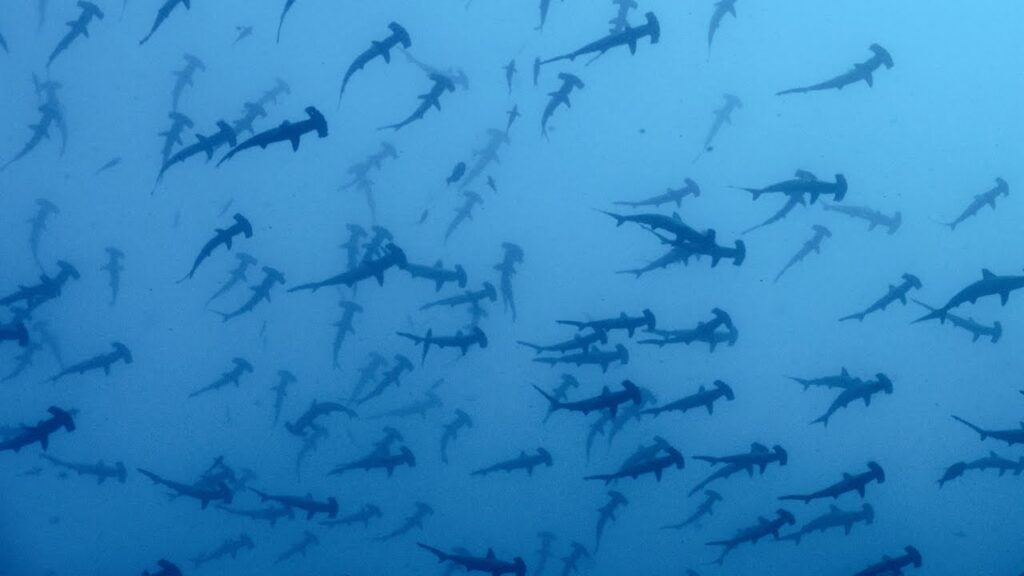 Updated May 31, 2021
This is the fifty-first in a series of reviews in a series that introduces and describes the various dive services and sites for worldwide liveaboard dive safaris.  This one focuses on Malpelo Island.
In addition to this review on liveaboards, the best worldwide dive resort locations and services are reviewed in their own series.  To check them out, or other liveaboards, click on Liveaboards/Resorts on the menu at the top and choose a title from the list.
Have you been diving at Malpelo Island before?  If so, I'd love to know about your experience.  What dive shop or liveaboard did you use?  Which dive spots are the best and what are the conditions there regarding the visibility, current, water temperature, sealife attractions, etc.?  Please post your response in the comments section at the bottom and we'll all learn something we can use.
Malpelo Island Diving Colombia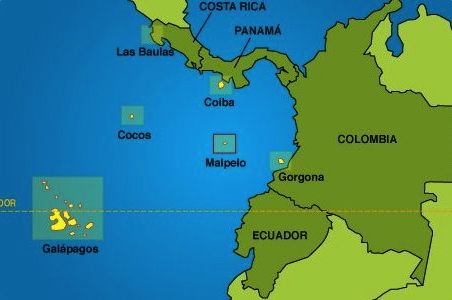 Background
Malpelo is a small island about 1.6 kilometers (1 mile) long and 91 meters (100 yards) wide located 500 kilometers (310 miles) from the Pacific mainland Colombian city of Buenaventura.  Taking 30-40 hours to reach by boat, this remote location is only inhabited by members of the Colombian military on a small post.
This barren rock of an island has three peaks the highest of which is Cerro de la Mona at 300 meters (980 feet) in elevation and a number of rocky islets protruding offshore.  Substantial bird guano on the surface supports algae, lichens, mosses, ferns, and shrubs.  While this onshore wildlife hardly inspires awe, Malpelo Island was made a nature reserve and became a UNESCO World Heritage Site in 2006 due to the fantastic life below the surrounding ocean surface.
Undersea World
Below the surface, the volcanic terrain is made up of steep walls, caverns, and pinnacles, on an undersea ridge.  There are pillow lavas, breccias, basalt dikes, and a drop-off to a depth of 4 kilometers (13,000 feet).  Conditions can be rigorous with strong but variable currents, a significant thermocline, and upwelling that brings nutrients and plankton to the seas around the island.  Admittedly these conditions don't support the most prolific coral growth, but that is not what divers come for.
The main attraction is the variety and volume of megafauna.  As one-third of the so-called hammerhead triangle that includes the Galapagos Islands and Cocos Island, frequently gigantic shoals can be seen in numbers up to 300.  Silky sharks also in the hundreds often accompany them or mix in.  Other large marine life includes resident whitetip reef sharks, Galapagos sharks, whale sharks from July through September, oceanic manta rays, giant groupers, sailfish, tuna, bottlenose dolphins, and occasional humpback and blue whales.  The mantas tend to hunker near rocky outcrops in the current and sharks often seek cleaning stations of barber-fish, clarion angelfish, juvenile rainbow wrasses, and schools of butterflyfish.  The great shoals of sharks are often seen huddling near the thermocline.  Another highlight that is rare on the world stage but fairly common around Malpelo Island is small-tooth ragged-tooth sharks often found at 40+ meters (130+ feet).  In addition, massive schools of baitfish, big-eye jacks, red snappers, and grunts often nearly block out the sunlight.  Other attractions are Pacific creole fish, juvenile barracuda, red-lipped batfish, hogfish, eagle rays, Guineafowl pufferfish, free-swimming moray eels, and macro critters like spiny lobsters, blennies, and scorpionfish.
Malpelo Island Liveaboard Diving
Historically several vessels have provided liveaboard cruises to Malpelo.  Since 2018 only one has been making the trip, the Ferox.  It is a comfortable if rugged, 32-meter boat with a maximum of 12 guests sharing 8 cabins.   With the steep walls and heavy currents, the Ferox demands that divers have at least an AOW certification. They also provide free Nitrox and require you to take a Nitrox course if you are not already certified.
Other Regional Liveaboard Diving
There are a number of liveaboard diving and adventure cruises to the Galapagos Islands, Cocos Island, and the Socorro Islands in the general region that offer somewhat similar megafauna.  Here are my reviews and links to some of the liveaboards.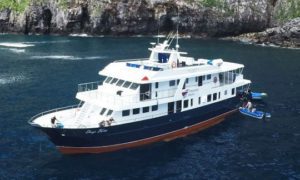 MY Galapagos Master – Galapagos Liveaboard Diving: Check the Price & Details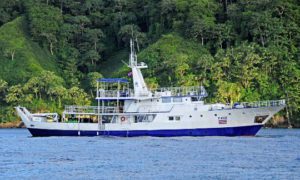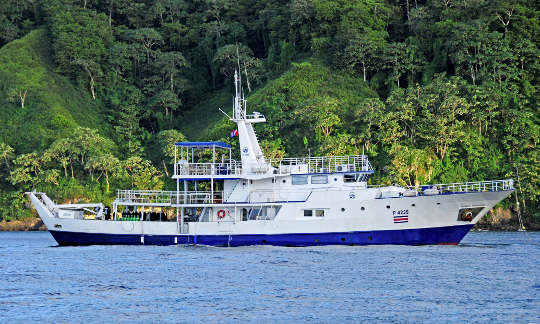 Okeanos Aggressor I – Cocos Island Liveaboard Diving: Check the Price & Details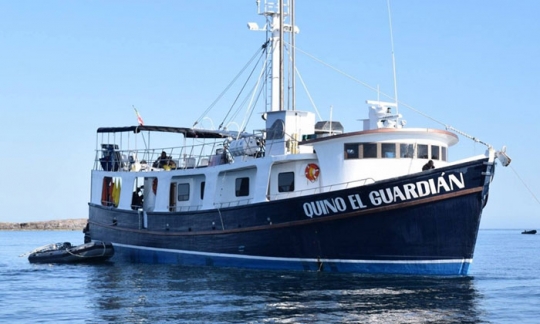 Quino El Guardian – Socorro Islands Liveaboard Diving: Check the Price & Details
Seasons and Conditions
Diving is possible year-round on Malpelo Island.
Air temperature average daily highs range from 29-33°C (84-91°F) with April and May the hottest months.
Water temperature has a range at the surface of 22-30°C (72-86°F) with an average of 26-28°C (78-82°F). Below the thermocline, it can be several degrees Celsius cooler. At times a 7mm wetsuit is suitable.  Drysuits are not recommended due to their bulkiness which makes the often significant currents more difficult to handle.
The wet season runs from June through December when the sea is calmer and thermoclines deeper.
Visibility averages 10-30 meters (33-100 feet). During plankton blooms, it will tend toward the bottom of the range.
Here is my review regarding the range of gear suitable for cold water diving:
Selected Malpelo Island Dive Sites
La Nevera (The Fridge): 12-40 meters (40-130 feet), on the southwest end just before the tip of the island, deep rocky slope with boulders and sea fans, a very reliable spot to see sharks, cleaning station for hammerheads, other possibilities are silky sharks, Galapagos sharks, eagle rays, bottlenose dolphins, and whale sharks in season, corals are not rich
El Acquario: 25-35 meters (82-115 feet), on the southwest side, pinnacle often with strong currents and rich fishlife including thick swarms of mullet snappers, lots of white anemones at 30 meters (100 feet) down, silky sharks, and hammerheads are often present, and whale sharks from July to September
La Gringa: 32 meters (105 feet), off the southern end, pinnacle with rocky terrain, swim-through at 32 meters (105 feet) ascending to the surface with numerous fish inside, outside a good spot for huge schools of hammerheads and silkies
La Ferreteria (Hardware Store): 18-35 meters (18-115 feet), off the southern end, rich marine life including very large numbers of moray eels and scorpionfish, silky and whale sharks, dolphins, very strong currents possible
Arreciffes (El Altair de Virginia): 7-32 meters (23-105 feet), north side site, better-than-average location for colorful hard corals, hammerhead cleaning station in shallow coral gardens, eagle rays, Galapagos sharks, whitetip reef sharks, schools of Pacific barracuda, leatherbass groupers, and bluefin jacks are all common
3 Musketeers (Los Tres Mosqueteros): 22-35 meters (72-115 feet), 3 rocky islets on the northern side, popular site with Galapagos and silky sharks, whale sharks on the south side, big schools of big-eye jacks, a swim-through on Portos, the middle islet, called the Cathedral, and a forth islet to the southeast called D'Artagnan that is also interesting, when currents are mild the marine life is more abundant
Malpelo Island Transportation and Lodging
Transportation
Air – Alfonso Bonilla Aragón is Cali's international airport about 20 kilometers (12.5 miles) northeast of the city and the point of access to the departure point for the liveaboard at Buenaventura about 2.5 hours away.  A number of domestic and regional destinations have direct flights to Cali as well as international flights from Miami, Fort Lauderdale, New York, Madrid, and a number of Central and South American cities. The airport is served by taxi and bus.
Transit to Buenaventura – Numerous public options include a 4-hour bus ride.  Check with the organizers at the liveaboard for their advice and arrangements.
For more details on transportation and other tourist information, check Wikitravel-Cali.
Lodging
In the departure town of Buenaventura, there are around 20 recommended hotels from $7-$80 a night.  If you prefer to spend time in Cali the many lodging options run from $3-$589 per night.
The website linked below has the details for the lodging and can arrange a booking.  You can easily find the location on the map provided on their site.  The rates are guaranteed to be the lowest and it is free to cancel or change dates.
Photography in Malpelo Island
With the spectacular undersea terrain, a variety of fish, marine life, sharks, and other megafauna, there are many excellent photo opportunities, especially for wide-angle shots.  For information and reviews of dive cameras, check out these posts:
Scuba Diving Trip Insurance
A cushion for emergencies provides peace of mind when on vacation.  I recommend this diving insurance as they have worldwide coverage and give scuba divers quality insurance and medical assistance service.
Feedback and Comments
I hope you found this post on Malpelo Island scuba diving interesting and useful. If you have any questions or ideas, please feel free to share them in the comments section.  I'd love to know of any experience you have.  If there is no comments section directly below, click here:  >>comments<<