We may earn money or products from the companies mentioned in this post.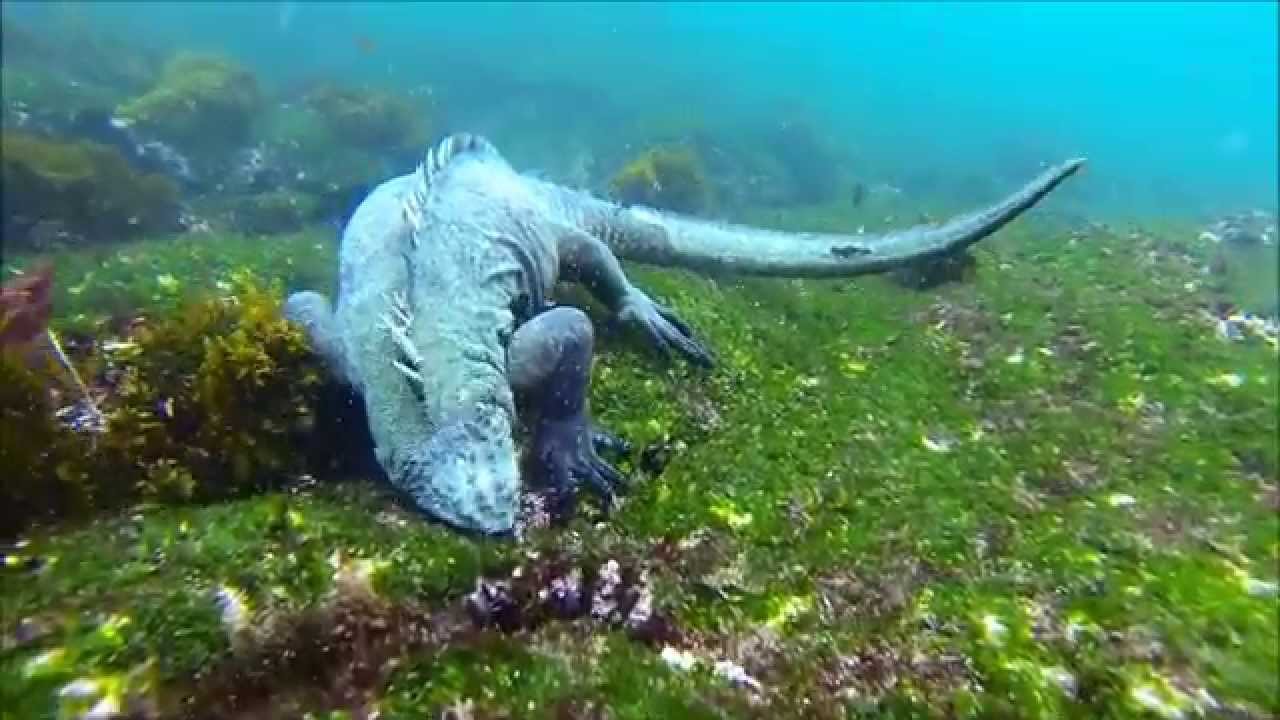 This is the ninety-forth in a series of reviews of the best dive resort locations around the world.  In this post, the focus is on Panama. In addition to this series on dive resort locations, the best worldwide liveaboard diving locations and services are reviewed in their own series.  To check them out, or others in this series, click on Liveaboards/Resorts on the menu at the top and choose a title from the list.
Have you ever been diving in the Galapagos Island before?  If so, I'd love to know about your experience.  What dive shop or liveaboard did you use?  Which dive spots are the best and what are the conditions there regarding the visibility, current, water temperature, sealife attractions, etc.?  Please post your response in the comments section at the bottom and we'll all learn something we can use.
Scuba Diving in the Galapagos Islands
Background – The 18 main and 3 smaller islands of the Galapagos are renowned for their awe-inspiring and fearless wildlife and Darwin's development of the Theory of Evolution based on his studies there.  Part of Ecuador, they are situated 1,000 kilometers (625 miles) off the west coast and spread out over 44,000 square kilometers (17,000 square miles).  Volcanic in origin, 97% of the land mass is under the protection of the Galapagos National Park in an attempt to maintain as pristine an environment as possible for the amazing creatures that have developed there.  Only 1% of the area is permanently inhabited by a population of 35,000 allowed on only 4 of the islands.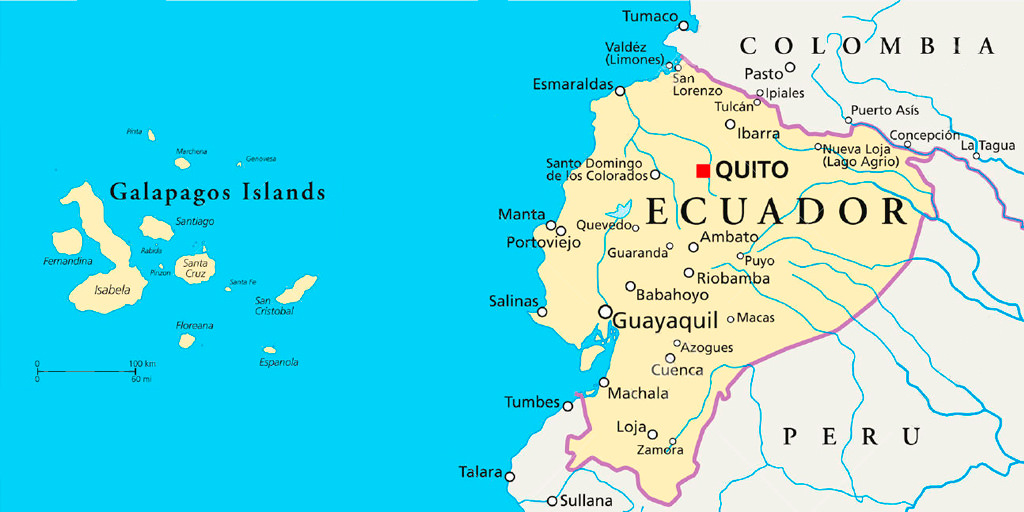 Undersea Life – The volcanic origins have created an interesting underwater terrain of rocks with caverns, ledges, and swim-throughs and some coral in between.  The sea life is as spectacular as that of any location in the world with a great variety of megafauna.  Sharks around the islands include black and whitetip reef sharks, Galapagos sharks, silky sharks, tiger sharks, hammerhead sharks, and whale sharks.  Mantas and numerous other rays can be found along with iguanas, penguins, fur seals, sea lions, dolphins, and even orcas.  Monster fish include Mola Mola (ocean sunfish), marlin, and sea bass.  The reef is also rich in colorful tropicals and macro critters, as well, that include butterflyfish, surgeonfish, batfish, angelfish, wrasses, moray eels, peacock flounders, triggerfish, trumpetfish, porkfish, frogfish, sergeant majors, octopus, crabs, blennies, scorpion fish, and many more.
Seasons and Conditions – Diving is good all year in the Galapagos.
The warm, wet season runs from December to May when air temperature averages 25-26°C (77-79°F).  The water temperature range is 22-25°C (71-77°F).  A plankton bloom happens in this season which is very attractive to mantas and a variety of other rays including schools of mobulas, golden rays, eagle rays, cow-nosed rays, and marble rays. This is also the period of more hammerheads, as well.
The water temperature stays around 22°C (71°F) from June to November, the dry season.  A plankton bloom happens in this season which is attractive to whale sharks but causes visibility to decrease to 8-15 meters (26-49 feet).  This is also the time when penguins and mola mola are more common.  With water this cool, 5-7 mm wetsuits with hoods and gloves or even drysuits may be suitable.
Current can get strong depending on the site, season, and tide.
There are sites suitable for all levels of diver from beginner to advanced and technical levels.  At least 15 dive shops are available to offer a full range of diving coursework, equipment rental, guiding and boat cruises around the central islands.
Here is my review regarding the range of gear suitable for cold water diving:
There are a number of liveaboard diving and adventure cruises to the Galapagos Islands.  Here is my review and a link to one of the liveaboards.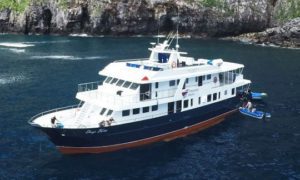 MY Galapagos Master – Galapagos Liveaboard Diving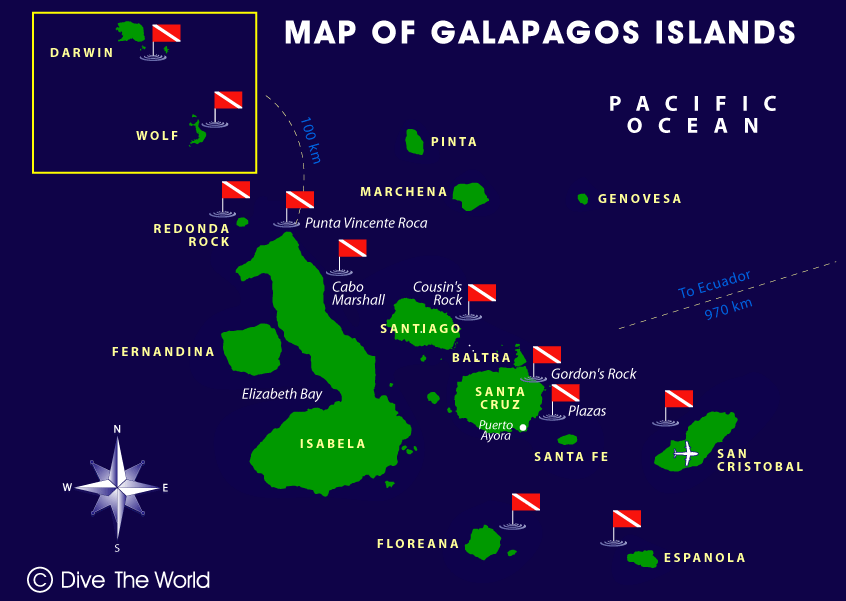 Selected Galapagos Dive Sites
Darwin's Arch, northern site, accessible by liveaboard: The famous stone arch high above the water is a site that frequently has strong current that brings in a lots of megafauna to shallow water 9 meters (30 feet) deep, including big-eye jacks, blacktip reef sharks, silky sharks, Galapagos sharks, hammerhead sharks, whale sharks, eagle rays, and dolphins.  Experienced level.
Shark Point, Wolf Island, northern site, accessible by liveaboard: Another site with lots of sharks including whale sharks, Galapagos sharks, silky sharks, and shoals of hammerheads.  Other highlights include dolphins, eagle rays, other schooling fish, and eels.  Visibility is often limited, and current and surge are both often strong.  Experienced level.
Cousin Rock, Santiago Island, southern site, accessible by liveaboard: There is great macro life on a terraced terrain including scorpion fish, frogfish, seahorses, nudibranchs, and moray eels.  Descending, the site has lots of black coral and overhangs with whitetip reef sharks underneath.  Schooling barracuda, sea turtles, manta rays, and hammerhead sharks are commonly seen. Part of the site is sheltered from the current. Experienced levels.
Mosquera, between Baltra and North Seymour, accessible by day-trip: This sandbar has medium to strong current that brings schools of amberjacks and is commonly executed as a multi-level drift dive.  A colony of sea lions, green turtles, whitetip reef sharks, and stingrays are also commonly seen. Experienced level.
Gordon Rock, off the northeast coast of Santa Cruz:  Strong currents over a submerged cone have created a situation many refer to as the "washing machine" which brings in shoaling hammerheads. Experienced level.
Kicker Rock, west side of San Cristobal:  This site named because it looks like a shoe is a shallow site with a rich variety of marine life including sea turtles, rays, surgeonfish, angelfish, big rays, sea lions, marine iguanas,  and going deeper Galapagos sharks, and hammerhead sharks.  All levels and snorkelers.
Cabo Marshall, off the northeast coast of Isabela Island, accessible by day-trip: The run-off from Isabela Island often decrease visibility but the nutrients and current attract huge mantas, mobulas, and other pelagics. Experienced level.
Punta Vicente Roca, off the north coast of Isabela Island, accessible by day-trip: This site has a wall going to 27 meters (90 feet) with lots of macro critters including seahorses and frogfish.  The big attraction is mola mola seen along the wall and other large fish coming to get cleaned.  In the shallows, there may be diving penguins and sea lions coming to play. Experienced level.
Redonda Rock, off the north coast of Isabela Island, accessible by day-trip: The rock is the tip of a volcano that created an island.  In the rocks and around the peak look for seahorses and nudibranchs in the shallow water.  In the shallows, divers often encounter heavy surge.  Getting past that there is a sandy patch with hot volcanic bubbles being released.  Deeper highlights are shoaling hammerhead sharks, Galapagos sharks, and barracuda.  Experienced level.
Galapagos Islands Photos
With the intriguing undersea terrain, fascinating marine life including sea turtles, iguanas, eagle and manta rays, a variety of sharks, sea lions, orcas, dolphins, macro critters and reef tropicals, and interesting onshore wildlife, as well, there are many excellent photo opportunities.  For information and reviews of dive cameras, click here:
Transportation
Air – Daily flights from Quito and Guayaquil in continental Ecuador connect to the airports in San Cristobal (1 k from town) and Isla Baltra Airport (2 hours from Puerto Ayora).  There are also air taxis that connect those islands and a third at Puerto Villamil on Isabela Island
Boat – Liveaboard diving and adventure cruise ships with 100 passengers or less are allowed to land in the Galapagos Islands.  Check this link for further info:  Liveaboard Diving and Adventure Cruise Yachts.  Private companies offer speedboat transport on boats with a maximum load of 25 passengers between San Cristobal, Puerto Villamil, and Santa Cruz.
Foot – In National Parks and settled areas, distances are not great, and walking is the approved transportation method.
For more details on transportation logistics and further related information, please click here:  Wikitravel – Galapagos Islands
Lodging and Dive Shops – On the central islands there are at least seven dozen hotels in a range from $7 to $380 per night.  Puerto Ayora on Santa Cruz is the most developed area with most of the lodging.  There are fifteen or more dive shops mostly on Santa Cruz with a few on San Cristobal and Isabela.   Some are associated with lodging.  They offer full services including equipment rental, dive courses, guiding and boat dive cruises to the central islands dive sites.  The website linked below has the details and can arrange the booking.  You can easily find the location on the map provided on this site.  Their rates are guaranteed to be the lowest and it is free to cancel or change dates.
Things to Do in the Galapagos Islands (aside from scuba diving)
Each of the 21 islands has something special to explore.  The following video is a nice introduction to 8 of the central islands that visitors staying in a hotel would have a chance to experience.
A cushion for emergencies provides peace of mind when on vacation.  I recommend this diving insurance as they have worldwide coverage and provide scuba divers a quality insurance and medical assistance service.

Feedback and Comments
I hope you found this post on Galapagos scuba diving interesting and useful. If you have any questions or ideas, please feel free to share them in the comments section.  I'd love to know of any experience you have diving in the Galapagos Islands.  If there is no comments section directly below, click here:    >>comments<<