We may earn money or products from the companies mentioned in this post.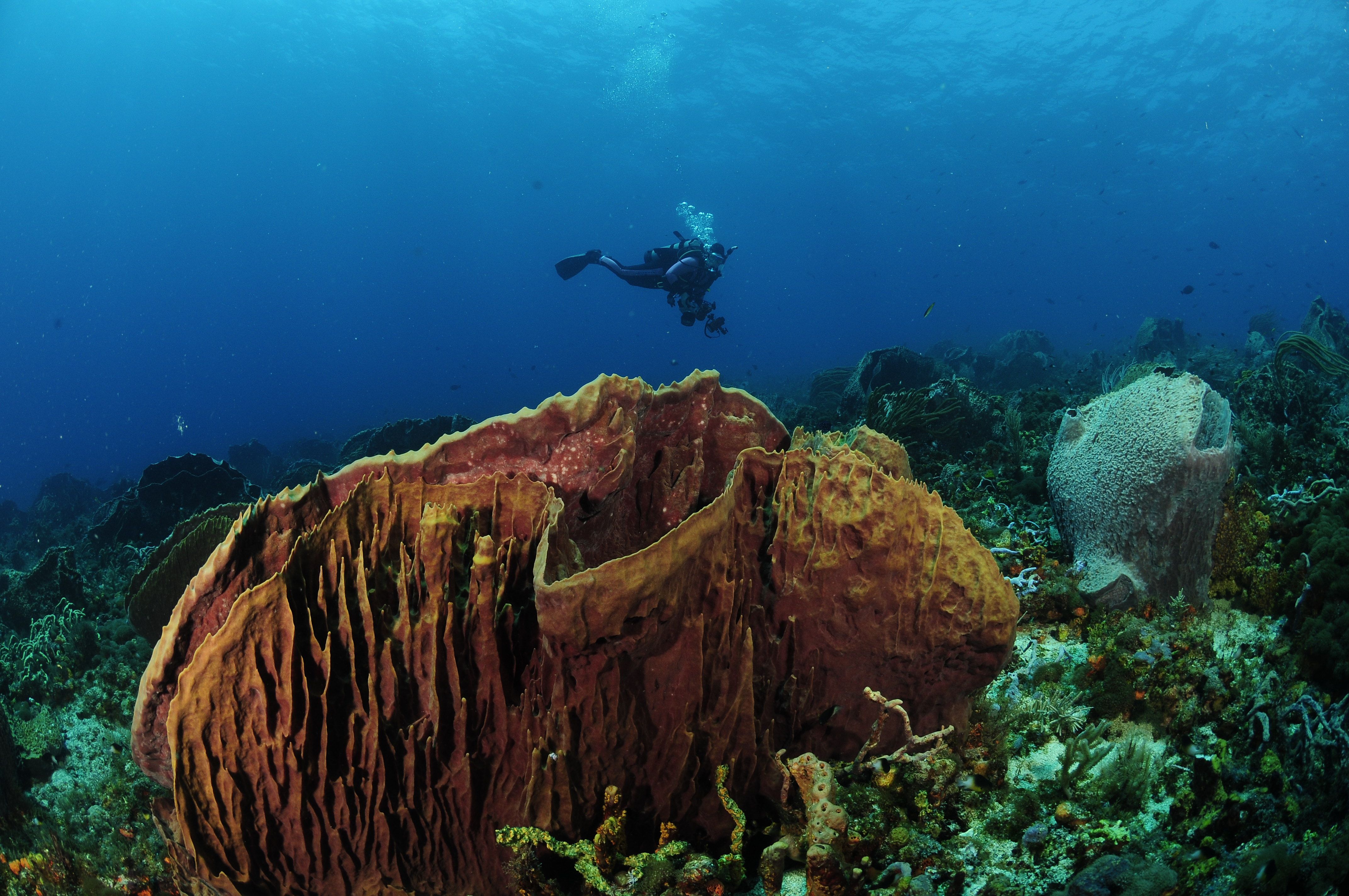 This is the thirty-seventh in a series of reviews of the best scuba diving destinations around the world.  In this post, the focus is Trinidad and Tobago.
In addition to this series on dive resort locations, the best worldwide liveaboard dive locations and services are reviewed in their own series.  To check them out, or others in this series, click on Liveaboards / Resorts on the menu at the top and choose a title from the list.
Have you ever been diving in Trinidad and Tobago?  If so, I'd love to know about your experience.  What dive shop or liveaboard did you use?  Which dive spots are the best and what are the conditions there regarding the visibility, current, water temperature, sealife attractions, etc.?  Please post your response in the comments section at the bottom and we'll all learn something we can use.
Trinidad and Tobago Scuba Diving
Background – Situated 130 kilometers (81 miles) south of Grenada and only 11 kilometers (6.8 miles) to the northeast of Venezuela is Trinidad and Tobago, the southernmost country in the West Indies.  With the two larger and many very small islands, it has an area of 5,128 square kilometers (1,980 square miles) and a population of around 1.5 million with 50,000 living on Tobago.
In a comparison of per capita GDP in the Americas, it is behind only the U.S. and Canada and has a diverse economy with emphasis on petroleum, natural gas, petrochemicals, tourism, manufacturing, financial services, steel, fishing, citrus, and cocoa.
This constitutional republic has a rich multicultural population derived from African slaves and Indian indentured laborers with a variety of other ethnicities also represented.  The national language is English with most speaking the local Creole variation. Culturally very rich, Trinidad is where calypso, limbo, steelpan, and several other musical styles developed and a world-renowned Carnival is celebrated annually. Two Nobel Prize-winning authors called Trinidad and Tobago home at one point or another, V.S. Naipaul and Derek Wolcott.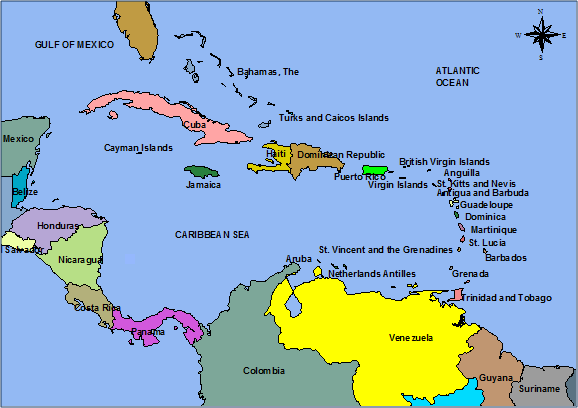 Undersea World – The Orinoco River drains out of the continent just to the south and the Guyana current brings the plankton-rich water to Trinidad decreasing the visibility significantly while providing the nutrients to attract creatures like manta rays and whale sharks which are not as often seen in other Caribbean waters.  Several varieties of turtle are there in numbers and the West Indian Manatee is sometimes sighted.
By the time the current makes its way up to Tobago decreased visibility is no longer a problem.  Tobago has shallow rich reefs with 300 species of coral including elkhorn, staghorn, and fire coral, huge barrel and tube sponges, and a large variety of gorgonians, sea fans, plumes, and whips.  The north end is known for strong currents and its hard and soft corals, black coral and sponges. Highlight areas are Speyside, Little Tobago, and Goat Island.  The south end has less current and there are many mini-walls and sharks and dolphins.  It is known for clear water at Nylon Pool and Buccoo Reef National Park.
Featured Sea Life includes this list: crabs, nudibranchs, garden eels, squid, lobster, seahorses, octopus, moray eels, frogfish, scorpionfish, dwarf, Queen and French angelfish, blue chromis, bicolor damselfish, jacks, rainbow runners, black groupers, porkfish, big eye, glass eye and cubera snappers, blue wrasses, African pompano, barracuda, tarpon, manatees, dolphins, Bermuda chub, manta rays, blacktip reef sharks, scalloped hammerhead sharks, nurse sharks, whale sharks, Atlantic guitarfish, southern stingrays, torpedo rays, and hawksbill, green and leatherback turtles.
Seasons and Conditions – It is consistently warm year-round in Trinidad and Tobago.
Daily temperatures range from 24-29°C (75-85°F).
There is a rainy season from June to December when typically it is sunny in the morning and rains a bit in the afternoon.  The islands are south of the hurricane belt and are not usually hit with big storms.
Water temperatures average 25°C (77°F) in the winter months and 28°C/82.4°F in summer.  At the coolest, divers will want to consider a 3 mm full or shorty wetsuit.
Visibility runs from 15-30 meters (50-100 feet) around Tobago and around 10-20 meters (35-68 feet) near Trinidad.
As indicated above, a strong current does occur at the north end of Tobago.
Some sites can be accessed from shore, but many will require a boat.
Divers of all levels will find suitable diving in Trinidad and Tobago.
Trinidad and Tobago is not an area renowned for liveaboard diving, but there are many cruises in other areas around the Caribbean.  Below are several great yachts to check out: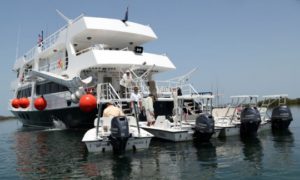 Avalon II, Jardines de la Reina Liveaboard Diving – Check the Price & Details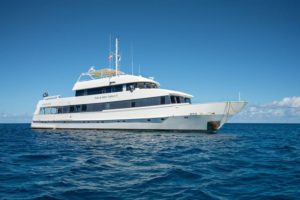 Turks & Caicos Explorer II, Turks & Caicos Liveaboard Diving – Check the Price & Details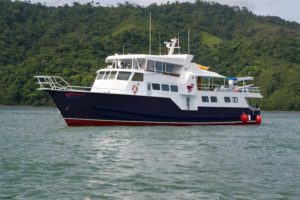 Bahamas Master, Bahamas Liveaboard Diving – Check the Price & Details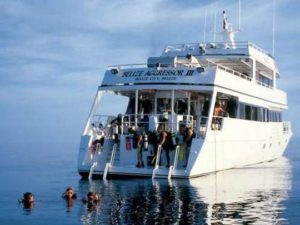 Belize Aggressor III, Belize Liveaboard Diving – Check the Price & Details
For reviews of diving in other Caribbean locations, please click on these posts: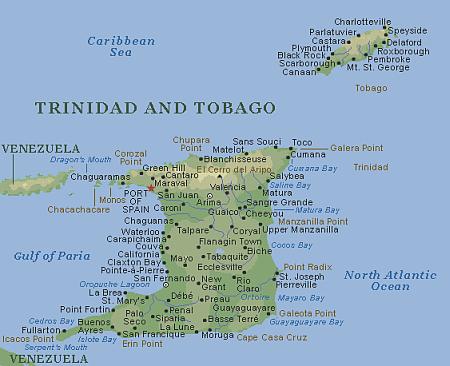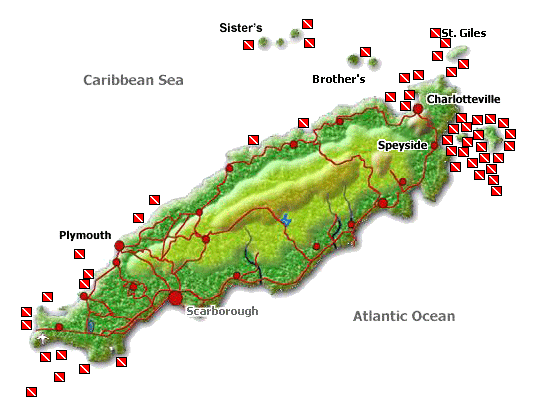 A Selection of the Best Tobago Dive Sites
The Sisters – to 40 meters (130 feet), 5 pinnacles which rise 30 meters (100 feet) out of the water, rocks, ledges and caverns, soft coral, lobster, moray eels, turtles, large pelagics, nurse sharks, hammerhead sharks, stingrays, turtles, 2.4 kilometers (1.5 miles) west of Tobago Island, experienced level
Kedleston Drain aka Keleston Deep or Little Tobago – to 18 meters + (60 feet), drift dive across a plain of rich coral that descends from 9-18 meters (30-60 feet), a giant 3×5 meter (10×15 foot) brain coral, sponges, gorgonians, sea whips, other hard corals, large barracuda, green morays, Creole wrasse, jacks, reef sharks and manta rays in season (March to July more likely), experienced level
MV Maverick – 30 meters (100 feet) maximum depth, 107-meter (350 foot) car ferry scuttled to become a reef in 1997, deck at 15 meters (50 feet), rich corals, barracuda, turtles, eagle rays, cobia, variety of schooling fish, easy penetration possibilities, experienced level (see video below)
Flying Reef – 15 meters (50 feet), fast current possible, soft corals, huge sponges, plate corals, a rich variety of colorful reef fish, stingrays, turtles, schools of big-eye and glass eye snappers and Bermuda chub, French angelfish, porkfish, porcupine puffers, beginner to experienced level
Japanese Garden – 22 meters (73 feet) average depth, vase and tube sponges, sea whips, mild to strong currents sweep along a gentle slope to a crevice known as Kamikaze Cut, then a sheltered area out of the current, Creole wrasse, barracuda, reef sharks, jacks, chance of manta rays, experienced level
London Bridge – 8 meters (25 feet) deep, 4-meter (13 foot) wide eroded arch passageway in the surf zone, rich reef surroundings with brain corals and sponges, lobsters, moray eels, schooling jacks and tuna, green morays, turtles, parrotfish, experienced level
Landslide – shallow sheltered site in Man o' War Bay, soft and hard corals, rich macro life, frogfish, shrimp, seahorses, guitarfish, stingrays, turtles, all levels
Gardener Rock – 33 meters (110 feet), the rock rises from the bottom and breaks the surface, soft corals and sponges, rich macro life, barracuda, turtles, experienced level
King's Bay – variable depth profiles, the current is based on tidal conditions, garden eels, moray eels, eagle rays, shoaling reef fish, all levels
Diver's Thirst – 25 meters (83 feet), south side site, rich encrusting corals, dense fish schools, strong current possible, nurse sharks, blacktip reef sharks, eagle and manta rays, stingrays, turtles, possible bull and tiger sharks, experienced level
Mt. Irvin Wall and Extension – shallow wall close to shore extending deeper along the rocks of Mt. Irvin Bay, canyons, ledges, crevices with seahorses and macro life, large schools of fish, tarpon, cobia, eagle rays, all levels
Trinidad and Tobago Photos
With the macro life, sharks, rays, pelagics, dolphins, wrecks, clear water, a beautiful, diverse coral reef, lots of fish, and historic and colorful onshore targets, there are many excellent photo opportunities.  For information and reviews of dive cameras, click here:
Piarco International Airport on Trinidad is the country's major airport with regular daily flights from America, Europe, and other Caribbean countries.  Tobago also has an international airport, A.N.R. Robinson International Airport with less frequent service.  The islands have a good highway system and a wide range of buses, taxis, shuttle services, and car rentals.  Ferries run between Port of Spain (Trinidad) and Scarborough (Tobago) and there is a water taxi service between Port of Spain and San Fernando to the south on Trinidad.
There are many dozens of hotels and accommodations of every grade from $35 to over $660 per night.  For scuba diving, I recommend staying on Tobago where there is a greater concentration of good dive sites and more of a holiday resort atmosphere.  Several hotels there have in house dive shops.  Otherwise, there are a dozen or more separate dive operations.  This website is a good source for the available options and can arrange a booking:
Trinidad and Tobago Tourist Attractions (aside from scuba diving)
Aside from seaside activities and beaches, Trinidad and Tobago have a very rich and diverse culture to enjoy.  There are many historic buildings and sites, museums, galleries, gardens, shopping, food, restaurants, nightlife and natural sites including Fort James and Fort King George, Main Ridge Forest Reserve, Nanan's Caroni Bird Sanctuary, the National Museum and Art Gallery, Piparo Mud Volcano, Pigeon Point, the Royal Botanic Gardens, Stillmeyer's Castle, Temple in the Sea, the Nylon Pool, Adventure Farm and Nature Reserve, Argyle Falls, Asa Wright Nature Center, Hindu festivals, Carnival, leatherback turtle nesting, mountain biking, traditional and underground music, Crusoe's Cave, horseback riding, goat racing, and many others.  The video below provides a little context.
A cushion for emergencies provides peace of mind when on vacation.  I recommend this diving insurance as they have worldwide coverage and provide scuba divers a quality insurance and medical assistance service.
Feedback and Comments
I hope you found this post on Trinidad and Tobago scuba diving interesting and useful. If you have any questions or ideas, please feel free to share them in the comments section.  I'd love to know of any experience you have diving there.  If there is no comments section directly below, click here:  >>comments<<