We may earn money or products from the companies mentioned in this post.

This is the thirty-fourth in a series of reviews of the best scuba diving destinations around the world.  In this post, the focus is on Bonaire.
In addition to this series on dive resort locations, the best worldwide liveaboard dive locations and services are reviewed in their own series.  To check them out, or others in this series, click on Liveaboards / Resorts on the menu at the top and choose a title from the list.
Have you ever been diving on Bonaire?  If so, I'd love to know about your experience.  What dive shop or liveaboard did you use?  Which dive spots are the best and what are the conditions there regarding the visibility, current, water temperature, sealife attractions, etc.?  Please post your response in the comments section at the bottom and we'll all learn something we can u
Bonaire Diving
Background – One of the ABC Islands (Aruba, Bonaire, and Curacao), Bonaire, with a population of less than 20,000 is situated 50 miles (80 km) offshore from Venezuela.  One of the Leeward Antilles outside of Hurricane Alley, it has a dry climate and an area of 111 square miles (288 square kilometers).  It includes the treeless unpopulated Klein Bonaire islet, with its white sandy beaches, to the west.  Kralendijk is the capital and the only other town is Rincon.  Bonaire is a Special Municipality of the Netherlands and 80% of the population are Dutch nationals.  Four languages are spoken with Papiamento, a Creole language, spoken by 75%. Other languages used are Dutch, English, and Spanish. Most can speak two of them.  The original Arawak Indians disappeared long ago.
Simplifying the geology a bit, Bonaire is a coral reef that has been pushed up from out of the sea.  The northern part is mountainous and the southern flat, with large saltwater areas used for salt production.  Besides the salt business, the economy is based on tourism and Venezuelan owned oil storage and shipment facilities.  Bonaire is known for its flamingos, donkey sanctuary and the endangered yellow-shouldered Amazon parrot.  For more demographic, geographical and cultural information on Bonaire, click here: Bonaire (Wikipedia)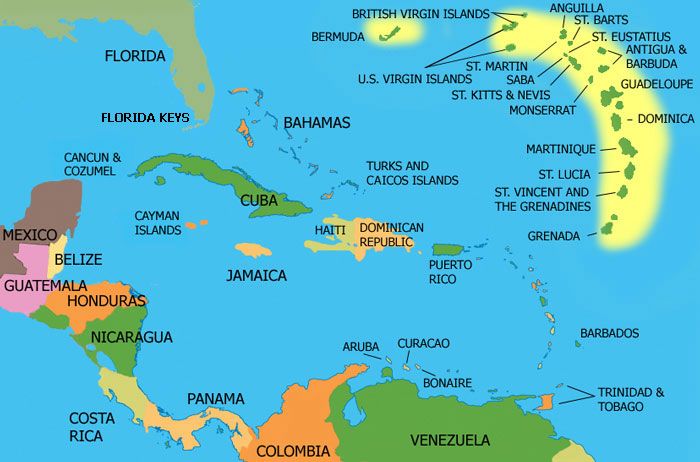 Undersea World – Most of the 89 or more dive sites are on the leeward (western) side and can be accessed from shore.  Bonaire has a narrow fringing reef starting close to the shoreline that continues to a depth of 200 feet (60 meters).  There are 57 species of hard and soft corals, which occupy different depth zones.  In the shallows, predominating corals are elkhorn, staghorn and boulder star hard corals, and gorgonians.  After the drop off boulder star and lettuce corals dominate. At depth, there are more plate corals like great star and blushing star corals.  Also, black corals and very sizable tube and barrel sponges are numerous.  The entirety of the reef around the islands is part of and under the protection of the Bonaire Marine Park and with silt-free clear water makes a pristine and beautiful scene.
While not known for large fish, tarpon, barracuda, nurse sharks, and grouper are common with the occasional eagle or manta ray or whale shark.  Pods of dolphins are often sighted and there are 3 species of turtle (hawksbill, green and loggerhead).  Other invertebrate highlights include sea slugs, fire corals, giant anemones, sea cucumbers, seahorses, octopus, squid, crabs and shrimp, and fish life includes tangs, sergeant majors, Creole wrasse, triggerfish, butterflyfish, trumpetfish, and angelfish.  In all there are 350 species of fish and also a few wrecks to explore.  Most of the sites are marked with a yellow rock or buoy.
There is not a lot of current on the west side and sites are suitable for all levels of diver.  Many divers rent gear and take a 4 person pick-up truck from their hotel or condo and with their buddy cruise along the shoreline to the desired site.  This is not to the exclusion of approaching sites from offshore by boat diving.
Seasons and Conditions – It is warm year-round and relatively dry with a rainy season from the end of October to the end of January. Even then, there is not much rain.  Summer temperatures run from 80-88°F (31.7-26.7°C).  In winter the range is 76-85°F (24.4-29.4°C).  Water temps are correspondingly warm at 78-84°F (25.6-28.9°C) with the lowest in January and February. Visibility is excellent at 100-150 feet (30-45 meters). Bonaire is situated outside of the usual route of hurricanes and is not usually affected much by those in the region.  There is not normally much current or surface chop on the west side where most of the sites are located.  On the northern and southern tips and eastern Atlantic side, current and chop can be greater.
Bonaire is not an area renowned for liveaboard diving, but there are many cruises in other areas around the Caribbean.  Below are several great yachts to check out: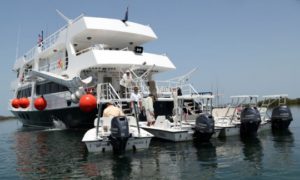 Avalon II, Jardines de la Reina Liveaboard Diving – Check the Price & Details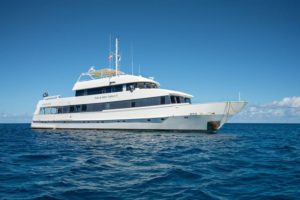 Turks & Caicos Explorer II, Turks & Caicos Liveaboard Diving – Check the Price & Details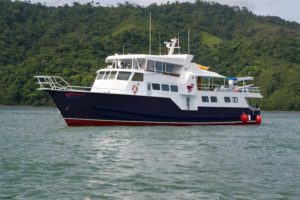 Bahamas Master, Bahamas Liveaboard Diving – Check the Price & Details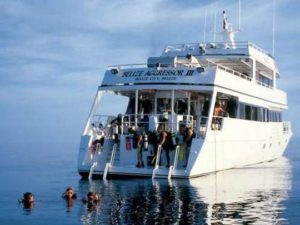 Belize Aggressor III, Belize Liveaboard Diving – Check the Price & Details
For reviews of diving in other Caribbean locations, please check out these posts: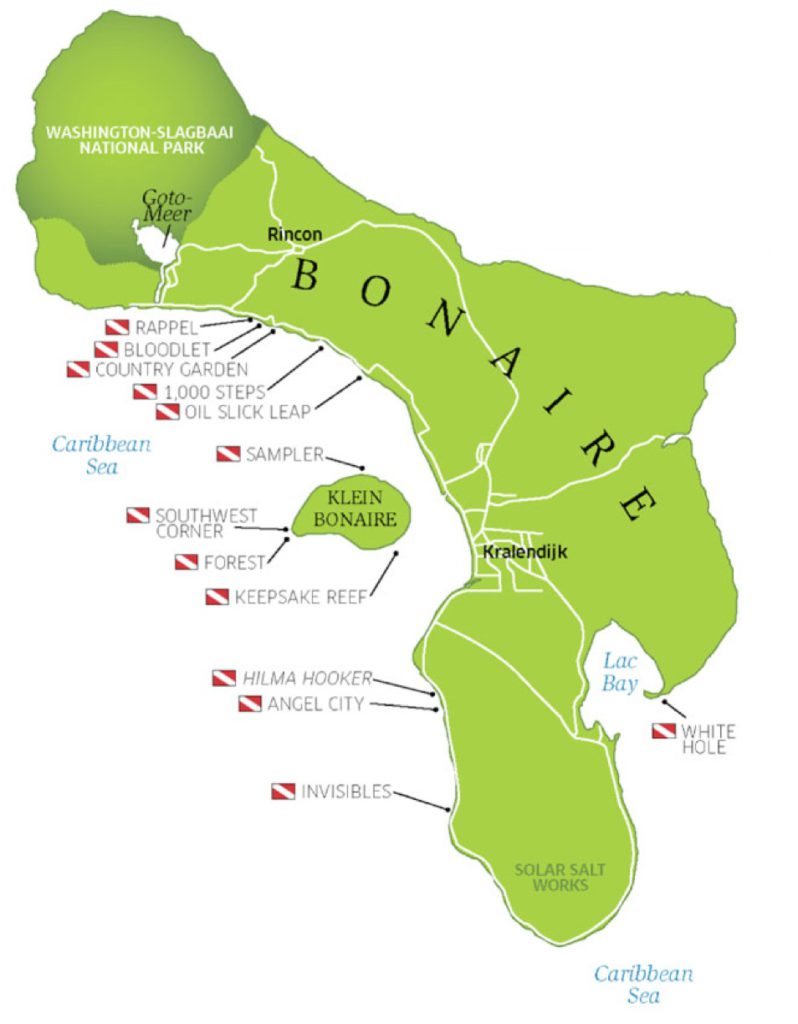 Selected Bonaire Dive Site Reviews
1,000 Steps: 20-100 feet (6-30 meters). 64 (not 1,000) steps down to the entry, star corals look like a pagoda under the boat mooring, lots of macro life inside including sergeant major males tending their nests, hawksbill turtles, manta rays, occasional whale sharks, beginner level
Hilma Hooker: 25-100 feet (18-30 meters), 235 foot (72 meter), cargo vessel sunk in 1984 on southern coast in the sand channel between the double reefs, on starboard side, top at 60 feet (18 meters), encrusted in algae and sponges, wrasses, sergeant majors, tarpon in and out of the cargo holds, brown garden eels in the sand with sand tilefish, experienced level
Karpata: 20-100 feet (6-30 meters), huge ship anchors embedded in coral, elkhorn corals stretching from 10 feet (3 meters) to the surface, beautiful wide-angle vistas, steep slope to 22 feet (7 meters), continues sloping to 120 feet (35 meters), big parrotfish, turtles, gorgonians, schooling blue tangs, huge green morays, lobster, lionfish, all levels
Rappel: north end site off of a limestone cliff, shallow bank, a sharp descending reef with overhangs small caverns, rich corals, sponges, and sea fans, seahorses, frogfish, slender filefish, lettuce slugs, schools of creole wrasse, black durgons, barracuda, mantas, boat access only, all levels
Bari Reef: 30-100 feet ( 9-30 meters), great biodiversity, many fish species, no current, tarpon, seahorses, octopus, unusual sponge structures, all levels
Salt Pier: 15-50 feet (5-15 meters), encrusting sponges and corals provide excellent habitat for macro life, green turtles in the shallows, queen angelfish, great night dive, all levels
Red Slave: 20-80 feet (6-24 meters), offshore from a set of historical slave huts, stronger surf, and currents possible, horse-eye jacks, turtles, baitfish, bigeye scads, eagle rays, barracuda, grouper, advanced level
Willemstoren Lighthouse: 20-80 feet (6-24 meters) southern tip site with strong currents, big gorgonians, elkhorn coral and coral bommies, lots of soft coral, schooling fish, turtles, tarpon, green morays, queen and oceanic triggerfish, eagle rays, seahorses, nudibranchs, pods of dolphins, advanced level
The Forest (off Kein Bonaire): 25-100 feet (18-30 meters). gorgonians in the sandy shallows, soft corals, black coral colonies, cave at 75 feet (22 meters), morays, loggerhead turtles, nurse sharks, eagle rays, French angelfish, all levels
The White Hole/Turtle City: 15-100 feet (5-30 meters), east coast site off Lac Bay, choppy seas, 5,000 square meter sandy hole surrounded by reef walls on all sides, schools of tarpon, nurse sharks, large conchs, sea fans, up to 20 green turtles, at the reef drop off are sea fans, coral towers, huge barrel, and stovepipe sponges, moray eels, eagle rays, oceanic triggerfish, mantas, mola mola, advanced level
This website has a thumbnail sketch of 50 of the most popular shore sites: Bonaire Shore Dive Sites
Bonaire Photos
With the macro life, clear water, beautiful, diverse coral reef and lots of fish, there are many excellent photo opportunities.  For information and reviews of dive cameras, click here:
The Flamingo International Airport provides access on KLM, Delta, United, and TUI Netherlands flights. On the island people often rent cars and small trucks, motorcycles, scooters or bicycles to get around.  Taxis are widespread and water taxis are also available.
Many of the available hotels are located in the Roseau area and start from $50/night on up.  As for the diving, there are several dive shops, most of which are in the southwest area near Roseau, with some located in hotels.  One of the Bonaire dive hotels is the Anchorage Hotel.  This website is a good source for the available options and can arrange a booking:
Bonaire Things To Do (aside from scuba diving)
Most of the activities on Bonaire have to do with nature.  Exploration and hiking on the shoreline, windsurfing, kiteboarding, kayaking, snorkeling, sailing, fishing, hiking, mountain biking and bird watching at the flamingo breeding grounds or Washington-Slagbaai National Park are all popular.  The mountains in the north and salt lakes in the south are both intriguing.  The long shoreline has lots of places to duck in for a drink or something to eat and Bonaire's culture is accessible in the two cities where you can visit markets, shops, and restaurants.
A cushion for emergencies provides peace of mind when on vacation.  I recommend this diving insurance as they have worldwide coverage and provide scuba divers a quality insurance and medical assistance service.
Feedback and Comments
I hope you found this post on Bonaire scuba diving interesting and useful. If you have any questions or ideas, please feel free to share them in the comments section.  I'd love to know of any experience you have diving there.  If there is no comments section directly below, click here:  >>comments<<