We may earn money or products from the companies mentioned in this post.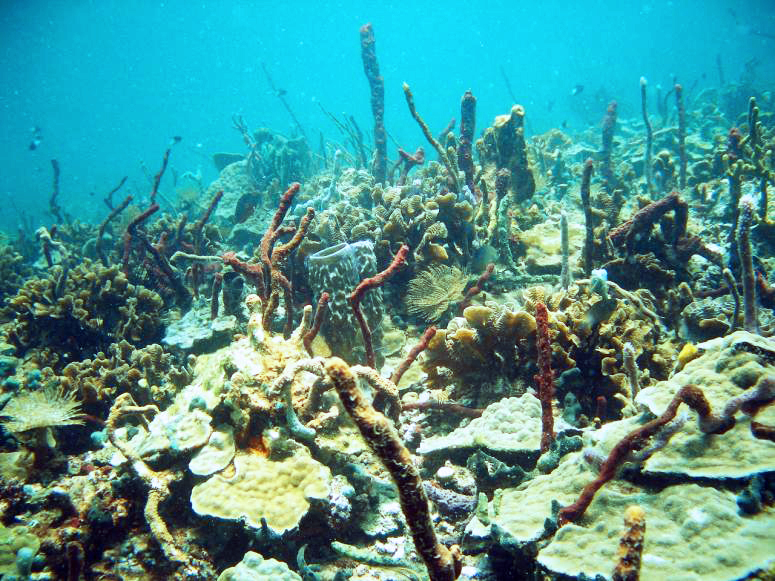 This is the ninety-forth in a series of reviews of the best dive scuba diving destinations around the world.  In this post, the focus is on Panama. In addition to this series on dive resort locations, the best worldwide liveaboard diving locations and services are reviewed in their series.  To check them out, or others in this series, click on Liveaboards/Resorts on the menu at the top and choose a title from the list.
Have you ever been diving in Panama?  If so, I'd love to know about your experience.  What dive shop or liveaboard did you use?  Which dive spots are the best and what are the conditions there regarding the visibility, current, water temperature, sealife attractions, etc.?  Please post your response in the comments section at the bottom and we'll all learn something we can use.
Scuba Diving Panama
Background – With a population of 4,000,000, Panama sits between Costa Rica on the west and Colombia to the south.  The Panama Canal connecting the Caribbean and Pacific is a major part of the diversified serviced based economy led by commerce, banking, and growing tourism.  Panama City is modern with a landscape of skyscrapers in a country 40% of which is still covered in jungle.  A central spine of mountains dissects the territory which has diverse wildlife with many North American, South American, and endemic species.  Coastal plains extend into rolling hills that contain over 500 rivers.  Of course, a major feature of the landscape is the canal and Gatun Lake, the second-largest man-made lake in North America.
People speak Spanish with a distinctive local accent and there are several indigenous languages in use, as well.  In tourist areas and the city, it is not unusual to hear English, but it is not as commonly spoken as you might expect considering the long association with the US as the builder of the canal and governor of the Canal Zone for so many years.  There is cultural diversity with the majority of mixed-race (European and Native American), sizable minorities of Native Americans and people of African ancestry, and fewer Europeans.  25,000 Americans live in Panama.
Undersea World – Panama is a truly unique place to go diving.  In places, one need only travel 60 kilometers (37.5 miles) to go from the Caribbean to the Pacific affording the opportunity to easily go on a short vacation and dive in both.
The Caribbean side offers great beaches, many with surf, with shallow coral reefs of soft and hard corals and gorgonians, lots of tube sponges, and schools of small fish, dolphins, nurse sharks, and turtles.  There are also big barrel sponges, macro critters like brittle stars, crabs, shrimp, octopus, scorpionfish and many more.  When talk of the best Caribbean areas to dive comes up, two places are usually mentioned.  The first is Boca del Toro in the northwest and the other is Portobelo National Marine Park off Colon, just across the isthmus from Panama City.
On the Pacific side, we move to Indo-Pacific marine life, more current and more encounters with bigger creatures and pelagics.  Divers commonly see several species of shark, including whale sharks, manta and eagle rays, dolphins, and humpback whales.  Other highlights are green and hawksbill turtles, schools of snapper, surgeonfish, and barracuda, stingrays, cuttlefish, octopus, pufferfish, triggerfish, a great variety of macro life and encrusting corals and sponges.  The two areas on the Pacific side that people rave most about are the Archipelago de las Perlas (Pearl Islands Archipelago) in the Gulf of Panama and Coiba National Park around Coiba Island.
Also, between the Caribbean and the Pacific is Gatun Lake, created when the canal was built, that allows seeing interesting freshwater fauna and remnants of what was there before the lake was built.
Seasons and Conditions – You can scuba dive all year in Panama's tropical climate.
Average air temperatures stay in a narrow range from 25.5-27ºC (78-80ºF).
Water temperatures correspondingly run from 27-29ºC (80-84ºF).  At depth in some areas, it may be a little cooler, but no heavy thermal protection will be necessary.
The dry season is from January to April, which corresponds to the busiest tourist season.  During the rest of the year it rains on most days, but usually, need not interfere with diving for long.
Humpback whales tend to come between July and September.
Visibility ranges from 10 meters (35 feet) to more than 30 meters (100 feet).  Sites away from the coastline tend to have consistently better visibility.
On the Caribbean side, the current is usually mild, whereas on the Pacific side they can be strong at times in some locations.
There are sites suitable for all levels of diver from beginner to advanced and technical levels.  At least 25 dive shops are available in Panama to offer a full range of diving coursework, equipment rental, guiding and boat cruises.
There is not currently a liveaboard scuba diving boat diving on Panama dive sites.  There is one boat running adventure/snorkeling cruises to Costa Rica and Panama including the Panama Canal Zone.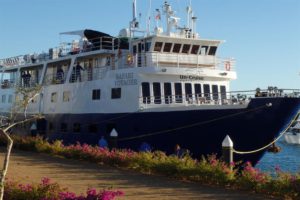 Safari Voyager, Costa Rica & Panama Adventure Cruise Liveaboard – Check the Price
To check out Costa Rica liveaboard diving opportunities, please click here:
For my reviews on Cocos Island diving and liveaboards, please click here:
For reviews of diving in eastern Florida and other Caribbean locations, please check out these posts: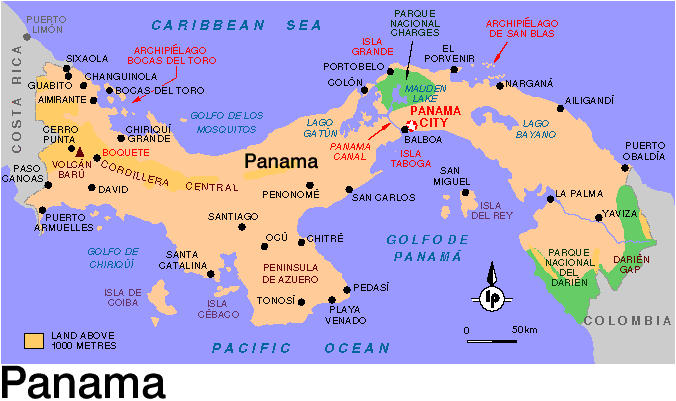 Selected Panama Dive Sites
Boca del Toro Islands, Caribbean side – There are a large number of dive sites on pristine fringing reefs in this archipelago that has a variety of soft corals, sponges, and gorgonians, and great macro critters like nudibranchs, arrow crabs, shrimps, lobster, and cowries.  Reef edges are often frequented by reef and nurse sharks, eagle and manta rays, and big schools of snappers and jacks.
Portobelo National Park, Caribbean side – Located near the Panama Canal, it has white sandy beaches, clear water, lagoons, mangrove swamps, and rich coral reefs.  There is good biodiversity with 50 coral species, green and hawksbill turtles, lots of Caribbean reef tropicals, macro critters, and moray eels.
Coiba National Park, Pacific side – Designated a national park in 1992, Coiba is a UNESCO World Heritage Site encircled by rich coral reefs and diverse marine life.  There are more than 700 fish species including schools of jacks, amberjacks, barracuda, and snappers, and often sighted megafauna including marlin, whitetip reef and whale sharks, humpback whales, and orcas.
Archipelago de Las Perlas, Pacific side – This Gulf of Panama archipelago has around 90 islands, and 130 islets, and cays providing a multitude of dive sites.  Undersea terrain is diverse with intriguing rock formations and coral heads, with a variety of reef tropicals including angelfish, parrotfish, and butterflyfish.  Strong currents and seasonal migrations bring in pelagics and Humpback whales.
Gatun Lake, part of the Panama Canal – When the canal was built, this lake was formed by the damming of the Chagres River.  A lot was left for lost as the water advanced covering towns, construction equipment, machinery, and a train.  To the background sound of the passing ships, these are interesting for divers to explore as they swim with the tarpon, snook, and peacock bass that use the remnants as habitat.
Panama Photos
With the beautiful coral reefs, fascinating marine life including sea turtles, eagle and manta rays, reef and whale sharks, humpback whales, dolphins, macro critters and reef tropicals,  scenic seashore, cultural sites and activities, and city scenes as well, there are many excellent photo opportunities.  For information and reviews of dive cameras, click here:
Transportation
Air – Two international airports serve Panama: Tocumen International Airport 32 kilometers (20 miles) east of Panama City connecting to all countries and Enrique Malek Airport in David connecting to Costa Rica.  Bus, taxi, and car rental are available from the airports.  Also, there are around 40 domestic airports.
Bus – International entry is possible by bus from Costa Rica, but not Colombia.  City buses make trips around town and highway buses make trips around the country.  Many lines and routes are available.
Boat – Many cruise lines stop in Panama.  Banana boats and private sailboats also offer trips to various South American ports.
Car – Cars may enter at the border from Costa Rica, but not Colombia.
Taxis often require negotiation and are reasonably priced for short hops.
Rental Cars are available at the airport and in many locations.
This, as you can see, is very bare-boned information.  For more details on transportation logistics and further related information, please click here:  Wikitravel – Panama
Lodging and Dive Shops – Panama has hundreds of accommodations around the country starting at $8 a night.  There are also at least 25 dive shops, some associated with lodging, that offer full services including equipment rental, dive courses, guiding and boat dive cruises.  The website linked below has the details and can arrange the booking.  You can easily find the location on the map provided on this site.  Their rates are guaranteed to be the lowest and it is free to cancel or change dates.
Things to Do in Panama (aside from scuba diving)
There is a lot to see and do in this country for the delight of tourists.  Here are some of them:  bus or walking tours, see a sloth, boa or crocodile, go birding, visit the Panama Canal, drink local coffee, eat grilled lobster, listen to live jazz, take an air tour, visit native peoples in their villages, hike to Baru Volcano, go ziplining, a Captain Morgan Rum tour, buy Panama sandals and a hat, surf, kayak, or SUP, hike the jungles, white water raft, attend a chocolate-making class, eat at a food truck, to name but a few options.
This video is a nice, brief introduction to what Panama has to offer.
A cushion for emergencies provides peace of mind when on vacation.  I recommend this diving insurance as they have worldwide coverage and provide scuba divers a quality insurance and medical assistance service.

Feedback and Comments
I hope you found this post on Panama scuba diving interesting and useful. If you have any questions or ideas, please feel free to share them in the comments section.  I'd love to know of any experience you have diving in Panama.  If there is no comments section directly below, click here:   >>comments<<