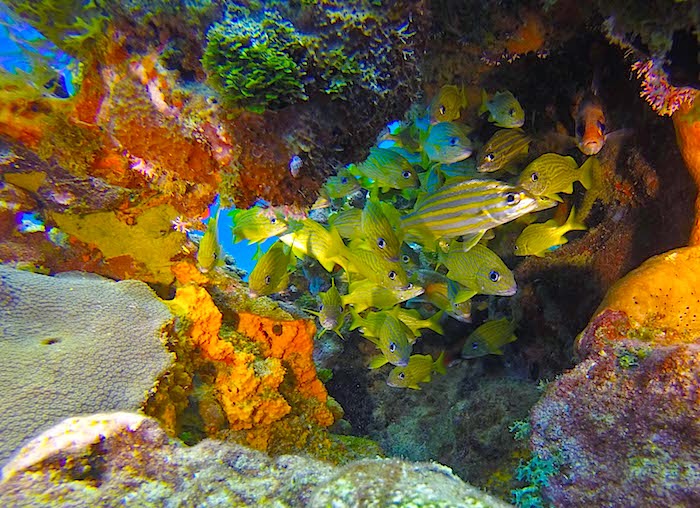 Updated June 2, 2012
This is the ninety-fifth in a series of reviews of the best scuba diving destinations around the world.  In this post, the focus is on the Dominican Republic. In addition to this series on dive resort locations, the best worldwide liveaboard diving locations and services are reviewed in their own series.  To check them out, or others in this series, click on Liveaboards/Resorts on the menu at the top and choose a title from the list.
Have you ever diving in the Dominican Republic before?  If so, I'd love to know about your experience.  What dive shop did you use?  Which dive spots are the best and what are the conditions there regarding the visibility, current, water temperature, sealife attractions, etc.?  Please post your response in the comments section at the bottom and we'll all learn something we can use.
Scuba Diving the Dominican Republic
Background
The Dominican Republic is the eastern two-thirds of the island of Hispaniola, east of Cuba.  Sharing the island with Haiti, it is the second-largest country in the Caribbean in area, behind Cuba, and third largest in population with 10,000,000 citizens.
With a warm year-round climate, great biodiversity, and beautiful landscape,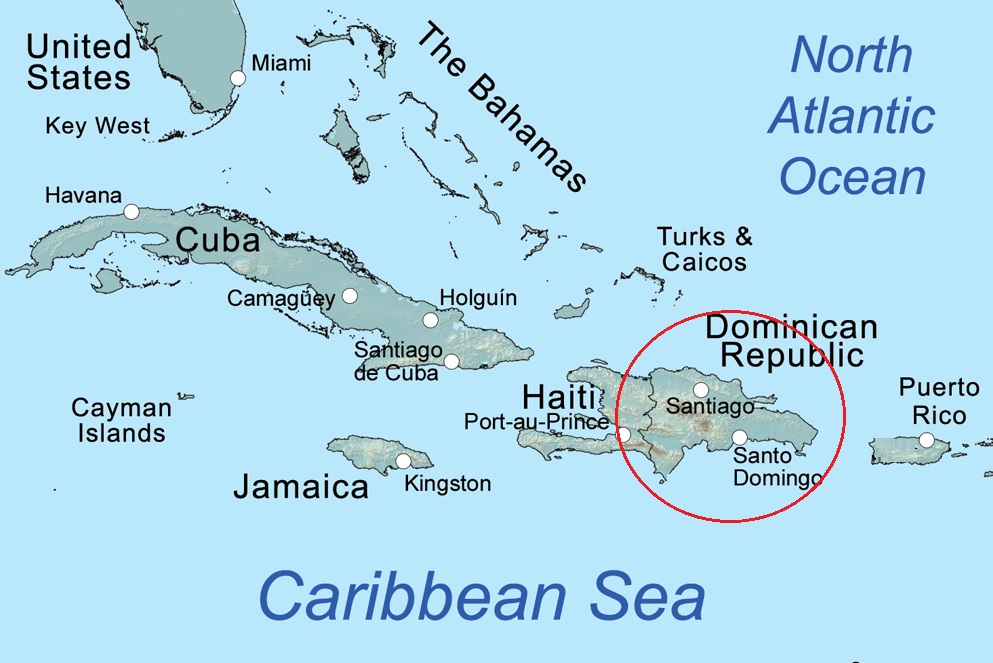 the Dominican is the most visited Caribbean vacation spot.  Beautiful seaside locations, the tallest mountain in the Caribbean, Pico Duarte, and the largest lake, as well, Lake Enriquillo, have spawned a developing ecotourism business.  The many golf courses which are in operation during cold North American winters are also a major attraction.
Columbus landed there in 1492 and by 1519 all the Taino and Caribe indigenous natives were extinct through disease and killing.  Since that time there has been a rugged history of various colonial and dictatorial leadership that stymied human development.
Corruption and mismanagement continue to this day to a more limited extent, but in spite of that, the economy has been ticking along with 5-7% GDP growth for more than two decades.  This growth is fuelled by services at 60% of the economy including telecommunication, finance, and tourism, and manufacturing at 22%.  The historically important agricultural component has faded substantially.  Remittances play a large role, power outages are frequent, and unfair labor practices on plantations, called slavery by some, are factors to consider.
Today the population is 70% mixed race, 16% black, and 14% white with Dominican Spanish the national language.  English and French foreign language study are required in school and English is widely spoken.
Undersea World
The lengthy coastline is surrounded by mangrove forests, and vast fringing reefs of rich and pristine coral formations, interesting terrain with caverns and swim-throughs, and lots of marine life.  The reef is characterized by large gorgonians, huge barrel, and tube sponges, and lots of reef tropicals and macro life like grunts, yellowtails, tangs, octopus, shrimps, crabs, pufferfish, and moray eels, to name a few.  Stingrays, nurse sharks, and turtles are residents, and big schools of jacks and barracuda, and eagle rays are some of the passing pelagics.  In addition, North Atlantic humpback whales in the thousands migrate to the Silver Bank in the north for breeding from January to April, and there are a number of interesting deep wrecks.
Seasons and Conditions
Diving is good all year in the Dominican Republic.
Air temperature is always warm with average daily temperatures from 23-27°C (74-80°F).
The range for water temperature is 26-29°C (79-85°F).  On the Atlantic side to the north, it may be slightly cooler.
Surface conditions tend to be a little rougher in the winter season.  Winds are usually northerly or westerly which means that the southeast of the island is sheltered with a smoother surface.
Currents are usually mild.
It rains throughout the year with a short drier season from January through March.  Hurricanes are more likely from June to October.
Visibility has a range of 9-30 meters (30-100 feet).  Sites near land or a river may have reduced visibility after rain.
There are sites suitable for all levels of diver from beginner to advanced and technical levels.  At least 87 dive shops are available to offer a full range of diving coursework, equipment rental, guiding, and boat cruises around the central islands.
Every year from January through April the Silver Bank, 90 kilometers (56 miles) to the north serves as a mating ground for North Atlantic humpback whales numbering in the thousands.
Dominican Republic Liveaboard Diving
There is one liveaboard yacht that does whale snorkeling tours to the Silver Bank in the Dominican Republic from February to March in the heart of the season.  Here is a link to that yacht: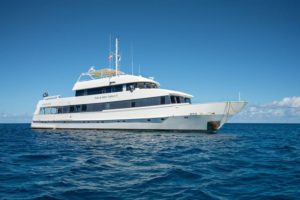 Turks & Caicos Aggressor II – Dominican Republic Liveaboard – Check the Price
Here are my reviews of eastern Florida and other Caribbean dive locations and liveaboards: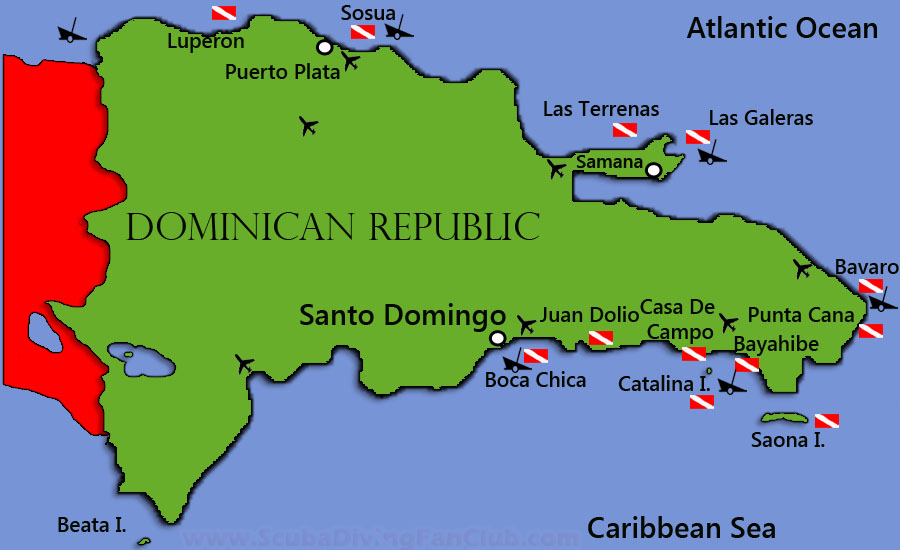 Selected Dominican Republic Dive Sites
Bayahibe – a gateway to Catalina and Saona Islands, calm seas, white sand beaches, shallow reefs close to shore, shipwreck nearby, possible manatees
Juan Dolio – on the southern coast, colorful and abundant reef and marine life, historic wrecks
Puerto Plata and Sosúa – best diving on the Atlantic north side, seasonal humpback whales (January through April), nice reefs, wrecks
Punta Cana – coral reefs, caverns, wrecks, occasional stronger currents during offshore storms
Samana Bay and Peninsula – beautiful beaches, some shallow reefs and deeper dives on corals, wrecks, and in caves, humpback whales may stop here during the migration to the Silver Bank
Santo Domingo and Boca Chica – convenient to the wrecks in La Caleta Underwater National Park, and La Sirena Cave
Dominican Republic Photos
With the intriguing undersea terrain, fascinating marine life including wrecks, sea turtles, stingrays,  sharks, dolphins, whales, macro critters, and reef tropicals, and interesting onshore scenery and historic sites, as well, there are many excellent photo opportunities.  For information and reviews of dive cameras, click here:
Dominican Republic Transportation, Lodging, and Dive Shops
Transportation
Air – There are 11 main airports around the country handling international traffic from many European and American cities, other countries, and a variety of domestic flights.
Boat – A ferry is available for trips three times a week to and from San Juan, Puerto Rico.  It is a 12-hour journey.
Buses – Regular buses connect to Haiti.  A number of long-haul bus companies service destinations around the country and are mostly cheap and comfortable.
Santo Domingo Metro – The capital has an extensive rapid transit system with at least 2 lines open.
Taxis – Licensed taxis have a driver with an ID on a lanyard around the neck, a hat, uniform, clean and air-conditioned vehicle, and are much more reliable than the unlicensed version.  Negotiating a price before departure is recommended.
Car – It is possible to drive in from Haiti.  Rental cars are for rent at airports and other tourist areas.  Road conditions and vehicles encountered are often not too safe and there are many drunk drivers at night.  Gasoline is also expensive.
For more details on transportation logistics and further related information, please click here:  Wikitravel – Dominican Republic
Lodging and Dive Shops
There are uncountable accommodation options around the country starting at $10 per night.  In addition, more than 87 dive shops are open, some associated with resorts in the top diving locations.  They offer full services including equipment rental, dive courses, guiding and boat dive cruises.
The website linked below has the details and can arrange the booking.  You can easily find the location on the map provided on this site.  Their rates are guaranteed to be the lowest and it is free to cancel or change dates.
Things to Do in the Dominican Republic (aside from scuba diving)
The historic and natural sites and cultural and outdoor activities in the Dominican Republic are many.  Here is a brief list of attractions to keep in mind as you plan your itinerary:  Santo Domingo – Catedral de Santa Maria la Menor, Punta Cana, Altos de Chavon, Los Haitises National Park, Playa Rincon, Lake Enriquillo, Samana Bay, Isla Saona, Constanza, Damajaqua Cascades, Coco Bongo, Punta Cana, Cabarete,  Basilica de Nuestra Senora de la Altagracia, Hoyo Azul, La Yola Restaurant.
The following videos are a nice introduction.
Scuba Diving Trip Insurance
A cushion for emergencies provides peace of mind when on vacation.  I recommend this diving insurance as they have worldwide coverage and provide scuba divers quality insurance and medical assistance service.

Feedback and Comments
I hope you found this post on Dominican Republic scuba diving interesting and useful. If you have any questions or ideas, please feel free to share them in the comments section.  I'd love to know of any experience you have diving in the Dominican Republic.  If there is no comments section directly below, click here:    >>comments<<