We may earn money or products from the companies mentioned in this post.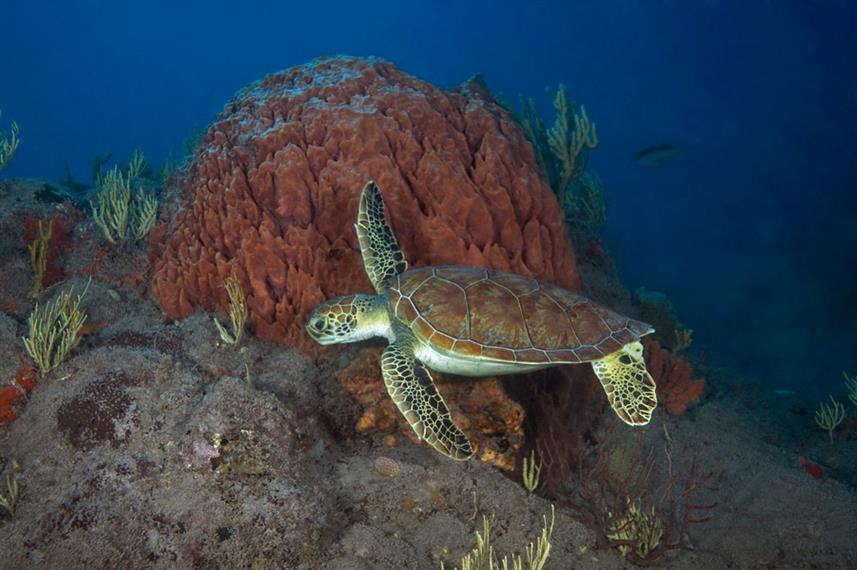 This is the one hundred and ninety-first in a series of reviews of the best diving destinations around the world.  In this post, the focus is on St. Kitts and Nevis.  In addition to this series on diving destinations, the best worldwide liveaboard diving locations and services are reviewed in their own series.  To check them out, or others in this series, click on Liveaboards/Resorts on the menu at the top and choose a title from the list.
Have you ever been scuba diving in St Kitts and Nevis before?  If so, I'd love to know about your experience.  What dive shop or liveaboard did you use?  Which dive spots are the best and what are the conditions there regarding the visibility, current, water temperature, sealife attractions, etc.?  Please post your response in the comments section at the bottom and we'll all learn something we can use.
Scuba Diving St Kitts and Nevis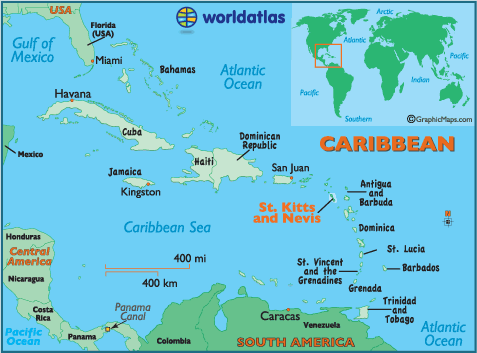 Background – Two little islands in the Leeward chain of the Lesser Antilles, St. Kitts and Nevis, are the smallest sovereign country in the western hemisphere in land area and in population with 52,000 citizens.  With western presence dating from the time of Columbus, the islands have changed hands many times and are predominated in influence by the British and the French with evidence of both in city names.  They became an autonomous state of the United Kingdom in 1967 and achieved full independence in 1983.  Today there are still many British styled buildings and driving is on the left.
Both islands are volcanic in origin with a 3-kilometer (1.875-mile) channel between them called the Narrows.  Large central volcanic peaks are on both islands with the mountainous terrain of St. Kitts narrowing to a flat peninsula in the southeast.
The warm, moist climate with around 2,400 mm (90 inches) of rain annually has provided a foundation for mountain rain forests with a large number of birds and the ever-present, though not indigenous, vervet monkeys.
Tourism is the main pillar of the economy alongside agriculture and light industry.  English is the official language with St. Kitts Creole the lingua franca for the population that is 92.5% African-Caribbean.
Undersea World – St. Kitts and Nevis have at least 25 popular divable sites on diverse subsea terrain of nearshore reefs, walls, ledges, caves, coral heads, lava flows, and volcanic vents.  400 ships have sunk in the area prior to 1825 with only a dozen or so identified and a number that went down much more recently that divers frequently explore.  The Caribbean side sites are well protected from the elements and typically have great visibility and mild currents for easy drift diving.  The Atlantic side sites and those around Nevis can be affected by the winds creating swells and rougher surface conditions.  In the Atlantic offshore area, there are pristine sites with huge gorgonians and sponges and a greater possibility of large schools of pelagics.  Generally, there is rich invertebrate life with a nice variety of hard and soft corals, hydroids, sponges, macro critters, and other marine life.  Highlights include arrow crabs, spiny lobsters, spotted drum, urchins, sea slugs, cleaner shrimp, frogfish, blennies, octopus, squid, moray eels, trunkfish, filefish, porcupine puffers, glassy sweepers, blue tangs, trumpetfish, groupers, jacks, barracuda, stingrays, eagle rays, green and hawksbill turtles, and nurse, Caribbean reef, and blacktip reef sharks, among many others.
Seasons and Conditions – Diving is possible all year in St. Kitts and Nevis.
Air temperature average daily highs range from 31°C (88°F) in summer to 28°C (82°F) in winter.
The water temperature range is 26-29°C (79-85°F). A 3mm full wetsuit or shorty will be sufficient for most divers when the water is at its coolest.
The strongest rains come from July through November when there is a possibility of hurricanes but rains don't often interfere with the diving.
Currents are mild on most sites though there are locations and conditions when they can be strong.  Surface conditions tend to be rougher on the Atlantic side dive sites.
Visibility is usually excellent in the 18-30 meter (60-100 foot) range throughout the year.
There is diving suitable for all levels around St. Kitts and Nevis.  There are several dive shops on St. Kitts and at least one on Nevis that are equipped with a range of PADI coursework, equipment rental, guiding and boat cruises.  There is an excellent liveaboard that cruises St. Kitts and Saba.  Here is my review and links to the vessel: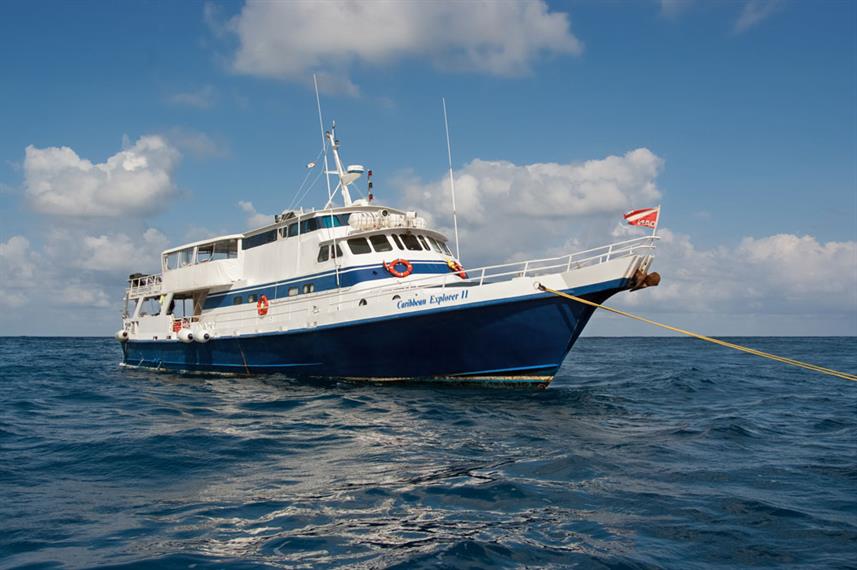 MV Caribbean Explorer II, St Kitts & Saba Liveaboard Diving – Check the Price & Details
For reviews of diving in other Caribbean locations, please check out these posts: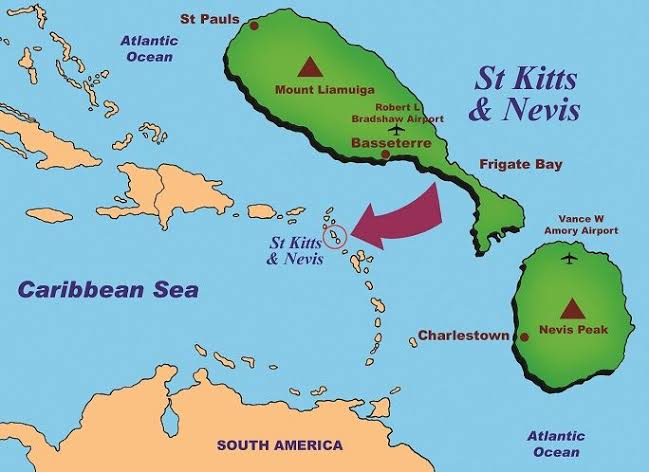 Selected St Kitts and Nevis Dive Sites
River Taw Wreck: 12 meters (40 feet), 44-meter (144-foot) freighter that sank in 1981 and was torn in half by Hurricane Hugo in 1989, at the side are remnants of a bulldozer and a van on the grassy bottom, fish feeding is done by dive guides, marine life includes octopus, eels, porcupine puffers, turtles, and stingrays, suitable for all levels (check out the video below)
Talata Wreck: 15-25 meters (50-82 feet), took on water and sunk outside Basseterre Harbor in 1989, resting upright but broken up by hurricanes and surge over the years, rich marine life to look for includes sergeant majors, trumpetfish, moray eels, creole wrasses, and a resident hawksbill turtle, suitable for all levels (check out the video above)
Coconut Reef: 12-24 meters (40-80 feet), site is 3 kilometers (2 miles) offshore, plain with a gradual drop-off, lots of small fish, lobsters, grunts, snappers, Creole wrasses, moray eels, groupers, barracuda, nurse and Caribbean reef sharks, horse-eye jacks, and possible turtles, suitable for all levels
Monkey Shoals (the Donut): 10-14 meters (33-45 feet), 5 kilometers (3 miles) offshore between St. Kitts and Nevis, area prone to high winds and currents, circular section of reef (the Donut) with extended limestone shelves, well encrusted with hard and soft corals, look for spiny lobsters and nurse sharks, suitable for all levels
Brimstone Shallows: 12-40 meters (40-130 feet), 3 kilometers (2 miles) west of Port Zante Marina, beautiful hard and soft corals on a slope with a sand channel to a drop-off, look for schools of Creole wrasses, lobsters, barracuda, moray eels, turtles, rays, and reef sharks, suitable for all levels depending of depth
Nags Head: 5-23 meters (15-75 feet), off the southern tip of St. Kitts, rocky formation with a small wall and a grassy area, look for sea urchins, crustaceans, featherstars, parrotfish, and possible formations of eagle rays feeding near the grass, strong currents possible, suitable for experienced levels
Christena Wreck: 15-22 meters (50-73 feet), ferry that sank in the Narrows in 1970 with a loss of 233 people, resting upright in the sand, look for hard and soft corals, featherstars, schools of fish, lobsters, moray eels, schools of fish, stingrays, turtles, and barracuda, suitable for all levels
St Kitts and Nevis Hotels, Transportation, and Dive Shops
Air – Robert L Bradshaw International Airport (SKB) in Basseterre and Vance W. Armory International Airport (NEV) on Nevis serve the country with Bradshaw the busier.  A number of major airlines connect St. Kitts and Nevis to Miami (daily), New York, Charlotte, Dallas, Atlanta, Newark, London Gatwick, Toronto, and numerous Caribbean locations.
Ferry – The Sea Bridge service runs between St. Kitts (Majors Bay) and Nevis (Cades Bay) from 8 am to 7 pm daily.
Taxis are more numerous than customers.  Prices should be negotiated before departure.
Buses and micro-buses are a lot cheaper than taxis and can be flagged down while in route.  Service doesn't extend to Frigate Bay or the peninsula.
Car Rental – Several agencies are in operation and temporary driving licenses available.
Train – A scenic railway tour on a narrow-gauge track formerly used by the sugar mill runs scenic tours around the island.
At least two major tour guide companies run tours around St. Kitts.
There is also a marina for yachts and a cruise ship terminal in Basseterre.
For further details on transportation and tourist information, please check Wikitravel-St. Kitts and Nevis.
Hotels and Dive Shops – There are several dive operations in St. Kitts and Nevis that offer full services including equipment rental, PADI dive courses, guiding and boat dive cruises.  They all have affiliations with resorts and cater to cruise line customers, as well.  The lodging options tend to run from moderately priced to expensive.  The website linked below has the details and can arrange the booking for accommodations.  You can easily find the location on the map provided on that site.  Their rates are guaranteed to be the lowest and it is free to cancel or change dates.
Things to do in St Kitts and Nevis (aside from scuba diving)
Beautiful beaches and landscapes, friendly people, intriguing culture and history, and lots of outdoor adventure possibilities are some of what awaits in St. Kitts and Nevis.  Here are some sights and activities to consider:
Brimstone Hill Fortress, Mount Liamuiga, Black Rocks, Oualie Beach – Nevis, Pinney's Beach – Nevis, Cockleshell Bay, Frigate Bay (sunsets). Royal St. Kitts Golf Club, St. Kitts Scenic Railway (Sugar Train), Timothy Hill, Romney Manor, The Old Road Fisheries, Basseterre Shopping and Art Scene, Wingfield-Phillips Rain Forest Nature Trail, Ziplining, Caribelle Batik, Climb a Volcano, Catamaran to Nevis, Meet Locals st the Saturday Market, St. Kitts Music Festival in June, Vervet Monkeys, Rum Punch, Horseback Riding, the Strip on Frigate Bay – Beach Bars, Reggae Beach Jetskiing, Surfing, & Paddleboarding.
These two short videos are a nice introduction to what is in store in St. Kitts and Nevis.
Photography in St Kitts and Nevis
With the interesting wrecks, colorful corals and encrusting life, gorgonians, macro critters, schools of fish, southern stingrays, eagle rays, Caribbean reef sharks, turtles, and fascinating scenes on land, as well, there are many excellent photo opportunities.  For information and reviews of dive cameras, click here:
Scuba Diving Trip Insurance
A cushion for emergencies provides peace of mind when on vacation.  I recommend this diving insurance as they have worldwide coverage and provide scuba divers a quality insurance and medical assistance service.
Feedback and Comments
I hope you found this post on scuba diving in St Kitts and Nevis interesting and useful. If you have any questions or ideas, please feel free to share them in the comments section.  I'd love to know of any experience you have.  If there is no comments section directly below, click here:  >>comments<<