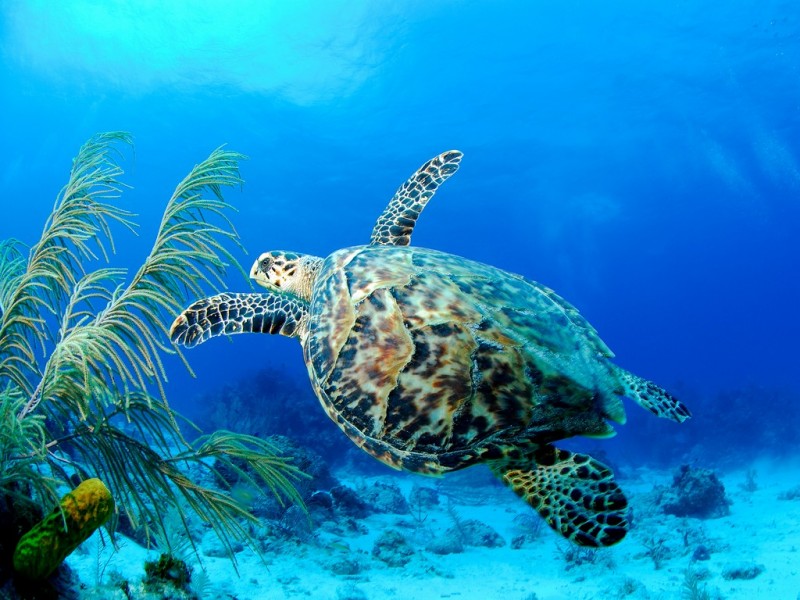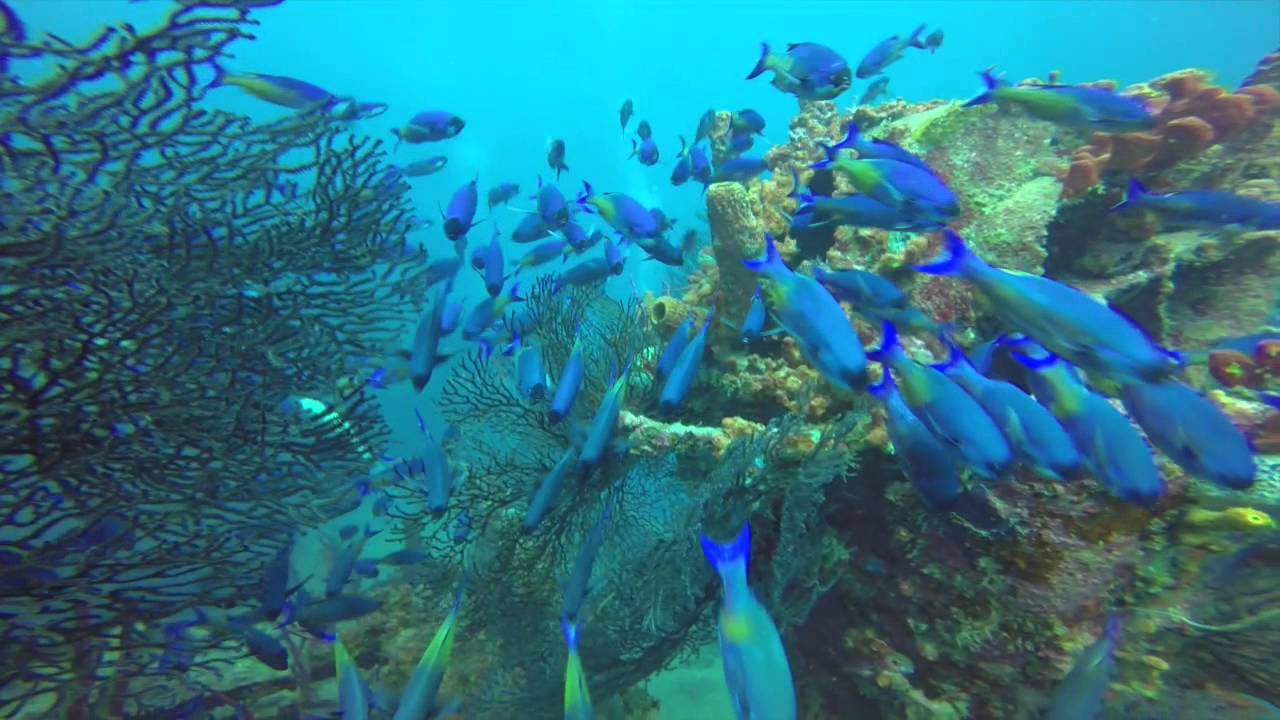 Updated June 7, 2021
This is the twenty-second in a series of reviews of the best scuba diving destinations around the world.  In this post, the focus is Barbados.
In addition to this series on dive resort locations, the best worldwide liveaboard dive locations and services are reviewed in their own series.  To check them out, or others in this series, click on Liveaboards / Resorts on the menu at the top and choose a title from the list.
Have you ever been diving in Barbados?  If so, I'd love to know about your experience.  What dive shop or liveaboard did you use?  Which dive spots are the best and what are the conditions there regarding the visibility, current, water temperature, sealife attractions, etc.?  Please post your response in the comments section at the bottom and we'll all learn something we can use.
Scuba Diving in Barbados
Background
Situated in the North Atlantic Ocean, east of the Windward Islands and the Caribbean Sea, and part of the Lesser Antilles is the 782-square km (294-square mile) coral island of Barbados.  This English-speaking member of the British Commonwealth is a leading tourist destination and home to a well-educated and prosperous population of 285,000.  Originally relying on sugar cane, today's economy also includes light manufacturing and the aforementioned tourism.
For more demographic, geographical, and cultural information on Barbados, click here: Barbados (Wikipedia)
Undersea World
While not known for a large number of pelagics, Barbados, with its fringing and patch reefs, is recognized for its rich corals, invertebrates, diverse sea life, and a number of interesting and accessible wrecks.
The east coast usually has rough surface conditions and not as much diving is done there in comparison to the primary dive sites on the west and southwest reefs.
Green, hawksbill, leatherback, and loggerhead turtles all nest on Barbados and are often seen on dives.
Over 40 mooring buoys are in place to eliminate anchor damage.
Other highlighted wildlife includes frogfish, flying gurnards, and seahorses for the macro aficionado, and wider angle attractions like barracuda, stingrays, nurse sharks, batfish, groupers, Bermuda chub, reef squid, very large sea fans, and tube and barrel sponges.  Otherwise, there are lots of reef fish including angelfish, butterflyfish, squirrelfish, soldierfish, parrotfish, and many others.
Seasons and Conditions
It is always warm in Barbados with air temperature in a range from 23-29°C (75-85°F) and water temperature from 26-29°C (79-84°F) year-round.  A breeze of 12-16 kph (7-10 mph) keeps it comfortable.  Visibility is also quite good at 12-21 meters (40-70 feet).
Caribbean Liveaboard Diving
Barbados is not an area renowned for liveaboard diving, but there are many cruises in other areas around the Caribbean.  Click here for details and pricing on a Caribbean liveaboard:
For reviews of diving in eastern Florida and other Caribbean locations, both land-based and liveaboard, please click on these posts: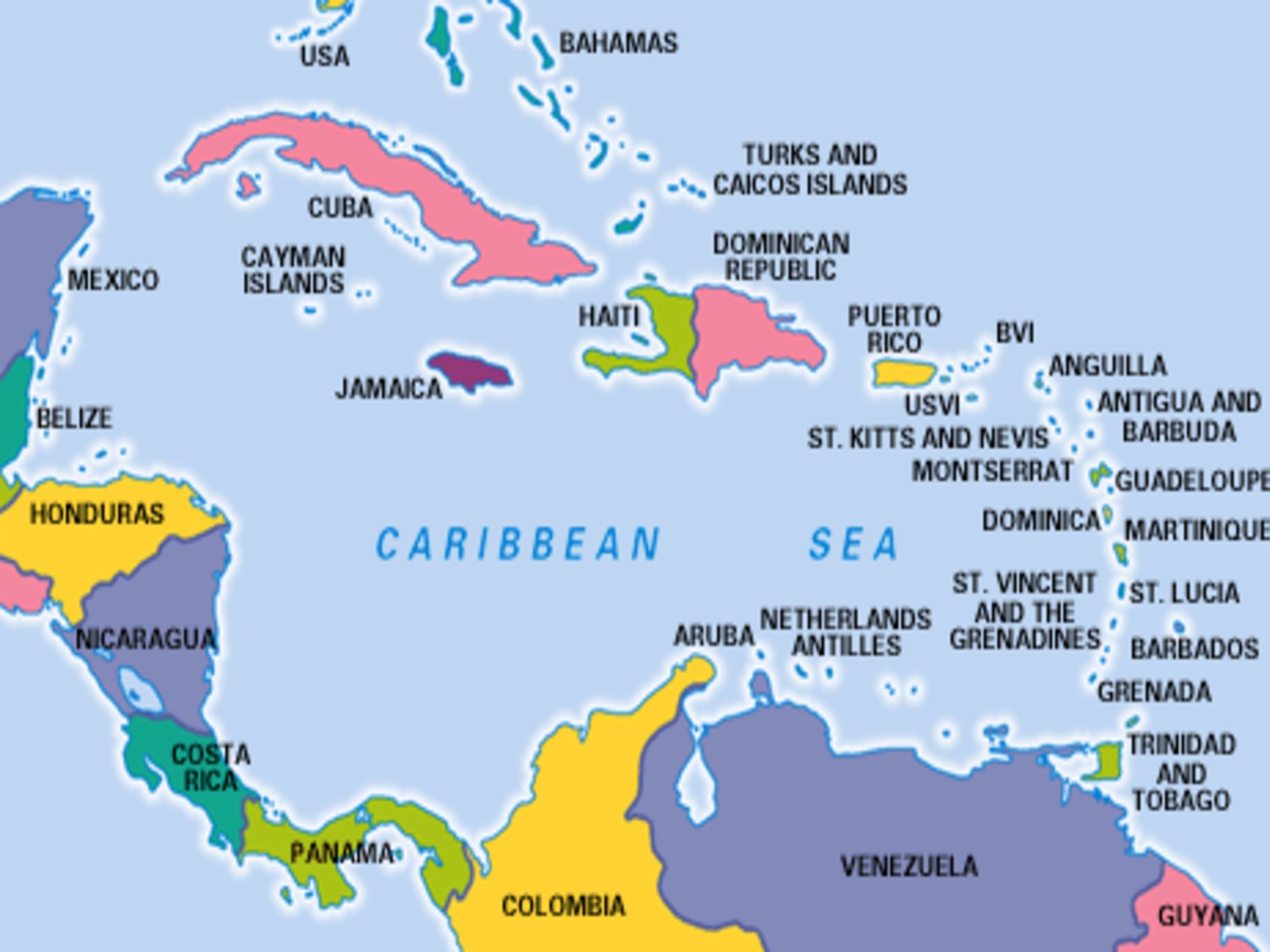 Caribbean Islands Map
Selected Barbados Dive Sites
Barracuda Junction: 18-24 meters (65-80 feet), reef continues to 45 meters (150 feet), colorful corals and sponges, many reef fish, chromis, silversides, barracudas, drift, beginner to experienced level
Cement Factory Pier: shallow, rich macro life, muck diving, lobsters, schooling fish, beginner level
Dottins: 12-18 meters (40-60 feet), creole wrasse, yellowtail snappers, barracuda, resident turtle, groupers, grunts, colorful sponges and corals, drift, beginner level
Village: 21 meters (70 feet), many fish, lobsters, turtles, mackerel, huge barrel sponges, drift, beginner to experienced level
The Finger: 10-24 meters (35-80 feet), finger-shaped projections from the fringing reef, hard corals, sea whips, purple sea fans, peacock flounders, damselfish, yellow and red snappers, grunts, drift, beginner to experienced level
Clarke's Bank: 18-27 meters (60-90 feet), many reef fish, yellowtail snappers, creole wrasse, parrotfish, hard and soft corals, sea fans, drift, experienced level
Sandy Lane: 27 meters (90 feet), sponges, sea fans, sea plumes, pelagics like bar jacks and mackerel, barracuda, green morays, drift, experienced level
Church Point: 9-15 meters (30-50 feet), small fish, chromis, parrotfish, stingrays, large coral heads, drift, beginner and experienced level
Tropicana: 18-24 meters (60-80 feet), a fringing reef with turtles, blackjacks, groupers, nurse sharks, anemones, many varieties of shrimp, drift, experienced level
Great Ledge: 16-24 meters (55-80 feet), lots of plants and coral, lizard fish, soldierfish, barracuda, filefish, trumpet fish, scorpionfish, spotted eels, drift, experienced level
Bright Ledge:  18-36 meters (60-120 feet), sponges, hard and soft corals, reef fish, pelagics, crabs, lobsters, eels, turtles, drift, experienced level
SS Stavronikita: 43 meters (143 feet) maximum depth, damaged 111-meter (370 foot) Greek freighter scuttled to become an artificial reef in 1976, stern at 30 meters (100 feet), bow at 21 meters (70 feet), part of Folkestone Park Marine Reserve, penetration possible, sponges, sea fans, squirrelfish, soldierfish, mild current, 30 meters (100 feet) visibility, experienced level
Pamir: 18 meters (60 feet) maximum depth, 50 meters (165 foot) scuttled wreck, sitting upright, rich fish and coral life, beginner level
Carlisle Bay Marine Park (Wrecks): 6 wrecks clustered in shallow water suitable for beginners to experienced levels, rich encrusting reef life with frogfish, seahorses, octopus, reef squid, mackerel, moray eels, rays, barracuda, cannons, anchors, and pylons lead divers from wreck to wreck
Berwyn: 6 meters (20 feet), 21-meter (70-foot) WWI French tugboat sunk in 1919
Ce-Trek: 13 meters (45 feet), a derelict boat of cement construction scuttled in 1986
Eillon: 16 meters (55 feet), 33-meter (110-foot) drug boat scuttled in 1986, penetration
Bajan Queen: 10 meters (35 feet), popular tug and later party boat scuttled in 2002
Cornwallis: 5 meters (15 feet), Canadian freighter sunk by U-Boat torpedo in WWII, relocated from high boat traffic area in 2003
Barge: 4 meters (12 feet), naval landing barge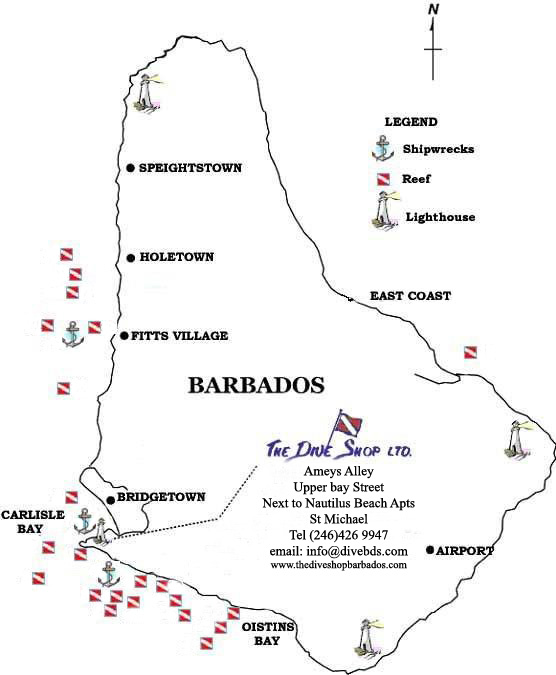 Barbados Transportation, Accommodation, and Dive Shops
Transportation
Grantley Adams International Airport provides service to 14 different airlines from the US, Canada, Britain, Europe, and other countries in the Caribbean.  There are also boats and ferry services from several nearby islands.
Lodging and Dive Shops
In Barbados, there are dozens of hotels, resorts, and condos available.  Pricing runs from around $65/night on up.  As for diving, many of the hotels have their own dive shop.  Otherwise, there are at least a dozen separate dive operations in Barbados.
This website is a good source for the available housing options and can arrange a booking:
Barbados Things To Do (aside from scuba diving)
There is an abundance of interesting activities and events in Barbados to round out a vacation there:  nature/eco tours, Atlantis submarine tours, catamaran, and boat cruises, sailing, museums, historic sites, rum distilleries, beer breweries, sports (horse racing, rugby, cricket, volleyball, polo, basketball), town and village shopping and tours, restaurants, bar scene, hiking, cycling, and many, many others.
Here's an informative video with some dos and don'ts along with key highlights to take in.
Barbados Photo Opportunities
With the macro life, beautiful, diverse coral reef, lots of fish, and wrecks, there are many excellent photo opportunities.  For information and reviews of diving cameras, click here:
Scuba Diving Trip Insurance
A cushion for emergencies provides peace of mind when on vacation.  I recommend this diving insurance as they have worldwide coverage and provide scuba divers quality insurance and medical assistance service.
Feedback and Comments
I hope you found this post on Barbados scuba diving interesting and useful. If you have any questions or ideas, please feel free to share them in the comments section.  I'd love to know of any experience you have diving there.  If there is no comments section directly below, click here:  >>comments<<