We may earn money or products from the companies mentioned in this post.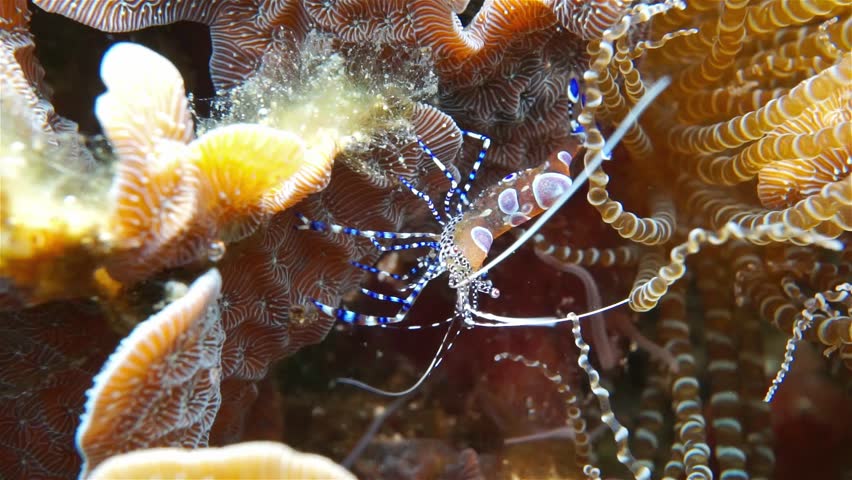 This is the fifty fifths in a series of reviews of the best scuba diving destinations around the world.  In this post, the focus is St. Vincent and the Grenadines.
In addition to this series on dive resort locations, the best worldwide liveaboard dive locations and services are reviewed in their own series.  To check them out, or others in this series, click on Liveaboards/Resorts on the menu at the top and choose a title from the list.
Have you ever been diving in St. Vincent and the Grenadines?  If so, I'd love to know about your experience.  What dive shop or liveaboard did you use?  Which dive spots are the best and what are the conditions there regarding the visibility, current, water temperature, sealife attractions, etc.?  Please post your response in the comments section at the bottom and we'll all learn something we can use.
Scuba Diving St. Vincent and the Grenadines
Background – Situated in the Lesser Antilles with the Caribbean Sea to the west and the Atlantic Ocean to the east is the Commonwealth of Nations member St. Vincent and the Grenadines.  St. Lucia is to the north and Grenada to the southwest just at the end of the Grenadine chain of islands.  Altogether there are 33 islands with a total area of 389 square kilometers (150 square miles) and total citizens on St. Vincent and the seven inhabited Grenadine islands numbering 110,000.  Kingstown is the capital with 25,000 and the bulk of the rest are in a coastal strip around St. Vincent.
The island is volcanic in origin with major eruptions from La Soufriere in 1903, that killed 5,000 people, and in 1979, causing a lot of agricultural damage.  The windward side is rocky and steep and the leeward side has more bays and black sand beaches.  The beaches on the islands of the Grenadines are white.
The indigenous Caribs managed to keep the Europeans out longer than their nearby island neighbors until 1719 after which there began a long series of battles for control between the French, British and Caribs who had taken in escaped slaves by that time.  Slavery was abolished in 1838 and full independence finally came in 1979.
Over the years agriculture involving many crops was the economic driver.  Most recently it has been the banana combined with tourism.  Attempts at diversification into manufacturing and offshore finance have not gone quickly, but the new international airport opened in 2017 is expected to help.  There is still 20% unemployment.
English is the national language with the language of the street Vincentian Creole.  Cricket, rugby, soccer, and basketball are popular along with local versions of music including big drum, calypso, soca, steelpan, chutney, reggae, stringband, quadrille and belle music.  Today the population is made up of 66% of African origin, 19% mixed, 6% East Indian, 4% European, 2% Carib and 2% other.  81% are Christian.
Undersea World – The leeward Caribbean side of St. Vincent is where most of the diving takes place.  The volcanic activity has created an underwater terrain of black sand, grassy beds, rocky formations, crevices, caverns and steep drop-offs highlighted by rich coral and sponge growth including black coral forests.  The area has the reputation as one of the world's best for muck diving with a large number of fascinating macro critters like anemones, sea squirts, frogfish, seahorses, many kinds of shrimp, flatworms, nudibranchs, crabs, brittle stars, blennies, gobies, batfish, cowries, and octopus.  What sets this "muck diving" apart from some of the others is the lack of silt, debris and even garbage often associated with the term.  The heavy volcanic sand has helped foment great visibility and a clean look. Angelfish, butterflyfish, boxfish, damselfish, hawkfish, basslets, lizardfish, eels, squid and tilefish are also part of the rich sea life.  There is also a good range of larger attractions including stingrays, eagle and manta rays, barracuda, turtles, nurse, and Caribbean reef sharks and several wrecks.  Traveling south through the Grenadines there are similarly bountiful coral scenes each with its peculiarities and sea life highlights that include great macro, pelagics, turtles and sharks.
For reviews of diving in eastern Florida and other Caribbean locations, please check out these posts:
Seasons and Conditions – Diving is possible all year with air temperature highs in a range of 29-31°C (84-88°F).
It is always humid with the rainy hurricane season from June through November.  From February to May rainfall is significantly lower.
The water temperature is likewise warm year-round with lows of 25°C (77°F) in September and highs in February and March of 28°C (83°F).  3 mm of thermal protection in the form of a wetsuit ought to satisfy most divers when the water is at its coldest.
Most sites have little if any current and visibility is great with a range of 15-45 meters (50-150 feet).
There are a number of dive shops that operate on St. Vincent and the Grenadines and some on Carriacou Island in Grenada that also dive the southern Grenadines that are equipped with a full range of diving classes, equipment rental, guiding and boat cruises to the offshore sites and other islands.  Jean-Michel Cousteau is so impressed by the diving that he has a dive shop on Petit St. Vincent.
There is not a liveaboard that directly cruises the St. Vincent and the Grenadines dive sites, but many Caribbean sites are supported by liveaboard diving.  Here is my review that covers a variety of locations and a link to a relatively nearby liveaboard in the British Virgin Islands: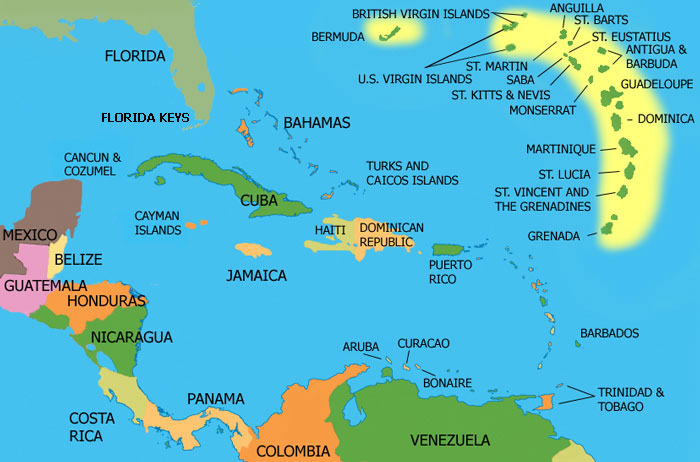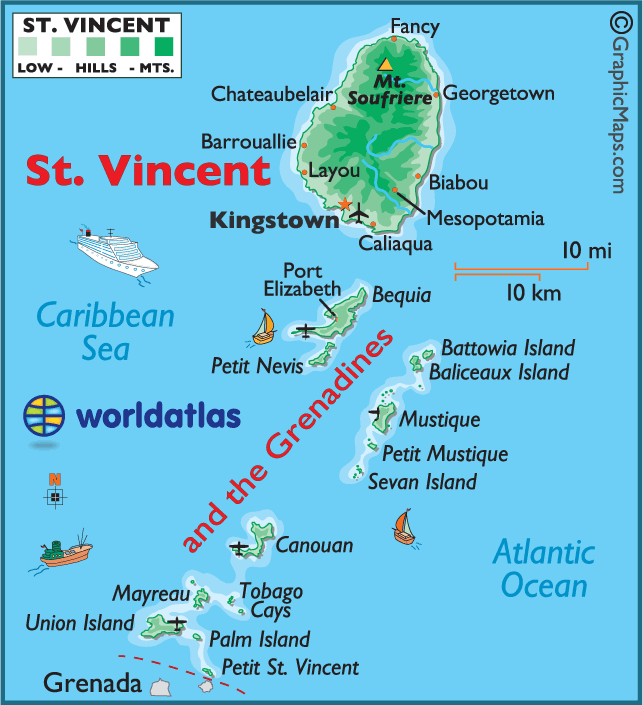 A Sampling of St Vincent and the Grenadines Dive Sites
St. Vincent sites
The Bat Cave: 15 meters (50 feet), cave complete with bats on the ceiling, schools of tiny fish in the entrance,  rocky bottom leading to a narrow crevice at 14 meters (45 feet) leading to an exit to the reef, schools of copper sweepers, experienced guide necessary, experienced level
Capital Wrecks: 18-36 meters (60-120 feet), 3 wrecks in close proximity, an 18th-century French frigate, the Seimanstrand and a tugboat it collided with 30 years ago, experienced level
Anchor Reef: 9-36 meters (30-120 feet), named for an anchor buried in the reef, large boulders, swim-throughs and caves, colorful encrusting sponges and coral, black coral, gorgonians, rope sponges, several species of eel, many reef tropicals, seahorses, squid, experienced level
Orca Point: 6-36 meters (20-120 feet), named for the Orca Edge dive computer, pinnacle protruding from the surface surrounded by rocks and boulders, encrusting sponges, lots of nooks and crannies for many shrimp species, neck crabs, decorator crabs, three-spotted scorpionfish, sharptail eels, anemones, peacock flounders and dense schools of tropicals, all levels
Over There: 9 meters (30 feet) maximum depth, muck diving, macro photographer's site, wall and large boulders descending to a sandy bank, lots of macro critters, all levels
Petit Byahaut: 30 meters (100 feet) maximum depth, a sandy sheltered area just offshore descending to a coral reef dropping off to the maximum depth, a wide variety of corals and encrusting life, rich fish life, lots of macro critters, all levels
Layou Wall: 8-46 meters (25-150 feet), pristine reef rich with tropicals in the shallows with steep vertical wall, nooks and crannies to explore for macro life, experienced level
Grenadines Sites
Bequia: characterized by shallow areas rich in macro critters like seahorses, batfish, pipefish, stonefish, a variety of shrimps, pipefish, and others, sloping reefs with eagle rays and hawksbill turtles, sites for all levels
Mustique: similar to Bequia, rich coral reefs with lots of tropicals and macro life, all levels
Mayreau: broad coral reef formations, good drift diving, garden eels, the Purini, an intriguing well encrusted 1918 British gunship (see above video), in 12 meters(40 feet), sites for all levels
Tobago Cays: horseshoe reef protects 4 of 5 cays, shallow inner sites, steep walls outside, sites for all levels
Petit St. Vincent: Mopion Reef nearby is great for sharks, sites for all levels
St. Vincent Photos
With the interesting volcanic underwater terrain, wrecks, colorful corals and sponges, gorgonians, black corals, macro critters, schools of fish, rays, turtles, and fascinating scenes and historical sites on land, as well, there are many excellent photo opportunities.  For information and reviews of dive cameras, click here:
With the opening of Argyle International Airport just outside of Kingstown, there is no direct service from Miami, New York, Toronto, and many Caribbean countries.  There are also smaller airports on Bequia, Canouan, Mustique, and Union Island handling domestic and Caribbean flights.  On St. Vincent and the bigger islands taxi service is available.  Private mini-vans serve as a bus line on St Vincent.  Bequia and St. Vincent have a ferry service between them and there are water taxis making jumps from island to island.  Cars are also for rent.
There are a number of dive shops operating on St. Vincent and several of the other islands providing a full range of services including equipment rental, dive courses, guiding and boat dive cruises.  Dozens of hotels and resorts are available from $45 to $245 per night.  Many have in house dive operations.  The website linked below is a good source for the available options and can arrange the booking.  Their rates are the lowest and it is free to cancel or change dates.
Things to Do in St. Vincent and the Grenadines (aside from scuba diving)
Great things to do on St. Vincent and the Grenadines: visit Wallilabou or Dark View Falls, hike to La Soufriere (the volcano), tour botanic gardens, hike the Vermont Nature Trail and see native species like the St. Vincent Parrot, Sail to the Grenadines and take in the unique sights and activities on each, enjoy the views from Fort Duvernette or Fort Charlotte, party at Vincy Mas (Carnival in July), golf at Grenadines Estate Club, take in the Regatta sailing at Easter time, visit historic St. Mary's Church, visit Montreal Gardens, eat local food on the street and in restaurants, tour and shop Kingstown and the other towns and villages, enjoy the local music and nightlife scene . . . . . .   Check out the video below for a glimpse of life on St. Vincent and the other islands of the Grenadines and a few additional leisure options.
A cushion for emergencies provides peace of mind when on vacation.  I recommend this diving insurance as they have worldwide coverage and provide scuba divers a quality insurance and medical assistance service.
Feedback and Comments
I hope you found this post on St. Vincent and the Grenadines scuba diving interesting and useful. If you have any questions or ideas, please feel free to share them in the comments section.  I'd love to know of any experience you have diving there.  If there is no comments section directly below, click here:  >>comments<<