We may earn money or products from the companies mentioned in this post.
Chien Tong Wreck (Photo by Scubaqua Dive Center is courtesy of TripAdvisor)
This is the one hundred and ninety-third in a series of reviews of the best diving destinations around the world.  In this post, the focus is on St. Eustatius.  In addition to this series on diving destinations, the best worldwide liveaboard diving locations and services are reviewed in their own series.  To check them out, or others in this series, click on Liveaboards/Resorts on the menu at the top and choose a title from the list.
Have you ever been scuba diving in St. Eustatius before?  If so, I'd love to know about your experience.  What dive shop or liveaboard did you use?  Which dive spots are the best and what are the conditions there regarding the visibility, current, water temperature, sealife attractions, etc.?  Please post your response in the comments section at the bottom and we'll all learn something we can use.
Scuba Diving St. Eustatius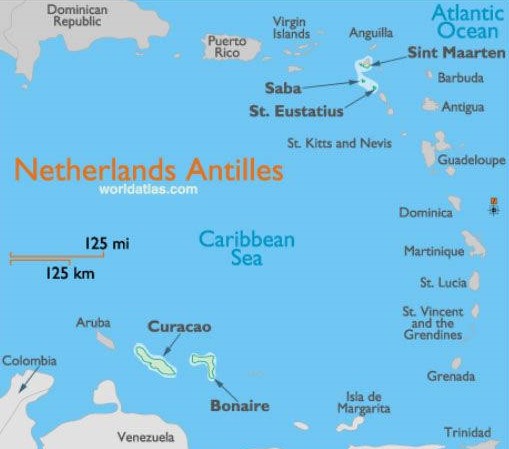 Background – A part of the Netherland Antilles until it broke up in 2010, St. Eustatius (aka Sint Eustatius or Statia) is a special municipality within the Netherlands.  At 10 kilometers (6 miles) in length and 5 kilometers (3 miles) in width, it has a population of 3,877.
Volcanic in origin, the island is saddle-shaped with Mount Mazinga (Quill), a dormant volcano at 602 meters (1,975 feet) in the southeast and the smaller twin peaks of Signal Hill and Boven Mountain in the northwest.  The beaches around the island have black volcanic sand that provides nesting habitat for green, leatherback, loggerhead, and hawksbill turtles.
First sighted by Columbus in 1493, it developed into the central trading location for the Caribbean colonies of several European countries and was the most important mercantile center among the Dutch colonies up until the end of the 18th century.  Of special interest (for further investigation) is the unique position of Jewish traders in St. Eustatius in the history of the Caribbean.
Today there is a laid back and quiet atmosphere with an oil terminal and the government the biggest employers.  Dutch is the national language but English is more commonly used with English Creole spoken by many on the street.
For more historical, cultural, geographic, and demographic information, please check Wikipedia-Sint Eustatius.
Undersea World – The diving around St. Eustatius takes place in a protected marine park with 36 moored sites all within 5 kilometers (3 miles) of the Caribbean Leeward coast of the island.  The subsea terrain supports 8 distinct eco-systems with around 70 species of hard corals and 500-700 species of fish.  Shallow fringing reefs to 12 meters (40 feet) consist of volcanic fingers with rich hard and soft corals, sponges, gorgonians, and other encrusting invertebrates.  There is black volcanic sand and grassy beds that are home to many intriguing macro critters like squadrons of flying gurnards, seahorses, garden eels, and peacock flounders.  Going deeper there are a variety of structures including lava ridges, isolated coral mounds and pinnacles, and igneous substrate with ridges, ledges, and caverns, dotted with more than 100 sunken wrecks, ancient and modern, and artifacts like anchors, ballast, and even blue beads.  Other marine life highlights are heaps of spiny lobsters and octopus in the nooks and crannies, spotted drums, schools of French grunts, snappers, black-bar soldierfish, goatfish, squirrelfish, angelfish, batfish, barracuda, horse-eye jacks, eagle rays, stingrays, nurse and reef sharks, the occasional bull shark, humpback whales in winter, pilot whales, and dolphins.
Seasons and Conditions – Diving is possible all year in St. Eustatius.
It's always warm with air temperature average daily highs reaching 31°C (88°F) from August through October and getting down to 29°C (84°F) in December through March.
The water temperature range is 26-29°C (79-84°F).  A 3mm full wetsuit or shorty will be sufficient for most divers when the water is at its coolest.
The strongest rains come from October through January.  The possibility of hurricanes is greatest from June through November.  However, rains don't often interfere with diving.
Currents are generally mild though there are locations and conditions when they can be strong.  Surface conditions tend to be rougher on the windward Atlantic side, but not much diving is done there.
Visibility is usually excellent in the 18-60 meter (60-200 foot) range throughout the year.  During the rainy season, it will tend toward the bottom of the range.
There is diving suitable for all levels around St. Eustatius.  Two dive shops are in operation that offer a range of PADI coursework, equipment rental, guiding and boat cruises.  There is one excellent liveaboard yacht that cruises nearby Saba and St. Kitts.  Here is my review and links to the vessel: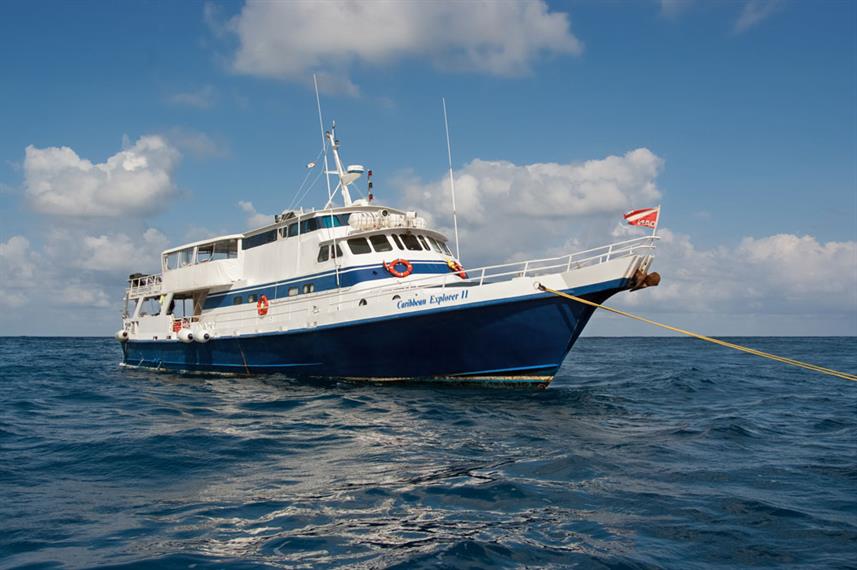 MV Caribbean Explorer II, St Kitts & Saba Liveaboard Diving – Check the Price & Details
For reviews of diving in other Caribbean locations, please check out these posts:
Selected St. Eustatius Dive Sites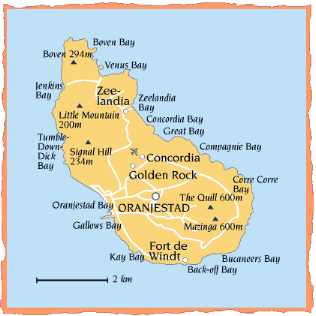 Charlie Brown (Charles L. Brown) Wreck: 31 meters (102 feet), 100-meter (327-foot) cable-laying ship scuttled in 2003 to become an artificial reef, at rest on her side, superstructure intact, penetration through an extended portion of the interior is possible, home to horse-eye jacks and barracuda, suitable for experienced levels
Chien Tong Wreck: 22 meters (72 feet), 52-meter (170-foot) Taiwan long-line fishing boat scuttled in 2004 to become an artificial reef, resting upright, well-encrusted home to reef sharks, barracuda, and green turtles famous for their abundance on night dives, suitable for experienced levels
Double Wreck: 18 meters (60 feet), remains of ships sunk 300 years ago that include two large anchors, and a few ballast stones, rich corals and sponges, look for a variety of macro critters in the nooks and crannies, blennies, flying gurnards, lots of reef tropicals, schools of grunts and snappers, huge southern stingrays, barracuda, and turtles, suitable for all levels (check the video below)
Cliffs: >40 meters (>130 feet), site off the southern end, coral garden at 18 meters (60 feet) drops off on a steep wall to the abyss, look for schools of Creole wrasses and yellowhead jawfish in the shallow garden, the wall has rich corals, sponges, and sea fans, highlights are blacktip reef sharks, turtles, and pelagics, suitable for experienced levels
Blue Bead Hole:  18 meters (60 feet), a site rich in artifacts such as pottery, clay pipes, and numerous blue beads, another favorite area for flying gurnards, other highlights are sailfin blennies, peacock flounders, and seahorses, suitable for all levels
Grand Canyon: >40 meters (>130 feet), wall dive in a canyon between two submerged pinnacles, great location for eagle rays, sharks, and pelagics, suitable for experienced levels
Shark Reef: 30 meters (100 feet), north end site without a mooring, reef and wall with strong current possible, a great place for lobsters in the nooks and crannies, jacks, barracuda, and reef sharks, suitable for experienced levels
Aquarium: 18 meters (60 feet), far north end site, numerous lava bombs richly encrusted with sponges and coral, look for seahorses, scorpionfish, massive schools of sonnets, and lots of reef fish, suitable for all levels
Stenapa: 18 meters (60 feet), a tugboat, barge, and hull of a ship in close proximity, great habitat for juvenile fish, well encrusted with corals, sponges, and other invertebrates that "bloom" on night dives, also a favorite time and location for turtles, suitable for all levels
Hangover Reef: 14-20 meters (46-66 feet), coral garden with a sandy area and ledges, look for frogfish and long snout seahorses,  lots of reef tropicals, permits, horse-eye jacks, and the possibility of reef sharks, suitable for all levels
St. Eustatius Hotels, Transportation, and Dive Shops
Air – F. D. Roosevelt Airport (EUX) connects to St. Martin via regional airline Winair.  There are no flights connecting to other locations.
Boat – There is no regular boat service to any of the nearby islands like Saba, St. Kitts, or St. Martin.  Plans have been in the works for ferries.
Getting Around – There are a few private taxi services.  Rental cars can also be found.  Check with your hotel.  Walking or bike riding are also options around this small island.
For further details on transportation and tourist information, please check Wikivoyage-Sint Eustatius.
Hotels and Dive Shops – There are two dive shops in St. Eustatius.  Both offer full services including equipment rental, PADI dive courses, guiding, and boat dive cruises.  The lodging options are limited and tend to be fairly expensive.  The website linked below has the details and can arrange the booking for accommodations.  You can easily find the location on the map provided on that site.  Their rates are guaranteed to be the lowest and it is free to cancel or change dates.
Things to do in St. Eustatius (aside from scuba diving)
This sparsely populated and beautiful volcanic island is slow-paced and relaxed with a number of historic and scenic sights not to be missed.  Here are some locations and activities to consider:
Quill/Boven National Park, St. Eustatius Historical Foundation Museum, Zeelandia Beach, Lynch Beach, Lynch Bay Beach, Fort de Windt, Fort Oranje, Oranje Bay – Oranjestad Beach, Caribbean Netherlands Science Institute Library, Smoke Alley Beach, Naked Pig/Peterson's Paradise (gallery), Cool Corner Bar & Restaurant, Local (bar), Statia Taste of Cultures (last Thursday of the month at the airport), Harbor Club Statia, Synagogue Ruins, Old Gin House Restaurant, Mazinga on the Bay, Statia Carnival (July), Hiking, Birding, Fishing, Whale Watching (in winter).
Photography in St. Eustatius
With the interesting volcanic subsea terrain, colorful corals and encrusting life, gorgonians, macro critters, schools of fish, southern stingrays, eagle rays, reef sharks, turtles, shipwrecks, and fascinating scenes on land, as well, there are many excellent photo opportunities.  For information and reviews of dive cameras, click here:
Scuba Diving Trip Insurance
A cushion for emergencies provides peace of mind when on vacation.  I recommend this diving insurance as they have worldwide coverage and provide scuba divers a quality insurance and medical assistance service.
Feedback and Comments
I hope you found this post on scuba diving in St. Eustatius interesting and useful. If you have any questions or ideas, please feel free to share them in the comments section.  I'd love to know of any experience you have.  If there is no comments section directly below, click here:  >>comments<<