We may earn money or products from the companies mentioned in this post.
This is the thirty-sixth in a series of reviews of the best scuba diving destinations around the world.  In this post, the focus is Curacao.
In addition to this series on dive resort locations, the best worldwide liveaboard dive locations and services are reviewed in their own series.  To check them out, or others in this series, click on Liveaboards / Resorts on the menu at the top and choose a title from the list.
Have you ever been diving in Curacao before?  If so, I'd love to know about your experience.  What dive shop or liveaboard did you use?  Which dive spots are the best and what are the conditions there regarding the visibility, current, water temperature, sealife attractions, etc.?  Please post your response in the comments section at the bottom and we'll all learn something we can use.
Scuba Diving Curacao
Background – Situated 65 kilometers (41 miles) north of Venezuela, Curacao is the C of the ABC islands (Aruba, Bonaire, and Curacao) of the Dutch Antilles.  It is more populous than the other two with 160,000 citizens and is a constituent country of the Netherlands.  Unlike the other two, historically it was a slave-trading center and today has a greater diversity of cultures with a majority of the population having African ancestry.  Within its 444 square kilometers (171 square miles) is a smaller island to the southeast, Klein Curacao (Little Curacao).
There was no gold to attract the early Spanish explorers and salt mining was one of the original economic activities.  Today tourism, international trade and finance, oil refining and shipping are the major drivers of the economy.  The capital Willemstad has a free trade zone and the island is a major port for cruise lines.  Prostitution is legal, though local women are prohibited from participation.
Dutch, Papiamento (a Creole language) and English are the national languages with Spanish usage common.  Most people can speak at least two of these.  Organized sports are popular and quite a few from Curacao have made their way to major international leagues in baseball and soccer.  Krioyo, the local cuisine, reflects Dutch, Chinese, Surinamese and Indonesian influences, among others.  There are many interesting historic structures and UNESCO has declared Willemstad a World Heritage Site.
Undersea World – There are lots of diving opportunities around Curacao with over 60 dive sites, 40 of which are shore dives.  Surrounding it is a fringing reef rich in hard and soft corals, large barrel and tube sponges, gorgonians and other invertebrates and reef fish.  The terrain includes rocky shores, bays, and beaches with a reef drop off close to shore in the south.  There are deep walls and a number of wrecks that Curacao is famous for.  Most of the diving is on the west side which generally has smooth surface conditions, minimal current, and good visibility.  There is a significant effort in reef-building and a protected marine park off the south of the island.
More than a dozen major dive shops are located along the west side to do courses, rent equipment and guide with the bulk on the southern half with its sandy beaches.
Macro life includes octopus, seahorses, frogfish, mantis shrimp, anemones and lobsters. There are large French angelfish, morays, jacks, snappers, grouper, turtles, barracuda, nurse sharks, manta and eagle rays, dolphins and pilot whales.
The east has stronger current and choppier surface conditions with fewer people diving there. Klein Curacao, to the southeast, has interesting diving with strong current on the east side, lots of soft and hard corals and huge caverns on the tips with nurse sharks inside.  Turtles nest on the sandy beaches and big schools of wahoo, barracuda and snappers are often sighted.  Around Curacao, there are dives to suit all levels of diver.
Seasons and Conditions – Diving is good year-round with some seasonal variation.
The dry season is from April to November when it is dry, sunny and calm.
Air temperatures have an average high of 32°C (89°F) with water temperatures at around 28°C (82°F).
From December to March is the rainy season when brief downpours occur daily.  Temperatures are a little cooler with an average air temp of 29°C (85°F) and water temp at 26°C (79°F).  With water temperatures like this many divers will go with a lycra suit or a shorty.
Curacao is on the southern edge of the hurricane belt and massive storms usually bypass it.
Visibility is usually excellent in the range of 15-30 meters (50-100 feet).
The west side has little if any current and smooth surface conditions while the east side often has strong currents and substantial surface chop.
Curacao is not an area renowned for liveaboard diving, but there are many cruises in other areas around the Caribbean.  Click here for details on a Caribbean Liveaboard:
For reviews of diving in eastern Florida and other Caribbean locations, please check out these posts: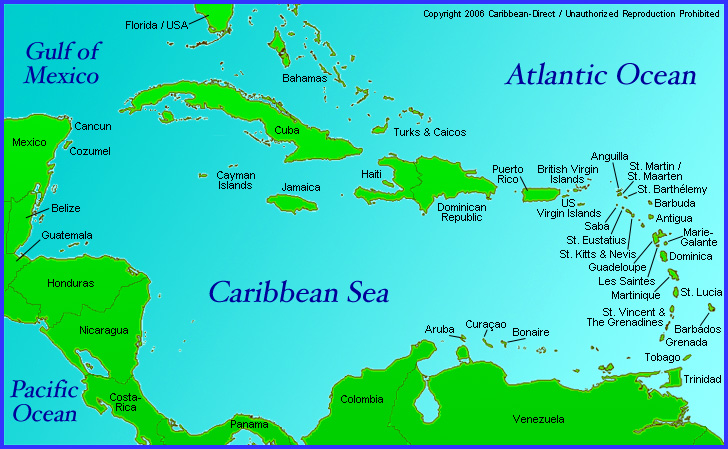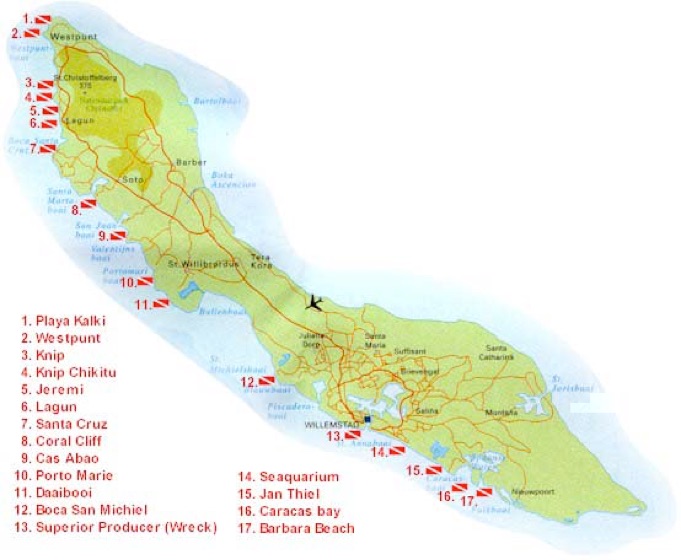 A Selection of the Best Curacao Dive Sites
Watamula (Water Mill in Dutch) – 30 meters (100 feet) maximum depth, on northernmost end, gorgonians and fans, soft corals, giant sponges, triggerfish, parrotfish, crabs, lobster, rays, schools of chub and bogas, big morays, barracuda, manta rays, nurse sharks, unpredictable current, surface can be choppy, good drift dive, experienced level
Playa Kalki (Alice in Wonderland) – to 18 meters (60 feet), easy shore access from a sandy beach, mushroom-shaped corals and many other varieties, sponges, anemones, on a rolling terrain, groupers, sizable moray eels, barracuda, octopus, lobsters, nurse sharks, turtles, all levels
Mushroom Forest – to 25 meters (83 feet), best by boat access, a sloping reef with huge mushroom-shaped corals, anemones, squid, snappers, morays, trumpetfish, turtles, all levels
Porto Marie (The Valley) – drop off to two reefs with a valley in between, one reef to 15 meters (50 feet), second reef to 18 meters (60 feet), shore access, lots of coral, lobster, scorpionfish, barracuda, stingrays, morays, angelfish, parrotfish, pufferfish, nurse sharks and turtles, all levels
Superior Producer – 30 meters (100 feet) maximum depth, 49-meter (165-foot) freighter loaded improperly sunk 1977, upright, wheelhouse at 24 meters (80 feet), open cargo holds, rich encrusting life, orange sponges, anemones, big barracuda, grouper, jacks, access from shore or boat, experienced level
Snake Bay – to 20 meters (68 feet), shore access, many species including Creole wrasses, southern stingrays, jacks, eels, turtles, pods of dolphins, shore access, all levels
Tugboat at Caracasbaii – 8 meters (25 feet) maximum depth for the wreck, beyond the wreck, a wall continues down to 30 meters (100 feet), 9 meter (30 foot) tugboat sunk long ago, thoroughly encrusted, huge coral formations, tube sponges, reef fish, damselfish, morays, soldierfish, trumpetfish, snappers, great night dive, beginner level and snorkeling
Klein Curacao – 24 kilometers (15 miles) southeast of Curacao, variety of dives, eastern side rich in corals, large caverns and ledges on the tips with nurse sharks, good visibility, strong currents possible, turtles year-round, which also nest there, schooling wahoo, barracuda and snapper, experienced level

Curacao Photos
With the macro life, wrecks, clear water, beautiful, diverse coral reef, lots of fish, and historic and colorful onshore targets, there are many excellent photo opportunities.  For information and reviews of dive cameras, click here:
Regular flights from other Caribbean and North and South American countries and Europe fly in and out of Curacao International Airport daily.  Taxis from the airport to Willemstad run $40-50.  Taxis are not metered and a 10% tip is expected.  Cars, motorcycles, and bicycles are for rent.  The public bus system is limited.  There are large buses for longer journeys that depart roughly once an hour and collective cars or vans for shorter routes.
There are many dozens of hotels and accommodations of every grade from $19 to over $550 per night.  Many have in-house dive shops. Otherwise, there are more than a dozen separate dive businesses most of which operate on the southwest seaside.  This website is a good source for the available options and can arrange a booking:
Curacao Things to Do (aside from scuba diving)
Aside from seaside activities and beaches, Curacao has a very rich and diverse culture to enjoy.  There are many historic buildings and sites, museums, galleries, gardens, an aquarium, shopping, the old market, forts, unusual bridges, an ostrich farm, a flamingo sanctuary, Carnival (just after New Year's), Christoffel National Park with Indian cave paintings, iguanas, white-tailed Curacao deer, mountain hikes with scenic photogenic views and great restaurants with Curacao's multicultural cuisine.
This page can introduce you to the full array of activities in Curacao:  Curacao Tours and Attractions
A cushion for emergencies provides peace of mind when on vacation.  I recommend this diving insurance as they have worldwide coverage and provide scuba divers a quality insurance and medical assistance service.
Feedback and Comments
I hope you found this post on Curacao scuba diving interesting and useful. If you have any questions or ideas, please feel free to share them in the comments section.  I'd love to know of any experience you have diving there.  If there is no comments section directly below, click here:  >>comments<<