We may earn money or products from the companies mentioned in this post.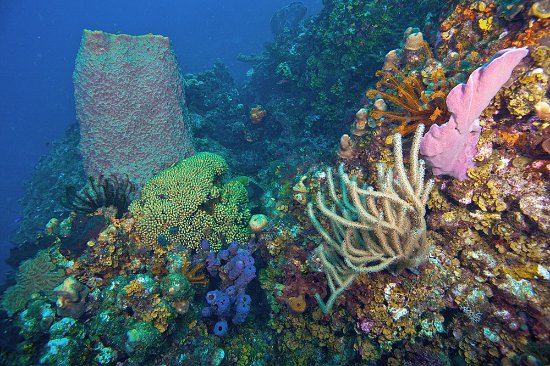 This is the thirty-third in a series of reviews of the best scuba diving destinations around the world.  In this post, the focus is on Dominica.
In addition to this series on dive resort locations, the best worldwide liveaboard dive locations and services are reviewed in their own series.  To check them out, or others in this series, click on Liveaboards / Resorts on the menu at the top and choose a title from the list.
Have you ever been scuba diving on Dominica?  If so, I'd love to know about your experience.  What dive shop or liveaboard did you use?  Which dive spots are the best and what are the conditions there regarding the visibility, current, water temperature, sealife attractions, etc.?  Please post your response in the comments section at the bottom and we'll all learn something we can use.
Scuba Diving in Dominica
Location: Situated in the Lesser Antilles between the Windward Islands of Guadalupe and Martinique, Dominica is geologically the youngest of the group.  Formed by volcanic activity, geothermal forces in the form of hot springs are still evident at Boiling Lake and the Champagne dive site.  There are 300 miles (188 km) of trails running through the lush mountain rain-forest with hundreds of waterfalls and rivers and endemic creatures like the national bird, the Sisserou Parrot.  The Republic covers 290 square miles (750 square kilometers) with a population of 72,000 English speaking citizens.  Creole, a French-based language, and Kokay, an English based one, are also spoken.  A small group descended from the original Carib Indians still has a small settlement on the eastern side.
In comparison to the other island nations in the region, Dominica has a low per capita GDP with its foundation mostly in bananas and agriculture. A major economic initiative started in 2006 which pushed into new fruits, coffee, patchouli, aloe vera and a few other crops, and an emphasis on offshore and financial services, and tourism.  Without a lot of sandy beaches, ecotourism has been a focus.
For more demographic, geographical and cultural information on Dominica, click here: Dominica (Wikipedia)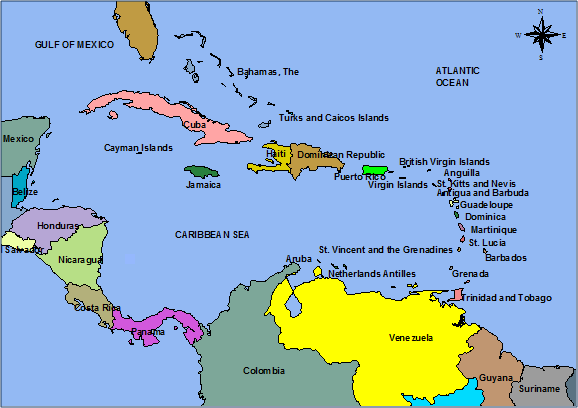 Undersea World – Recognized by many as one of the top 10 dive areas in the world, Dominica is known for beautiful coral reefs, volcanic subsea terrain with hot springs, and a rich variety of marine life including 22 species of whale.  Most of the best sites are on the west side where currents are mild, with the most sites in the southwest section.
The volcanic topography includes canyons, volcanic craters, steep walls, arches, pinnacles, and bubbles emerging from hot springs in several locations.  The encrusting invertebrate life is impressive with rich hard and soft corals, gorgonians, huge barrel sponges, and other colorful tube and pipe sponges.
Several marine sanctuaries help preserve the pristine marine life which includes a long list of highlights including macro critters like seahorses, frogfish, flying gurnards, huge crabs, spiny lobsters, scorpionfish, octopus, reef squid, moray eels, spotted flamingo tongue snails, and Peterson cleaner shrimp.  There are reef tropicals like sargassum triggerfish, French grunts, parrotfish, pufferfish, yellowtail and mahogany snappers, blackbar soldierfish, black durgons, Creole wrasses, and chub along with barracuda, jacks, stingrays, eagle rays, nurse sharks, 4 species of turtles, spinner dolphins, 22 species of whale, with sperm whales in residence year-round.
Seasons and Conditions: It is warm year-round with daytime temperatures between 24-32°C (75-90°F).  The mountains are a bit cooler.  Accordingly, water temperatures are also warm in a tight range of 26-29°C (78-84°F).  The best time to dive is from December to May.  July to October is the rainy season with the dry from December to April.   Visibility is generally quite good at 18-30 meters (60-100 feet) with the low end coming during rains.  Current is mild to non-existent most of the time but can be strong.
Dominica is not an area renowned for liveaboard diving, but there are many cruises in other areas around the Caribbean.  Below are several great yachts to check out: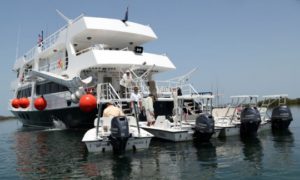 Avalon II, Jardines de la Reina Liveaboard Diving – Check the Price & Details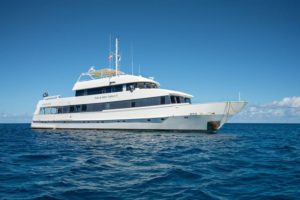 Turks & Caicos Explorer II, Turks & Caicos Liveaboard Diving – Check the Price & Details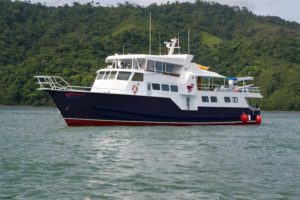 Bahamas Master, Bahamas Liveaboard Diving – Check the Price & Details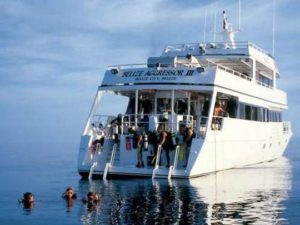 Belize Aggressor III, Belize Liveaboard Diving – Check the Price & Details
For reviews of diving in eastern Florida and other Caribbean locations, please check out these posts: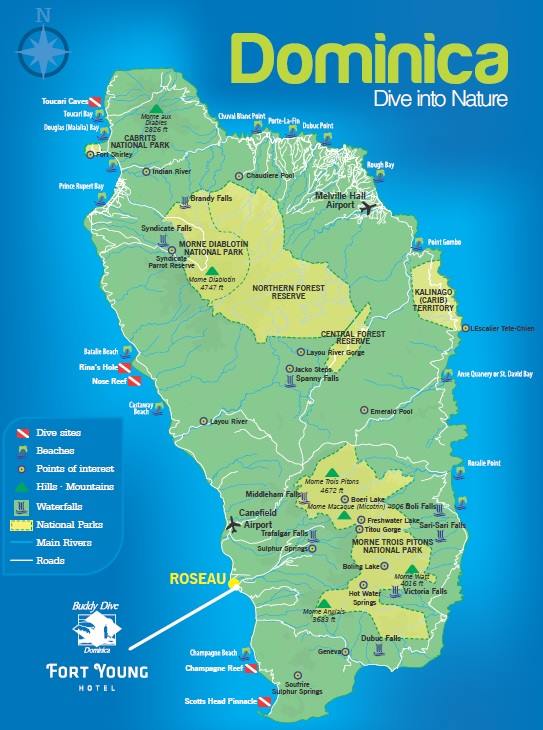 Selected Dominica Dive Sites
Southwest Sites
Champagne Reef: 5 meters (15 feet), hot springs bubbles, light current, can do multilevel dive around the deeper exterior with safety stop on the springs, seahorses, frogfish, flying gurnards, squid, huge crabs and lobster, scorpionfish, octopus, stoplight parrotfish, turtles, good night dive, possible stingrays and eagle rays, all levels
Scott's Head Pinnacle: to 40 meters (130 feet), unusual topography with a large rock formation called Swiss Cheese and a swim-through called Soldierfish Cave, bisecting a pinnacle beginning at 10 meters (35 feet), to the wall of the interior of a crater that goes to 40 meters (130 feet), gorgonians, lobster, big schools of blackbar soldierfish, experienced level
L'Abym (La Sourcier): wall from 12 meters (40 feet) to 450 meters (1500 feet), rock shelf at 8 meters (25 feet), sheer drop off, sponges, coral, lots of fish, seahorses, turtles, barracuda, sargassum triggerfish, possible hammerhead sharks, little current, experienced level
West Central Sites
Nose Reef and Whaleshark Reef: 18-40 meters (60-130 feet), huge and colorful barrel and tube sponges, banded and Peterson cleaner shrimps, nudibranchs, arrow crabs, spotted flamingo tongue snails, a vertical wall at Whaleshark Reef, Spanish mackerel, amberjacks, turtles, experienced level
Rina's Hole: shallow, swim-through to a rocky formation, encrusting corals, sea fans, giant anemones, sea plume beds, moray eels, great macro critters, schools of chub, stingrays, eagle rays, nurse sharks, sandy bottom, bright and colorful, beginner level
Five Finger Rock: to 30 meters (100 feet), rocks sticking out of the water resemble fingers, rock and coral slope to 30 meters (100 feet), big barrel sponges, lots of small reef fish like shoaling chromis, copper sweepers, rock beauties, butterflyfish, wrasses, trunkfish, goatfish, bigeyes, turtles, experienced level
Northwest Sites
Toucari Bay: 12 meters (40 feet) to 33 meters (110 feet), honeycomb of tunnels, 8-13 meters (25-45 feet long) at 12 meters (40 feet), rich corals, frogfish, big crabs, mahogany snapper, French grunts, parrotfish, pufferfish, octopus, moray eels, squid, rays, lobster, trumpetfish, parrotfish, drops off to 33 meters (110 feet), good night dive, beginner level
Douglas Point: several sites, canyons, tunnels and rocky areas with rich corals and sponges, drop-offs with landings at 15 meters (50 feet) and 55 meters (180 feet), flying gurnards, moray eels, lobsters, large reef fish, barracuda, mackerel, experienced level
Point Ronde and the Craters: gentle sloping reef to 21 meters (70 feet) and the Craters, from there drops off to 27 meters (90 feet) and then 36 meters (120 feet), pristine rich marine life, warm sand with occasional escaping, bubbles, experienced level
Dominica Photos
With the macro life, beautiful, diverse coral reef and lots of fish, there are many excellent photo opportunities.  For information and reviews of diving cameras, including the Panasonic GH5 used in the above video, click here:
There are two regional airports on Dominica: Douglas-Charles Airport, previously called Melville Hall Airport, in the northeast, and Canefield Airport near Roseau.  They handle flights from Puerto Rico and other Caribbean Airports.  On Dominica, there is a system of convenient and reasonably priced minibusses for transportation around and across the island.
Many of the available hotels are located in the Roseau area and start from $50/night on up.  As for the diving, There are several dive shops, most of which are in the southwest area near Roseau.  Anchorage Hotel also has an in-house dive center.  This website is a good source for the available options and can arrange a booking:
Dominica Things To Do (aside from scuba diving)
The natural environment featuring volcanic activity is the main attraction, aside from diving.  There are many waterfalls including Trafalgar Falls, Victoria Falls, and Emerald Pool.  Morne Trois Pitons National Park has the Boiling Lake.  Geothermal springs, known as sulfur springs are available in many locations. Hiking into the mountains or along the coastline is popular.  Of course cruises and beach and seaside activities including whale watching are awaiting. There are various tours, historic sites, botanical gardens, markets, restaurants and city activities in Roseau. Popular sports are cricket, netball, basketball, rugby, tennis, and soccer. This list leaves out quite a few.  Check out the video below.
A cushion for emergencies provides peace of mind when on vacation.  I recommend this diving insurance as they have worldwide coverage and provide scuba divers a quality insurance and medical assistance service.
Feedback and Comments
I hope you found this post on Dominica scuba diving interesting and useful. If you have any questions or ideas, please feel free to share them in the comments section.  I'd love to know of any experience you have diving there.  If there is no comments section directly below, click here:  >>comments<<