We may earn money or products from the companies mentioned in this post.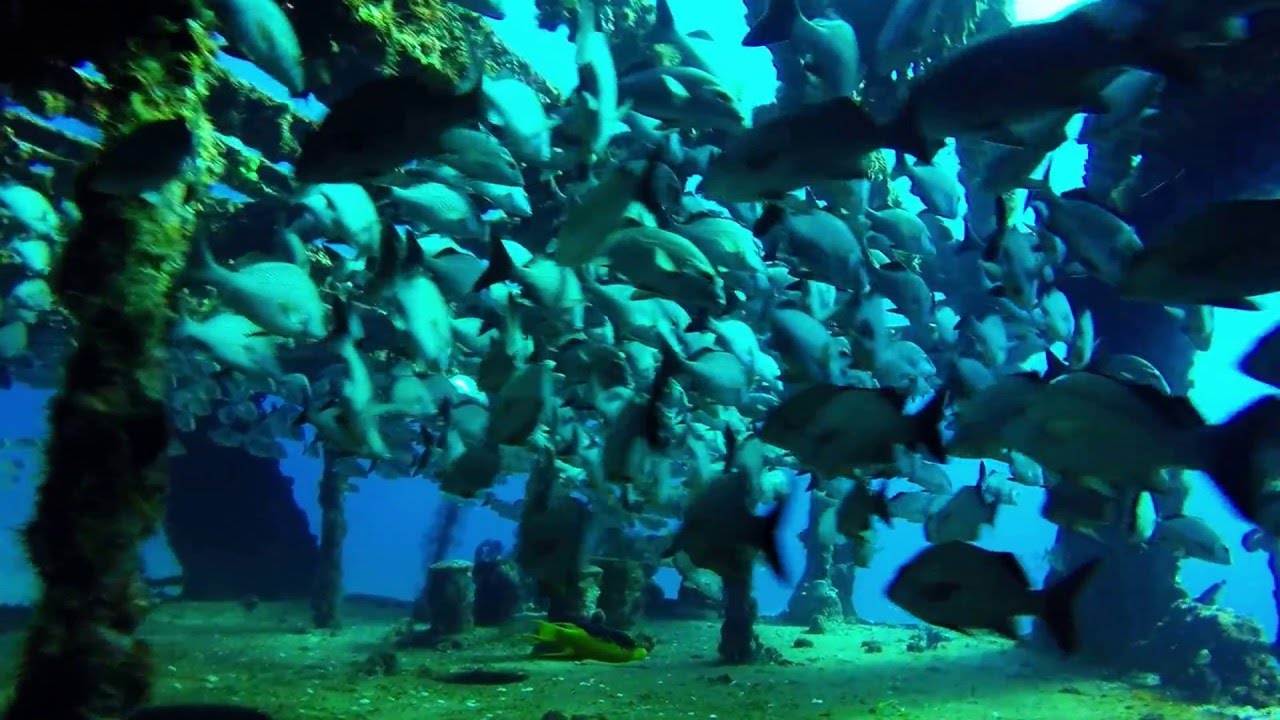 This is the seventy-ninth in a series of reviews of the best scuba diving destinations around the world.  In this post, the focus is Cozumel, Mexico. In addition to this series on dive resort locations, the best worldwide liveaboard diving locations and services are reviewed in their own series.  To check them out, or others in this series, click on Liveaboards/Resorts on the menu at the top and choose a title from the list.
Have you ever been diving in Cancun?  If so, I'd love to know about your experience.  What dive shop or liveaboard did you use?  Which dive spots are the best and what are the conditions there regarding the visibility, current, water temperature, sealife attractions, etc.?  Please post your response in the comments section at the bottom and we'll all learn something we can use.
Scuba Diving Cancun Mexico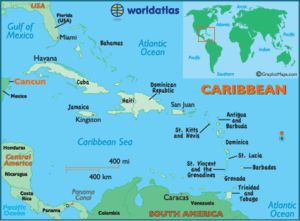 Background – Cancun, Mexico's premier tourist destination, is situated on the northeast coastal tip of the Yucatan Peninsula.  When the Spanish arrived the Mayas still lived there, but they quickly died out.  By 1970 there were only three caretakers of a coconut plantation in residence.  At that point, the Mexican government financed the first nine hotels and the modern resort empire was founded.  It continued to grow and develop rapidly from that point until today there are around 650,000 living there, up 375% from 1990.  There are still vestiges of the pre-Columbian Maya civilization to visit that make up a small portion of available tourist activities. Unfortunately, with the wealth there the drug cartels and money launderers have instigated significant violence and many murders in recent years.  If you stay away from drugs and money laundering, presumably you will be relatively safe.
Undersea World – The diving in Cancun is on rich and colorful coral reefs with 26 coral species and over 500 species of fish.  Most of the best diving is around or near Isla Mujeres and between there and the Hotel Zone and offshore from there.  The terrain features crevices, swim-throughs, caverns, and some shipwrecks.  Often there is drift that can be thrillingly swift. Brightly colored soft and hard corals, barrel and tube sponges, big sea fans and gorgonians provide habitat for lobster, crabs, golden tail eels, spotted morays, damselfish, batfish, seahorses, splendid toads, octopus and banded cleaner shrimp on the macro side.  Other highlights include yellowtails, several species of grunt, French and Queen angelfish, pufferfish, flounder, sergeant majors, parrotfish, southern stingrays, triggerfish, tangs, snapper, eagle rays, nurse and Caribbean reef sharks and on occasion bull sharks and hammerheads, along with green, hawksbill, and loggerhead turtles. Also, whale sharks pass through in their hundreds from June to September.
A further attraction is El Museo Subaquàtico de Arte (MUSA) next to Cancun, which is an undersea art gallery of life-size sculptures by artist Jason de Caires Taylor.  The famous limestone Cenotes (caverns) of Yucatan are also available on land-based day trips with mazes of tunnels filled with bizarre stalactites and stalagmites and other intriguing formations. There are caves suitable for all levels of diver from near beginner to technical.
Seasons and Conditions – Diving is good year-round, keeping in mind a lengthy rainy season and potential hurricanes.
Average daily high temperatures are in the range of 28-35°C (83-95°F), the warmest time in September and the coolest in January.
Water temperature can get up to 29C° (84°F) from June to October and down to 26°C (79°C) from January to March.  Most divers will only need a 3 mm wetsuit when the water is at its coolest.
It rains quite a bit all year with the driest months from February to May.  The rainy season runs from May to December with the biggest possibility of hurricanes from August to November.    Hurricane Gilbert caused significant damage in 1988.  Wilma in 2005 just missed Cozumel and Dean in 2007 stripped some of the beaches of their sand.  Since then hurricanes have not been a factor.
Visibility is usually excellent at 20-40 meters (68-130 feet).
Current is variable from location to location and based on the season and tides.  It is quite mild on some sites and can get strong at times on others.   That being said, there is diving suitable for all levels.
There are at least 56 dive shops in operation on Cancun that are equipped with a full range of coursework, equipment rental, guiding and boat cruises.
There is not a liveaboard that directly cruises the Cancun dive sites, but many Caribbean locations are supported by liveaboard diving.  Here is my review that covers a variety of them and a link to a nearby liveaboard to the Cayman Islands: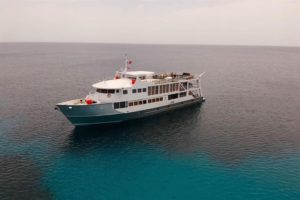 Cayman Aggressor V, Cayman Islands Liveaboard – Check the Price
For reviews of diving in eastern Florida and other Caribbean locations, please check out these posts: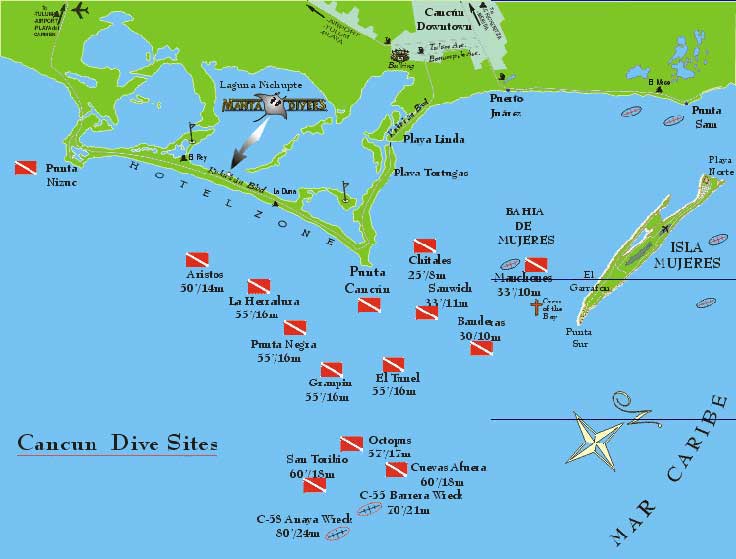 Selected Cancun Dive Sites
C58 General Anaya: 26 meters (85 feet), originally a US WWII minesweeper, recommissioned several times, scuttled to become an artificial reef, split in two by Hurricane Wilma in 2005, full penetration possible, grunts, barracuda, manta rays, grouper, interesting encrustation and macro life, strong current possible, experienced level (check the below video)
C55 Juan de la Barrera: 25 meters (82 feet), originally a US WWII minesweeper,  recommissioned several times, scuttled to become an artificial reef in 2000, the hull today is broken into 4 parts, lots of fish and encrusting life, eagle rays, reef sharks, experienced level
Bandera Reef: 12 meters (40 feet), a small reef with two long parallel sections, elkhorn corals, crabs, lobster, moray eels, angelfish, lumberjacks, pompano, barracuda, turtles, mild current, all levels
Aristos: 15 meters (50 feet), rich corals, fish and macro life, two swim-throughs, one wide and one narrow, fairly strong current possible, all levels
San Toribio: 18 meters (60 feet), triggerfish, moray eels, big groupers, angelfish, nurse sharks, turtles, usually strong current, all levels
Punta Negra: 16 meters (53 feet), rich coral reef with a great diversity of marine species in a small area, eels, crabs, lobster, angelfish, barracuda, pompano, nurse sharks, turtles, bull sharks, all levels
Chitales: 10 meters (35 feet), lots of marine life on a rich coral reef, sandy bottom, usual current from the southeast, all levels
Cuevas de Afuera: 15 meters (50 feet), rocks on a sandy bottom, rich marine life, turtles and eagle rays, strong current possible, all levels
Manchones: 10 meters (35 feet), 800 meters long, part of the Mesoamerican Barrier Reef, colorful coral reef, sandy bottom, grunts, wrasse, blue tangs, snappers, parrotfish, queen angelfish, spotted trunkfish, crabs, lobster, stingrays, nurse sharks, also home to the underwater sculpture museum (MUSA), mild current, all levels
Cancun Photos
With the interesting undersea terrain, rich and colorful coral reefs, a variety of fish, lobster, crabs, sharks, stingrays, barracuda, tuna and turtles, and scenic beach vistas and historical ruins as well, there are many excellent photo opportunities.  For information and reviews of dive cameras, click here:
The second busiest airport in Mexico is set 6 miles (10 kilometers) from the hotel strip in Cancun.  There is a broad range of transportation options available.  Please click on this website for details.  Wikitravel
There are many hundreds of resorts, hotels, and lodges ranging from $4-$1,490 per night. Many have an in-house dive shop or are associated with one.  In all there are at least 56 dive shops offering services including equipment rental, dive courses, guiding and boat dive cruises.  The website linked below is a good source for the available options and can arrange a booking.  You can easily find the locations on the map provided on this site.  Their rates are the lowest and it is free to cancel or change dates.
Things to Do in Cancun (aside from scuba diving)
There's a lot to do related to the historic and natural features of Cancun.  Here is a list of some of them: Mayan Ruins of Tulum, Parque Maya Cancun, Playa Delfines, Rio Secreto (cave), Xplor Park, El Rey Ruins, Underwater Museum and Visitors Center (glass bottom boat or diving), Delphinus Xel-Ha (dolphins, slides), Ancient Chichen Itza, Xcaret, swim the underground river, catamaran cruise, ziplining, downtown Cancun, paddleboarding, night out on the town, hotel zone and restaurants, cenotes, Xoximilco (gondola party), ferry to Isla Mujeres, visit Valladolid (old Spanish town), Temazcal, tequila, eat at Senor Frog's, visit UNESCO World Heritage Site, ATVing, Mayan Museum.  This video gives you a good look at a few of these.
A cushion for emergencies provides peace of mind when on vacation.  I recommend this diving insurance as they have worldwide coverage and provide scuba divers a quality insurance and medical assistance service.
Feedback and Comments
I hope you found this post on Cancun scuba diving interesting and useful. If you have any questions or ideas, please feel free to share them in the comments section.  I'd love to know of any experience you have diving in Cancun.  If there is no comments section directly below, click here:  >>comments<<