We may earn money or products from the companies mentioned in this post.
Chac Mool Cenote (Photo by Manta Divers Cancun Courtesy of TripAdvisor)
This is the one hundred and ninety-sixth in a series of reviews of the best diving destinations around the world.  In this post, the focus is on the cenotes of Mexico.  In addition to this series on diving destinations, the best worldwide liveaboard diving locations and services are reviewed in their own series.  To check them out, or others in this series, click on Liveaboards/Resorts on the menu at the top and choose a title from the list.
Have you ever been scuba diving in the Mexican cenotes before?  If so, I'd love to know about your experience.  What dive shop or liveaboard did you use?  Which dive spots are the best and what are the conditions there regarding the visibility, water temperature, wildlife attractions, etc.?  Please post your response in the comments section at the bottom and we'll all learn something we can use.
Best Cenote Diving Mexico
Background – The Yucatan Peninsula is a low-lying flat area with a limestone foundation resulting from ancient coral reefs that became exposed when sea levels were lowered during the ice ages.  Massive cave systems were formed when slightly acidic rainwater caused the dissolution of the porous limestone with impressive stalactites, stalagmites, and columns remaining in the hollowed-out sections.  Sea levels subsequently rose to flood the caves.  Today there are virtually no surface rivers or streams on the Yucatan but there are three substantial subterranean water systems running throughout these caves.  The limestone in many places has collapsed from the surface in the form of sinkholes which are known as cenotes.  Today estimates range to 30,000 for the number of exposed cenotes providing access to these underground cave and water systems.
Underwater World – For the purposes of scuba diving we can consider that cenote diving is cavern diving.  Only a basic certification is all that is required to participate.  You are diving in a cavern when there is natural light (in the daytime) that is always visible.  You will never be more than 40 meters (130 feet) horizontally and vertically combined from the surface.  It is true there are opportunities for deep penetration into small passageways far from the surface, but that is only for individuals with advanced technical training to attempt.  Most of the sites have got the major pathways well marked with safety lines for guidance.
Cenotes are often set in a tropical jungle setting requiring a vehicle and sometimes a nature trek to get to them.  The water typically has exceptional clarity and supports at least 15 species of freshwater fish including tetras, mollies, catfish, blind cavefish, and blind crayfish, as well, along with chara, a common species of algae in cenotes.  In areas near the openings, there can also be fallen trees and other plant life from land that rest inside.
Haloclines are an interesting visual phenomenon to watch out for that occurs when higher density seawater that has penetrated from coastal waters below meets the freshwater on top of it creating a swirling blurry effect.
In addition to the fantastic natural formations like stalactites, etc., there is also evidence of ancient sacrificial and burial grounds to explore.  Typically there are large chambers with magical vistas that are the delight of wide-angle photographers.
Dive Lights
For your journey into the caverns and caves of the cenotes, you will need a good flashlight or two for safety and to fully explore the large chambers and nooks and crannies.  Here is my review to introduce some top models:
Cavern Diver Training
For training in cavern diving, you could consider the PADI Specialty Course – Cavern Diver available from many area dive centers.  If you are looking for advanced technical overhead environment training, there are also several shops on the Riviera Maya that offer it.
Riviera Maya Caribbean Diving
For my reviews of diving in Playa Del Carmen, Tulum, Banco Chinchorro, Cancun, and Cozumel, please check out these posts:
Seasons and Conditions – Diving is possible all year in the cenotes on the Yucatan.  December through April is the busiest time.  Early booking is advised.  From May to September light is better making for better visibility and photography conditions.
The air temperature average daily high range is 28-33°C (82-91°F).
The water temperature in the cenotes can be cooler than in the nearby Caribbean with a range of 20-26°C (68-78°F).  On average the temperature is 24-25°C (75-77°F).  Check with your guide for what to expect on the day and select the appropriate thermal protection.
The strongest rains come from June through October with 10-16 days of rain per month during that time frame.  This is also the season when there is a possibility of hurricanes.
Currents are minimal to non-existent in the cenotes.
Visibility is excellent.  Divers need to exercise caution not to stir up sand and silt to spoil it.
There are sites suitable for all levels of diver from shallow caverns to deep penetration through narrow passageways requiring advanced technical skills.  From the primary locations of access in Playa del Carmen and Tulum, there are more than 75 dive shops, some associated with hotels, that offer a full range of diving coursework, equipment rental, and guiding in the cenotes.  Some of the shops specialize in services provided but overall they can offer trips to the top cenotes in the region, local ocean dives, and sites along the Riviera Maya and around Cozumel.
Liveaboards
There are not any liveaboard yachts cruising the Riviera Maya, however, there are several world-class dive safaris to relatively nearby Belize, Roatan, and the Caymans.  Here are links to the vessels followed by my reviews of diving and liveaboards at Caribbean destinations including these three: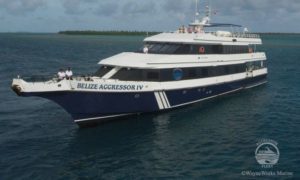 Belize Aggressor IV, Belize Liveaboard Cruise – Check the Price & Details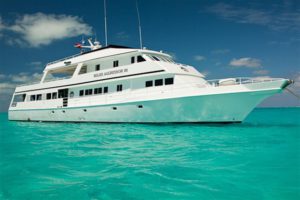 Belize Aggressor III, Belize Liveaboard Cruise – Check the Price & Details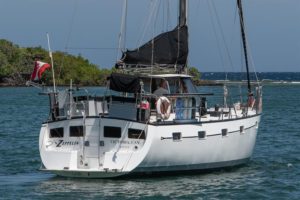 Roatan Aggressor, Roatan Liveaboard Cruise – Check the Price & Details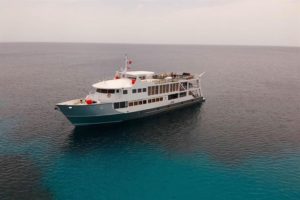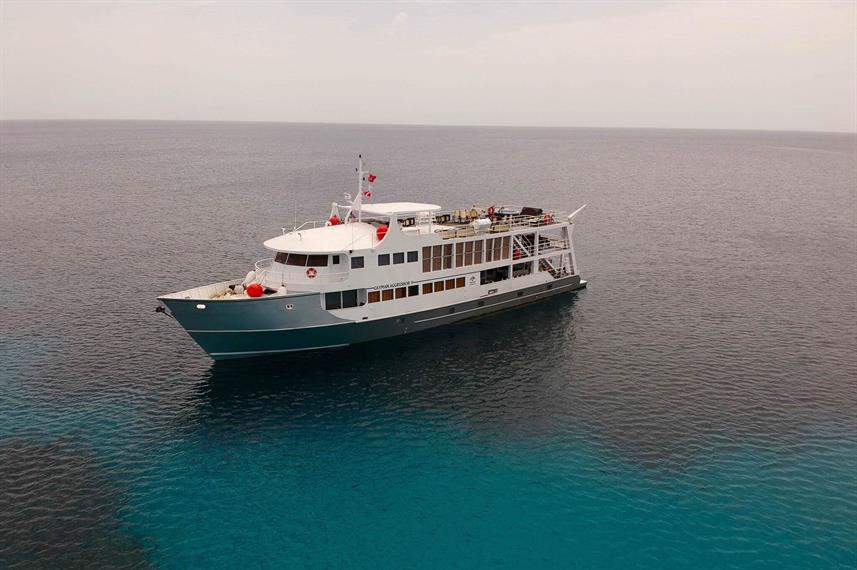 Cayman Aggressor V, Cayman Island Liveaboard Cruise – Check the Price & Details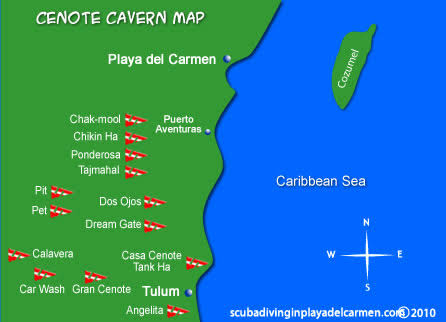 Selected Cenotes Diving Sites
The Pit:  40 meters (130 feet), in the Dos Ojos Park, a stairway leads down to the entry, deepest known cave entrance to 120 meters (393 feet), hydrogen sulfate cloud at 27 meters (90 feet), many stalactites to 30 meters (100 feet), the summer sun beams down to 30 meters (100 feet), average water temperature is 20°C (68°F), dress appropriately, suitable for advanced levels (check out the top video)
Dos Ojos (Two Eyes):  8-10 meters (24-40 feet), two cenotes connected making one of the ten largest cave systems in the world, worth two or more dives, not completely explored with expeditions to only 61 kilometers (38 miles) of passageways, two main sections, one called Barbie with lots of light, the other called Bat Cavern which is dark with lots of bats, lots of stalactites and stalagmites, limestone caves, and sinkholes, many colors, several fish species and freshwater shrimp, average water temperature is 24°C (77°F), suitable for all levels
Angelita:  30-60 meters (100-197 feet), interesting fossils, an underwater tree, and a swim-through, interesting mirrored lighting effect from surface light reflected on the opaque zero visibility layer of hydrogen sulfate at 30 meters (100 feet) resulting from bacteria breaking down tree and plant life, average water temperature is 20°C (68°F), suitable for advanced and technical levels (check out the second video from the top)
Gran Cenote:  8-15 meters (25-50 feet), in the Sac Aktun System, lots of sunlight reveals blue-green water, white stalactites, and columns, many passageways, an average water temperature of 20°C (68°F), suitable for swimmers, snorkelers, and all levels of diver
Chac Mool Cenote:  12 meters (40 feet) maximum depth, three water entrances to the Chac Mool system, most of the dive is dark requiring a torch, no open water is overhead for much of the dive, through the main entrance is a large dome room with ambient light where divers can surface and find fossils and stalactites, water temperature 24-25°C (75-77°F), suitable for advanced and technical levels
Car Wash: 14 meters (46 feet), large open water area with many dead trees and water lilies, rock formations, stalagmites, stalactites, bright wall of light outside, with greenish water, look for freshwater turtles, fish, the possibility of a crocodile, fossils and broken pottery, water temperature 24-25°C (75-77°F, good training site for cavern specialty and side mount, suitable for all levels
Pet Cemetery: 7 meters (23 feet), animal skeletons can be found on the bottom including a camel fossil and portion of a tapir jaw, water temperature 24-25°C (75-77°F), suitable for all levels (check out the video below)
Dreamgate: 7 meters (23 feet), a narrower site with lots of stalagmites and stalactites and a dark sedimentary background, divers should employ extra caution to avoid damaging them, water temperature 24-25°C (75-77°F), suitable for all levels
Calavera (Temple of Doom): 16 meters (52 feet), several meter jump to enter and ladder to get out, cantaro or jug type of cenote with a small entrance into a large chamber,  greenish visual effect in the entrance, a halocline at 12 meters (40 feet), named Calavera, which means skull, due to the sensation that you are inside a large skull looking out through eye, nose, or mouth holes, look for a small ledge with bones and pottery, water temperature 24-25°C (75-77°F), suitable for all levels
Casa Cenote (Tankah): 8 meters (25 feet), set in a mangrove forest, big open-top areas, has fresh and saltwater fish, the possibility of manatees, a sensation of diving in a tropical rain forest, look for a halocline, suitable for all levels (check out the video above)
Riviera Maya Resorts, Transportation, and Dive Shops
Air – Playa del Carmen has a small airport.  There is also an international airport on Cozumel that requires you to catch a ferry in order to reach Playa del Carmen.  Generally, the cheapest and most convenient airport is Cancun International Airport (CUN) which connects to 30 countries and 20 destinations within Mexico.
Bus – From the Cancun Airport, an ADO bus departs every 30 minutes to 1 hour for Playa del Carmen.  Travel time is 45 minutes to one hour.  The ADO service continues on to Tulum for a total time from the airport of just over 2 hours.
Rental cars are a convenient option available at the airports and in Playa del Carmen from major agencies, especially at the north end of 5th Avenue.
Hotels can often arrange airport transfers.  Private companies are available for this, as well.  Check with your hotel, online, and at Wikitravel.
Taxis in Playa del Carmen are unmetered but reasonably priced based on rates from zone to zone.  Quinta Avenida (5th Avenue) is a pedestrian-only zone with taxis available at major intersections for travel away from there.  In Tulum taxis are available and inexpensive.
Boats to Cozumel are available from at least two companies with hourly departures for a journey of 30 minutes one way.
Several levels of buses are available for regional trips.  There is a scheduled public bus service to most destinations.  Reasonably priced First-class ADO buses leave every hour for many major tourist destinations.  Second class Mayab buses travel along the highway to Tulum, making stops along the way.  Colectivo shared vans are a popular government-regulated alternative, traveling along the coast between Cancun and Tulum.  Pricing is reasonable and they will drop you off along the route as needed but no door to door service is offered.  Organized bus tours are also available from many companies for trips to a variety of tourist destinations.
For additional details on tourist information and transportation, please check Wikitravel-Playa del Carmen.
Lodging and Dive Shops – There are more than 60 dive shops in the Playa del Carmen area and another two dozen in Tulum that offer full services including equipment rental, dive courses, and guiding to the cenotes.  Some can also make trips to more distant locations along the Riviera Maya and Cancun.  There are more than 1,000 lodging options starting at $10 some of which are associated with the dive shops.  The website linked below has the details and can arrange the booking for the lodging.  You can easily find the location on the map provided on this site.  Their rates are guaranteed to be the lowest and it is free to cancel or change dates.
Things to do in Riviera Maya (aside from scuba diving)
From a base on the major tourist areas in Playa del Carmen or Tulum on the seaside of the Riviera Maya, there are many attractions and activities whether it be nightlife, food, and shopping, the beach and water sports, beautiful natural sites, or archaeological ruins.  Here are some of the options to consider:
Playa del Carmen – Sailing, Stand-Up Paddleboarding, Jet Skiing, Parasailing, Jungle Buggy Tours, Golf, Xcaret, Xplor, and Xel Natural and Adventure Parks, Frida Kahlo Museum, 3D Museum of Wonders, Local Beaches – Mamitas, Playacar, Punta Esmeralda, Beach Day Trips, Xpuha, Xcacel, Nearby Cenotes, Mayan Ruins – Tulum, Coba, Chichen Itza, Swim with turtles at Akumal Beach, Boat to Cozumel, Parque Fundadores, Rio Secreto Cave Tour, Taco Tour – El Gogon, Don Sirloin, Alux Cave Restaurant, Nightlife – Mandala, La Vaquita, Coco Bongo, Salsa Dancing at Zenzi, Quinta Avenida (5th Avenue) Shopping and Nightlife.
Tulum – Tulum ruins, Muyil, explore the jungle, Ziggy Beach, local cuisine, paddleboarding, "the hippy vibes", Playa Paraiso, mud bath at Laguna de Ka'an Luum, Sian Ka'an Biosphere, Coba ruins, kitesurfing, boutique shops, rent a bike, dance at Santino Bar, Happy Hour at I Scream Bar, Gelato at Origami, Tacos at Tacqueria La Eufemia, Sela Maya Eco Adventure Park, ATV off-road tours, Tulum Beach, Bar Hop Tulum's town center, Parque Ecologico Labnaha, ceviche at El Camello, Xel-Ha Park.
This short video is a brief introduction to what awaits you on the Riviera Maya.
Photography in Playa del Carmen
With the interesting cenotes and the clear water, large chambers, fascinating rock formations, stalagmites, stalactites, pillars, fish life, artifacts, scenic beaches, forests, and Mayan ruins, there are many excellent photo opportunities.  For information and reviews of dive cameras, click here:
Scuba Diving Trip Insurance
A cushion for emergencies provides peace of mind when on vacation.  I recommend this diving insurance as they have worldwide coverage and provide scuba divers a quality insurance and medical assistance service.
Feedback and Comments
I hope you found this post on diving the Mexican cenotes interesting and useful. If you have any questions or ideas, please feel free to share them in the comments section.  I'd love to know of any experience you have.  If there is no comments section directly below, click here:   >>comments<<