We may earn money or products from the companies mentioned in this post.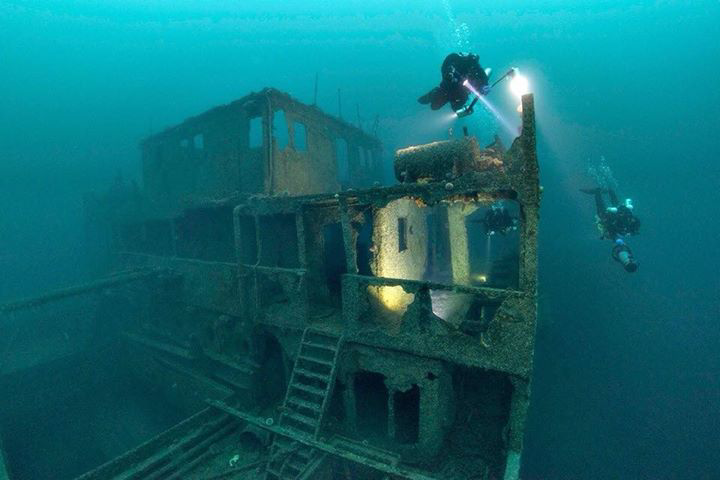 This is the thirty-fifth in a series of reviews of the best scuba diving destinations around the world.  In this post, the focus is Aruba.
In addition to this series on dive resort locations, the best worldwide liveaboard dive locations and services are reviewed in their own series.  To check them out, or others in this series, click on Liveaboards / Resorts on the menu at the top and choose a title from the list.
Have you ever been diving on Aruba before?  If so, I'd love to know about your experience.  What dive shop or liveaboard did you use?  Which dive spots are the best and what are the conditions there regarding the visibility, current, water temperature, sealife attractions, etc.?  Please post your response in the comments section at the bottom and we'll all learn something we can use.
Scuba Diving Aruba
Background – Situated 29 kilometers (18 miles) offshore to the north of Venezuela, Aruba is the westernmost of the ABC Islands (Aruba, Bonaire, and Curacao).  Small at 32 kilometers (20 miles) in length, it has a population of 103,000 and is a constituent country of the Netherlands.  Papiamento (a Creole language) is the main language with Dutch, Spanish, Portuguese and English all taught in school.  It has been controlled by the Dutch since 1636 and the citizens are Dutch nationals.  This has resulted in a culture and lifestyle which is noticeably different from the Spanish influenced culture on the mainland.  It has a largely flat and river-less landscape with white sandy beaches on the western and southern coasts.  There are some rolling hills that peak at 165 meters (550 feet).  The north and west side is more affected by the wind and sea and has had less human contact.  The only two urban districts are the Capital, Oranjestad, and San Nicolaas.  Aruba has a very high standard of living for the region with tourism responsible for 75% of the GDP and most of the rest coming from oil refining and the production of aloe.
Undersea World – Aruba is surrounded by a large, shallow sandy plateau that becomes a fringing reef of attractive brain, mountain and flower coral formations starting at 6 meters (20 feet) and descending to 30 meters (100 feet).  It is possible to approach a lot of the dive sites with a shore entry, but with the wide plateau, a boat is usually more convenient.  There are many shops running along the west side from the northern to southern ends of the island to serve your diving needs with a regular schedule of departures for dives.
The rich Caribbean coral reef is divided up into more than 25 sites, 18 of which are wrecks, some sunk through historical circumstances, and some artificially. They range in depth from breaking the surface at low tide to 30 meters (100 feet).  Some of the drop-offs are quite steep and there is a large section of seagrass in the northwest section.   Most of the popular sites are on the west side where there is little current and surface conditions are smooth.  On the east side, there is often surface chop and strong current so that it is most suitable for more advanced divers.
There are a variety of hard and soft coral species and an abundance of tube and barrel sponges, anemones, tunicates, and other fixed invertebrate life.  Fascinating macro life includes octopus, lobsters, lizardfish, gobies, morays and seahorses and reef fish like damselfish, schooling yellow snappers and yellowtails, squirrelfish, angelfish, sergeant majors, grouper, parrotfish, butterflyfish, trumpet fish, and swarming baitfish.  Some bigger attractions are green and loggerhead turtles, barracuda, trevally, nurse sharks, stingrays, eagle rays and manta rays.
Seasons and Conditions – Aruba is on the southern edge of the hurricane belt and usually misses any heavy storm activity.  There is a short rainy season from December to March when there is a brief daily downpour. It usually won't eliminate diving for the day. Rainy season temperature highs average 29°C (85°F) with water temperature averages at 26°C (79°F).  During the dry season (the rest of the year) averages are a little higher with air highs at 31°C (89°F) and water at 29°C (85°F).  As mentioned, surface conditions on the west side are usually smooth and there is little current.  The east side has more surface chop and current.  Visibility is usually from 15-30 meters (50-100 feet).
Aruba is not an area renowned for liveaboard diving, but there are many cruises in other areas around the Caribbean.  Click here for details and pricing of a Caribbean liveaboard:
For reviews of diving in eastern Florida other Caribbean locations, please check out these posts: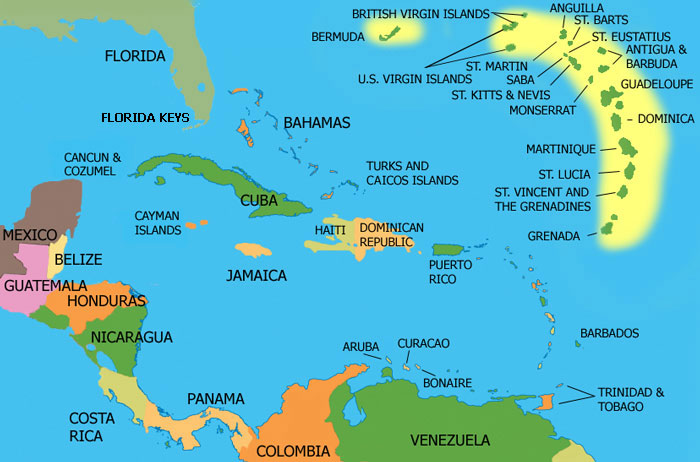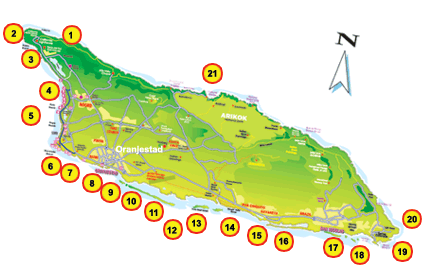 Aruba Dive Sites Map
A Selection of the Best Aruba Dive Sites
3 – SS Antilla: 18 meters (60 feet) maximum depth, breaks the surface at low tide, 121-meter (400-foot) German freighter scuttled just after being built in 1940 when Germany invaded Holland, known as the Ghost Ship, large compartments, lots of penetration opportunities, lots of fish, no current, good visibility, good night dive, beginner and advanced level
5 – Pedernales: 10 meters (35 feet) maximum depth, oil tanker torpedoed by a German U-boat in 1942, but did not sink, the 121-foot (35-meter) center section was cut out and sunk in 1959 (the bow and stern were then welded together), pipeline system, cabins, sinks and lavatories there to be explored, lots of reef fish, angelfish, good night dive, beginner level
9 – Sonesta Airplanes: 27 meters (90 feet) maximum depth, scuttled 22-meter (74-foot) Convair 240 split in two pieces by Hurricane Lenny in 1990, penetrable, 18 meter (60 foot) Japanese YS-11 passenger liner scuttled in 2004, lots of soft corals and sponges, large schools of yellowtails and reef fish, little current, visibility can be poor, experienced level
12 – Jane Sea: 27 meters (90 feet), 76-meter (250-foot) cement freighter abandoned, bought and sunk as an artificial reef in 1988, brain, mountain and star corals, gorgonians and sponges, schooling tropicals and barracuda, experienced level
16 – Mangel Halto Reef: 6-33 meters (20-110 feet), shore entry, rich hard and soft corals, gorgonians, anemones, tube and vase sponges, octopus, seahorses, schooling tropicals, beginner and experienced levels
20 – Cabeza Reef: 15 meters (50 feet), big waves and strong currents, schooling barracuda, amberjacks and rainbow runners, stingrays, experienced level
Aruba Photos
With the macro life, wrecks, clear water, beautiful, diverse coral reef and lots of fish, there are many excellent photo opportunities.  For information and reviews of dive cameras, click here:
Direct 2 hour flights from Florida and other US cities are easy to arrange into Queen Beatrix Airport.  Rental cars are available at the airport and hotels run shuttle services.  Motorbikes, scooters, and ATVs are also for rent and there is a public bus system, available taxis. limo service and free trolleys.  Aruba is also a popular cruise line port.
There is a very well developed tourist support structure with dozens of hotels of every grade from $19 to over $400 per night.  Many have in-house dive shops. Otherwise, more than a dozen separate dive businesses operate on the west seaside.  This website is a good source for the available options and can arrange a booking:
Aruba Tourist Attractions (aside from scuba diving)
They have prepared a huge variety of options for tourists.  Aside from the diving, water sports and activities available include snorkeling, windsurfing, kite surfing, water skiing, parasailing, kayaking, canoeing, cruises, sailing, jet packs, theme parks and water activities for kids.  In addition to various tours and day trips, on land, you can rent a jeep or ATV, and cycle or hike to get a look at the lay of the land.  Shopping, restaurants, nightlife, concerts and live music are all facets of a lively social scene.
This page will give you a good feel for some of the special activities in Aruba:
A cushion for emergencies provides peace of mind when on vacation.  I recommend this diving insurance as they have worldwide coverage and provide scuba divers a quality insurance and medical assistance service.
Feedback and Comments
I hope you found this post on Aruba scuba diving interesting and useful. If you have any questions or ideas, please feel free to share them in the comments section.  I'd love to know of any experience you have diving there.  If there is no comments section directly below, click here:  >>comments<<