USCG Duane Wreck – Key Largo (Photo Courtesy of TripAdvisor)
Updated June 10, 2021
This is the one hundred and thirty-second in a series of reviews of the best dive resort locations around the world.  In this post, the focus is on Key Largo, Florida. In addition to this series on dive resort locations, the best worldwide liveaboard diving locations and services are reviewed in their own series.  To check them out, or others in this series, click on Liveaboards/Resorts on the menu at the top and choose a title from the list.
Have you been diving in Key Largo before?  If so, I'd love to know about your experience.  What dive shop or liveaboard did you use?  Which dive spots are the best and what are the conditions there regarding the visibility, current, water temperature, sealife attractions, etc.?  Please post your response in the comments section at the bottom and we'll all learn something we can use.
Best Scuba Diving Key Largo Florida
Background
Situated between Everglades National Park on the mainland to the northwest and John Pennekamp Coral Reef State Park to the east, Key Largo is the northernmost and largest Florida Key at 33 miles (53 kilometers) in length.  Connected to the mainland by US Highway 1 and Card Sound Bridge in the north, it is about an hour's drive from Miami (depending on traffic).  The three unincorporated municipalities of North Key Largo, Key Largo, and Tavernier at the south end, have a population of 14,000.
With a limestone foundation resulting from fossilized remnants of a coral reef, this flat island has a warm tropical savanna climate.  It has an average of 8 hours a day of sunshine throughout the year which has helped make tourism the major economic driver.
Undersea World
The dive sites are on the east side of the island and under the protective umbrella of the John Pennekamp State Park and a National Marine Sanctuary.
There are extensive coral reefs with an undersea topography of spur and groove formations, ledges, walls, and several scuttled wrecks serving as artificial reefs, along with some much older historic remains.
Hard and soft corals with a lot of gorgonians, sea fans, and sponges highlight the encrusting life which is only getting better with time and the increased attitude of environmental protectionism.
Marine life attractions include huge Goliath groupers, big schools of barracuda and jacks, dolphins, turtles, nurse, and Caribbean reef sharks and an occasional hammerhead, resident southern stingrays, and seasonal eagle rays coming in the late spring through fall.
In the nooks and crannies, you can often spot flamingo tongue cowries, nudibranchs, moray eels, lobster, crabs, and other attractive macro critters.
Sites are rich in reef tropicals like snappers, grunts, spadefish, Queen and French angelfish, pufferfish, yellowtails, porkfish, sergeant majors, parrotfish, and many others.
Close to shore and in the State Park attractive reefs can be in depths as shallow as 20 feet (6 meters) suitable for snorkeling and extreme beginners.  There are also sites as deep as 130 feet (40 meters) that provide a challenge for more advanced divers.
Seasons and Conditions
Diving is good year-round in Key Largo.
Average daily air temperature highs hit 90°F (32°C) in August and 75°F (24°C) in the coolest month, January.
In the summer, water temperatures are in the range of 84-87°F (29-30.5°C) and in winter 70-75°F (21-24°C).  Some divers will need a 3-5 mm wetsuit when the water is at its coolest.
The Gulf Stream provides south to north current, usually not strong, making for comfortable drift diving on some of the sites.
From June to September it rains more and hurricanes are a consideration.
Visibility ranges from 40-100 feet (12-30 meters) with the best from August to October.
There are conditions suitable for all levels of diver with a number of shallow sites.
More than 30 dive shops operate on Key Largo offering a complete range of training, equipment rental, guiding, and boat tours.
Liveaboard Diving
None of the major liveaboard yachts travel to Key Largo.  However, there are quite a few that cruise the nearby Bahamas and other Caribbean dive sites.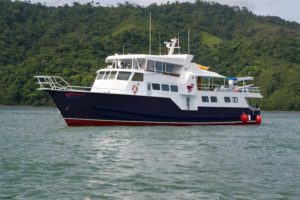 Bahamas Master, Bahamas Liveaboard Diving – Check the Price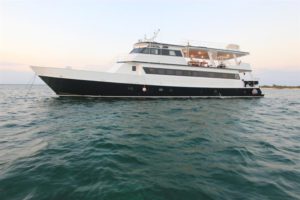 MV Avalon I, Jardines de la Reina, Cuba Liveaboard Diving – Check the Price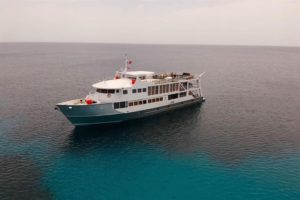 Cayman Aggressor V, Cayman Islands Liveaboard Diving – Check the Price
For reviews of diving in eastern Florida, the Bahamas, and other Caribbean locations, please check out these posts: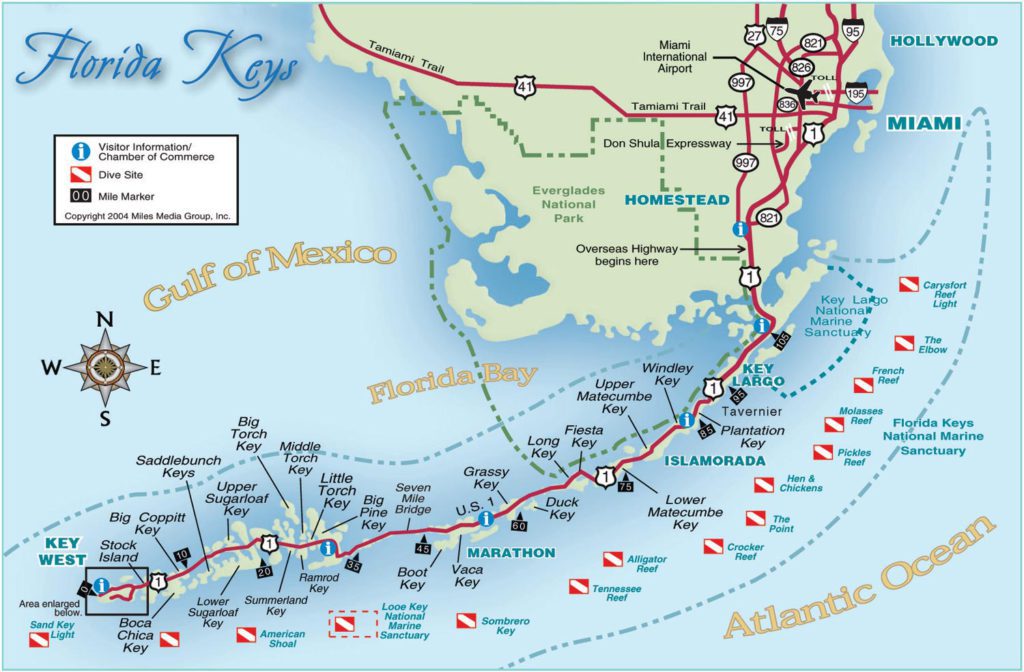 Selected Key Largo Dive Sites
The Elbow: 10-35 feet (3-10 meters), spur and groove formation (like fingers of coral perpendicular to shore with valleys in between), rich marine life with schools of grunts and snappers, angelfish, and remnants of the City of Washington wreck, suitable for all levels of diver
French Reef: 25-100 feet (8-30 meters), many little caves, canyons, ledges, swim-throughs, and overhangs providing habitat for morays, glassy sweepers, big groupers, snappers, yellowtails, grunts, porkfish, damselfish, and individual permits and snook, shallow areas have big elkhorn coral, with brain and star coral from 30-40 feet (9-12 meters), suitable for all levels of diver depending on the depth
Molasses Reef: 15-50 feet (5-15 meters), spur and groove formation with attractive reef tropicals and macro critters along with the more spectacular nurse and Caribbean reef sharks, southern stingrays, eagle rays, barracuda, pelagics, and turtles, suitable for all levels of diver
Christ of the Deep Statue: 10-25 feet (3-8 meters), 9-foot (3-meter) bronze duplicate of the Christ of the Abyss statue set in 50 feet (15 meters) of water off Genoa, Italy, donated by Egdi Cressi, the Italian diving equipment manufacturer, near the statue are coral formations with snappers, grunts, Bermuda chub, and barracuda frequenting the area, suitable for snorkelers and all levels of diver
Benwood Wreck: 25-50 feet (8-15 meters), English cargo ship sunk by accident in 1942, broken stern is in 25 feet (8 meters) and the more intact bow is in 45 feet (14 meters), well encrusted, lots of nooks and crannies for moray eels, lobster, shrimp, crabs, and other macro critters, lots of reef tropicals, suitable for all levels of diver
Spiegel Grove Wreck: 60-130 feet (18-40 meters), 510-foot (155-meter) ship scuttled in 2002, originally laying to rest on her starboard side, Hurricane Dennis set her upright in 2005, prepared for penetration, a variety of swim-throughs are possible, twin propellers and anti-aircraft guns are in place, barracuda, jacks, silversides, and a lot of other marine life can be spotted there, suitable for experienced level and technical divers (check the second video below for the Spiegel Grove)
The Bibb and Duane Wrecks: 60-130 feet (18-40 meters), two 327-foot (100-meter) US Coast Guard cutters scuttled to become artificial reefs in 1987, the Duane rests upright in 120 feet (37 meters) and the Bibb on her starboard side in 130 feet (40 meters), both encrusted in corals and sponges, interesting penetration is possible, rich marine life includes turtles, moray eels, schools of grunts, snapper, and barracuda, Goliath groupers, pelagics, and game fish, bull sharks have been spotted nearby, suitable for experienced level and technical divers (check the video above for the Duane)
Things to Do in Key Largo (aside from scuba diving)
When not diving or snorkeling in John Pennekamp Coral Reef State Park, there are many cultural and entertainment options to go along with other fascinating outdoor activities.  Here are some of them:  nearby Everglades National Park for kayaking, an airboat tour, or park expedition, dolphin watching at Dolphin Cove, Kona Kai Resort, Gallery, and Botanical Park, Key Largo Art Gallery, Our Place in Paradise Art Gallery, Harry Harris Park and Beach, Florida Keys Wild Bird Rehabilitation Center, fishing charters, restaurants featuring fish, conch, seafood, and desserts like key lime pie, and Key Largo chocolates, Dagny Johnson Key Largo Hammock Botanical State Park, nightlife, music, souvenir shopping, water skiing, parasailing.
Here is a video to give you a glimpse.
Key Largo Transportation, Hotels, & Diving Services
Transportation
For fuller details on transportation and tourist matters, go to Wikitravel – Key Largo.
Hotels and Diving
In Key Largo, there are more than two dozen lodging options from $84 to $312 per night.  Several dozen dive shops in operation offer a full range of services that include equipment rental, diving certification classes, dive guides, and boat tours.
The website linked below has the details and can arrange a booking for the lodging.  You can easily find the location on the map provided on their site.  The rates are guaranteed to be the lowest and it is free to cancel or change dates.
Photography in Key Largo
With the colorful coral reefs, a variety of reef tropicals, macro critters, sharks, rays, dolphins, and scenic shoreside targets, as well, there are many excellent photo opportunities.  For information and reviews of dive cameras, click here:
Scuba Diving Trip Insurance
A cushion for emergencies provides peace of mind when on vacation.  I recommend this diving insurance as they have worldwide coverage and give scuba divers quality insurance and medical assistance service.
Feedback and Comments
I hope you found this post on Key Largo scuba diving interesting and useful. If you have any questions or ideas, please feel free to share them in the comments section.  I'd love to know of any experience you have.  If there is no comments section directly below, click here:  >>comments<<