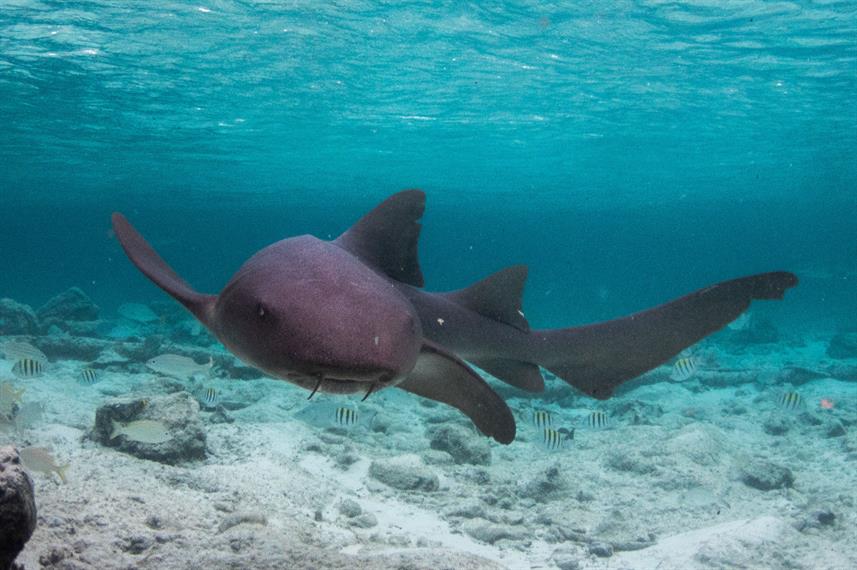 Updated on August 10, 2022
This is the fortieth in a series of reviews of the best dive resort locations around the world.  In this post, the focus is on the Bahamas.
In addition to this series on dive resort destinations, the best worldwide liveaboard diving locations are reviewed in their own series.  To check them out, or others in this series, click on Liveaboards/Resorts on the menu at the top and choose a title from the list.
Have you ever been diving in the Bahamas?  If so, I'd love to know about your experience.  What dive shop or liveaboard did you use?  Which dive spots are the best and what are the conditions there regarding the visibility, current, water temperature, sealife attractions, etc.?  Please post your response in the comments section at the bottom and we'll all learn something we can use.
Best Scuba Diving in the Bahamas
Background
The 700 islands and cays (30 inhabited) of the Bahamas cover a huge distance of more than 500 miles (800 kilometers) and are situated east of Florida, north of Cuba and Hispaniola, and west of Turks and Caicos.  These low-lying flat islands have ridges not higher than 66 feet (20 meters), a pinnacle on Mt. Alvernia of 210 feet (64 meters), and a warm tropical savanna climate.
Gaining independence in 1973, the Commonwealth of the Bahamas has a population of around 400,000, the vast majority of which live in Nassau on New Providence Island, and around Freeport on Grand Bahama.
With the third-highest per capita GDP in the western hemisphere, just behind the US and Canada, the hard-driving economy that created it is based on tourism and finance.
The local people are known for their friendliness and speak English that is strongly accented, especially on the outlying islands.
Undersea World
Covering such a large geographical area with so many islands there is a full range of diving available from shallow to deep with fringing and patch reefs, walls, caves, swim-throughs, pinnacles, and wrecks. Bathed in the current of the Gulf Stream the sites can have some current and are rich in nutrients.  The reefs include a colorful array of hard and soft corals with a lot of gorgonians, sea fans, and a variety of sponges.  A list of some of the Bahamas reef wildlife highlights includes hammerhead, nurse, lemon, tiger, bull, blacknose, and Caribbean reef sharks, eagle rays, stingrays, schools of jacks and barracuda, dolphins,  groupers, several species of sea turtle, octopus, nudibranchs, lobster, garden, and moray eels, jawfish, angelfish, and blennies.
Seasons and Conditions
It is warm all the time in the Bahamas with diving possible year-round.
Average daily high air temperatures reach 32°C (90°F) in July and August and dip to  25°C (77°F) in January and February.
Water temperatures likewise change with the season with highs of 28°C (82°F) from June to September and lows of 23°C (73°F) in January and February.  A 3mm wetsuit will provide suitable protection much of the time, and 5mm for some divers when it is coolest.
Visibility is excellent all year with an average of 100 feet (30 meters).
Current is possible on some of the sites but there is diving appropriate for all levels of diver.
For reviews of diving in eastern Florida and other Caribbean locations, please check out these posts:
Bahamas Liveaboard Dive Boats
Bahamas Aggressor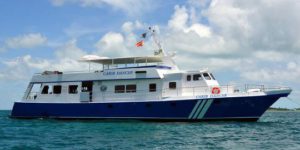 Phoenix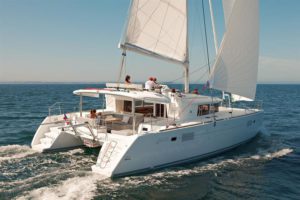 Aqua Cat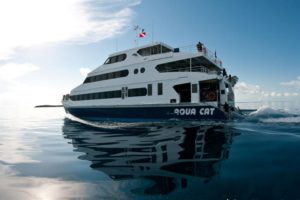 Blackbeard's Morning Star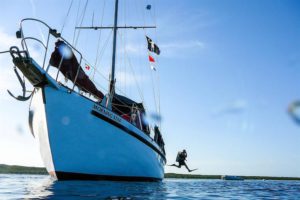 Blackbeard's Sea Explorer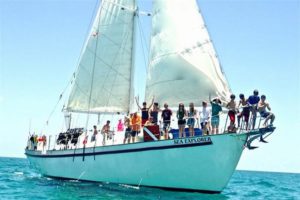 Bahamas Master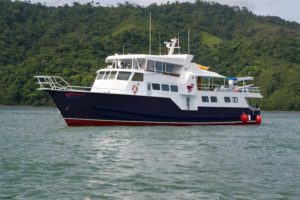 Cat Ppalu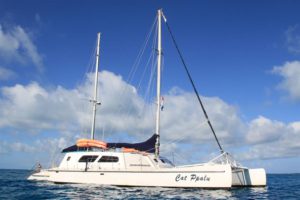 Selected Bahamas Dive Sites
Grand Bahama
Tiger Beach: 15-25 feet (5-8 meters), white sand bottom known for sharks including tiger and lemon sharks, with occasional appearances of nurse, reef, bull, and even hammerhead sharks, suitable for snorkelers and all levels of diver
Sugar Wreck: 20 feet (6 meters), 330-foot (110-meter) steel barge with a cargo of molasses that sank on Little Bahama Bank in the late 1800s, well encrusted, rich marine life including green moray eels, snappers, octopus, nurse sharks, and hawksbill and loggerhead turtles, suitable for snorkelers and all levels of diver
Fish Tail: close to Tiger Beach but slightly deeper, rich reef with colorful gorgonians, sea whips, sea plumes, sea fans, and hard corals, lots of reef tropicals with a good possibility of sharks, suitable for all levels of diver
El Capitan: 50-90 feet (15-27 meters), big shoal topping at 50 feet (15 meters) sloping to the bottom at 90 feet (27 meters), lots of reef tropicals, macro critters, and schools of fish, suitable for experienced level divers
New Providence, Exuma, and Eleuthera
Lost Blue Hole: 40-200 feet (12-61 meters), the sandy area around the hole has smaller reef tropicals like jawfish, gobies, tobacco fish, and nurse sharks, the rim is at 40 feet (12 meters) and makes a steep drop from there to 200 feet (61 meters), check the crevices and fissures in the wall for spiny lobsters at around 80 feet (24 meters), numerous blacknose sharks come in the spring and stay on the bottom at 200 feet (61 meters), suitable for experienced level divers
Periwinkle Reef: shallow patch reef used as a fish feeding station, loads of reef tropicals like angelfish and sergeant majors ready for feeding, suitable for all levels of diver
Austin Smith Wreck: 60 feet (18 meters), 90-foot (27-meter) Bahamian Defense Force Cutter that accidentally sank while undertow to San Salvador to be scuttled there to become an artificial reef, suitable for all levels of diver
Blacktip Wall: 60 feet (18 meters), a wall where the attraction is frequent sightings of hammerhead sharks, suitable for all levels of diver
Amberjack Reef: 50 feet (15 meters), patch reef teeming with marine life including garden eels, macro critters like pirate blennies, a number of big black groupers, schools of horse-eye jacks, and several shark species, suitable for all levels of diver
Jeep Reef: 30 feet (9 meters), well-encrusted jeep sitting in the Exumas Land & Sea Park, colorful corals and sponges, rich marine life and lots of fish, current is possible, suitable for all levels of diver
Monolith: 100 feet (30 meters), at the base of a wall big mounds of coral rise to 50 feet (15 meters), garden eels in the sand at the base, rich marine life including lobster, stingrays, nurse, Caribbean reef, and blacknose sharks, eagle rays, groupers, and pelagics, suitable for experienced level divers
Cave Reef: 40 feet (12 meters), patch reef with a few big swim-throughs, suitable for all levels of diver
Bahamas Transportation & Hotels
The Bahamas liveaboards depart from Freeport or Nassau.  Below are details about how to get there and the hotels.
Air – Lynden Pindling International Airport (NAS) in Nassau receives numerous flights from major US airlines and a few from London and Toronto.  The regional airport in Freeport connects to Ft. Lauderdale and Miami with service from several airlines for daily flights.
Sea – A number of cruise lines and ferries are available at Port Everglades (Ft. Lauderdale) with reasonably priced fares to Freeport and Nassau.
For further details on transportation and other tourist tips, please go to Wikitravel-Bahamas.
Hotels – Hotels in Nassau and Freeport begin at $30 per night.  The website linked below has the details and can arrange a booking for the lodging.  You can easily find the location on the map provided on their site.  The rates are guaranteed to be the lowest and it is free to cancel or change dates.
Photography in the Bahamas
With the macro life, beautiful, diverse coral reef, lots of fish, sharks, turtles, and rays, and interesting targets from the surface, as well, there are many excellent photo opportunities.  For information and reviews of dive cameras, click here:
Scuba Diving Trip Insurance
A cushion for emergencies provides peace of mind when on vacation.  I recommend this diving insurance as they have worldwide coverage and give scuba divers quality insurance and medical assistance service.
Feedback and Comments
I hope you found this post on Bahamas scuba diving interesting and useful. If you have any questions or ideas, please feel free to share them in the comments section.  I'd love to know of any experience you have.  If there is no comments section directly below, click here:  >>comments<<