This photo of XTC Dive Center is courtesy of TripAdvisor
Updated April 14, 2021
This is the one hundred and eighty-forth in a series of reviews of the best diving destinations around the world.  In this post, the focus is on Banco Chinchorro, Mexico. In addition to this series on dive resort locations, the best worldwide liveaboard diving locations and services are reviewed in their own series.  To check them out, or others in this series, click on Liveaboards/Resorts on the menu at the top and choose a title from the list.
Have you ever been diving in Banco Chinchorro before?  If so, I'd love to know about your experience.  What dive shop or liveaboard did you use?  Which dive spots are the best and what are the conditions there regarding the visibility, current, water temperature, sealife attractions, etc.?  Please post your response in the comments section at the bottom and we'll all learn something we can use.
Banco Chinchorro Diving Mexico
Background
Banco Chinchorro is the largest coral atoll in the Northern Hemisphere situated 35 kilometers (22 miles) offshore from the towns of Mahahual and Xcalak on the southwest Caribbean shoreline of the Banca Maya close to the Belize border.
It consists of three main islands and is 40 kilometers (25 miles) long and 16 kilometers (10 miles) wide at the widest.  Made part of a biosphere reserve in 1996 there are no permanent settlements, only quarters for government caretakers and a few stilt huts occupied by fishermen off the shoreline of the central island 60-100 meters (200-330 feet).  The shoreline is embraced by mangrove forests which give way to open woodland 20-30 meters (66-100 feet) inland.  The islands are home to a large number of land crabs with the occasional manatee and around 700 indigenous saltwater crocodiles in the shallows.
Mahahual was a pretty sleepy town of less than 600 that has been undergoing a metamorphosis and growth with the addition of a cruise liner terminal to the north of town.  The southern section still has a more rustic flavor catering to sun tourists and people interested in Sian Ka'an Biosphere Reserve and the nearby Mayan Ruins, while in the north there are faster-paced attractions designed to catch the fancy of passengers of the large cruise liners that are often there two at a time.
Most of the dive shops with access to Banco Chinchorro are in Mahahual with one major shop in Xcalak, a smaller more completely traditional town to the south.
Undersea World
Part of the Meso American Barrier Reef system, the sites just offshore from Mahahual and Xcalak provide excellent scuba diving and snorkeling.  Especially in the Xcalak Reef National Park there are top sites with many attractions including tarpons and numerous manatees worth a special trip to dive sites like La Poza, Alejandros Reef, La Pozeta, Chiminea, and Poza Rica.
Both towns are gateways to the main attraction at the Biosphere Reserve of Banco Chinchorro, about an hour and a half away by dive boat.  Outside the shallow central lagoon, the fringing reef descends offering a diverse undersea terrain with unusually rich corals, including black corals at 9 meters (30 feet), huge barrel sponges, gorgonians, big sea fans, and other encrusting invertebrate life.  On the east side are 44 referenced historic wrecks, most of which met their fate in the wave break zone in 5 meters (16 feet) of water or less and thus have sustained a lot of deconstruction.  On the west side, conditions are smoother on the surface and there is diving suitable for all levels with a number of good sites for drift diving.
Aside from the saltwater crocs and occasional manatees in the shallows near the mangroves, major attraction include nurse sharks often found under ledges, in caverns, and swim-through, Caribbean reef sharks, southern and yellow-spotted stingrays, loggerhead, green, and hawksbill turtles, tarpon, whale sharks most prevalent in the summer months, dolphins, and pilot whales.   There is a rich variety of reef tropicals with beautiful French and queen angelfish, schools of grunts, snappers, and porkfish, big groupers, jacks, barracuda, and macro favorites like spiny lobsters, crabs, shrimps, moray eels, and conchs.
For my reviews of other regional diving on the Yucatan Peninsula on the cenotes, in Playa del Carmen, Tulum, Cancun, and Cozumel, please check out these posts:
Seasons and Conditions
Diving is possible all year in Banco Chinchorro.  Whale sharks are most prevalent from May to mid-September.
Air temperature average daily highs range from 29°C (84°F) to 32°C 90°F).
The water temperature in summer is 28-30°C (82-86°F).  In winter it can be a little cooler at 25-27°C (77-81°F).  A 3mm wetsuit will be sufficient for most divers when the water is at its coolest.
The strongest rains come from June through October and that is also the season when there is a possibility of hurricanes.
Currents are often present and can be strong at times.
Visibility is pretty good in the 15-30 meter (50-100 foot) range.  The best is from May to mid-September.
There are sites suitable for all levels of diver.  A handful of dive shops are operating in Mahahual and only one in Xcalak, some associated with hotels, that offer a full range of diving coursework, equipment rental, guiding, and boat cruises to local sites and to Banco Chinchorro.
Liveaboards
There are not any liveaboard yachts diving at Banco Chinchorro, however, there are several world-class dive safaris to relatively nearby Belize, Roatan, and the Caymans.  Here are links to the vessels followed by my reviews of diving and liveaboards at Caribbean destinations including these three: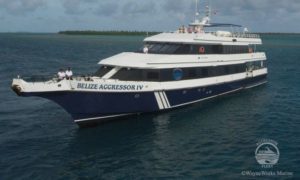 Belize Aggressor IV, Belize Liveaboard Cruise – Check the Price & Details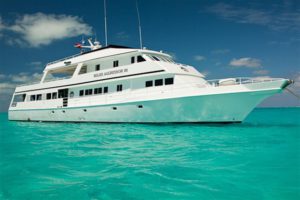 Belize Aggressor III, Belize Liveaboard Cruise – Check the Price & Details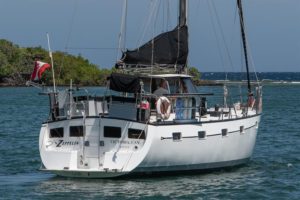 Roatan Aggressor, Roatan Liveaboard Cruise – Check the Price & Details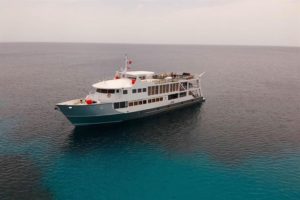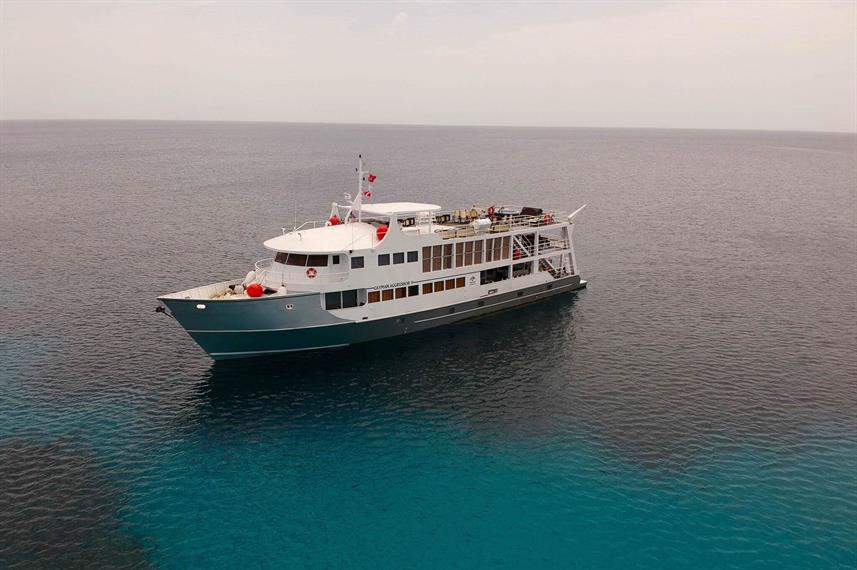 Cayman Aggressor V, Cayman Island Liveaboard Cruise – Check the Price & Details
Selected Banco Chinchorro Dive Sites
The Garden: 18-24 meters (60-80 feet), northwest of Cayo Centro, rich soft corals and sponges, invertebrates and reef tropicals in the fringing reef and a patch reef, suitable for all levels
Punta Gonzalez: 15-30 meters (50-100 feet), to the southwest of Cayo Centro, numerous large sponges and gorgonians, highlights include lobsters, turtles, and eagle rays, current is common, suitable for experienced levels
La Boya: 10-30 meters (33-100 feet), a reef wall slopes from a sandy flat with rich hard and soft corals to another sandy flat with elephant ear and barrel sponges, and yellow tube sponges, look for macro critters like squat lobsters, and arrow crabs, southern stingrays can be found in the sand, with eagle rays cruising above, suitable for experienced levels
40 Cannons (Cuarenta Canones):  3-4 meters (10-12 feet), to the north of Cayo Centro, many artifacts including numerous brass cannons up to 3 meters (10 feet) long, and a large cast-iron anchor, speculation is that it is a pirate ship or Dutch wreck from the 17th century, lots of corals and marine life with queen and French angelfish, little current, great for photography, suitable for all levels and snorkelers
Far Star Wreck:  8 meters (25 feet), on the southern tip, 1970s steel-hulled cargo ship with a load of sugar that ran aground on a spur and groove reef, debris is scattered over the reef including winches, generators, a diesel engine, steel plating, and smokestacks all identifiable, well encrusted with fire, elkhorn, and brain corals, excellent habitat for blue tangs, triggerfish, and barracuda, occasional strong currents also increase the chance of seeing nurse, Caribbean reef, blacktip reef, bull, hammerhead, and tiger sharks, suitable for all levels
Banco Chinchorro Resorts, Transportation, and Dive Shops
Transportation
Air – The most common entry point is Cancun International Airport (CUN) in Cancun which connects to 20 destinations within Mexico and 30 countries.  From the airport, an ADO bus departs every 30 minutes to one hour for Playa del Carmen and points south toward Mahahual.  The trip takes about 4 hours.
Car rental is probably the most convenient means of travel available at the airport and bookable online.
From the port in Mahahual and at many points in town you can book organized tours to a variety of sites around Costa Maya.
For further details on transportation and tourist information, please check Wikivoyage-Mahahual.
Lodging and Dive Shops
Currently, there is one dive center in operation in Xcalak, and several in Mahahual offering full services including equipment rental, dive courses, guiding and boat dive cruises for local sites and to Banco Chinchorro.  The lodging options in Mahahual and Xcalak run from $29-$128 per night.  The website linked below has the details and can arrange the booking for accommodations.  You can easily find the location on the map provided on this site.  Their rates are guaranteed to be the lowest and it is free to cancel or change dates.
Things to do near Banco Chinchorro (aside from scuba diving)
The village of Mahahual went from a sleepy fishing village to a minor tourist destination with the installation of the cruise port.  Today aside from the seaside and beach activities, the natural beauty of the countryside, and Mayan ruins, more facilities in the food and entertainment arena have been developed to accommodate the greater mass of customers when there is a ship in port.  Here is a shortlist of some of the highlights to look into:
Mahahual Beach, Rent a Bike, Water Sports – Kayaking, Canoeing, Stand-Up Paddleboarding, Snorkeling, and Jetskiing, Stroll the Malecon, Fishing, Bird Watching at Sian Ka'an Biosphere Reserve, Sunrise at the Lighthouse, Beach Clubs, Mayan Ruins – Chacchoben, Kohunlich, Dzibanche, and Kinichna, Maya Water Park, Massage on the Beach, Camping, Restaurants & Food – El Primo, Nohoch Kay (seafood), Tukano (cocktails), Suluman (seafood), Pizza Papi, Panaderia La Tartaleta, Fernando's 100% Agave.
This short video is a brief introduction to what's in store for you in Mahahual.
Photography in Playa del Carmen
With the interesting undersea terrain, beautiful hard and soft corals, sea fans, a variety of fish, turtles, rays, sharks, scenic beaches, forests, and Mayan ruins, there are many excellent photo opportunities.  For information and reviews of dive cameras, click here:
Scuba Diving Trip Insurance
A cushion for emergencies provides peace of mind when on vacation.  I recommend this diving insurance as they have worldwide coverage and provide scuba divers a quality insurance and medical assistance service.
Feedback and Comments
I hope you found this post on Banco Chinchorro scuba diving interesting and useful. If you have any questions or ideas, please feel free to share them in the comments section.  I'd love to know of any experience you have.  If there is no comments section directly below, click here:   >>comments<<