We may earn money or products from the companies mentioned in this post.

This photo of Reef Gliders is courtesy of TripAdvisor
This is the one hundred and sixty-fourth in a series of reviews of the best dive resort locations around the world.  In this post, the focus is on Roatan and the Bay Islands, Honduras. In addition to this series on dive resort locations, the best worldwide liveaboard diving locations and services are reviewed in their own series.  To check them out, or others in this series, click on Liveaboards/Resorts on the menu at the top and choose a title from the list.
Have you been diving on Roatan before?  If so, I'd love to know about your experience.  What dive shop or liveaboard did you use?  Which dive spots are the best and what are the conditions there regarding the visibility, current, water temperature, sealife attractions, etc.?  Please post your response in the comments section at the bottom and we'll all learn something we can use.
Scuba Diving Roatan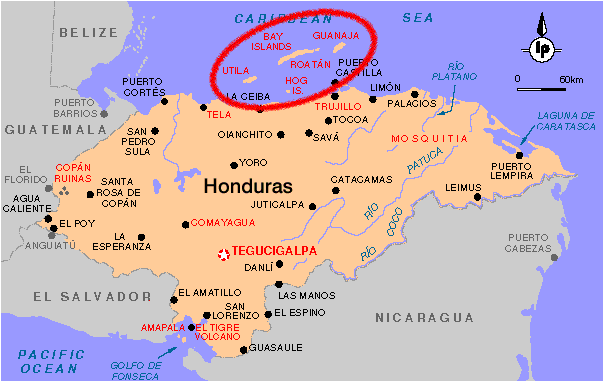 Background – Roatan is the largest of the group of 7 Bay Islands situated 65 kilometers (41 miles) off the north coast of Honduras between other Bay Islands Utila and Guanaja.  It is an exposed coral reef that is 77 kilometers (48 miles) long and 8 kilometers (5 miles) wide at the widest.  The western side is most populated with the easternmost quarter separated by a 15-meter (50-foot) mangrove channel.  Europeans first arrived when Columbus landed there on his 4th voyage from 1502 to 1504.  Spanish traders soon followed and the indigenous people quickly died out from imported diseases including smallpox and measles.  From there the island has an interesting history that included settlers, pirates, traders, and military forces.  Black Caribs from St. Vincent were brought after being deposed from rule there in 1797.  Then an influx of migrants from the Cayman Islands came after the abolition of slavery in the 1830s.  These peoples formed the foundation of people known as Islanders today that are the major cultural influence.  In the 20th-century, Spanish speaking Mestizos started arriving from mainland Honduras.  Today the population of Roatan is around 45,000 with people speaking the local version of English as the first language and Spanish as the second. Tourism is the driver of the economy.  For more historic, cultural, geographic, and demographic information, please check Wikipedia-Roatan
Undersea World – Situated on the Mesoamerican Reef, the second-largest barrier reef in the world, and on the edge of the Cayman Trench, Roatan and the Bay Islands offer great biodiversity on a variety of subsea topography.  There are shallow fringing reefs that start at 5 meters (16 feet) and range to steep walls, canyons, caves, and crevices.  The more than 300 species of fish include big groupers, schools of barracuda, parrotfish, pufferfish, angelfish, grunts, butterflyfish, snappers, moray eels, grey reef, nurse, and hammerhead sharks, eagle and manta rays, stingrays, dolphins, and pelagic game fish like marlin and tuna.  In March and April and again in September whale sharks can often be seen near Utila Island.  In addition, there are huge lobsters and crabs, octopus, rich hard and soft corals, big sea fans, tube and barrel sponges, and black corals on some of the deeper walls.  The west end of Roatan is protected by Roatan Marine Park with around 40 sites.  90 out of the 178 total sites around the islands have boat moorings with about half the sites appropriate for beginners and introductory training and the rest suitable for more advanced and technical diving.  The El Aguila, Odyssey, Prince Albert, and Mr. Bud wrecks also provide exploratory opportunities for the relatively inexperienced up to technical levels.
Seasons and Conditions – Diving is possible all year on the Bay Islands.
Air temperature average daily highs range from 28°C (82°F) in December through February to 32°C (90°F) in August and September.
The water temperature annual range is 27-29°C (81-84°F).  A 3mm wetsuit will likely be sufficient when the water is at its coolest.
The rainy season is from October through January. Hurricanes are more likely from June through November.
Currents are usually mild with some variation based on the site and location.
Visibility is usually great in the 15-45 meter (50-150 foot) range. During the rainy season, it can decrease.
There are sites suitable for all levels of diver from beginner to advanced and technical levels.  Many dozens of dive shops are available to offer a full range of diving coursework, equipment rental, guiding and boat cruises.
There is one liveaboard yacht currently cruising Roatan and the Bay Islands.  Here is my review and a link: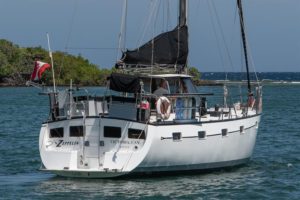 Roatan Aggressor, Roatan Liveaboard Dive Boat – Check the Price & Details
For reviews of diving in eastern Florida and other Caribbean locations, please check out these posts:
Selected Roatan Dive Sites
Dolphin's Den (Caves):   5-21 meters (16-70 feet), canyons, and caverns in a maze-like configuration, rich hard and soft corals, anemones, cleaner shrimps, slipper lobsters, eels, silversides, and nurse sharks are highlights,  named for an incident when a number of dolphins became disoriented and died within a cavern, suitable for experienced level divers
El Aguila Wreck:  30 meters (100 feet), 61-meter (200-foot) cargo ship scuttled in 1997 to become an artificial reef, split into 3 pieces by Hurricane Mitch in 1998, well encrusted with5 a variety of hard and soft corals, easy penetration, look for schooling reef tropicals, moray eels, and lots of big groupers, situated near a reef where the dive can be continued to the safety stop, suitable for experienced level divers (check out the video below)
Odyssey Wreck:  33 meters (110 feet), 91-meter (300-foot) freighter scuttled in 2002 to become an artificial reef, mostly intact but deteriorated, penetration is not recommended, resting upright with the stern leaning starboard, the superstructure can be reached at 12 meters (40 feet), it lies next to the reef wall on a sand bottom, not a lot of encrustation on the wreck, look for a variety of resident snappers and groupers, suitable for experienced level divers
Half Moon Bay: 5-24 meters (16-80 feet),  gradual slope that drops off steeply to 50 meters (164 feet), rich coral growth with gorgonians, elephant ear sponges, and black coral, moray eels, lobsters, parrotfish, creole wrasses, blue chromis, eagle rays, and turtles are highlights, possible strong northbound currents, suitable for experienced level divers
Mary's Place: 30 meters (100 feet), volcanic terrain with narrow canyons and steep walls, full of sponges, sea fans, and black coral, further rich marine life includes, Creole wrasses, spotted drums, chub, channel crabs, lobster, and flatworms, suitable for experienced level divers
Hole in the Wall: 12-40 meters (40-130 feet), a series of caves, caverns, and chutes in a sort of Swiss cheese formation, one chute runs from 12 meters (40 feet) to a  big opening at 30 meters (100 feet), advanced divers can continue down a sand slope, look for octopus in the nooks, silversides and glassy sweepers hunker in openings, suitable for experienced and advanced level divers
Things to Do in Roatan (aside from scuba diving)
Most of the top activities on the Bay Islands relate to the seaside setting, the outdoors, and exploration.  Here is a sample of sights and activities to consider:
glass bottom boat, fire dancing on the beach, golf, ziplining in the jungle, animal rescue center, east end exploration, boat or water taxi tour, West Bay Beach, horseback riding, mangrove cruise, kayaking, beach life, gardens and parks, Coxen Hole Market, arts & culture, scuba with dolphins and pods of squid, catch and release marlin fishing, eat balendas, Garifuna village tour, iguana farm, Marine Science Museum, Pigeon Cayes, Roatan Butterfly Garden, visit St. Helene.
This video gives a glimpse of some of the popular activities to consider.
Air – Juan Manuel Galvez International Airport (RTB) handles direct flights on United Airlines from Houston and on Delta from Atlanta on weekends.  Otherwise, several US and regional airlines fly to La Mesa International Airport (SAP) on the mainland from many locations and connect to Roatan from there.  There are also several local airlines flying from the other airports in Honduras
Several cruise lines make stops at Roatan in Mahogany Bay and Coxen Hole.
Boat – Galaxy Wave offers ferry service to La Ceiba on the mainland.  There are several ferry and boat services running between the Bay Islands.  It is also possible to charter a local boat for private trips.
There is a system of paved roads connecting most of the main communities on Roatan.
Public buses make regular runs between major communities on the western half of the island.
Taxis in the hundreds are in operation.  Some are "colectivos" that are shared and stop along the way to pick up and let off customers.  Pricing is negotiable.  Taxis from the airport to West Bay have a fixed fee.
Water taxis link West Bay and West End during the daylight hours at reasonable rates.
Rental cars from major agencies are available at the airport and in other locations.
Scooter rental is possible in West End and West Bay.
For more details related to all of the above transportation options and other tourist information, go to Wikitravel-Roatan.
Hotels and Diving – On Roatan and the Bay Islands, there are more than 180 lodging options ranging from $10 to $899 per night and many dozens of dive shops in operation.  They offer a full range of services that include equipment rental, diving certification classes, dive guides, and boat tours.  The website linked below has the details for the lodging and can arrange a booking.  You can easily find the location on the map provided on their site.  The rates are guaranteed to be the lowest and it is free to cancel or change dates.
Photography in Roatan
With the colorful coral reefs, a variety of fish, turtles, pelagics, and beautiful onshore targets, as well, there are many excellent photo opportunities.  For information and reviews of dive cameras, click here:
A cushion for emergencies provides peace of mind when on vacation.  I recommend this diving insurance as they have worldwide coverage and give scuba divers a quality insurance and medical assistance service.
Feedback and Comments
I hope you found this post on Roatan scuba diving interesting and useful. If you have any questions or ideas, please feel free to share them in the comments section.  I'd love to know of any experience you have.  If there is no comments section directly below, click here:  >>comments<<