We may earn money or products from the companies mentioned in this post.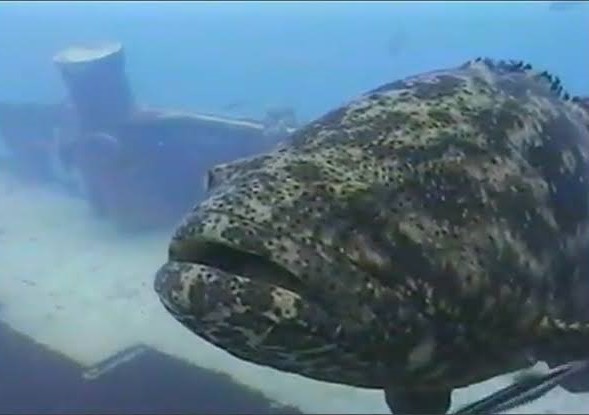 This is the one hundred and thirty-third in a series of reviews of the best dive resort locations around the world.  In this post, the focus is on Key West, Florida. In addition to this series on dive resort locations, the best worldwide liveaboard diving locations and services are reviewed in their own series.  To check them out, or others in this series, click on Liveaboards/Resorts on the menu at the top and choose a title from the list.
Have you been diving in Key West before?  If so, I'd love to know about your experience.  What dive shop or liveaboard did you use?  Which dive spots are the best and what are the conditions there regarding the visibility, current, water temperature, sealife attractions, etc.?  Please post your response in the comments section at the bottom and we'll all learn something we can use.
Scuba Diving on Key West Florida
Background – Situated at the end of US Route 1 is the southernmost city in the US, Key West.  The county seat of Monroe County, the city includes Key West and the islands of Sigsbee Park, Fleming Key, and Sunset Key.  Only 106 miles (171 kilometers) from Havana, it is actually closer to Cuba than it is to Miami.  The total area of the city is 5.6 square miles (14.5 km2) with a population of 25,000.  First visited by Ponce de Leon in 1521, Key West has an unusually rich culture and history from that time through the colonial adventurers, to writers of the 20th century who made their mark there like Hemingway and Tennesee Williams, to the modern-era treasure hunter, Mel Fisher, to the present day as a nautical tourism and party destination.
Undersea World – Situated at the end of the chain of keys, Key West is on the divide between the Gulf of Mexico and the Atlantic.  The third-largest barrier reef in the world is 5 miles offshore to the east.  Under the influence of the Gulf Stream a supply of nutrients baths the local sites that display an undersea terrain of spur and groove formations, walls, ledges, and caverns, and a nice variety of hard and soft corals, gorgonians, sea fans, and sponges, and other encrusting invertebrates.  Marine life attractions include schools of barracuda, jacks, snappers, grunts, the occasional bull shark, nurse and Caribbean reef sharks, turtles, dolphins, southern stingrays, and eagle rays.  Macro critters to look for are nudibranchs, lobster, crabs, and moray eels to go along with colorful reef tropicals like butterflyfish, angelfish, spadefish, porkfish, sergeant majors, surgeonfish, yellowtails, and many others.  All this said the sites around Key West are not as rich in marine life as those further north on Key Largo.  What sets Key West apart (aside from the nightlife) is the wrecks.
Seasons and Conditions – Diving is good all year in Key West.  Average daily air temperature highs hit 89°F (32°C) in July and August and 74°F (23°C) in the coolest month of January.  In the summer, water temperatures are in the range of 84-87°F (29-30.5°C) and in winter 70-75°F (21-24°C).  Some divers will need a 3-5 mm wetsuit when the water is at its coolest.  Current is weak to non-existent on some sites but can be very strong at times on others.  From June to October, it rains more (11-14 rainy days/month) and hurricanes are a consideration.  Visibility ranges from 40-100 feet (12-30 meters) with the best from August to October.  There are conditions suitable for all levels of diver with a number of shallow sites.  More than 40 dive shops operate on Key West offering a complete range of training, equipment rental, guiding and boat tours.
None of the major liveaboard yachts travel to Key West.  However, there are quite a few that cruise the nearby Bahamas and other Caribbean dive sites.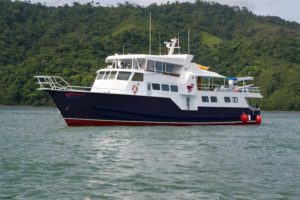 Bahamas Master, Bahamas Liveaboard Diving – Check the Price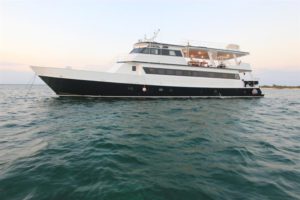 MV Avalon I, Jardines de la Reina, Cuba Liveaboard Diving – Check the Price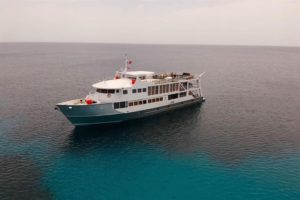 Cayman Aggressor V, Cayman Islands Liveaboard Diving – Check the Price
For reviews of diving in eastern Florida, the Bahamas, and other Caribbean locations, please check out these posts:

Selected Key West Dive Sites
USNS Vandenberg: 90-140 feet (27-43 meters), 520-foot (158-meter) military troop transport scuttled to become an artificial reef in 2008, many areas to penetrate and explore, the crow's nest, dish antenna, weather-balloon hanger and 20-foot (6-meter) smokestack are all there, home to a variety of marine life with the occasional turtle, shark, or dolphin, suitable for experienced and technical divers (check the video below)
Joe's Tug: 65 feet (20 meters), 75-foot (23-meter) steel-hulled shrimp boat that sank at the pier in Key West in 1986, raised, cleaned, and resunk by accident under tow to become an artificial reef, Hurricane George tore her in half in 1998, bow and stern are 30 feet (9 meters) apart, resting upright on the seabed surrounded by hard and soft corals and sponges, moray eels and a variety of reef tropicals, suitable for all levels of diver (check the video below)
Cayman Salvage Master: 92 feet (28 meters), 187-foot (57-meter) steel-hulled buoy tender that sunk at dock in the late 70s, was refloated with a plan to sink it in 300 feet (91 meters) of water, it broke loose while being towed and settled at the current depth in 1986, resting upright in the sand, superstructure was removed prior to scuttling, lots of marine life, currents can get strong, suitable for experienced level divers
Northwind Wreck: 40 feet (12 meters), 3.5 miles (5.6 kilometers) southwest of the Marquesas, Mel Fisher's Treasure Salvors company tugboat sunk in an accident in 1975, 3 died including 2 Fishers, left as a memorial, portholes and prop wash have been removed, suitable for all levels of diver
Sambo Reefs: 25-40 feet (8-12 meters), 4 miles south of Boca Chica Channel, divided into Western, Eastern, and Middle Sambo Reefs, parts are a preserved sanctuary, lots of branching coral, rich marine life including reef tropicals, lobster, and shellfish, suitable for snorkeling and all levels of diver (check the video above)
Ten-Fathom Bar: 25-130 feet (8-40 meters), steep drop off, rich corals and sponges including huge barrel sponges in the shallows giving way to black coral going deeper, lots of fish, spiny lobster, porcupine puffers, possible passing manta rays, southern stingrays in the sand at the base of the wall, at Fennel Ridge on this site is a well-encrusted telegraph cable providing habitat for a big congregation of marine life, strong current is possible, suitable for experienced level divers
Marquesas Reef Line: 10-70 feet (3-21 meters) maximum depth, Marquesas Keys are an uninhabited island group 30 miles west of Key West, part of the Key West National Wildlife Refuge, includes mangroves and shallow reefs, large coral formations, caverns, nooks, and crannies, the islands are situated around Mooney Harbor, a central lagoon, lots of marine life, highlights are snappers and groupers, suitable for snorkelers and all levels of diver
Things to Do in Key West (aside from scuba diving)
For such a tiny location, the historical, cultural, and outdoor activity range is broad.  Here are some sites and activities to look into:  parasailing, jet skiing, boat rentals, sailing, speedboat and dinner cruises, dolphin tours, glass-bottom boat tours, Astro City, Florida Keys Eco-Discovery Center, Ghosts and Legends of Key West Walking Tour, Conch Tour Train, Fishing, the Ernest Hemingway House, the Harry S Truman Little White House, Fort Zachary Taylor, Key West Pub Crawl, Bike Tour, Numerous Festivals, Shopping, Camping, a full range of bars and restaurants.  Wikitravel-Key West has details.
This video gives you a nice taste.
For fuller details on transportation and tourist matters, go to Wikivoyage-Key West.
Hotels and Diving – In Key West there are more than 150 lodging options from $47 to $760 per night.  More than 40 dive shops in operation, some located within or associated with hotels, offer a full range of services that include equipment rental, diving certification classes, dive guides, and boat tours.  The website linked below has the details and can arrange a booking for the lodging.  You can easily find the location on the map provided on their site.  The rates are guaranteed to be the lowest and it is free to cancel or change dates.
Photography in Key West
With the colorful coral reefs, a variety of reef tropicals, macro critters, sharks, rays, dolphins, and scenic shoreside targets, as well, there are many excellent photo opportunities.  For information and reviews of dive cameras, click here:
A cushion for emergencies provides peace of mind when on vacation.  I recommend this diving insurance as they have worldwide coverage and give scuba divers a quality insurance and medical assistance service.
Feedback and Comments
I hope you found this post on Key West scuba diving interesting and useful. If you have any questions or ideas, please feel free to share them in the comments section.  I'd love to know of any experience you have.  If there is no comments section directly below, click here:  >>comments<<