We may earn money or products from the companies mentioned in this post.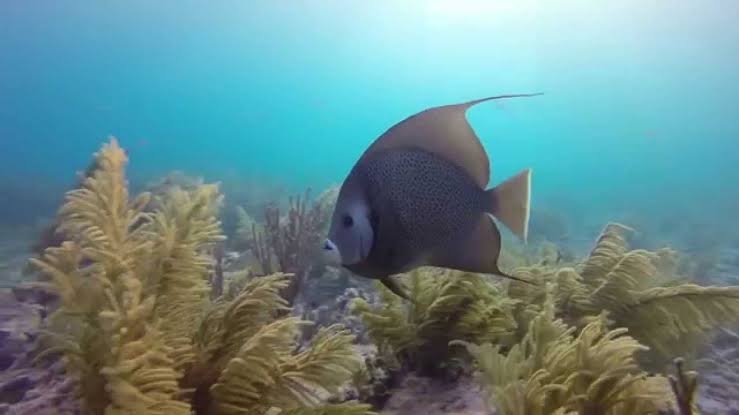 This is the one hundred and thirty-fifth in a series of reviews of the best dive resort locations around the world.  In this post, the focus is on Marathon, Florida. In addition to this series on dive resort locations, the best worldwide liveaboard diving locations and services are reviewed in their own series.  To check them out, or others in this series, click on Liveaboards/Resorts on the menu at the top and choose a title from the list.
Have you been diving in Marathon before?  If so, I'd love to know about your experience.  What dive shop or liveaboard did you use?  Which dive spots are the best and what are the conditions there regarding the visibility, current, water temperature, sealife attractions, etc.?  Please post your response in the comments section at the bottom and we'll all learn something we can use.
Scuba Diving Marathon Florida
Background – Located in the middle of the Florida Keys just southwest of Islamorada and northeast of the Lower Keys is the city of Marathon.  Incorporated as a city in 1999 it includes Knight's Key, Boot Key, Key Vaca, Fat Deer Key, Long Point Key, Crawl Key, and Grassy Key with a population around 10,000 and a total area of 9.6 square miles (25 km2).  These flat islands have a foundation of limestone derived from coral reefs.  The livelihood of Marathon comes from sport fishing and tourism surrounding waterfront activities.  Damaged severely by recent hurricanes, an economic resurgence is underway lead by the development and redevelopment of properties by the Hyatt, Ramada, and Hampton Inn hotel groups.  For more demographic and historical information check Wikipedia-Marathon, Florida.
Undersea World – Game fishing, especially popular in the shallow waters on the northwest side of the islands, attracts sportsmen targeting the likes of tarpon, bonefish, snook, redfish, and permit in large numbers.  On the Atlantic side, scuba divers come for the large volume of fish and marine life primarily on shallow patch reefs, spur and groove formations (like fingers of coral heads perpendicular to shore with valleys in between), sandy areas, and grassy beds.  Many of the sites are no deeper than 30 feet (9 meters) and suitable for snorkelers as well as scuba divers.  In the shallows, there are lots of shrimps, crabs, lobster, conchs, and a cornucopia of reef tropicals like schools of snapper, grunts, porkfish, and goatfish, surgeonfish, parrotfish, hogfish, angelfish, butterflyfish, and more spectacular attractions including schools of barracuda and jacks, turtles, stingrays, nurse, and Caribbean reef sharks, and dolphins.  In addition, there are remnants of historical wrecks from the 18th century Spanish Treasure Fleet and more modern scuttled ships sunk to create artificial reefs that are further from shore and deep enough to challenge more advanced and technical divers, as well.  Many of the sites are Special Protected Areas (SPAs) where no fishing or collecting is allowed enabling the ecosystem to control and develop the reefs.
Seasons and Conditions – Diving is good year-round in Marathon.  Average daily air temperature highs hit 91°F (33°C) in August and 75°F (24°C) in the coolest month, January.  In the summer, water temperatures are in the range of 84-87°F (29-30.5°C) and in winter 70-75°F (21-24°C).  Some divers will need a 3-5 mm wetsuit when the water is at its coolest.  The Gulf Stream provides south to north current, usually mild but occasionally strong, making for comfortable drift diving on some of the sites.  From May to October, it rains more and hurricanes are a consideration.  Visibility ranges from 40-100 feet (12-30 meters) with the best from August to October.  There are conditions suitable for all levels of diver with a number of shallow sites.  More than 50 dive shops operate in Marathon offering a complete range of training, equipment rental, guiding and boat tours.
None of the major liveaboard yachts travel to Marathon.  However, there are quite a few that cruise the nearby Bahamas and other Caribbean dive sites.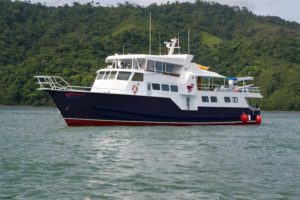 Bahamas Master, Bahamas Liveaboard Diving – Check the Price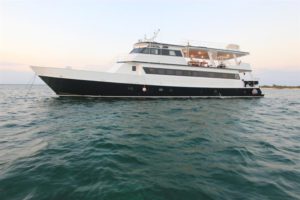 MV Avalon I, Jardines de la Reina, Cuba Liveaboard Diving – Check the Price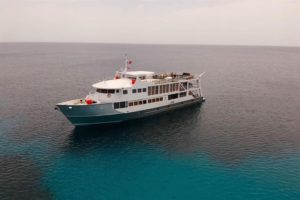 Cayman Aggressor V, Cayman Islands Liveaboard Diving – Check the Price
For reviews of diving in eastern Florida, the Bahamas, and other Caribbean locations, please check out these posts: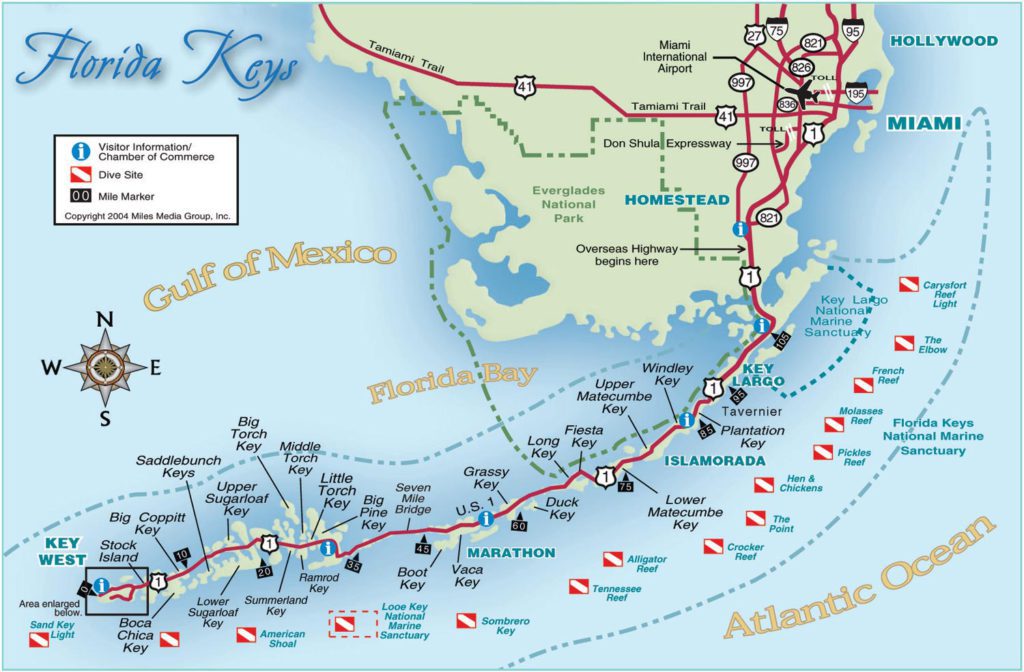 Selected Marathon Key Dive Sites
Sombrero Reef: 35 feet (10 meters) maximum depth, a tall lighthouse marks the area, spur and groove reef formations are prevalent, the reef includes sandy areas with seagrass, a variety of hard corals like lettuce, brain, and finger corals, sea fans, boulders, small arches, ledges, and crevices, macro attractions to find are lobster, octopus, and crabs, look for schools of sweepers, yellowtails, snappers and grunts, barracuda, stingrays, groupers, and nurse sharks, suitable for snorkelers and all levels of diver
Coffin's Patch: 15-30 feet (5-9 meters), group of 6 patch reefs located 4 miles (6.4 kilometers) offshore in an S.P.A. (Special Protected Area),  the name came from an incident of an early 1900s ship carrying coffins for rail workers killed in a hurricane that sunk on the reef resulting in many coffins floating around and sinking there, as well, the site also includes remnants of the Ignacio, a Spanish Galleon sunk in 1733, and an area called the Stake, where a steel pipe remnant of the old lighthouse breaks the surface, lots of hard corals including elkhorn, pillar, brain, and fire coral, rich marine life like grunts, snappers, stingrays, grouper, nurse sharks, lobster, and other macro critters, not far from the Thunderbolt wreck, suitable for snorkelers and all levels of diver
Delta Shoal: 10-25 feet (3-8 meters), less than a mile from Sombrero Key, many Spanish galleons wrecked on the shoal over the years including the Ivory Wreck, a slave-trading ship, most of the ivory tusks, manacles, leg irons, brass bowls, and other artifacts have been recovered but you might find some cutlery or cannonballs, lots of corals and sponges, many ledges, nooks, and crannies provide good habitat for macro critters like lobsters and crabs and a variety of reef tropicals, suitable for snorkelers and all levels of diver
Thunderbolt Wreck: 120 feet (37 meters), originally the USS Randolph, a 189-foot (58-meter) cable layer later used in research and surveying, scuttled to become an artificial reef in 1986, lots of encrusting colorful sponges and brain, star, and fire coral, sea whips, and hydroids, easy penetration opportunities, notable features are a cable handling reel, rudder, and propellers,  home to flaming scallops, big groupers, schools of jacks, barracuda, and cobia, nurse sharks, and tarpon, suitable for experienced level and technical divers (check the video below)
Things to Do in Marathon Key (aside from scuba diving)
There is a range of historical, cultural, and outdoor attractions suitable for the whole family.  Here are some sites and activities to look into:  Eco Tours, Fishing Charters, Boat Rental, Crane Point Museum Nature Center and Historic Site, Curry Hammock State Park, Dolphin Research Center, Florida Keys Aquarium Encounters, Seven Mile Bridge, Kiteboarding, Kayaking, Sailing, Florida Keys Turtle Hospital, Florida Keys Wildlife and Environmental Area, Keys Cable (Adventure Park), Marathon Air Museum, Bicycle Rental, Helicopter Tours, Overseas Aero Tours (Bi-Plane), Catamaran Cruises, Camping, Florida Keys Children's Museum, No Name Pub, Keys Fisheries (Restaurant), Wooden Spoon, Sunset Grill and Raw Bar, Hideaway Cafe, Herbie's, Tom's Harbor House, Overseas Bar and Grill, The Island Tiki Bar and Grill, Lazy Days South, Burdines, Castaway, The Sunset Grill, The Stuffed Pig, and Marathon Bagel Shop.  Wikivoyage-Marathon has a few more ideas with details.
This video gives you a brief taste.
For additional details on transportation and tourist matters, go to Wikivoyage-Marathon.
Hotels and Diving – In Marathon Key there are dozens of lodging options from $70 to $963 per night.  There are a number of dive shops in operation, some located within or associated with hotels, offer a full range of services that include equipment rental, diving certification classes, dive guides, and boat tours.  The website linked below has the details and can arrange a booking for the lodging.  You can easily find the location on the map provided on their site.  The rates are guaranteed to be the lowest and it is free to cancel or change dates.
Photography in Marathon Key
With the colorful coral reefs, a variety of reef tropicals, macro critters, sharks, rays, dolphins, and scenic shoreside targets, as well, there are many excellent photo opportunities.  For information and reviews of dive cameras, click here:
A cushion for emergencies provides peace of mind when on vacation.  I recommend this diving insurance as they have worldwide coverage and give scuba divers a quality insurance and medical assistance service.
Feedback and Comments
I hope you found this post on Marathon scuba diving interesting and useful. If you have any questions or ideas, please feel free to share them in the comments section.  I'd love to know of any experience you have.  If there is no comments section directly below, click here:  >>comments<<