We may earn money or products from the companies mentioned in this post.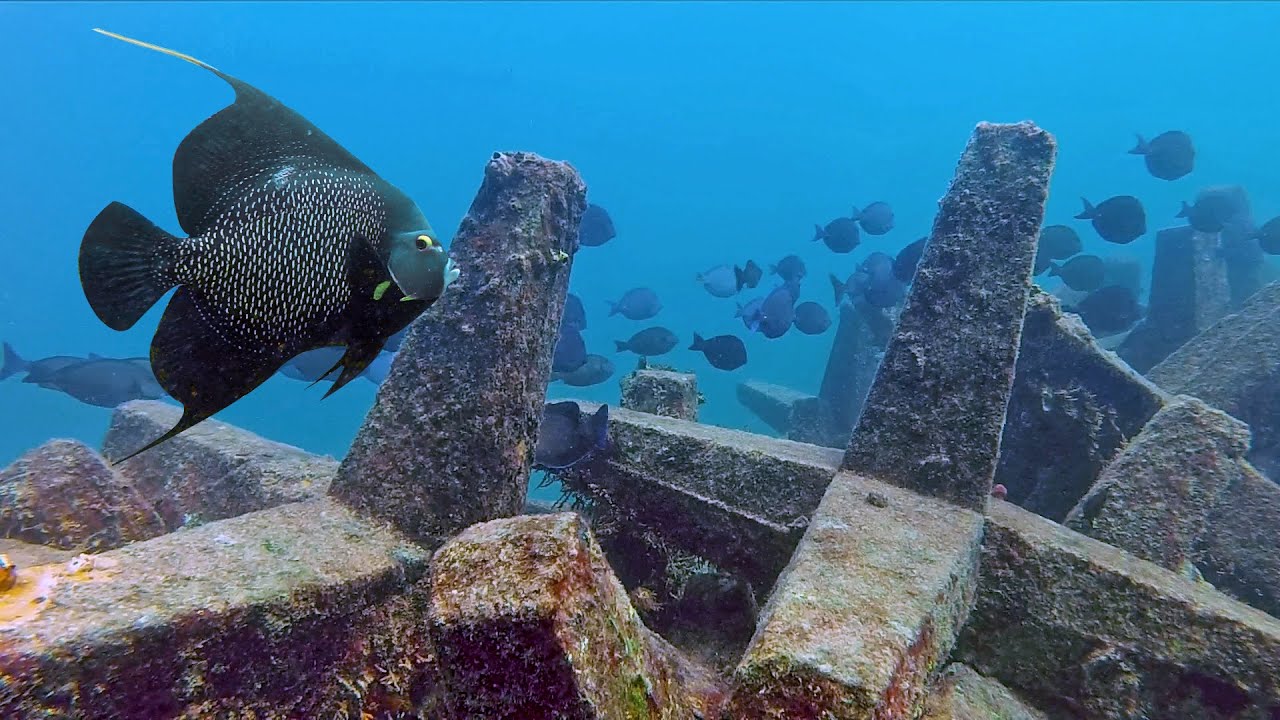 This is the seventy-sixth in a series of reviews of the best dive resort locations around the world.  In this post, the focus is Fort Lauderdale, Florida.
In addition to this series on dive resort locations, the best worldwide liveaboard diving locations and services are reviewed in their own series.  To check them out, or others in this series, click on Liveaboards/Resorts on the menu at the top and choose a title from the list.
Have you ever been diving in Fort Lauderdale before?  If so, I'd love to know about your experience.  What dive shop or liveaboard did you use?  Which dive spots are the best and what are the conditions there regarding the visibility, current, water temperature, sealife attractions, etc.?  Please post your response in the comments section at the bottom and we'll all learn something we can use.
Fort Lauderdale Scuba Diving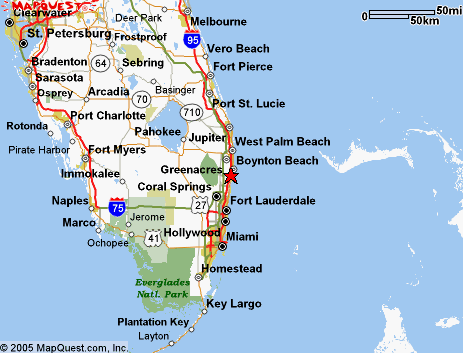 Background – The iconic Spring Break party town of the 70s and 80s, Fort Lauderdale, is set 28 miles (45 kilometers) north of Miami on the east coast of Florida.  This city of 180,000 citizens gets over 12 million visitors annually, but today the students have decreased in importance with a wealthier class of visitor becoming more prevalent.  There are 63 golf courses, 12 shopping malls, 132 nightclubs, 278 parkland campsites and 100 marinas with 45,000 resident yachts.  The city has a network of canals 165 miles (266 kilometers) long.  Cruise ships and boating recreation are a major part of the economy.  The world's largest international boat show takes place in Fort Lauderdale and the manufacture and maintenance of yachts is big business.  In addition, a diversified list of major corporations is based in the city.
Undersea World – Fort Lauderdale sits at the center of the Southeast Florida Reef Tract which runs from Miami to Palm Beach.  The 23 mile (37 kilometer) Fort Lauderdale section has well over 100 reef and wreck sites with 76 artificial reefs placed by the county in the past few decades.  There are 3 parallel reef tracts ranging from 15-100 feet (4.5-30 meters).  They are remnants of the ancestral shoreline as sea level has changed over history.  The inner reef is reachable from shore and begins at 15 feet (4.5 meters).  The middle reef begins at 40 feet (12 meters) and the outer reef is beyond that.  The outer reef peaks so that there are descending banks on both the east and west sides with the richer sea life on the inner or west side.  It is more continuously intact than the two inner reefs.  The Gulf Stream provides south to north current and flow of nutrients creating a rich reef with corals and invertebrates similar to that of the Bahamas to the east with some of its own peculiarities.  The reefs include 1,400 species of plants and animals with 40 species of hard corals and a great variety as well in soft corals, sponges, and other encrusting invertebrates, and 500 species of fish.  These include tubeworms, mollusks, spiny lobster, crabs, sea stars, anemones, sea cucumbers, and tunicates.  Reef fish highlights are white, Caesar and Spanish grunts, yellow-tail snappers, Goliath groupers, tangs and ocean surgeonfish, bluehead wrasses, damselfish, grey, French and Queen angelfish, redband, stoplight, blue and queen parrotfish, sergeant majors, trumpetfish, triggerfish, bar jacks, great barracuda, squirrelfish, cardinalfish, pufferfish, green morays and porkfish.  In addition, there are green, loggerhead and hawksbill turtles, a variety of pelagic gamefish, stingrays and nurse sharks.  Seasonally pelagic mantas, hammerhead, bull and whale sharks, sailfish, hawksbill, and loggerhead turtles and Goliath groupers pass through.
None of the major liveaboard yachts travel to Fort Lauderdale.  However, there are quite a few that cruise the nearby Bahamas and other Caribbean dive sites.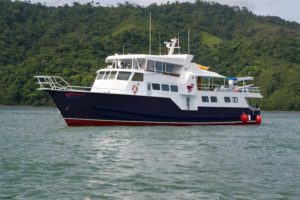 Bahamas Master, Bahamas Liveaboard Diving – Check the Price
For reviews of diving in the Bahamas and other Caribbean locations, please check out these posts:
Seasons and Conditions – Diving is good year-round in the Ft. Lauderdale area.  Average daily air temperature highs hit 90°F (32°C) in August and 75°F (24°C) in the coolest month, January.  In the summer, water temperatures are in the range of 84-87°F (29-30.5°C) and in winter 72-75°F (22-25°C).  Some divers will need a 3-5 mm wetsuit when the water is at its coolest.  On the middle and outer reefs, the Gulf Stream provides south to north current, usually not strong, making for comfortable drift diving.  From June to September it rains more and hurricanes are a consideration.  Visibility ranges from 40-100 feet (12-30 meters) with the best from August to October.  There are conditions suitable for all levels of diver.  At least 58 dive shops operate in the immediate Fort Lauderdale area and many more on either side running along the coast.  A complete range of training, equipment rental, guiding and boat tours is offered.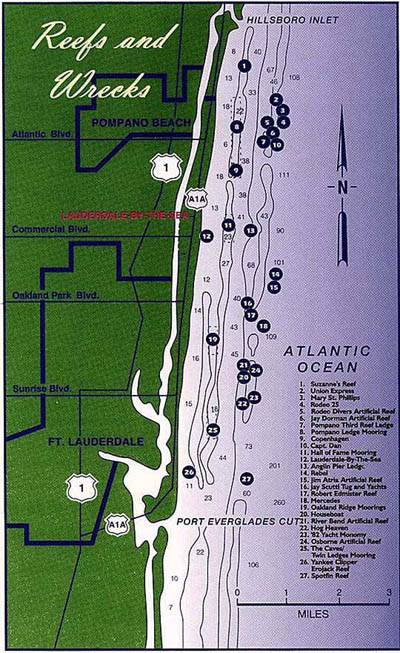 Selected Ft. Lauderdale Scuba Diving Sites
The Caves: 20-30 feet (6-9 meters), 3 miles (5 kilometers) north of Port Everglades, shallow caves and ledges with lots of macro creatures including lobster, yellow tails, all levels
Erojax: 20 feet (6 meters), off Dania Beach, submerged man-made jacks in a string of 1,500 feet (450 meters) placed to become an artificial reef, rich marine life with soft corals, schooling grunts, parrotfish, stingrays, French angelfish, turtles and lots of nurse sharks, all levels
Barracuda Reef: 20-35 feet (6-10 meters), ledge from 10 feet (3 meters), variety of corals, lobsters, moray eels, nurse sharks, turtles, mild current makes for a good drift dive, all levels
Hog Heaven: 65 feet (20 meters), 180 foot (55 meter) barge sunk in 1986 to become an artificial reef, flipped upside down in the sinking, easy penetration, rich marine life, hogfish and lionfish within, sunken debris next to the wreck that is a jungle-gym-like conglomeration with schooling fish, sea fans and macro life inside, all levels
Hammerhead Reef: 60-90 feet (18-27 meters), a reef with a finger-like formation, rich corals, a great variety of marine life, lobsters, schools of fish, parrotfish, stingrays, lionfish, turtles, macro life in the nooks and crannies, experienced level
Rodeo 25: 90 feet (27 meters), 215 foot (64 meter) Dutch freighter sunk in 1990 off Pompano Beach, a haven for fish including bicolor damselfish, big French angelfish, schools of bar jacks, blue tangs, Goliath groupers, experienced level
Mercedes: 55-95 feet (17-29 meters), built in 1951, the 198 feet (60 meter) Mercedes was sunk in 1985 to become an artificial reef, Hurricane Andrew split it in half in 1992 with the bow intact, lots of marine life including soft corals, lobster, Goliath groupers, grunts, amberjacks and baitfish, experienced level
Captain Dan: deck at 90 feet (27 meters), 175 foot (52 meter) Coast Guard buoy tender built in 1937 scuttled to become an artificial reef in 1990, holes cut for penetration, experienced level
Tenneco Towers: 105-190 feet (32-57 meters), 4 remaining sections (a fifth one reduced to rubble by a hurricane) of oil production platforms sunk to become artificial reefs in 1985, lots of soft coral, schooling fish, hogfish, turtles, big pelagics, strong current possible, advanced to technical level
Jim Atria: 130 feet (40 meters), 95 feet (29 meters) at the wheelhouse, 240 foot (72 meter) Dutch freighter built in 1961 and sunk in 1987 to become an artificial reef, originally sunk much shallower, Hurricane Andrew helped it down to this depth, sea fans, spiny oysters, black grouper, hogfish, squirrelfish, baitfish, and some pelagics, advanced level
Fort Lauderdale Photos
With the interesting undersea terrain, wrecks, colorful coral reefs, lobster, a variety of fish, nurse sharks, groupers, pelagics and turtles, and scenic beach vistas and interesting urban shots as well, there are many excellent photo opportunities.  For information and reviews of dive cameras, click here:
The Fort Lauderdale/Hollywood International Airport in nearby Dania Beach is the city's main airport that many budget airlines fly in and out of.  There are also major airports in Miami and Palm Beach.  An Executive Airport for private aircraft is situated in the Oakland Park section of the city.  Tri-Rail is a commuter line linking the Fort Lauderdale, Miami, and Palm Beach Airports.  Amtrak also has frequent arrivals and departures as do several long-distance bus lines.  The city has a metropolitan bus system and The Wave electric streetcar.  Port Everglades is the world's 3rd busiest cruise port.  A water bus system is also in place with 11 stops.  Car and bicycle rental is readily available.
There are hundreds of hotels and lodges of every level starting at $25 per night to choose from in Fort Lauderdale.  At least 58 dive shops are in operation offering a range of services including equipment rental, dive courses, guiding and boat dive cruises.  The website linked below is a good source for the available options and can arrange booking.  You can easily find the locations on the map provided on this site.  Their rates are the lowest and it is free to cancel or change dates.
Fort Lauderdale Florida Things to Do (aside from scuba diving)
With its great climate, world-class beaches, a network of waterways, outdoor options, shopping, nightlife, and cultural and historical sites, there is something for everyone in Fort Lauderdale.  This short video is a good introduction to the options.
A cushion for emergencies provides peace of mind when on vacation.  I recommend this diving insurance as they have worldwide coverage and provide scuba divers a quality insurance and medical assistance service.
Feedback and Comments
I hope you found this post on Fort Lauderdale scuba diving interesting and useful. If you have any questions or ideas, please feel free to share them in the comments section.  I'd love to know of any experience you have diving in Fort Lauderdale.  If there is no comments section directly below, click here:  >>comments<<