We may earn money or products from the companies mentioned in this post.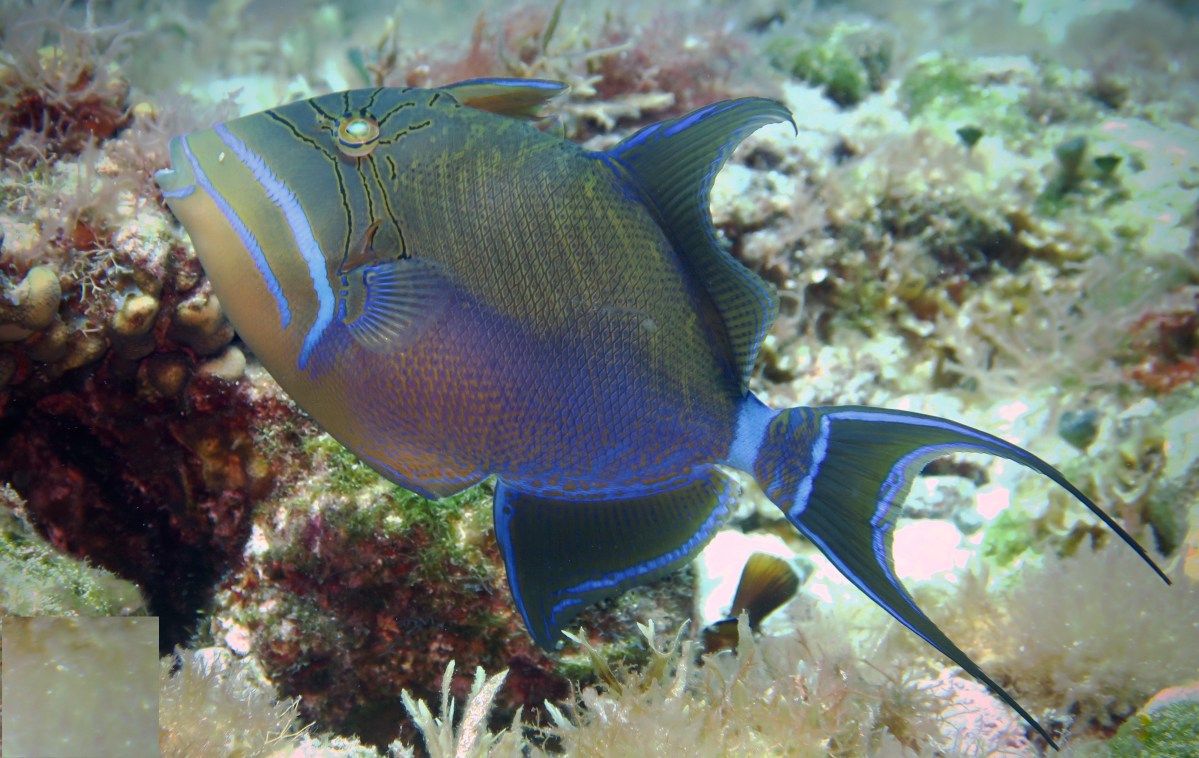 This is the fifty-third in a series of reviews of the best diving destinations around the world.  In this post, the focus is Cozumel, Mexico.
In addition to this series on dive resort locations, the best worldwide liveaboard dive locations and services are reviewed in their own series.  To check them out, or others in this series, click on Liveaboards/Resorts on the menu at the top and choose a title from the list.
Have you ever been diving in Cozumel?  If so, I'd love to know about your experience.  What dive shop or liveaboard did you use?  Which dive spots are the best and what are the conditions there regarding the visibility, current, water temperature, sealife attractions, etc.?  Please post your response in the comments section at the bottom and we'll all learn something we can use.
Best Scuba Diving Cozumel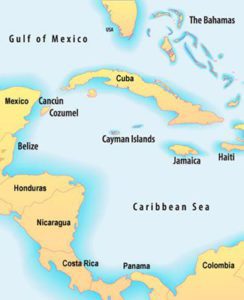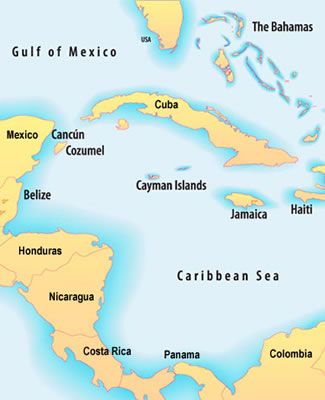 Background – Situated in the Caribbean Sea 19 kilometers (12 miles) off the eastern coast of the Yucatan Peninsula of Mexico is the 48-kilometer (30-mile) long island of Cozumel.  With a limestone foundation and flat terrain, it has white sand beaches, cenotes (sinkholes), a mangrove forest and a number of endemic birds and mammals.
Settled in the first century by the Mayas, when the Spanish arrived in 1518 the population was around 10,000.  After a bout with smallpox, that number was reduced to about 350.  Today there are 100,000 living there with 77,000 in the town of San Miguel.
The thriving economy is based on tourism and charter fishing with many dozens of hotels and dive shops and over 300 restaurants.
Undersea World – Cozumel has rich colorful reefs with 500 species of fish and 26 coral species.  Most of the diving is done on the west side of the island between the southern tip and San Miguel.  There are sites on the east side that are generally not as rich and some to the north of the island that are not often dived.
85% of the sites are protected by the Cozumel Reefs Marine Park.  Most sites are easily accessible beginning in shallow water less than 9 meters (30 feet) deep.  The underwater terrain features crevices, swim-throughs, caverns and some very deep walls that often have drift that can be thrillingly swift. Brightly colored hard and soft corals, barrel sponges, gorgonians and coral ribbons provide habitat for lobster, crabs, golden tail eels, spotted morays, damselfish, batfish, seahorses, splendid toads, octopus and banded cleaner shrimp on the macro side.  Other highlights include yellowtails, angelfish, pufferfish, flounder, sergeant majors, parrotfish, southern stingrays, triggerfish, tangs, snapper, eagle rays, nurse and Caribbean reef sharks and on occasion whale sharks, bull sharks, and hammerheads, along with green and loggerhead turtles that nest from May through September.  Also, there are a number of old wrecks including Spanish galleons.
For reviews of diving in eastern Florida and other Caribbean locations, please check out these posts:
Seasons and Conditions – With its tropical savanna climate, diving is possible year-round in Cozumel.
Average daily high temperatures are in the range of 28-33°C (83-91°F).
Water temperatures get up to 32C° (89°F) in the summer months and down to 25°C (78°C) in the winter.  Most divers will only need a 3 mm wetsuit when the water is at its coolest.
It rains quite a bit all year with the driest months from February to April and the wettest in September and October.  Hurricanes are more likely from August through November.
The water is typically quite clear in the 30-meter (100-foot) visibility range.
Currents are variable site to site and season to season, sometimes becoming strong.
That being said, there is diving suitable for all levels.  There are 6 or 7 dozen dive shops in operation on Cozumel that are equipped with a full range of coursework, equipment rental, guiding and boat cruises to the offshore sites.
There is not a liveaboard that directly cruises the Cozumel dive sites, but many Caribbean sites are supported by liveaboard diving.  Here is my review that covers a variety of locations and a link to a nearby liveaboard in the Caymans: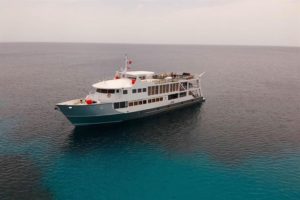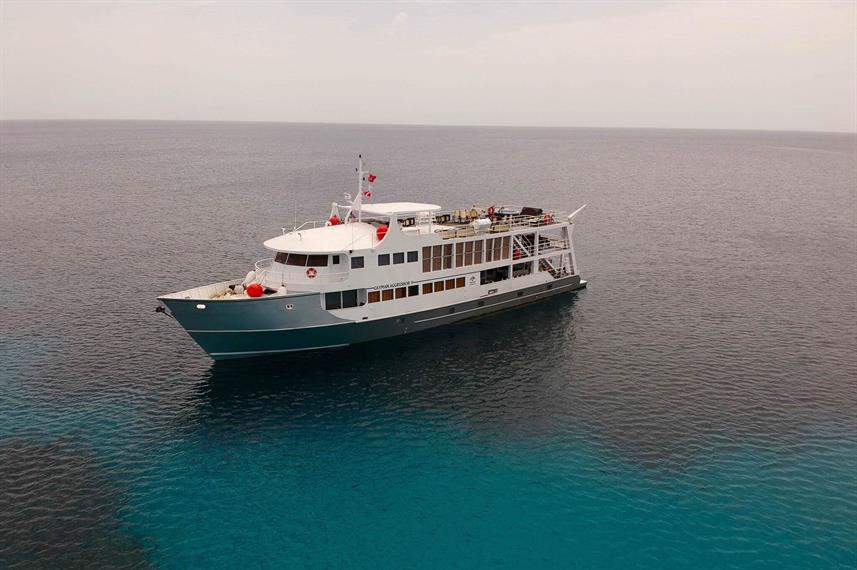 Cayman Aggressor V – Check the Price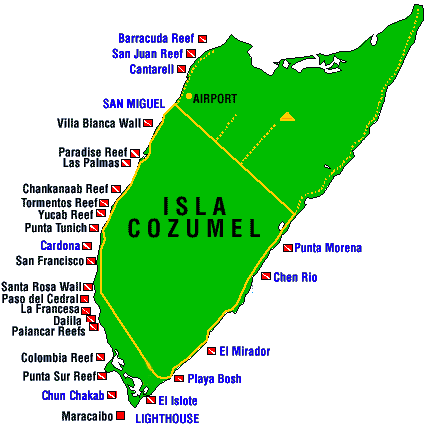 A Sampling of Cozumel Diving Sites
Chankanaab Reef: 9-15 meters (30-50 feet), two sections divided by a sand channel, cracks, holes, and crevices with good macro critters including big lobsters and crabs, octopus, seahorses, moray eels, stonefish, scorpionfish and splendid toadfish, triggerfish, surgeonfish, excellent night dive, all levels
C-53 Wreck Xicotencatl: 24 meters (80 feet), 57 meter (184 foot) WWll era minesweeper, originally the USS Scuffle, sold to the Mexican Navy becoming the Felipe Xicotencatl, scuttled in 2000 to become an artificial reef, sitting upright, intact except for one rudder which sits on the bottom, superstructure reachable at about 8 meters (26 feet), fairly easy penetration, barrel and tube sponges, blennies, starfish, morays, cleaner shrimp, grouper, all levels
Santa Rosa Wall: 15-40 meters (50-130 feet), a steep wall starts at 15 meters (50 feet), ledges, caves, tunnels, huge sponges, fire coral, grouper, turtles, eagle rays, possible strong currents, experienced level
Palancar Gardens: 12-24 meters (40-80 feet), colorful corals, purple and orange sponges, strip reef with crevices and caverns, octopus, banded cleaner shrimp, lots of reef fish including yellow head wrasses, butterflyfish, parrotfish, damselfish, angelfish, current usually mild, all levels
Columbia Wall: 18-27 meters (60-90 feet), drop of from 18-24 meters (60-80 feet), huge coral pinnacles over 20-27 meters (65-90 feet) tall, tunnels, caverns and caves, nurse sharks, big barracuda, eagle rays and turtles, blue tangs, experienced level
Punta Sur: 27-40 meters (90-130 feet), location close to the southern tip exposes the site to winds, surface chop and potentially strong current, northern section has Devil's Throat, a cave formation, southern section has a cave chamber, The Cathedral, with huge sponges forming a cross in the ceiling of the cave, with light passing through, lots of life including toadfish, eagle rays, and barracuda, deep penetration is possible, advanced level
Maracaibo Wall: 27-48 meters (90-160 feet), southernmost dive site, potential strong current and surface chop, deep wall beginning at 30 meters (100 feet), schooling hammerheads, squadrons of eagle rays, good drift dive for looking at the big stuff, experienced level
Cozumel Photos
With the interesting wrecks, colorful corals and encrusting life, gorgonians, macro critters, schools of fish, southern stingrays, Caribbean reef sharks, whales, dolphins, turtles, and fascinating scenes and historical sites on land, as well, there are many excellent photo opportunities.  For information and reviews of dive cameras, click here:
Cozumel International Airport has many arrivals throughout the day.  From the airport, there are shuttles and taxi service.  Ferry service is frequent from Playa de Carmen and Cancun.  Bicycles, scooters, mopeds, cars, and jeeps are all for rent.  Cozumel is a major stop for the cruise lines, as well.
At least 65 dive shops are operating on Cozumel providing a full range of services including equipment rental, dive courses, guiding and boat dive cruises.  Many dozens of hotels and resorts are available from $6 to $390 per night.  Many have in house dive operations.  The website linked below is a good source for the available options and can arrange the booking.  Their rates are the lowest and it is free to cancel or change dates.
Things to Do on Cozumel (aside from scuba diving)
Cozumel exists as a population center due to tourism and is well set up to meet the needs of guests.  If you are looking for something to do to occupy your time when not diving there are quite a few activities related not only to the water but also cultural and nature-oriented land-based recreations.  By sea you can consider dinner cruises, boat tours, sailing on a catamaran, Atlantis submarine tours, dolphin adventure shows, swimming with dolphins and manatees, parasailing, kite surfing, fishing or a trip to a pearl farm.  By land, you can tour a cacao factory, eco-park, national park, lighthouses, Mayan ruins or cenotes.  Jeep touring, scooters, bicycles, horseback and trekking are ways to take in the sights.  Fans of baseball can go see a game in season.  More than 300 restaurants, city tours, shopping, and nightlife are good options for you to get in touch with the local social scene.  Check out the video below for a glimpse of life on Cozumel and a few additional leisure options.
A cushion for emergencies provides peace of mind when on vacation.  I recommend this diving insurance as they have worldwide coverage and provide scuba divers a quality insurance and medical assistance service.
Feedback and Comments
I hope you found this post on Cozumel scuba diving interesting and useful. If you have any questions or ideas, please feel free to share them in the comments section.  I'd love to know of any experience you have diving there.  If there is no comments section directly below, click here:  >>comments<<