We may earn money or products from the companies mentioned in this post.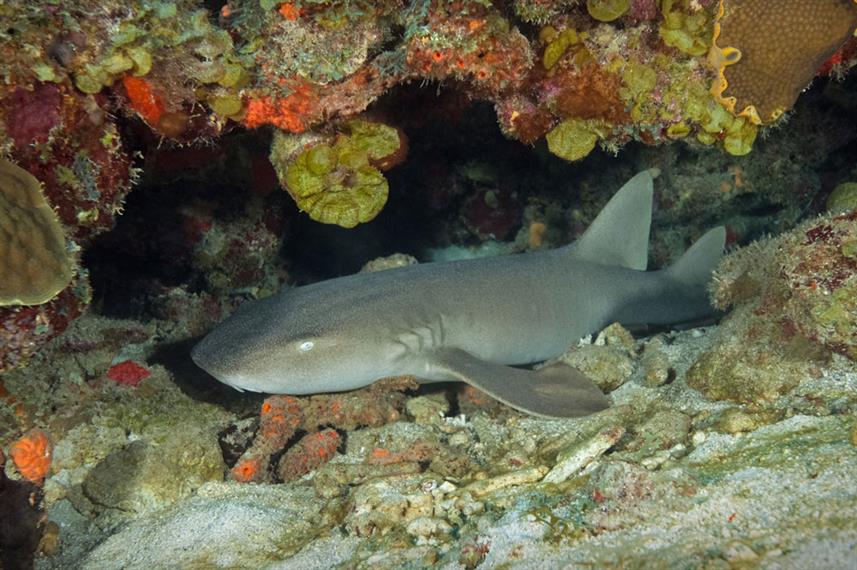 This is the fifty-second in a series of reviews of the best scuba diving destinations around the world.  In this post, the focus is St. Martin.
In addition to this series on dive resort locations, the best worldwide liveaboard dive locations and services are reviewed in their own series.  To check them out, or others in this series, click on Liveaboards/Resorts on the menu at the top and choose a title from the list.
Have you ever been diving in St. Martin?  If so, I'd love to know about your experience.  What dive shop or liveaboard did you use?  Which dive spots are the best and what are the conditions there regarding the visibility, current, water temperature, sealife attractions, etc.?  Please post your response in the comments section at the bottom and we'll all learn something we can use.
Scuba Diving St. Martin
Background – St. Martin, the name I will use as a native English speaker, has been divided between the French and the Dutch since 1648.  The total area is 87 square kilometers (34 square miles).  The northern 60% of the territory is an overseas collectivity of France (Saint Martin) with the southern 40% a constituent country of the Netherlands (Sint Maarten).  The island, set 300 kilometers (190 miles) east of Puerto Rico, has a population of 78,000, with 41,000 in the Dutch sector and 37,000 in the French.  Philipsburg is the Dutch side capital where the main international airport is situated.  Marigot is the French capital.
In traceable history, the earliest inhabitants were the Arawaks who were pushed out by the Caribs who practically all perished in the 17th century with the arrival of masses of Europeans.  Salt was the economic driver in those days.  Today it is tourism, in which 85% of the population is employed.
It has a hilly landscape, with Pic Paradis the tallest mountain at 424 meters (1,391 feet), no rivers and a "dry" forest.  The climate is classified as "tropical monsoon" with northeasterly winds.  Hurricane Irma caused major damage to structures in 2017 and killed 11 people.
English Creole is spoken in both sectors with Dutch and English the official languages in the south, and French in the north.  French Creole and Spanish are also common.  There has been a major inflow of immigrants in the last twenty years and today people from 70 different countries live in St. Martin.  The flow between the north and south typically does not require an ID check.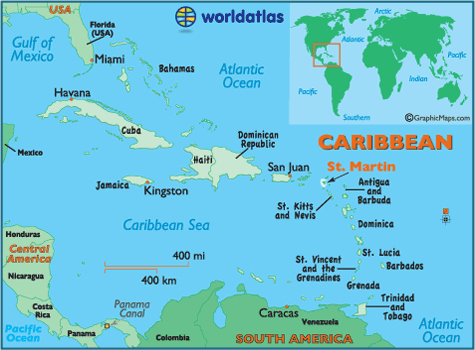 Undersea World – St. Martin has dozens of dive sites, including 11 wrecks visited by local dive operators, that are not crowded or overused, most of which are on the Dutch side of the island.  Undersea terrain consists of coral reefs and rocky formations encrusted with hydroids, sponges, hard and soft corals, gorgonians and a multitude of invertebrates. Lava flows, canyons and tubes provide excellent habitat for a good variety of critters and fish, both large and small.  Highlights are urchins, crabs, lobster, sea slugs, cleaner shrimp, frogfish, blennies, moray eels, octopus, squid, porcupine puffers, blue tangs, sergeant majors, surgeonfish, brown chromis, trumpetfish, filefish, trunkfish, grouper, horse-eye jacks, barracuda, nurse and Caribbean reef sharks, eagle rays, turtles, and whales and dolphins in their migratory journeys.  To top it off, great visibility makes it all easy to see and photograph.
For reviews of diving in eastern Florida and other Caribbean locations, please check out these posts:
Seasons and Conditions – Weather is always pleasantly warm and diving possible year-round.
Air temperatures rarely go outside the range of 20 to 34°C (68 to 93°F).
Water temperature hits a high of 29.5°C (85°F) in September and a low of 27.2°C (81°F) in February and March. A 3 mm wetsuit is probably the maximum protection needed by anyone.
It rains 142 days of the year with the hurricane season from June to the end of November.  The driest months are January through April and the wettest August and September.  All that being said, diving is not often limited by the weather.
Visibility is usually not less than 12 meters (40 feet) and can exceed 30 meters (100 feet).
Surface conditions are generally smooth and currents mild.
Some sites are subject to stronger currents and surface chop occasionally.
There is diving suitable for all levels around St. Martin.  At least 14 dive shops that are equipped with a full range of coursework, equipment rental, guiding and boat cruises to the offshore wrecks are in operation.  There is a liveaboard that cruises in the vicinity that stops on St. Martin.  Here is my review and links to the liveaboard: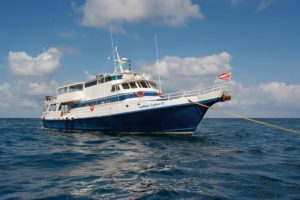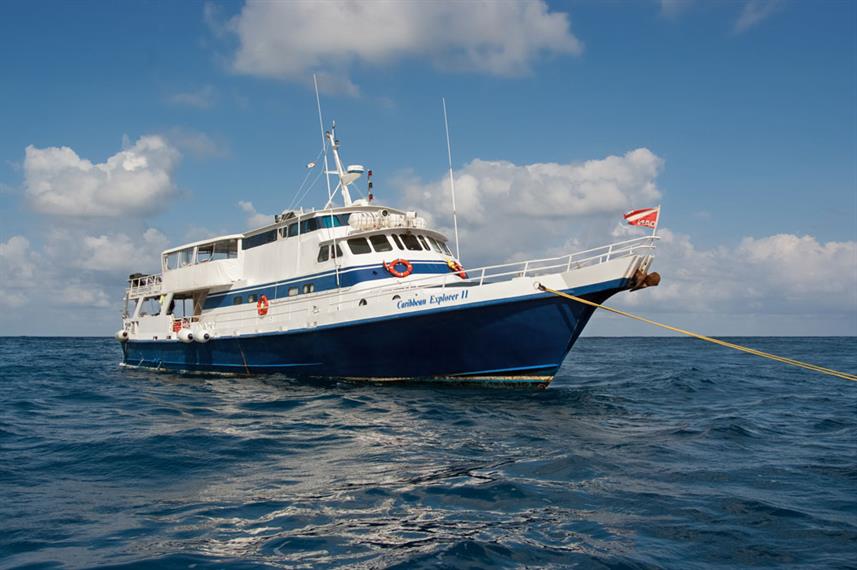 MV Caribbean Explorer II – Check the Price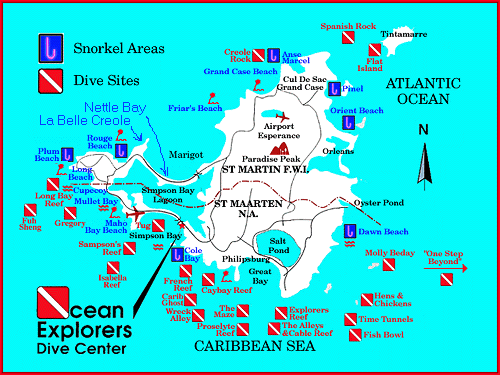 A Sampling of St. Martin Dive Sites
Japanese Garden: 9-21 meters (30-70 feet), French Nature Reserve site on the south side of Flat Island (Tintamarre), rich healthy coral reef with sandy canyons, a sunken garden just off the reef at 18-21 meters (60-70 feet), lobsters, stingrays, nurse sharks, turtles, all levels
Fish Pot: 14-20 meters (47-68 feet), long reef on the northwest side, old pillar and staghorn corals, habitat for many juvenile fish, eagle rays, turtles, dolphins in the winter months, all levels
Base Espagnole: 5-14.5 meters (15-48 feet), in the channel between Flat Island (Tintamarre) and St. Martin, rock slabs encrusted in corals, swarming with fish, juvenile sharks, lots of lobsters, barracuda, swells and chop possible, all levels
Tugboat: 14 meters (45 feet), north side of Flat Island (Tintamarre), 15 meter (50 foot) tugboat sunk as an artificial reef, well encrusted in corals and sponges, sitting upright, beds of eelgrass, loads of fish, southern stingrays and eagle rays feeding, dolphins from January to March, 30 meters (100 feet) away a colorful reef and small wall, all levels
HMS Proselyte: 15 meters (50 feet) maximum depth, British Royal Navy frigate sunk after hitting a shoal int 1802, sitting on starboard side, wooden parts all gone, 13 cannons and 3 huge anchors are well encrusted with colorful corals and sponges, rich marine life, Caribbean reef sharks, close to the harbor, easy dive, all levels
Fuh Sheng: 33 meters (110 feet), Taiwanese 35 meter (120 foot) fishing vessel sunk in 1995, reachable at 27 meters (90 feet), garden eels on the sandy bottom, stingrays, lobsters, Caribbean reef sharks, penetration possible, great visibility, advanced and technical levels
Carib Cargo: 19.5 meters (65 feet), RORO (roll-on, roll-off) vessel damaged by Hurricane Luis in 1995 and eventually towed out and sunk to become an artificial reef in 1996 as Hurricane Bertha approached, 60 meters (200 feet) long, rich corals and marine life with southern stingrays, eagle rays, turtles and Caribbean reef sharks, penetration to the head (toilet) is possible, great visibility, all levels
Fish Bowl: 18 meters (60 feet) maximum depth, reef near the harbor entrance, rich corals, sponges and marine life, large arch to swim through, barracuda, Caribbean reef sharks, all levels
St. Martin Photos
With the interesting wrecks, colorful corals and encrusting life, gorgonians, macro critters, schools of fish, southern stingrays, Caribbean reef sharks, whales, dolphins, turtles, and fascinating scenes on land, as well, there are many excellent photo opportunities.  For information and reviews of dive cameras, click here:
Several major airlines make daily flights to Princess Juliana International Airport in the south.  L'Esperance Airport, on the French side, is mainly for flights from neighboring Caribbean islands.  There is taxi and minivan service, but no full-size public buses. Cars and scooters are available to rent.  Frequent traffic jams slow traffic from the international airport to Marigot.  Ferries are available to other nearby countries and a limited water taxi service around St. Martin.  It is also possible to arrive in St. Martin by cruise ships which dock in Philipsburg. There is also a small port near Marigot on the French side which mainly services private yachts.  Once on St. Martin, it is easy to move around and visitors often cross the border without having any awareness that they have moved into a different country.
At least 14 dive shops are operating on St. Martin providing a full range of services including equipment rental, dive courses, guiding and boat dive cruises.  Hotel and resort pricing starts at $33 and range on up to $570 per night.  Several hotels and resorts have in house dive operations.  The website linked below is a good source for the available options and can arrange the booking.  Their rates are the lowest and it is free to cancel or change dates.
Things to Do on St. Martin (aside from scuba diving)
Beaches are on the top of the list.  On the French side, there are some of the clothing-optional varieties.  Other water activities to enjoy are snorkeling, jet skiing, speedboat tours and learning to sail.  If the scuba diving, boating, etc. isn't thrilling enough, how about some zip-lining or hanging out at Maho beach while jetliners approach for landing within a stone's throw of your head.  Or to mellow out a bit you can go to the butterfly farm, visit a museum or historical site or tour the Guavaberry Emporium and taste some of the famous local liqueur.  You can check out the local flora and fauna at various parks or the zoo.  ATVs are for rent or you can do some trekking to places like the top of Pic Paradis.  Local and French food in Marigot and shopping there and in Philipsburg will give you a feel for the local marketplace.  The St. Martin nightlife scene is world-famous.   Check out the video below for a look at life on St. Martin and a few additional leisure options.
A cushion for emergencies provides peace of mind when on vacation.  I recommend this diving insurance as they have worldwide coverage and provide scuba divers a quality insurance and medical assistance service.
Feedback and Comments
I hope you found this post on St. Martin scuba diving interesting and useful. If you have any questions or ideas, please feel free to share them in the comments section.  I'd love to know of any experience you have diving there.  If there is no comments section directly below, click here:  >>comments<<