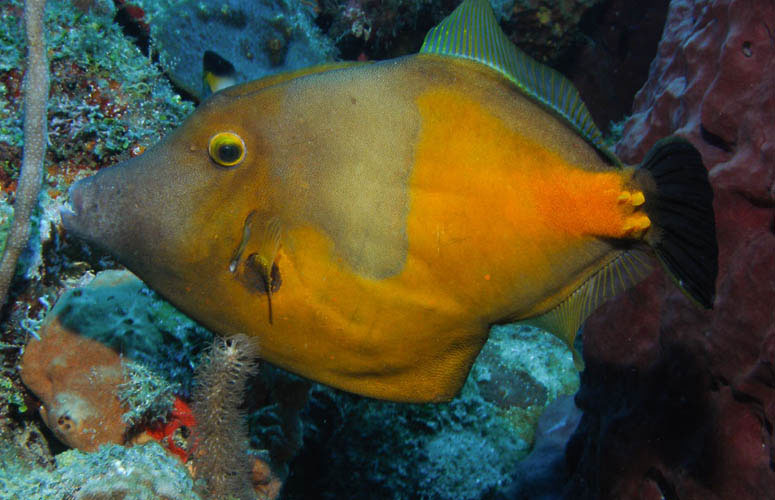 Updated May 31, 2021
This is the one hundred and nineteenth in a series of reviews of the best scuba diving destinations around the world.  In this post, the focus is on Guadeloupe. In addition to this series on dive resort locations, the best worldwide liveaboard diving locations and services are reviewed in their own series.  To check them out, or others in this series, click on Liveaboards/Resorts on the menu at the top and choose a title from the list.
Have you been diving in Guadeloupe before?  If so, I'd love to know about your experience.  What dive shop or liveaboard did you use?  Which dive spots are the best and what are the conditions there regarding the visibility, current, water temperature, sealife attractions, etc.?  Please post your response in the comments section at the bottom and we'll all learn something we can use.
Scuba Diving Guadeloupe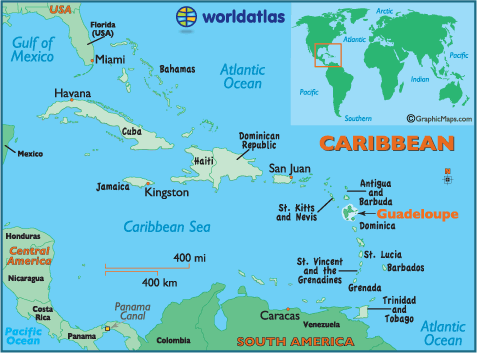 Background
Situated in the Eastern Caribbean between the countries of Antigua and Barbuda and Dominica, Guadeloupe is made up of 6 inhabited islands, 6 uninhabited islands, and a number of islets and rocky outcrops.  It is volcanic in origin which has resulted in rich soil and lush vegetation.  The last eruption was in 1976.
Guadaloupe is larger than its nearest neighbors with an area of 1,628 square kilometers (629 square miles).  A succession of indigenous peoples from as early as 700 BC has lived there on the islands with Columbus first arriving in 1493 and the first European governance coming from the Spanish.  From there the Spanish were replaced by the French who have had control except for brief intervals when the British and Dutch were in power.
Today Guadeloupe is an overseas region of France with a population of around 400,000 made up primarily of Afro-Caribbean people with some of European, Indian, Lebanese, Syrian, or Chinese descent, as well.  The national language is French with French Antillean Creole the language of the masses.
The relatively strong economy is driven by tourism, agriculture, light industry, and services.  83% of the tourists are French.  There is a very low crime rate when compared to other Caribbean nations, although there is high youth unemployment.  80% of the citizenry is Roman Catholic.
Undersea World
The Islands of Guadeloupe have a large network of coral reefs surrounding them with a volcanic subsea terrain.  Several areas stand out.
The first is Pigeon Island on the west side, the site of the Jacques Cousteau Marine Park which has well preserved rich reefs and two nice wrecks, as well.
Iles des Saintes to the southwest has a rich variety of reefs and terrain.
Just north of there is Sec Pate a pinnacle with lots of fish and a variety of large, colorful tube and barrel sponges.
Basse Terre on the southwest coast is characterized by steep walls.
Grand Cul de Sac Marin is in the north between the two sides of the main island and has some outstanding reefs some of which are part of a marine park.
The Saint Francois area of Grande Terre is quite removed from the other sites located in the southeast section of Guadeloupe known for rich corals and sponges.
Highlight marine life to look for around Guadeloupe includes grouper, jacks, barracuda, stingrays, green and hawksbill turtles, and humpback whales.  To go along with the rich hard and soft corals and a large number of sponges are huge gorgonians and reef residents like sea cucumbers, moray eels, scorpionfish, octopus, trumpetfish, yellowtails, blue tangs, surgeonfish, damselfish, parrotfish, lionfish, and French angelfish.
Many sites are between 12-21 meters (35-70 feet) in-depth, but there are other deeper sites more suitable for advanced and technical divers.
French is the predominant language, but if you check around you will find English-speaking staff or people to help translate if needed.
Seasons and Conditions
Diving is possible all year in Guadalupe.
Air temperature is always warm with average daily highs between 29-31°C (84-89°F) all year.
Water temperature hits lows in winter of 26°C (79°F) and highs in summer of 29.5°C (85°F).  A 3mm wetsuit is probably the most thermal protection needed when the water is at its coolest.
The wettest months are September through November.  The possibility of hurricanes and tropical storms is greatest during that time frame.  The driest month is February.
Current –Generally the currents are pretty mild but it is possible for stronger currents on some sites especially during the wettest months from September through November.
Visibility is normally quite good with a range of 15-30 meters (60-100 feet).
There are sites suitable for all levels of diver. Several dozen dive shops are in operation, some located in hotels and others that are separate.  Between them, you can find a full range of diving coursework, equipment rental, guiding, and boat cruises.
Caribbean Liveaboard Diving
None of the major liveaboard yachts dive on Guadeloupe.  There is a liveaboard that cruises nearby St. Kitts.  Here is my review that covers several Caribbean liveaboard locations, and links to the St. Kitts liveaboard: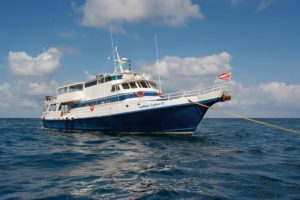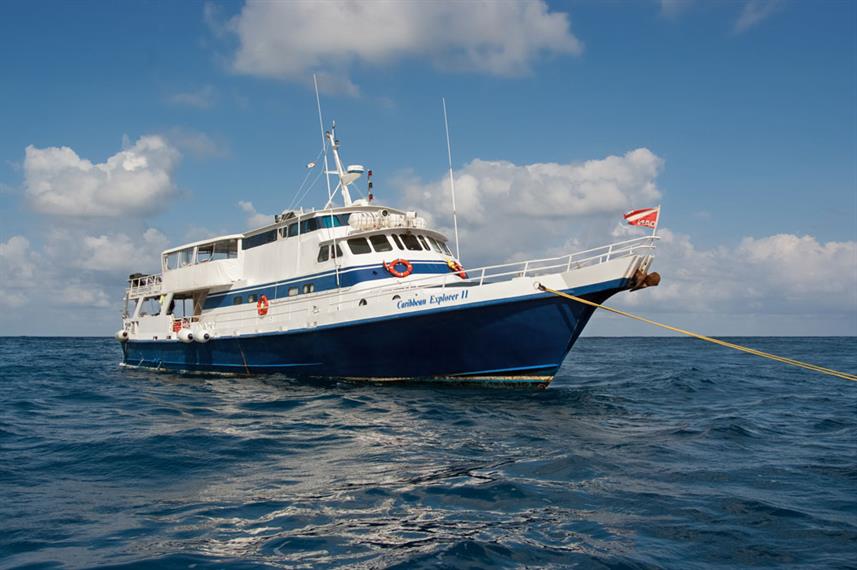 MV Caribbean Explorer II, St. Kitts Liveaboard – Check the Price
Here are my reviews of eastern Florida and other Caribbean dive locations and liveaboards:


Selected Guadeloupe Dive Sites
Sec Pâté: 15-300 meters (50-984 feet), pinnacle with rich corals, sponges, and gorgonians, strong currents bring nutrients for marine life including moray eels, scorpionfish, lionfish, stonefish, nudibranchs, cuttlefish, octopus, lots of reef tropicals, queen and gray angelfish, triggerfish, barracuda, turtles, grouper, and whitetip reef sharks, suitable for experienced and technical divers
Augustin Fresnel II Wreck: 34 meters (112 feet) maximum depth, 53-meter (174-foot) lighthouse service boat, sunk to become an artificial reef in 2003 in the Basse Terre area, penetration possible to the galley and mess deck, much of the superstructure intact, with the crane operator cabin, screws, supports, and hoists, richly encrusted with sponges and coral, diverse marine life, including stingrays, grouper, barracuda, eels, turtles, swarms of swallowtail sea perch and sergeant majors, suitable for experienced level divers
The Arches:  25 meters (82 feet) maximum depth, near Port Louis on Grande Terre, limestone terrain with arches, swim-throughs, and caves, sloping bed to 9 meters (30 feet), then a steep decline to 21-25 meters (70-82 feet) where there are a series of arches, lots of sponges and soft corals, lobster, crabs, and other macro critters, stingrays, and turtles, suitable for all levels of diver
Aquarium: 20 meters (66 feet) maximum depth, in the Cousteau Marine Reserve, nice gorgonians, rich marine life, no current, turtles, suitable for all levels of diver
La Pointe: 20 meters (66 feet) maximum depth, located north of Terre de Haut Island in Les Saintes, sheltered area with a big coral pinnacle, plateau at 2-5 meters (6-16 feet) with rich corals, vase sponges, and marine life including filefish, from there a wall drops to the maximum depth and a sandy bottom with garden eels, other highlights include nudibranchs, scorpionfish, moray eels, cuttlefish, a variety of reef tropicals, possible stingrays, groupers, schooling fusiliers, and surgeonfish, suitable for all levels of diver
L'Avion (the Plane): 22 meters (72 feet) maximum depth, near Port Louis on the west side of Grande Terre, small aircraft used on banana plantations scuttled in 2000 to become an artificial reef, sitting on an existing coral plateau, rich encrustation of sponges, hard, and soft corals, sea squirts, and big sea fans, lionfish, angelfish, butterflyfish, barracuda, sandy area has garden eels, barracuda, and schooling reef fish, no current, suitable for all levels of diver
Gustavia Wreck: 40 meters (130 feet) maximum depth, near Deshaies off Basse Terre, 50-meter (164-foot) cargo ship sunk to become an artificial reef in 1991, sitting upright, richly encrusted, barracuda and pelagics possible in the hold, suitable for experienced and technical level divers
L'Oeil (the eye): 20 meters (66 feet) maximum depth, located off Basse Terre, underwater arch with an entrance a few meters wide, lots of overhangs and swim-throughs, extremely rich marine life with lobsters, queen angelfish, parrotfish, morays, porcupine puffers, big sea fans and sponges, suitable for experienced levels of diver
Baradise: 15-40 meters (50-130 feet), located off Basse Terre, a reef with heaps of big sponges, lots of barracuda, jacks, and tarpon, possible tuna and Spanish mackerel, suitable for all levels of diver
Le Banc Des Vaisseaux: 21 meters (70 feet) maximum depth, near Saint Francois on the way to Marie Galante Island, coral bank with walls, cracks, and crevices, red algae, sponges, and corals, lots of lobster, scorpionfish, barracudas, and turtles, strong current is possible, suitable for experienced level divers
Things to Do in Guadeloupe (aside from scuba diving)
When you are not diving, there are many activities related to the sea and beautiful landscape, as well as the history and culture of Guadeloupe.  Here are some highlights to investigate:  Views, Beaches, Botanical Gardens, Food, Rum Distillery, Picturesque Towns, Cocoa Museum, Guadeloupe Zoo and Mammals Park, Waterfalls, Hiking/Trekking, Slavery Road, Louis Delgres Fort, Palm Trees Avenue, Kite Surfing, Surfing, Island Hopping, Carnival, Aquarium, Local Markets, ACTe Memorial, Casinos, Nightlife.
This video provides a scenic glimpse from a young family's point of view.
Guadeloupe Transportation, Hotels, & Diving Services
Transportation
Air – Pointe-à-Pitre International Airport (PTP), has connections to many US and Caribbean airports.  Shuttle and taxi service is available at the airport
Boats and Ferries make trips to Martinique, St. Lucia, and Dominica.  Bareboat and crewed yacht charters are available from Windward Islands, a charter company.
Public Buses are infrequent and unreliable.
Taxis are metered and expensive.
Rental Cars are available at the airport and online through several major companies.
For more complete details on transportation and other tourist tips, please go to Wikitravel – Guadeloupe
Hotels and Diving
Many lodging options are available in Guadeloupe starting at $45 per night.  There are several dozen dive shops in operation, some within or associated with hotels, offering a full range of services that include equipment rental, diving certification classes, dive guides, and boat tours.
The website linked below has the details and can arrange a booking for the lodging.  You can easily find the location on the map provided on this site.  Their rates are guaranteed to be the lowest and it is free to cancel or change dates.
Photography in Guadaloupe
With the attractive coral reefs, huge sponges, a variety of fish, macro critters, wrecks, stingrays, dolphins, whales, and scenic shoreside targets, as well, there are many excellent photo opportunities.  For information and reviews of dive cameras, click here:
Scuba Diving Trip Insurance
A cushion for emergencies provides peace of mind when on vacation.  I recommend this diving insurance as they have worldwide coverage and give scuba divers quality insurance and medical assistance service.
Feedback and Comments
I hope you found this post on Guadeloupe scuba diving interesting and useful. If you have any questions or ideas, please feel free to share them in the comments section.  I'd love to know of any experience you have.  If there is no comments section directly below, click here:  >>comments<<