We may earn money or products from the companies mentioned in this post.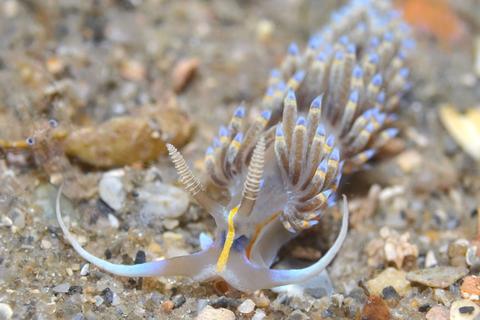 This is the one hundred and twentieth in a series of reviews of the best dive resort locations around the world.  In this post, the focus is on West Palm Beach, Florida. In addition to this series on dive resort locations, the best worldwide liveaboard diving locations and services are reviewed in their own series.  To check them out, or others in this series, click on Liveaboards/Resorts on the menu at the top and choose a title from the list.
Have you been diving in West Palm Beach before?  If so, I'd love to know about your experience.  What dive shop or liveaboard did you use?  Which dive spots are the best and what are the conditions there regarding the visibility, current, water temperature, sealife attractions, etc.?  Please post your response in the comments section at the bottom and we'll all learn something we can use.
Scuba Diving West Palm Beach Florida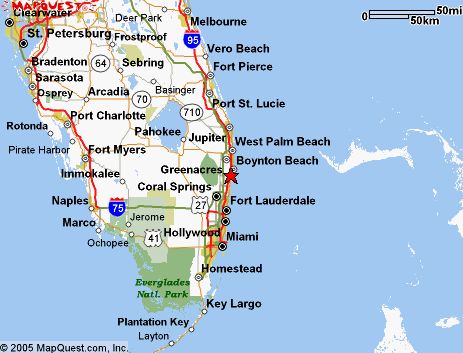 West Palm Beach is part of the South Florida metropolitan area running from Miami through Fort Lauderdale and West Palm Beach which has a total of around 6 million inhabitants.  It is the county seat with its own population of 100,000 located 68 miles (109 kilometers) north of Miami and just west of the barrier island of Palm Beach.
Undersea World – The sea around West Palm Beach provides an excellent range of diving opportunities.  The 3 parallel reef systems within a mile of shore allow boat and shore access to more than 70 dive sites on shallow and deep reefs, and wrecks.  Deep water close to shore allows the Gulf Stream to bath the area in clear water rich with nutrients and a nice drift.  There are over 300 species of fish and a big variety of soft and hard corals, sponges, and other encrusting invertebrates, great macro life, schools of fish, and pelagics.  Turtles are sighted on almost every dive with the most common being green, hawksbill, and loggerhead, with the occasion leatherback turtle making an appearance.  The Loggerhead Marinelife Center has a program to protect and promote breeding and sponsors environmental workshops, clean-ups, tours, and rehabilitation.  There is a general atmosphere promoted by the dive shops and sport divers in the area of environmental protectionism.  The Blue Heron Bridge area is world-famous for its muck diving with highlights including mimic octopus, flying gurnards, batfish, frogfish, sea robins, stargazers, and a hundred species of nudibranchs.  Other attractions found on West Palm Beach sites include 4 species of angelfish, huge Goliath groupers and green morays, lionfish, schools of barracuda, nurse sharks, cow nose rays, southern stingrays, lobster, crabs, spadefish, grunts, wrasses, parrotfish, tarpon, lemon sharks, and dolphins.
Seasons and Conditions – Diving is good all year in the West Palm Beach area.  Average daily air temperature highs hit 90°F (32°C) in August and 75°F (24°C) in the coolest month, January.  In the summer, water temperatures are in the range of 84-87°F (29-30.5°C) and in winter 72-75°F (22-25°C).  Some divers will need a 3-5 mm wetsuit when the water is at its coolest.  The Gulf Stream provides south to north current, more evident on the outer reefs and usually not strong, making for comfortable drift diving.  From June to September it rains more and hurricanes are a consideration.  Visibility ranges from 25-150 feet (8-46 meters) with the best from August to October.  There are conditions suitable for all levels of diver.  At least 24 dive shops operate in the immediate West Palm Beach area and many more on either side running along the coast.  A complete range of training, equipment rental, guiding and boat tours is offered.  There are local operators that do 3-day liveaboards on nearby dive sites.
None of the major liveaboard yachts travel to West Palm Beach.  However, there are quite a few that cruise the nearby Bahamas and other Caribbean dive sites.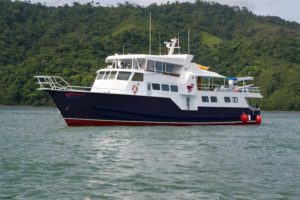 Bahamas Master, Bahamas Liveaboard Diving – Check the Price
For reviews of diving in the Bahamas and other Caribbean locations, please check out these posts: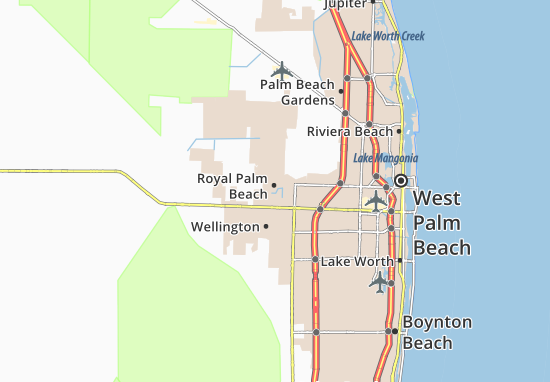 Selected West Palm Beach Dive Sites
Ziegler's Zoo: north of the inlet, 85-105 feet (26-32 meters), west side ledge topping at 85 feet (26 meters), rich in macro and larger marine life, not rich north of the site, usually a south to north drift, suitable for experienced level divers
100 Foot Caves: 84-102 feet (26-31 meters), just south of Zeigler's Zoo, inside ledge topping at 102 feet (31 meters), lots of deep undercutting caverns, small sea fans, schools of porkfish, snapper, and grunts, lots of reef tropicals, and macro life, possible south to north drift, suitable for experienced level divers
Amaryllis: 85 feet (26 meters) maximum depth, 440 foot (134 meter) Liberty ship that ran ashore in a storm in 1965, was cut apart, towed, and sunk to become an artificial reef in 1968, sitting upright in the sand oriented north/south, twisted and broken pieces, no superstructure remains, lots of fish, including angelfish, wrasses, glassy sweepers, and lobster, to the north is a sunken barge and field of concrete debris, suitable for all levels of diver
PC1170 and the Rock Pile: patrol boat scuttled to become an artificial reef in the 1960s, located between the Amaryllis and the Mizpah, not much of the boat left, huge rock pile just north of the wreck with loads of small tropicals, can continue north to the Amaryllis on the south to north drift, suitable for all levels of diver
Mizpah: 65-86 feet (20-26 meters), 185-foot (56-meter) Greek luxury liner scuttled to become an artificial reef in 1968, just south of the PC1170, cleaned up and doors removed before being sunk, lots of big barracuda and Goliath grouper, big green morays, lobsters, jacks, southern stingrays, turtles, suitable for all levels of diver
Blue Heron Bridge: 6-25 feet( 2-8 meters), off Riviera Beach just inside the Lake Worth Inlet, shore access, famous macro diving site with shopping carts, two small wrecks, 3 hammerhead shark statues, attractions include, lobsters, eels, schools of grunts, cow nose rays, seahorses, octopus, pipefish, stargazers, batfish, and manatees, beware of boat traffic, suitable for all levels of diver
Princess Anne Ferry: 100 feet (30 meters), 350-foot (107-meter) car ferry scuttled to become an artificial reef in 1993, broken apart by storms, lying north/south, lots of fish, continuously deteriorating, too dangerous to penetrate, the current is often strong, suitable for experienced level divers
South Double Ledges: 85 feet (26 meters) maximum depth, double edge reef running north/south, south of the inlet, lots marine life including corals, macro critters, schooling fish, and nurse sharks, south to north drift, suitable for experienced level divers
Breakers Reef: a number of dive sites offshore from the hotel of the same name on Palm Beach, depths of up to 80 feet (24 meters), colorful sponges and sea fans, big barrel sponges, rich marine life including schooling grunts and snapper, angelfish, spadefish, sweepers and silversides, ledges with nurse sharks and morays, gentle south to north drift, suitable for all levels of diver
Things to Do in West Palm Beach (aside from scuba diving)
Part of the opulent Gold Coast urban seaside scene, West Palm Beach still maintains a kind of small-town feel but with a large number of sites and activities for tourists of all levels.  A list to check out includes McCarthy's Wildlife Sanctuary, Lion Country Safari, Legends of Xscape, iscootpalmbeach (scooters), Panther Ridge Conservation Center, Uptown Art, Palm Beach Zoo, Norton Museum of Art, Flagler Museum, Mounts Botanical Garden, Rapids Water Park, Grassy Waters Nature Preserve, Ann Norton Sculpture Gardens, West Palm Beach Green Market, Kravis Center for the Performing Arts, Antique Row, South Florida Center and Aquarium, Okeeheelee Park, Peanut Island, Worth Avenue, Grandview Public Market, The Breakers, John D. MacArthur Beach State Park, Northwood Village, Palm Beach Outlets, Manatee Lagoon, Clematis Street, and of course Golf.
This first video provides a glimpse of some of the top sights.  The second is a broader introduction to the area for visitors and those that might want to settle there, as well.
Air – Palm Beach International Airport (PBA) is served by a number of major and regional carriers and handles general aviation needs.  It is not as busy as the Miami and Fort Lauderdale airports and is 5 minutes from downtown West Palm Beach.
Train – Amtrak stops in West Palm Beach.  Tri-Rail connects West Palm Beach with Miami.
Car – West Palm Beach is easily accessible from the Florida Turnpike and I-95.
Bus – Palm Tran has many routes and stops throughout Palm Beach County.  Greyhound has a bus station next to the Tri-Rail station downtown for long-distance service.
Taxis are readily available, metered, and expensive.
Rental Cars are available at the airport and online through many major companies.
For more complete details on transportation and other tourist tips, please go to Wikitravel – West Palm Beach
Hotels and Diving – Many lodging options are available in the immediate West Palm Beach area starting at $55 per night.  There are at least 24 major dive shops in operation, some within or associated with hotels, offering a full range of services that include equipment rental, diving certification classes, dive guides, and boat tours.  The website linked below has the details and can arrange a booking for the lodging.  You can easily find the location on the map provided on this site.  Their rates are guaranteed to be the lowest and it is free to cancel or change dates.
Photography in West Palm Beach
With the attractive coral reefs, a variety of fish, macro critters, wrecks, sharks, grouper, and scenic shoreside targets, as well, there are many excellent photo opportunities.  For information and reviews of dive cameras, click here:
A cushion for emergencies provides peace of mind when on vacation.  I recommend this diving insurance as they have worldwide coverage and give scuba divers a quality insurance and medical assistance service.
Feedback and Comments
I hope you found this post on West Palm Beach scuba diving interesting and useful. If you have any questions or ideas, please feel free to share them in the comments section.  I'd love to know of any experience you have.  If there is no comments section directly below, click here:  >>comments<<