We may earn money or products from the companies mentioned in this post.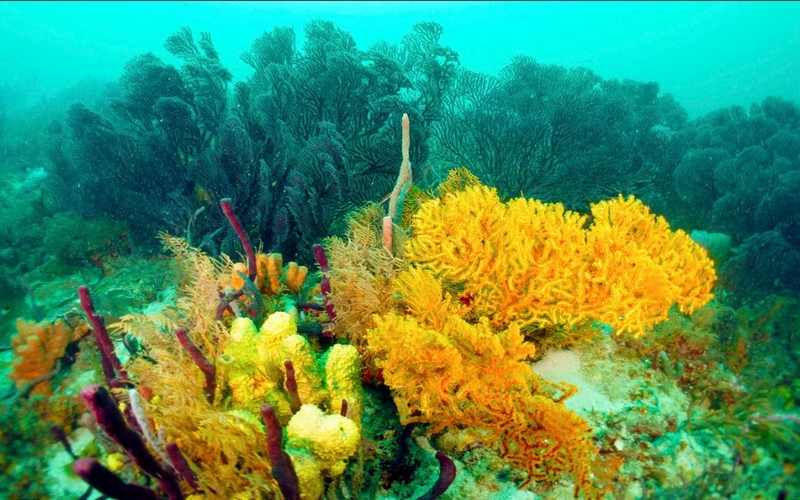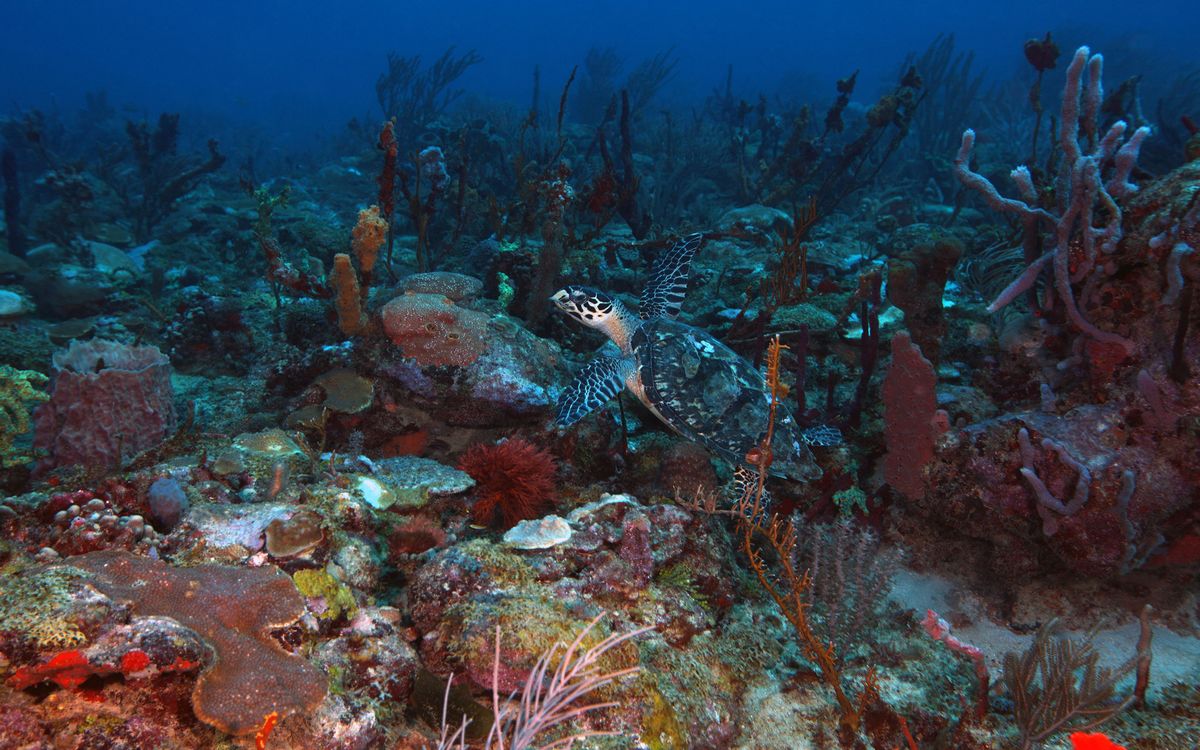 This is the twenty-first in a series of reviews of the best scuba diving destinations around the world.  In this post, the focus is on Grenada.
In addition to this series on dive resort locations, the best worldwide liveaboard dive locations and services are reviewed in their own series.  To check them out, or others in this series, click on Liveaboards / Resorts on the menu at the top and choose a title from the list.
Have you ever been diving in Grenada?  If so, I'd love to know about your experience.  What dive shop or liveaboard did you use?  Which dive spots are the best and what are the conditions there regarding the visibility, current, water temperature, sealife attractions, etc.?  Please post your response in the comments section at the bottom and we'll all learn something we can use.
Grenada Scuba Diving
Background – Set northwest of Trinidad and Tobago, northeast of Venezuela and southwest of St. Vincent and the Grenadines is the nation of Grenada.  The former French and more recently British colony, known for its production of nutmeg and mace, today has a population of 107,000 people and is a member of the British Commonwealth.  In addition to the main island of Grenada, there are many smaller islands including Carriacou and Petite Martinique.
For more demographic, geographical and cultural information on Grenada, click here: Wikipedia-Grenada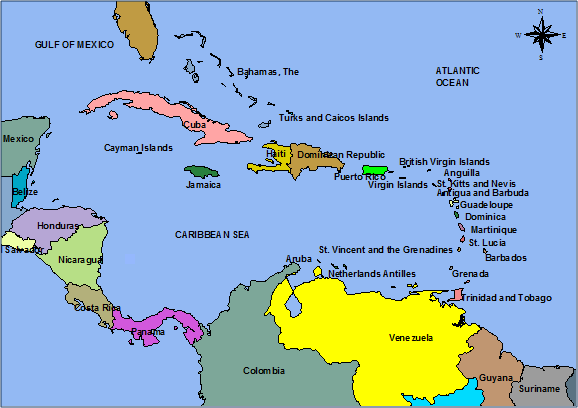 Undersea World – Situated with the Atlantic Ocean to the east and the Caribbean Sea to the west, most of the dive sites are on the Caribbean side south and west coasts.
The seascape is characterized by a rich coral reef with large tube and barrel sponges, sea fans, and whip corals on the topography of sloping shelves, plateaus, sand chutes, pinnacles, canyons, drop-offs, and steep walls.
Macro life is diverse and represented by octopus, squid, jawfish, scorpionfish, seahorses, frogfish, lobster, lettuce sea slugs, scorpionfish, banded jawfish, pipefish, and moray eels.  There are a lot of reef fish like butterflyfish, sergeant majors, triggerfish, creole wrasse and grey angelfish with wide-angle attractions that include green, hawksbill and leatherback turtles, southern stingrays, nurse, and bull sharks, yellowtail snapper, bar, and horse-eye jacks, grouper, great barracuda, Atlantic spadefish, spotted drums, rainbow runners, eagle rays, dolphins and the occasional manta ray or whale (15 species in Grenada's waters).
To top it off there are many shipwrecks that went down due to accidents or acts of nature and some that were scuttled to create artificial reefs.  Beyond that, Jason De Caires created 50 sculptures that were placed in a shallow site that has become a sort of fantastic, surreal undersea art gallery encrusted with invertebrates that help form the foundation for an abundance of life.
Seasons and Conditions – Diving is possible year-round and as you would expect at that latitude, it is always warm, with winter temperatures averaging 27°C (81°F) and summer temperatures at 30°C (86°F).  There is always a breeze to moderate.  Water temperature is likewise warm with the winter temperature at 26°C (80°F) and summer at 28°C (82°F).  The dry season is from January to May and the rainy season, which encompasses the hurricane season, is from June to December.   The visibility is generally quite good ranging from 15-30 meters (50-100 feet).
Grenada is not an area renowned for liveaboard diving, but there are many cruises in other areas around the Caribbean.  Below are several great yachts to check out: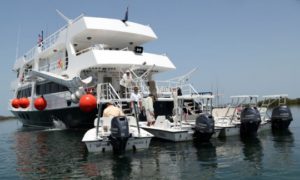 Avalon II, Jardines de la Reina Liveaboard Diving – Check the Price & Details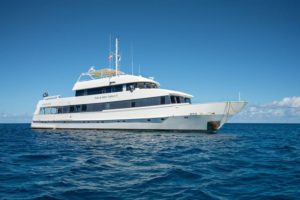 Turks & Caicos Explorer II, Turks & Caicos Liveaboard Diving – Check the Price & Details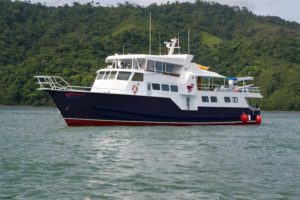 Bahamas Master, Bahamas Liveaboard Diving – Check the Price & Details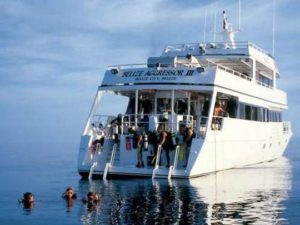 Belize Aggressor III, Belize Liveaboard Diving – Check the Price & Details
For reviews of diving in eastern Florida and other Caribbean locations, please check out these posts:
Selected Grenada Dive Sites
Flamingo Bay: to 90 feet (27 meters), part of Grenada Marine Park, a wall with copious fish life, shoals of Creole wrasses, yellow chromis, jackknife fish, grunts, grouper, jacks, rays, sponges, sea fans, seahorses, experienced level
Dragon Bay: 25-90 feet (8-27 meters), Marine Park site, sandy descent on a steep slope south to Molinere Point, volcanic rock with sand channels, hard coral, gorgonians, black coral, rich fish life with groupers, French angelfish, chromis, moray eels, beginner to advanced level and snorkelers
Whibble Reef: 60-100 feet (18-30 meters), could use as the shallower portion of multi-level dive on the Bianca C wreck, jacks, grouper, rainbow runners, blackhead and creole wrasses, lobsters, turtles, eagle rays, nurse sharks, beginner to experienced level
Purple Rain Reef: 35-100 feet (10-30 meters): runs parallel to the coastline with large schools of Creole wrasse, which are violet, angelfish, queen triggerfish, grunts, trunkfish, filefish, turtles, rays, barracuda, nurse sharks, moray eels, sea worms, colorful sponges, some current, beginner to experienced level
Selected Carriacou Island Dive Sites
The Deep Blue: 30-130 feet (9-40 meters), a wall with a strong current, second drop off at 65 feet (20 meters) to a rock garden, black coral, lobsters, nurse sharks, barracuda, turtles, experienced level
Sharky's Hideaway: 75 feet (23 meters): rock garden, canyons, caves, overhangs, purple vase sponges, grey angelfish, porcupinefish, nurse sharks, giant green moray eels, schools of copper sweepers, beginner and experienced levels
Selected Wrecks
Bianca C: divable at 100-130 feet (30-39 meters), 600-foot (180-meter) cruise liner sitting upright on a 165-foot (65-meter) bottom, sunk in 1961, pelagics, spotted eagle rays, reef sharks, great barracuda, current, advanced level
Buccaneer: 80 feet (24 meters), near Molinere Reef, sloop on the starboard side, retained superstructure, swim through, octopus, barracuda, experienced level
MV Veronica: 45 feet (14 meters), 83-foot (25-meter) cargo ship with open hold, crane, moray eels, frogfish, seahorses, all levels
MV Shakem: 100 feet (30 meters), 180-foot (54-meter) cargo ship filled with cement, sunk in 2001 near St. George harbor, bridge, Captain's quarters, engine room intact, sea fans, soft corals, experienced level
MV Hema I: 100 feet (30 meters), coastal freighter 3 miles off the south coast, nurse and reef sharks, spotted eagle rays, current, advanced level
MV Hildur: 115 feet (35 meters), cargo ship scuttled to create an artificial reef in 2007, in Grand Mal Bay near St. Georges, large groupers, barracuda, school of Atlantic spadefish, advanced level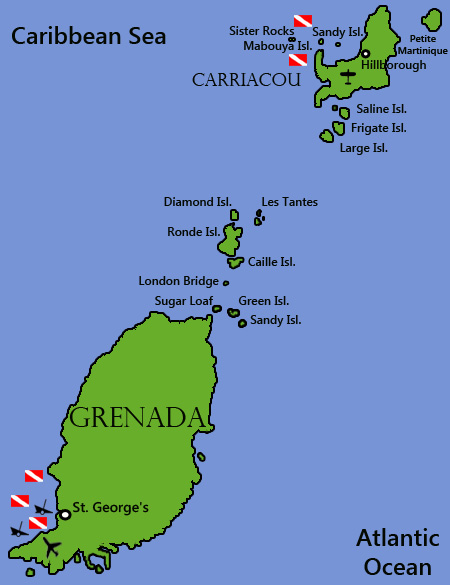 Grenada Accommodation
The Grenada Maurice Bishop International Airport provides service to 10 different airlines from the US, Canada, Britain, Europe, and other countries in the Caribbean.  There are also boats and ferry services from several nearby islands.
In Grenada, there are dozens of hotels and resorts.  Pricing runs from around $65/night on up.  As for the diving, there are 10 or more dive shops in operation on Grenada and Carriacou islands.  This website is a good source for the available housing options and can arrange a booking:
Grenada Things To Do (aside from scuba diving)
There are a myriad of interesting activities and events in Grenada to round out a vacation there:  wildlife tours, St. Georges city, restaurant, BBQ and bar scene, sailing, island hopping and other water activities, Hash House Harriers, Friday Bonfire, Fort George tour, Belmont Estate cocoa processing tour, River Antoine Rum Distillery tour, Levera National Park hiking, cycling, and many, many others.
Grenada Photo Opportunities
With the macro life, beautiful, diverse coral reef and lots of fish, there are many excellent photo opportunities.  For information and reviews of diving cameras, click here:
A cushion for emergencies provides peace of mind when on vacation.  I recommend this diving insurance as they have worldwide coverage and provide scuba divers a quality insurance and medical assistance service.
Feedback and Comments
I hope you found this post on Grenada scuba diving interesting and useful. If you have any questions or ideas, please feel free to share them in the comments section.  I'd love to know of any experience you have diving there.  If there is no comments section directly below, click here:  >>comments<<