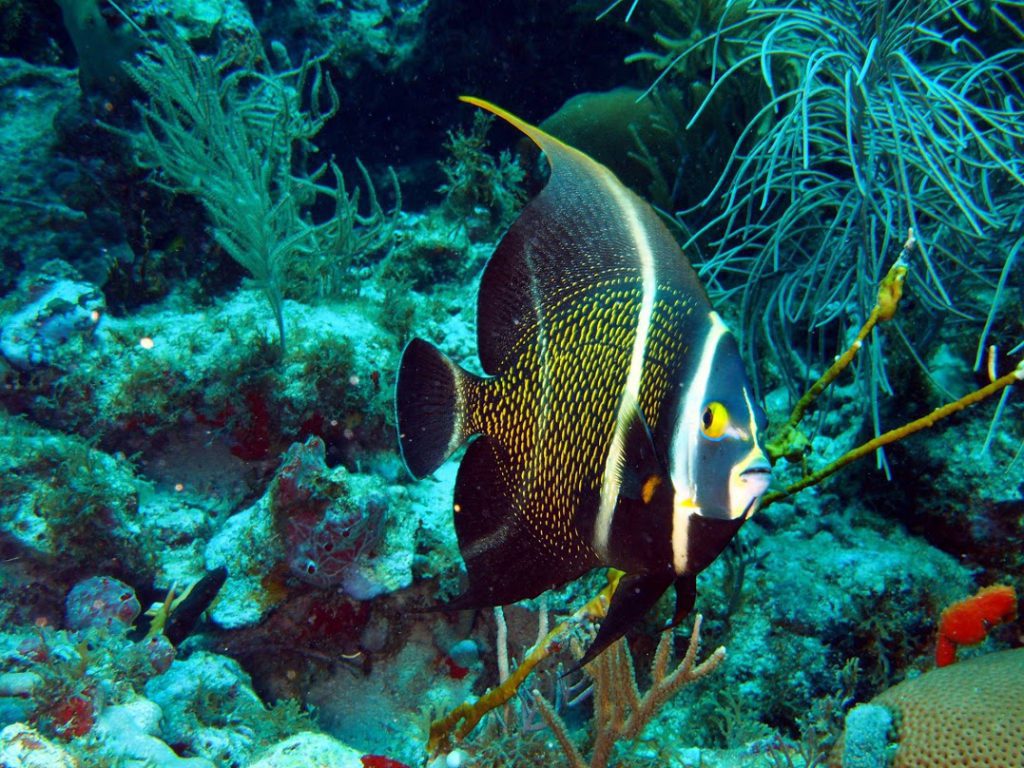 Updated June 16, 2021
This is the one hundred and tenth in a series of reviews of the best scuba diving destinations around the world.  In this post, the focus is on Anguilla. In addition to this series on dive resort locations, the best worldwide liveaboard diving locations and services are reviewed in their own series.  To check them out, or others in this series, click on Liveaboards/Resorts on the menu at the top and choose a title from the list.
Have you ever been diving in Anguilla before?  If so, I'd love to know about your experience.  What dive shop or liveaboard did you use?  Which dive spots are the best and what are the conditions there regarding the visibility, current, water temperature, sealife attractions, etc.?  Please post your response in the comments section at the bottom and we'll all learn something we can use.
Scuba Diving in Anguilla
Background
The British overseas territory of Anguilla consists of the main island, which is 26 kilometers (16 miles) long and 4.8 kilometers (3 miles) wide, and a number of smaller islands.  It is situated just north of Saint Martin and east of the Virgin Islands and Puerto Rico.
The archeological record indicates that Amerindians from South America first settled there around 1,300 BC.  There is some controversy about exactly who from Europe and when contact and settlements occurred after that, but it seems fairly clear that the English arrived from St. Kitts in 1650.  It is likely the first of these settlers brought African slaves with them.  The English with a few hiccups maintained control in one form or another until 1980 when Anguilla became a separate UK dependency.
Today the population of 15,000 is 90% black and the national language is English with Anguillian Creole, based on English, the language of the street.  The main island is flat and low lying, the highest point being Crocus Hill at 65 meters (213 feet).  With few natural resources, the economy is based on tourism, offshore banking, lobster fishing, and remittances from emigrants.
For more demographic, historical, and cultural information on Anguilla, please go here:  Wikipedia – Anguilla
Undersea World
Anguilla has beautiful clear blue water and white coral sands with dozens of dive sites under the protection of 7 marine parks.  The double reef is close to shore and includes mini-walls with marine life typical of Eastern Caribbean reefs.
There is excellent visibility on a healthy reef with a nice variety of hard and soft corals, gorgonians, and sponges.  Marine life includes conchs, lobster, eels, stingrays, eagle rays, tarpon, sharks, turtles, barracuda, pelagics, and an abundance of reef tropicals like angelfish, and grunts.  Migrating whales are also a possibility.
A major attraction is 9 big shipwrecks, many scuttled to become artificial reefs, and some historic, like the 960 ton El Buen Consejo, a Spanish Galleon that rests on the seabed with 29 cannons and 3 anchors,

Seasons and Conditions 
Diving is possible all year in Anguilla.
Air temperature is always warm with daily averages between 26-29°C (78-84°F) all year.
Water temperature hits lows in winter of 26°C (79°F) and highs in summer of 29.5°C (85°F).  A 3mm wetsuit is probably the most thermal protection needed when the water is at its coolest.
The wettest months are September through November.  The possibility of Hurricanes and tropical storms is greatest during that time frame.  The driest month is February.
Current – Generally the currents are pretty mild but it is possible for stronger currents on some sites.
Visibility is normally quite good with a range of 10-30 meters (35-100 feet).
There are sites suitable for all levels of diver. A number of dive shops are located in hotels and others that are separate operations.  Between them, you can find a full range of diving coursework, equipment rental, guiding, and boat cruises.
Caribbean Liveaboard Diving
None of the major liveaboard yachts dive on Anguilla.  There is a liveaboard that cruises nearby St. Kitts.  Here is my review that covers several Caribbean liveaboard locations, and links to the St. Kitts liveaboard: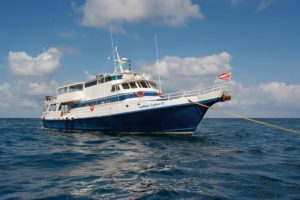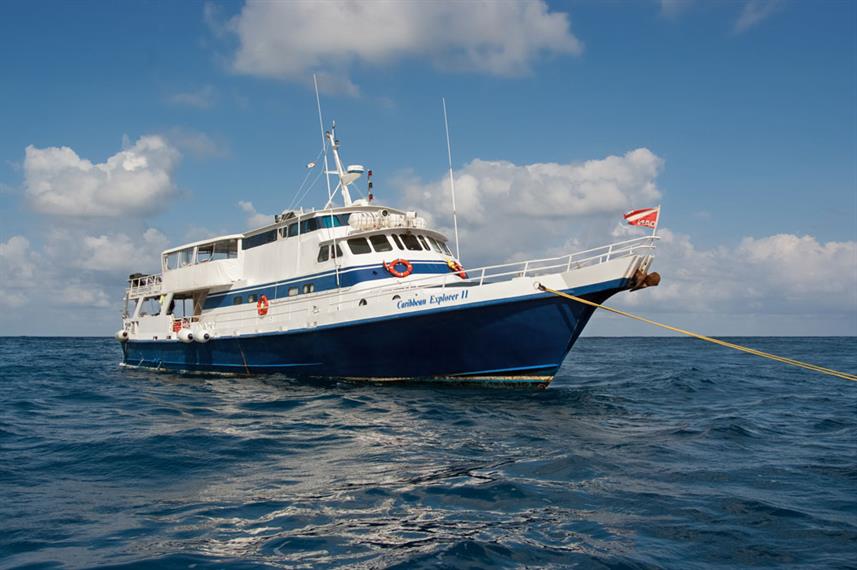 MV Caribbean Explorer II, St. Kitts Liveaboard – Check the Price
Here are my reviews of eastern Florida and other Caribbean dive locations and liveaboards: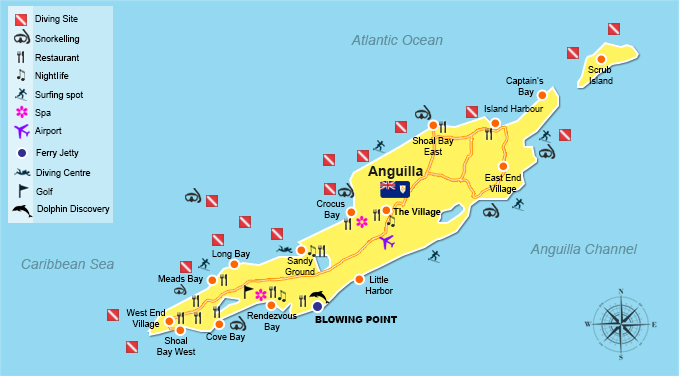 Selected Anguilla Dive Sites
Blowing Rock: 12 meters (40 feet) maximum depth, great visibility, rich corals, eels, lobsters, and reef tropicals, barracuda, and reef sharks often sighted, suitable for all levels of diver
Dog Island: 27 meters (90 feet), a couple of sites, Devil's Wall and West Cay, rich hard and soft corals, interesting macro life in the nooks and crannies, tarpon, sharks, and barracuda often sited, suitable for experienced level divers
MV Catheley H: 15 meters (50 feet), 33-meter (110-foot) boat scuttled to become an artificial reef in 1993, marine life includes encrusting corals and invertebrates, lobster, octopus, eels, stingrays, and bar jacks, suitable for all levels of diver
MV Oosterdiep: 23 meters (75 feet), 150-foot (46-meter) ship built in the Netherlands in 1957, ran aground in Road Bay Harbour, was salvaged then scuttled to become an artificial reef northwest of Meads Bay in 1990, rests on a sandy bottom in a bed of garden eels, lots of Pederson cleaner shrimps, banded coral shrimps, and arrow crabs, other attractions include fireworms, snappers, jacks, and blue tangs, suitable for all levels of diver
Anguillita: 18 meters (60 feet), a small island west of Anguilla, undersea terrain of small walls, marine life includes moray eels, lobsters, and cleaner shrimp, a sandy area has other possibilities like big tarpon, southern stingrays, and eagle rays, suitable for all levels of diver
Sarah: 24 meters (80 feet), 76-meter (250-foot) steel shipwrecked in 1984 during Hurricane Klaus, scuttled to become an artificial reef in 1990, rests upright on a sandy bottom, mostly intact, accessible at 12 meters (40 feet), suitable for all levels of diver
Frenchman Reef: 15 meters (50 feet), a large reef of rock formations, and hard and soft corals in Bedham Bay, attractions include nurse sharks, stingrays, lobster, and barracuda, suitable for all levels of diver
Commerce: 18-24 meters (60-80 feet), 150-foot (46-meter) cargo ship damaged in Hurricane Klaus in 1984 and subsequently scuttled to become an artificial reef, rests on a slope, cargo of old cars, machine parts, and a broken crane remain on the deck, the propeller is intact, the bow rests on the original coral reef, lots of schooling fish and lobsters, suitable for all levels of diver
Things to Do in Anguilla (aside from scuba diving)
The following video is a nice introduction to the relaxed seaside atmosphere, scenic beauty, and culture of Anguilla:
Anguilla Transportation, Hotels, and Diving Services
Transportation
Air – Clayton J. Lloyd International Airport (AXA) serves this island nation.  Regional carriers connect to Anguilla from San Juan, Puerto Rico.  No direct flights come from Europe or mainland USA.  There are a number of direct flights to nearby St. Martin from the US and Europe.
Ferries from Marigot in St. Martin to Blowing Point, Anguilla run every 45 minutes starting at 7 am and take 25 minutes
Fast boats between Blowing Point and Princess Juliana Airport (Sint Maarten) run on a regular schedule and take 30 minutes.
Taxi service on Anguilla is unmetered with set rates.  Island tours are also offered.
Rentals – Cars are available to rent from major and local agencies.  Mopeds and bicycles are also for rent.
For more complete details of tourist information, please go here:  Wikivoyage – Anguilla
Hotels and Diving
Lodging options around Anguilla start at $80 and run to $1,250 per night.  There are a number of dive shops in operation with services that include equipment rental, diving certification classes, dive guides, and boat tours.  Some of the hotels also offer diving.
The website linked below has the details and can arrange a booking for the lodging.  You can easily find the location on the map provided on this site.  Their rates are guaranteed to be the lowest and it is free to cancel or change dates.
Photography in Anguilla
With the beautiful coral reefs, a variety of fish, macro critters, historic wrecks, and scenic shoreside targets, as well, there are many excellent photo opportunities.  For information and reviews of dive cameras, click here:
Scuba Diving Trip Insurance
A cushion for emergencies provides peace of mind when on vacation.  I recommend this diving insurance as they have worldwide coverage and give scuba divers quality insurance and medical assistance service.
Feedback and Comments
I hope you found this post on Anguilla scuba diving interesting and useful. If you have any questions or ideas, please feel free to share them in the comments section.  I'd love to know of any experience you have.  If there is no comments section directly below, click here:  >>comments<<