We may earn money or products from the companies mentioned in this post.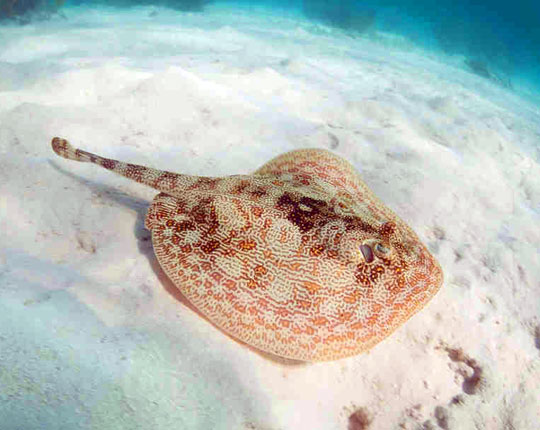 This is the one hundred and twenty-fourth in a series of reviews of the best scuba diving destinations around the world.  In this post, the focus is on Ambergris Caye, Belize. In addition to this series on dive resort locations, the best worldwide liveaboard diving locations and services are reviewed in their own series.  To check them out, or others in this series, click on Liveaboards/Resorts on the menu at the top and choose a title from the list.
Have you been diving in Ambergris Caye before?  If so, I'd love to know about your experience.  What dive shop or liveaboard did you use?  Which dive spots are the best and what are the conditions there regarding the visibility, current, water temperature, sealife attractions, etc.?  Please post your response in the comments section at the bottom and we'll all learn something we can use.
Scuba Diving Ambergris Caye Belize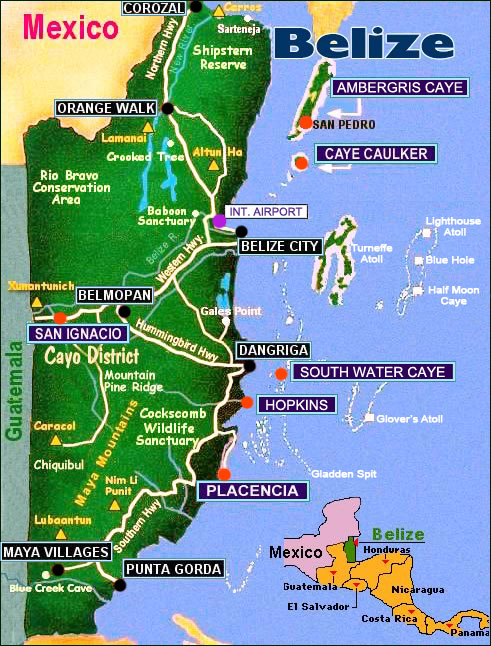 Background – Situated off the northern coastline of Belize, Ambergris Caye is the largest of hundreds of islands in the region at 40 kilometers (25 miles) in length and 1.6 kilometers (1 mile) wide.  Originally the circumference consisted of white sand beaches that surround a mangrove swamp.  Man's modifications have virtually eliminated the beaches on the east side.  With a population of 14,000, San Pedro is the only town on the island, though there are several villages and numerous resorts.  Tourism started developing in the 1970s due to the beaches (check out Secret Beach in the north) and the proximity to the world's second-largest barrier reef which provides excellent scuba diving.  There are a number of expat residents and tourists from near and far who come for the laid back ambiance of this tourist destination with no high rises or public transportation.  As part of a former British colony, English is widely spoken.
Undersea World – Along the east coast of Ambergris Caye a 'spur and groove' reef runs parallel to the shoreline.  If this term is unfamiliar, 'spur and groove' reefs consist of long fingers that extend out into the ocean from and are perpendicular to the main reef that is parallel to shore.  These fingers create a series of canyons and gullies with arches and ledges providing habitat for a variety of marine life to take refuge.  At the southern end of the island are a series of reefs and small cayes with protected shallow areas that includes the famous Shark-Ray Alley dive site.  In this area are several types of eco-system including seagrass beds, mangrove cayes, and lagoons, all harboring different mixtures of marine life.  Not far from Shark-Ray Alley is the Hol Chan Marine Reserve, one of several protected areas in Ambergris Caye which is part of a larger environmental initiative that also features the installation of mooring buoys.
There are 70 varieties of hard coral and 30 of soft coral but the distinguishing feature is lots of colorful barrel, tube, and vase sponges and sea fans on a healthy reef.  There is not the volume of fish here like there is in many areas of the Caribbean but there is a relatively large number of species.  One highlight is numerous of nurse sharks to go along with blacktip sharks and occasional hammerheads.  There are southern, Caribbean, and yellow stingrays, eagle rays and much less frequently seen manta rays.  Other larger marine life that is common includes green, hawksbill, and loggerhead turtles, black, tiger, and Nassau groupers, tarpon, dolphins, and schools of horse-eye jacks and barracuda.  The smaller reef inhabitants include morays, schools of grunts and snappers, schoolmasters, queen triggerfish and angelfish, trumpetfish, blue tangs, squirrelfish, parrotfish, spadefish, and macro critters like scorpionfish, octopuses, reef squid, lobster, spider crabs, and many others.
Seasons and Conditions – Diving is great all year on Ambergris Caye.
Air temperature average daily highs range from 27°C (81°F) to 31°C (88°F).  The warmest months are April through September.
The water temperature annual range is 25-29°C (77-84°F).  A 3mm wetsuit will likely be sufficient when the water is at its coolest.
The dry season runs from February through April with September and October the wettest months.
Currents are usually weak to non-existent with some exceptions.  Offshore sites may have some surface chop.
Visibility is pretty good in the 10-24 meter (33-80 foot) range.
There are sites suitable for all levels of diver.  Dozens of dive shops operate around Ambergris Caye, some in or associated with hotels, that offer a full range of diving coursework, equipment rental, guiding, and boat cruises.
There are not any liveaboard yachts diving on Ambergris Caye, however, there are two world-class liveaboard dive safaris to Belize with diving on Turneffe Atoll and Lighthouse Reef including The Blue Hole.  Here is my review and links to the two vessels: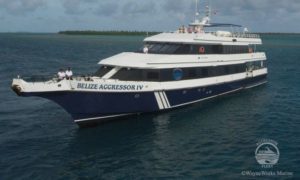 Belize Aggressor IV, Belize Liveaboard Cruise – Check the Price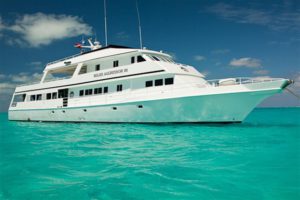 Belize Aggressor III, Belize Liveaboard Cruise – Check the Price
For reviews of diving in eastern Florida and other Caribbean locations, please check out these posts:

Selected Ambergris Caye Dive Sites
Bacalar Chico Canyons:  pristine little dived site in the far north, spur and groove reef fed by mangrove rivers, rich marine and bird life
Rocky Point Canyons: 21-24 meters (70-80 feet), pristine reef, spur and groove canyons, pelagics and tarpon possible, suitable for experienced level divers
Palmero Point: northern currents have carved out arches and created a pointed reef formation, stronger currents possible, possible pelagics and eagle rays, suitable for experienced level divers
Punta Arena (Small Cut): 18-30 meters (60-100 feet), steep walls and numerous caverns, a huge triangular opening decreases in diameter to a narrow tunnel leading to two canyons, nurse sharks, turtles, and giant jawfish are possibilities, schools of sweepers at the tunnel exit, ascending up the reef are lobster, horse-eye jacks, and great barracuda, possible eagle rays and manta rays if you are lucky, suitable for experienced level divers
Tres Cocos: 15-35 meters (50-115 feet), spur walls rich with vase and red rope sponges, sea fans and whips, lobster, Pederson shrimps, blue-headed wrasse, gray angelfish, parrotfish, porkfish, Atlantic spadefish, groupers, spotted eagle rays, and horse-eye jacks are all often present, suitable for all levels of diver depending on the depth
Tackle Box Canyons: reef top rich in hard corals like elkhorn, brain, and yellow pencil, vase, basket, and rope sponges, descending into deep, narrow canyons, tunnels and caves, lobsters, schools of grunts and sweepers, and macro life hunkered in nooks, crannies, cave openings, and recesses,  nurse sharks and turtles likely, possible blacktip sharks, suitable for experienced level divers
Cypress Canyons: mushroom-shaped coral bommies and elkhorn coral provide shelter for rich macro life, schools of snapper, good lighting for photography, suitable for all levels of diver
Hol Chan Cut (in the Hol Chan Marine Reserve): 9 meters (30 feet) maximum depth, rich nutrients enable abundant marine life, seagrass beds, and mangrove areas are in the "cut" in the barrier reef, sea fans and sponges, morays, crabs, tarpon, permit, schools of grunts and snappers, black groupers, and schoolmasters, turtles and manatees feed on the seagrass, suitable for all levels of diver
Shark-Ray Alley: a shallow site where nurse sharks and southern stingrays have been fed fishing remains by fishermen cleaning their catch, it's possible to get up close to these docile creatures, a small wreck is nearby, other marine life includes horse-eye jacks, silver porgies, blue runners, and halfbeaks, suitable for snorkelers
Things to Do in Ambergris Caye (aside from scuba diving)
Beach life and water sports aside, a very active bar, restaurant, and nightlife scene is the main attraction.  Some more unusual highlights to check out include Bingo at the Lion's Den, Chicken Drop (betting on where chickens leave their stuff), Bowling at the Beach at Cozy Coconuts, and Crab Races.  Some more traditional tourist sites are Bacalar Chico National Park and Marine Reserve, Belizean Arts Gallery, San Pedro Originals (art gallery), the Catholic Church, and in the third week of June, the Lobster Festival.  This site has a long list of attractions including bars and restaurants with descriptions of what is on offer:  Top Things to do in Ambergris Caye
Here are a couple of short videos to give you a glimpse:
Plane – You can fly to John Greif II Airport next to San Pedro town on Ambergris Caye from the municipal airport or Phillip Goldson International Airport in Belize City.  It takes 20 minutes.  Domestic flights are also available from Corozal, Belmopan, and Cay Caulker.
Boat – There are multiple daily trips to Ambergris Cay from Belize City and Caulker Caye on San Pedro Belize Express.  There are also 14 first-class boats to and from Ambergris Caye from Mexico and the Yucatan Peninsula.
Water Taxis are offered by some of the beachside resorts and dive shops.
Golf Carts are the predominant form of transportation and available for rent by the day or hour.
Bicycles are also for rent and convenient for transportation in and around town.
Walking is feasible if you are in San Pedro or one of the many nearby resorts.
For further details on transportation and other tourist tips, please go to Wikitravel – Ambergris Caye
Hotels and Diving – There are more than a hundred lodging options on Ambergris Caye from $13 to $864 per night.  Dozens of dive shops are in operation, some within or associated with hotels, offering a full range of services that include equipment rental, diving certification classes, dive guides, and boat tours.  The website linked below has the details and can arrange a booking for the lodging.  You can easily find the location on the map provided on this site.  Their rates are guaranteed to be the lowest and it is free to cancel or change dates.
Photography in Ambergris Caye
With the colorful gorgonians, sponges, and coral, a variety of fish, macro critters, caves, grouper, wrecks, and scenic shoreside targets, as well, there are many excellent photo opportunities.  For information and reviews of dive cameras, click here:
A cushion for emergencies provides peace of mind when on vacation.  I recommend this diving insurance as they have worldwide coverage and give scuba divers a quality insurance and medical assistance service.
Feedback and Comments
I hope you found this post on Ambergris Caye scuba diving interesting and useful. If you have any questions or ideas, please feel free to share them in the comments section.  I'd love to know of any experience you have.  If there is no comments section directly below, click here:  >>comments<<