We may earn money or products from the companies mentioned in this post.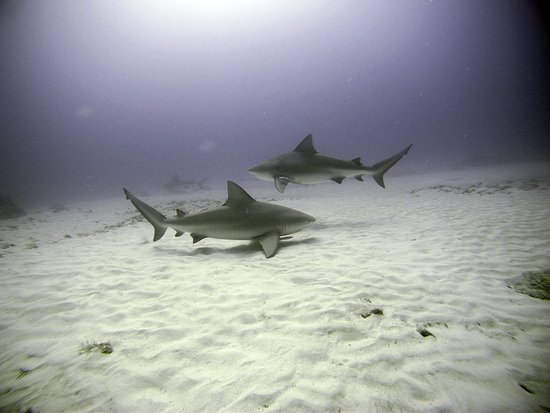 This is the one hundred and eighty-third in a series of reviews of the best diving destinations around the world.  In this post, the focus is on Playa del Carmen, Mexico. In addition to this series on dive resort locations, the best worldwide liveaboard diving locations and services are reviewed in their own series.  To check them out, or others in this series, click on Liveaboards/Resorts on the menu at the top and choose a title from the list.
Have you ever been diving in Playa del Carmen before?  If so, I'd love to know about your experience.  What dive shop or liveaboard did you use?  Which dive spots are the best and what are the conditions there regarding the visibility, current, water temperature, sealife attractions, etc.?  Please post your response in the comments section at the bottom and we'll all learn something we can use.
Scuba Diving Playa Del Carmen Mexico
Background – Playa del Carmen is located on the Riviera Maya coast of the Yucatan Peninsula 70 kilometers (44 miles) south of Cancun, 20 kilometers (12 miles) west of the island of Cozumel, and 65 kilometers (41 miles) north up the coastline from Tulum.  Originally a fishing town, it developed traffic as a ferry port for trips to Cancun, the regional scuba diving and resort colossus.  Recent growth has been fast with a lot of investment in luxury condos, restaurants, and entertainment venues.  With a more relaxed atmosphere than Cozumel or Cancun, today it is a major tourist destination with a population of over 250,000.  It is the home of the Mayakoba Golf Classic, a top-level stop on the PGA Tour as a FedEx Cup golf tournament and the setting for several popular TV shows.  The coastal location in the middle of the Riviera Maya makes it a good base from which to tour and enjoy the Mayan ruins, cenotes, and other natural attractions of the Yucatan.
For additional demographic, historic, and cultural information, please check Wikipedia-Playa del Carmen.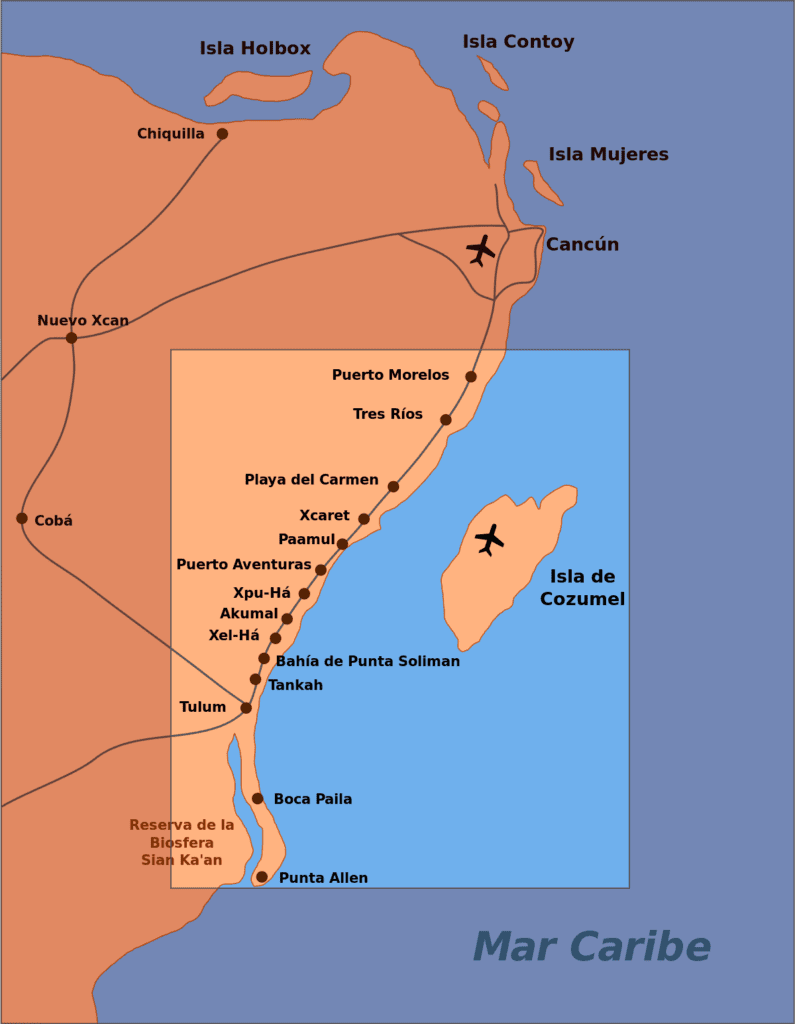 Underwater World – The centralized location on the Riviera Maya of Playa del Carmen gives divers access to a nice variety of reef and wreck dives very close by just offshore.  Along the coastline both to the north and south are many outstanding sites like Banco Chinchorro possible on day trips, as well as the Cozumel sites 30 minutes to an hour away to the east.  In addition, most of the top cenotes require only a short drive to get to.
For my reviews of diving in Tulum, Banco Chinchorro, Cancun, and Cozumel, please check out these posts:
The nearby local sites are mostly on the rich fringing reef with more than two dozen coral species consisting of sea fans, gorgonians, and hard and soft corals along with colorful vase and tube sponges.  There are crevices, canyons, swim-throughs, and caverns with limestone outcrops and sandy bottoms.  Megafauna highlights that Playa del Carmen is famous for are bull sharks that reliably come from November through March, whale sharks from May to mid-September, and green and loggerhead turtles that nest from May through September.  Otherwise, macro photographers will enjoy the crabs, shrimps, morays, seahorses, octopus, spiny lobsters, and many others in the nooks and crannies.  500 or more species of fish are reef residents like butterflyfish, angelfish, sergeant majors, parrotfish, trumpetfish, surgeonfish, porkfish, grunts, snappers, batfish, Caribbean reef and nurse sharks, huge southern stingrays, marble rays, eagle rays, groupers, and tarpon.
Of the 6,000 cenotes on the Yucatan Peninsula, 9 of the world's best for scuba diving are within a driving range of an hour or two from Playa del Carmen.  Unmatched anywhere, they offer spectacular chambers of stalagmite and stalactite formations, intricate passageways, historical remains, wildlife, and unusually clear water.
Seasons and Conditions – Diving is possible all year in the Playa del Carmen area.  December through April is the busiest time.  Early booking is advised.  Whale sharks are most prevalent from May to mid-September and bull sharks from November through March.
Air temperature average daily highs range from 28°C (82°F) to 33°C (91°F).
The water temperature in summer is 28-30°C (82-86°F).  In winter it can be a little cooler at
25-27°C (77-81°F).  A 3mm wetsuit will be sufficient for most divers when the water is at its coolest.  The cenotes can be much cooler in the 20-26°C (68-78°F) range.
The strongest rains come from June through October with 10-16 days of rain per month during that time frame.  This is also the season when there is a possibility of hurricanes.
Currents are often present on marine dives and can be strong at times.
Visibility is pretty good in the 15-30 meter (50-100 foot) range.  The best is from May to mid-September.
There are sites suitable for all levels of diver.  Over 60 dive shops operate in Playa del Carmen, some associated with hotels, that offer a full range of diving coursework, equipment rental, guiding, and boat cruises.  Some of the shops specialize in services provided but overall they can offer local ocean dives, trips to sites along the Riviera Maya and Cozumel, and to the top cenotes in the region.
Liveaboards
There are not any liveaboard yachts diving at Playa del Carmen, however, there are several world-class dive safaris to relatively nearby Belize, Roatan, and the Caymans.  Here are links to the vessels followed by my reviews of diving and liveaboards at Caribbean destinations including these three: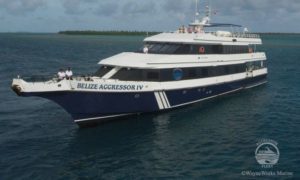 Belize Aggressor IV, Belize Liveaboard Cruise – Check the Price & Details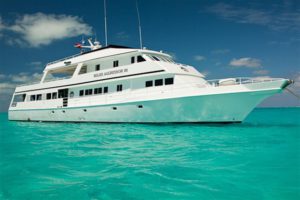 Belize Aggressor III, Belize Liveaboard Cruise – Check the Price & Details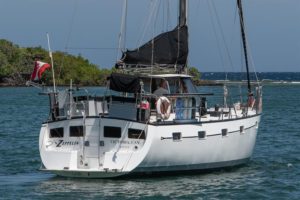 Roatan Aggressor, Roatan Liveaboard Cruise – Check the Price & Details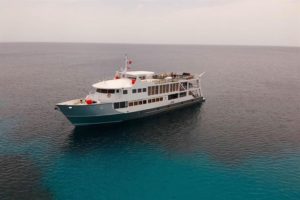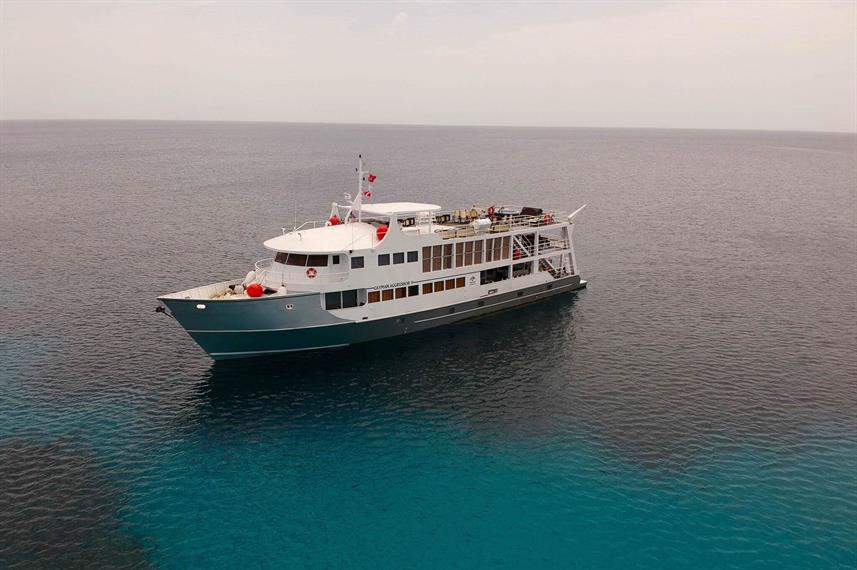 Cayman Aggressor V, Cayman Island Liveaboard Cruise – Check the Price & Details
Selected Playa del Carmen Dive Sites
Marine Sites
Sabalos (Tarpon): 15 meters (50 feet), 10 minutes away by boat, rich hard and soft corals, sloping walls, with small caverns, and sand bottoms, schools of grunts and snappers, green and leopard moray eels, tarpon schools are possible, mild current, suitable for all levels (check out the video at the top)
Pared Verde: 20-30 meters (68-100 feet), 25-minute boat ride to the south, walls with rich corals, sea fans, and sponges, look for crabs, spiny lobsters, moray eels, lots of reef tropicals, stingrays, sharks, and turtles, current is possible, usually dived as a drift, look for a cavern with a chimney to the top of the reef, suitable for experienced levels
Punta Venado: 25-35 meters (82-115 feet), southernmost local site, rich in colorful sponges, and hard and soft corals, mild sloping bottom, look for schools of reef tropicals, moray eels, rays, and turtles, special site to reliably encounter numerous bull sharks in the winter season, moderate to strong current is possible, suitable for experienced levels
Los Arcos: 35 meters (115 feet) maximum depth, northern site, deep swim-through arches encrusted with sponges, sea fans, and hard corals, look for spiny lobsters, crabs, shrimps, and morays in the nooks and crannies, in sandy areas attractions are turtles, groupers, and stingrays, strong current possible, suitable for advanced levels
Mama Viña Wreck: 28 meters (90 feet), southern site, shrimp boat scuttled to become an artificial reef in 1995, resting upright on a sand bottom, well encrusted with invertebrate growth, rich corals, look for a big school of resident barracuda around the mast, penetration possible into lower decks and rooms, the propeller is in place, strong current is possible, suitable for advanced levels
Jardines: 6-12 meters (20-40 feet), 5 minutes from the marina, rich coral marinescape with a small wall, expect moray eels and lots of reef fish like angelfish, butterflyfish, sergeant majors, grunts, and many others, bull sharks are possible in winter, currents are usually mild, suitable for all levels
Tortugas:  18-40 meters (60-130 feet), 15 minutes from the marina to the southeast, can be dove shallow or deep, lots of sponges and corals, highlights are crustaceans, angelfish, nurse sharks, groupers, tarpons, and many none too shy turtles, current normally runs south to north, suitable for experienced to advanced levels
Cenotes
Chac Mool Cenote:  12 meters (40 feet) maximum depth, three water entrances to the Chac Mool System, most of the dive is dark requiring a torch, no open water is overhead for much of the dive, through the main entrance is a large dome room with ambient light where divers can surface and find fossils and stalactites, water temperature 24-25°C (75-77°F), suitable for advanced and technical levels
Kukulkan Cenote: 15 meters (50 feet) maximum depth, part of the Chac Mool system, lots of sunlight creates beautiful visual effects, formed from pure white limestone, many open areas, fossils, and stalactites are visible, excellent visibility from 25-30 meters (82-100 feet), water temperature usually around 26°C (78°F), suitable for experienced levels (check out the video above)
Dos Ojos (Two Eyes):  8-10 meters (24-40 feet), two cenotes connected making one of the ten largest cave systems in the world, worth two or more dives, not completely explored with expeditions to only 61 kilometers (38 miles) of passageways, two main sections, one called Barbie with lots of light, the other called Bat Cavern which is dark with lots of bats, many stalactites and stalagmites, limestone caves, and sinkholes, several fish species and freshwater shrimp, average water temperature is 24°C (77°F), suitable for all levels
Playa del Carmen Resorts, Transportation, and Dive Shops
Air – Playa del Carmen has a small airport.  There is also an international airport on Cozumel that requires you to catch a ferry in order to reach Playa del Carmen.  Generally, the cheapest and most convenient airport is Cancun International Airport (CUN) which connects to 30 countries and 20 destinations within Mexico.
Bus – From the Cancun Airport, an ADO bus departs every 30 minutes to 1 hour for Playa del Carmen.  Travel time is 45 minutes to one hour.
Rental cars are a convenient option available at the airport and in town from major agencies, especially at the north end of 5th Avenue.
Hotels can often arrange airport transfers.  Private companies are available for this, as well.  Check with your hotel, online, and at Wikitravel.
Taxis in Playa del Carmen are unmetered but reasonably priced based on rates from zone to zone.  Quinta Avenida (5th Avenue) is a pedestrian-only zone with taxis available at major intersections for travel away from there.
Boats to Cozumel are available from at least two companies with hourly departures for a journey of 30 minutes one way.
Several levels of buses are available for regional trips.  There is a scheduled public bus service to most destinations.  Reasonably priced First-class ADO buses leave every hour for many major tourist destinations.  Second class Mayab buses travel along the highway to Tulum, making stops along the way.  Colectivo shared vans are a popular government-regulated alternative traveling along the coast between Cancun and Tulum.  Pricing is reasonable and they will drop you off along the route as needed but no door to door service is offered.  Organized bus tours are also available from many companies for trips to a variety of tourist destinations.
For further details on transportation and tourist information, please check Wikitravel-Playa del Carmen.
Lodging and Dive Shops – There are more than 60 dive shops in the Playa del Carmen area that offer full services including equipment rental, dive courses, guiding and boat dive cruises.  Some can make trips to more distant locations along Riviera Maya and Cancun and also dive the top-rated local cenotes.  There are more than 1,000 lodging options starting at $24 some of which are associated with the dive shops.  The website linked below has the details and can arrange the booking for the lodging.  You can easily find the location on the map provided on this site.  Their rates are guaranteed to be the lowest and it is free to cancel or change dates.
Things to do in Playa del Carmen (aside from scuba diving)
Playa del Carmen is the major tourism center along the beach of the Riviera Maya offering a full package of attractions and activities whether it be nightlife, food, and shopping, the beach and water sports, beautiful natural sites, or archaeological ruins.  Here is a shortlist of some of the highlights to look into:
Sailing, Stand-Up Paddleboarding, Jet Skiing, Parasailing, Jungle Buggy Tours, Golf, Xcaret, Xplor, and Xel Natural and Adventure Parks, Frida Kahlo Museum, 3D Museum of Wonders, Local Beaches – Mamitas, Playacar, Punta Esmeralda, Beach Day Trips, Xpuha, Xcacel, Nearby Cenotes, Mayan Ruins – Tulum, Coba, Chichen Itza, Swim with turtles at Akumal Beach, Boat to Cozumel, Parque Fundadores, Rio Secreto Cave Tour, Taco Tour – El Gogon, Don Sirloin, Alux Cave Restaurant, Nightlife – Mandala, La Vaquita, Coco Bongo, Salsa Dancing at Zenzi, Quinta Avenida (5th Avenue) Shopping and Nightlife.
This short video is a very brief introduction to what awaits you in Playa del Carmen.
Photography in Playa del Carmen
With the interesting undersea terrain, cenotes, beautiful hard and soft corals, sea fans, a variety of fish, turtles, rays, sharks, scenic beaches, forests, and Mayan ruins, there are many excellent photo opportunities.  For information and reviews of dive cameras, click here:
Scuba Diving Trip Insurance
A cushion for emergencies provides peace of mind when on vacation.  I recommend this diving insurance as they have worldwide coverage and provide scuba divers a quality insurance and medical assistance service.
Feedback and Comments
I hope you found this post on Playa del Carmen scuba diving interesting and useful. If you have any questions or ideas, please feel free to share them in the comments section.  I'd love to know of any experience you have.  If there is no comments section directly below, click here:   >>comments<<