We may earn money or products from the companies mentioned in this post.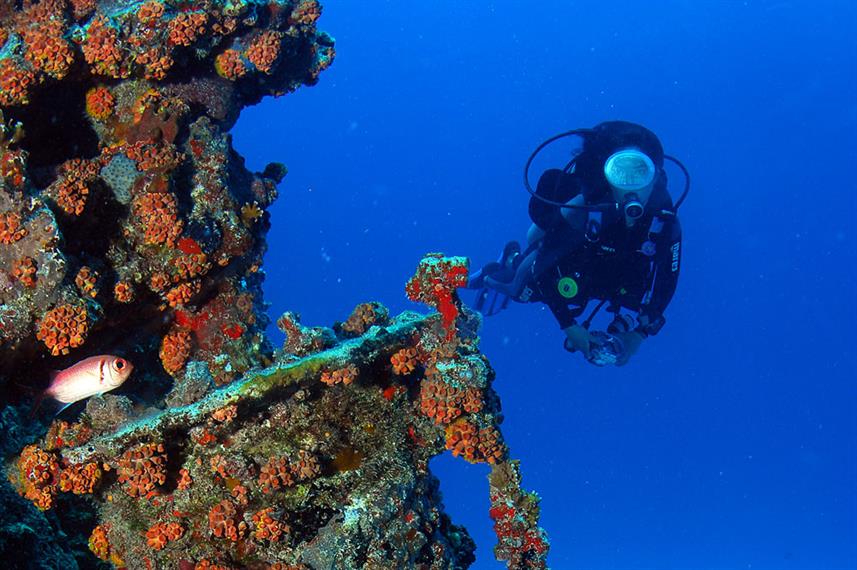 This is the twenty-eighth in a series that introduces and describes the various dive services and sites for worldwide liveaboard dive safaris.  This one will focus on Virgin Islands liveaboards.
In addition to this series on liveaboards, the best worldwide scuba diving destinations are reviewed in their own series.  To check them out, or others in this series, click on Liveaboards/Resorts on the menu at the top and choose a title from the list.
Have you ever been diving in the British Virgin Islands?  If so, I'd love to know about your experience.  What dive shop or liveaboard did you use?  Which dive spots are the best and what are the conditions there regarding the visibility, current, water temperature, sealife attractions, etc.?  Please post your response in the comments section at the bottom and we'll all learn something we can use.
Scuba Diving the British Virgin Islands
The British Virgin Islands are a British overseas protectorate of 60 islands with a population of 28,000 full-time residents located a little east of Puerto Rico.  23,500 live in Tortola and the rest are spread around 14 other islands. The remaining islands are uninhabited.
The diving is suitable for all levels of diver with most sites at relatively shallow depths. although some sites do have significant current.  There are several famous shipwrecks amid seamounts, coral gardens, and sandy bottoms.  Local dive shops operate on Tortola, Virgin Gorda, Jost Van Dyke, Norman Island, and Cooper Island, but have limited range and can cover only relatively nearby dive sites.  A liveaboard provides the opportunity to visit more than 100 dive sites of great variety and differences in difficulty in an environment of convenience and comfort.
Notable wrecks include the RMS Rhone, a Royal Mail Steamship, sunk in a hurricane in 1867.  It sits in two pieces in 10-80 feet (3-24 meters) of water off of Salt Island. Penetration is possible and lots of artifacts remain.  Another is the Chikuzan, a Korean refrigerator vessel, that was scuttled in 1981 in a crazy episode where after being damaged in a hurricane was set on fire.  It drifted dangerously out of control toward Marina Cay until captured and towed a distance before breaking loose and coming to rest on the sea bottom in a very unplanned location about 7 miles to the northwest of Tortola.  Today it sits in 40-75 feet (12-23 meters) of water far from any reef.  It has its resident fish, attracts lots of pelagics and provides good penetration opportunities.
This Chikuzan wreck is considered a more advanced dive, as is the diving at  Virgin Gorda and The Invisibles (underwater pinnacles), which has a strong current.
The BVI has a rich Caribbean coral reef and a great variety of small and large sea life.  Highlights are nurse sharks, southern stingrays, eagle rays, turtles, dolphins, barracuda, goliath groupers, tarpon, spiny lobster and a variety of macro critters.
Temperatures are in a tight range between 80- 90°F (27-32°C) and diving is possible year-round.  Water temps are from 78- 83°F (25-28°C) with visibility from 60-100 feet (18-30 meters).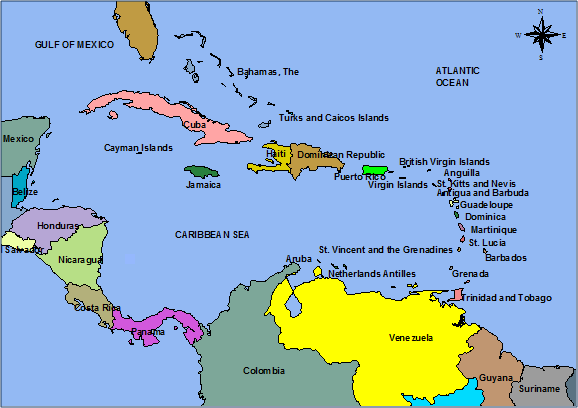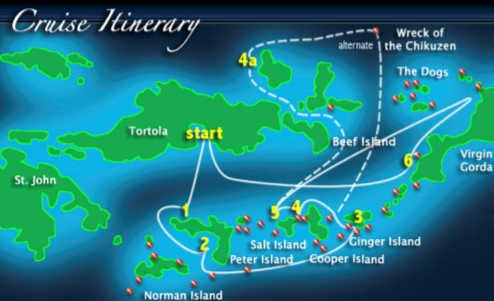 Virgin Islands Liveaboard Dive Boats
The only liveaboard vessel serving the British Virgin Islands is the 30-meter trimaran, the Cuan Law.  Its mast is also 30 meters high and when under sail the boat can travel at a speed of 8-10 knots.  Under power, it zips along at up to 14 knots.  The skipper has an itinerary that covers most of the major dive sites and is flexible enough to make adjustments based on the abilities and interests of the divers and conditions at sea.  Stops are made at locations like Virgin Gorda, where there is excellent snorkeling and Jost Van Dyke and it's beautiful sandy beaches affording kayaking and sailing a Hobie Cat.
7-day cruises from Tortola around the British Virgin Islands
Potential itinerary (not locked in): Cooper Island, Salt Island, RMS Rhone Wreck, Ginger Island, Long Bay, Virgin Gorda Island, Chikuzen Wreck, Muskmelon Bay, Guana Island, Atlantic Site,  Dog Islands, The Baths, Round Rock, The Blinders, Peter Island
Air-conditioned saloon, aircon cabins, indoor saloon, warm water showers, audio & video entertainment, library, en-suite bathrooms
Free internet
Sun deck, leisure deck
Western and local food, outdoor dining
Photography station, separate rinse for u/w camera
English speaking crew
Onboard kayaks, non-diver (snorkeler) friendly
Nitrox available
Dive deck
Tenders for diving: 2 x 21-foot 115-hp tenders
Emergency rafts
Cuan Law
Length

30 m
Guests

20
Equipment

$15/day
Nitrox

$10/day
Snorkel
Friendly
Yes
Price/Day

$435
If you are interested in eastern Florida and other Caribbean location diving reviews, please click on these links:
British Virgin Islands Photo Opportunities
With the macro life, beautiful, diverse coral reef and lots of fish, there are many excellent photo opportunities.  For information and reviews of diving cameras, click here:
A cushion for emergencies provides peace of mind when on vacation.  I recommend this diving insurance as they have worldwide coverage and provide scuba divers a quality insurance and medical assistance service.
Feedback and Comments
I hope you found this post on the British Virgin Islands scuba diving interesting and useful. If you have any questions or ideas, please feel free to share them in the comments section.  I'd love to know of any experience you have diving there.  If there is no comments section directly below, click here:  >>comments<<