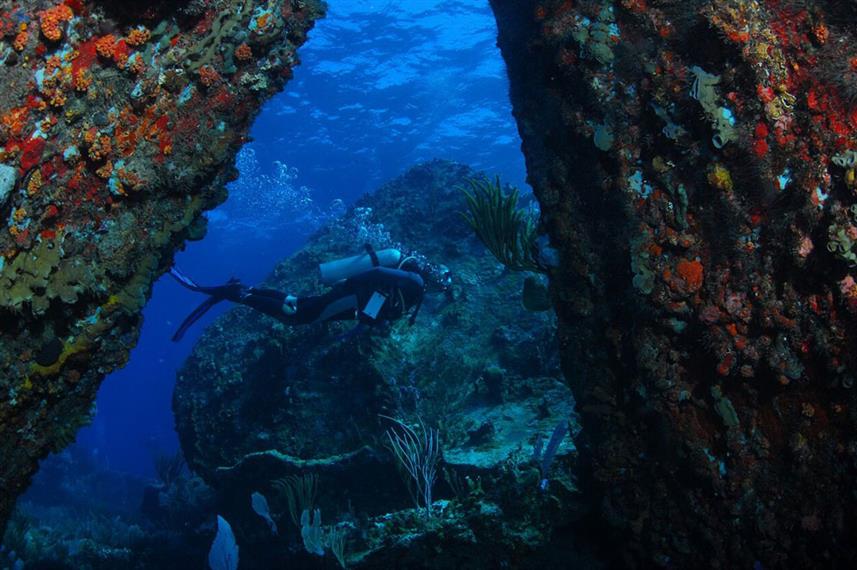 Updated June 2, 2021
This is the one hundred and ninety-fifth in a series of reviews of the best diving destinations around the world.  In this post, the focus is on the British Virgin Islands.  In addition to this series on diving destinations, the best worldwide liveaboard diving locations and services are reviewed in their own series.  To check them out, or others in this series, click on Liveaboards/Resorts on the menu at the top and choose a title from the list.
Have you ever been scuba diving in the British Virgin Islands before?  If so, I'd love to know about your experience.  What dive shop or liveaboard did you use?  Which dive spots are the best and what are the conditions there regarding the visibility, current, water temperature, sealife attractions, etc.?  Please post your response in the comments section at the bottom and we'll all learn something we can use.
Scuba Diving the BVI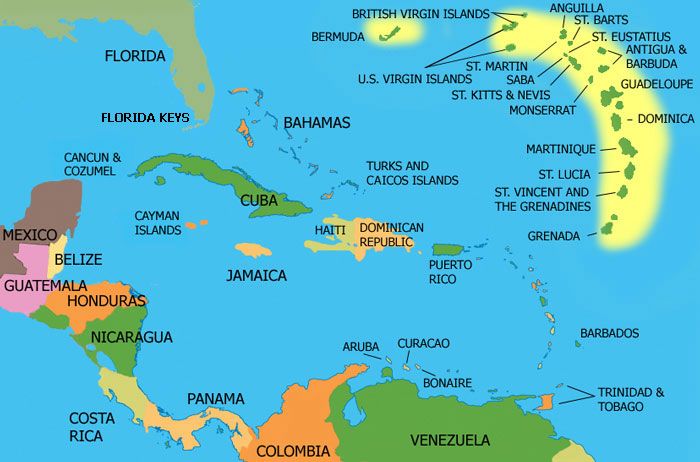 Background
The British Virgin Islands (or the BVI) are situated east of Puerto Rico and the U.S. Virgin Islands and northwest of Anguilla, with the Caribbean Sea to the west and the Atlantic Ocean to the east.  It consists of 5 main islands and more than 50 islets and cays (16 of which are inhabited) the largest being Tortola at 12 miles (20 kilometers) in length and 3 miles (5 kilometers) in width.  Except for Anegada Island to the far northeast of the territory which has a coral/limestone foundation, the BVIs are of volcanic origin.
First seen by Columbus in 1493, a succession of Europeans occupied the area including English, Dutch, French, Spanish, and Danish.  By the time of the first settlement by the Dutch in 1648, the Arawaks and Caribs who predated them were long gone.  After an interesting progression of pirates, sugar cane plantations, and slavery, the islands have evolved into a British Overseas Territory becoming autonomous in 1967.
Today the population of 32,000, 25,000 of which live on Tortola, have an economy driven by financial services and tourism.  Visitors love the warm climate and water with many coming for fishing and boating.  Since 1972 the Spring Regatta highlighted by seven days of sailing competition is a hallmark event.  50% of the workers are immigrants with only 37% of residents born in the country.  84% have African ancestry.  English is the national language with many speaking a local dialect and lots of immigrants speaking Spanish as a first language.  Driving is on the left and the US$ is the local currency.
For more historical, cultural, geographic, and demographic information, please check Wikipedia-British Virgin Islands.
Undersea World
The 70 or more dive sites display a variety of subsea terrain and conditions over the many islands.  There are gentle sloping reefs and sandy bottoms around Dead Chest, Scrub, and Pelican Islands, pinnacles at Blonde Island and the Visibles sites, and canyons and swim-throughs near the Dog Islands, as examples of the diversity.
Sites have rich hard and soft corals, cup corals, large gorgonians and sea fans, tube sponges, and huge barrel sponges.  There is a beautiful array of Caribbean reef tropicals with seahorses and heaps of spiny lobsters.  In the sandy areas, look for garden eels and big southern stingrays.
A shark sanctuary created in 2014 is nurturing an ever greater presence of nurse and Caribbean reef sharks to go with turtles, groupers, schools of yellowtail snappers, barracuda, amberjacks, cobia, and tarpon.
Dolphins are a year-round possibility with whales frequently sighted in January through May.
Also, there are several world-class wrecks including the RMS Rhone, a Royal Mail Steamship, that sank in a hurricane in 1867 and is broken in two with many artifacts in place and penetration possibilities.  Another outstanding wreck is the Chikuzen in a more isolated area with strong currents possible and a remarkable volume of wildlife using the wreck as an oasis.
Seasons and Conditions
Diving is great all year in the BVI.
Average daily high temperatures reach 87°F (31°C) in July and August and slip to 79°F (26°C) in January.

Water temperature also stays pretty warm ranging from lows of 79°F (26°C) from January through April to highs of 84°F (29°C) in September and October.

Rains come throughout the year with higher levels from September through January.  June through October is the hurricane season, which occasionally disrupts things.

Visibility is excellent at 60-100 feet (18-30 meters).

Currents are generally mild but there are some sites where it can get strong on occasion. 

There are sites and conditions suitable for all skill levels.  A dozen or more dive shops are in operation that offer a range of coursework, equipment rental, guiding, and boat cruises.
BVI Liveaboard Diving
There is one excellent liveaboard cruising the British Virgin Islands year-round.  Here is a review and links:
Cuan Law, BVI Liveaboard Diving – Check the Price & Details
Nearby Caribbean Liveaboards
There is another excellent liveaboard yacht that cruises nearby Saba and St. Kitts and others to sites around the Caribbean including the Bahamas, Caymans, Turks & Caicos, Cuba, and the Dominican Republic.  Here are my reviews and links to the Saba and St. Kitts yacht: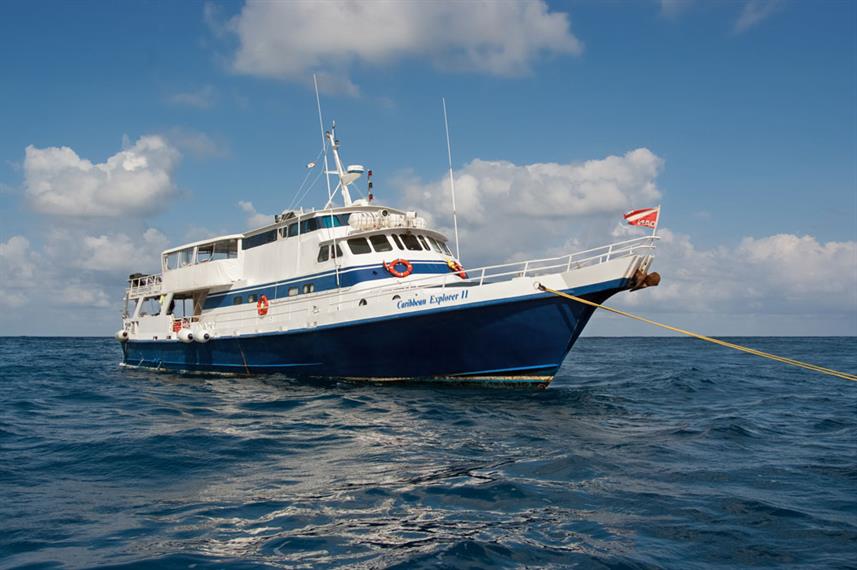 MV Caribbean Explorer II, St Kitts & Saba Liveaboard Diving – Check the Price & Details
For reviews of diving in other Caribbean and eastern Florida locations, please check out these posts:

Selected British Virgin Islands Dive Sites
Alice in Wonderland (Ginger Island): 40-100 feet (12-30 meters), coral garden with huge coral heads, pillar and star corals, colorful sea fans and gorgonians, lots of reef tropicals including several species of butterflyfish, big groupers, and jewfish, pompano, oceanic triggerfish, Atlantic spadefish, stingrays, eagle rays, and reef sharks, surge and surface chop are common, suitable for all levels (check out the video at the top)
RMS Rhone Wreck (Salt Island): 20-80 feet (6-24 meters), 310-foot (94-meter) Royal Mail Steamer sunk in a hurricane in 1867, designated a Marine National Park, appeared in the movie, The Deep, starring Nick Nolte and Jacqueline Bisset, broken into two pieces, many artifacts in place including rigging, engine, propeller, and decking, some penetration is possible, richly encrusted in corals and sponges, provides habitat for angelfish, yellowtail snappers, stingrays, barracuda, and turtles, suitable for all levels (check out the video below)
Chikuzen Wreck (Virgin Gorda): 85 feet (26 meters), 12 miles (19 kilometers) northeast of Virgin Gorda, 246-foot (75-meter) Korean refrigerator ship that sank in the early 1980s, isolated and surrounded by sand, strong currents possible, great spot for diverse marine life to hunker down including massive schools of horse-eye jacks, barracuda, snappers, and pompano, Atlantic spadefish, stingrays, eagle rays, a huge resident jewfish, nurse sharks, and blacktip reef sharks, suitable for experienced levels (check out the video above)
Blond Rock (Between Dead Chest and Salt Islands): 20-60 feet (6-18 meters), pinnacle with yellow fire coral on top, many overhangs and ledges, and a variety of corals with lobsters, crabs, and conchs in the nooks and crannies, look for schools of French grunts and horse-eye jacks, barracuda, filefish, cobia, and occasional rays and sharks, current and surface chop are possible, suitable for all levels
The Visibles (George Dog Island): 15-65 feet (5-20 meters), offshore pinnacles, big sea fans, and gorgonians, abundant marine life includes angelfish, snappers, cherub fish, spotted drums, tarpon, barracuda, eagle rays, nurse and Caribbean reef sharks, surge and current can be strong on occasion, suitable for all levels
Wreck Alley (Cooper Island): 50-90 feet (15-27 meters), 4 wrecked tugboats arranged in a row on a sandy bottom next to a small wall, look for garden eels, conchs, and big southern stingrays in the sand, large angelfish and other tropicals hang out on the wrecks, suitable for experienced levels
The Chimney (Dog Island): 30-40 feet (9-12 meters), high walled canyons and a big arch with yellow cup corals inside, a number of big coral bommies on a sand and coral rubble bottom, interesting navigation in and around the formations with rich corals, sponges, and gorgonians, one section has two big boulders with an opening between them which is "The Chimney", suitable for all levels
Santa Monica Rock (Norman Island): 20-100 feet (6-30 meters), several pinnacles, fire corals on top, look for moray eels, small fish, and crustaceans in the nooks and crannies, other highlights are turtles, Atlantic spadefish, horse-eye jacks, barracuda, kingfish, eagle rays, and Caribbean reef sharks, current and large swells are possible, suitable for experienced levels
Thumb Rock (Cooper Island): 40-70 feet (12-21 meters), a thumb-shaped rock formation with a variety of marine life possible in the area including many species of reef tropicals, French and queen angelfish, tarpons, and seahorses, suitable for all levels
British Virgin Islands Transportation, Dive Shops, & Lodging
Transportation
Air – Beef Island Airport on Tortola cannot accommodate large aircraft, so travelers will need to land first in St. Thomas, San Juan, Antigua, or St. Martin.  From St. Thomas, you can catch a ferry to the BVI.  From the other locations, several carriers are using small aircraft that can complete the journey.
Cruise ships stop at Road Harbour on Tortola.
St. Thomas – Tortola ferries operated by a large number of companies run all day until 5 pm.  The trip normally takes about 50 minutes one way and provides some beautiful scenery to enjoy along the way.
Motorboats and sailboats are available to rent or charter with a crew at the major harbors.  Sailing to most of the destinations within the many islands can be reached within a couple of hours.
Taxis have fixed pricing and can be expensive but give you a chance to get a good look around.
Car rental is possible from agencies at the airport and a couple of spots around Tortola.  You can also find rentals on some of the other larger islands.  On the smaller islands walking will handle it on the available narrow paths.
For further details on transportation and subjects of interest to a tourist, please check Wikitravel-British Virgin Islands
Dive Shops
There are more than ten dive shops in the BVI offering full services including equipment rental, dive courses, guiding, and boat dive cruises.  The largest number is located on Tortola with others on Gorda, Jost Van Dyke, Norman Island, and Cooper Island.
Lodging
The website linked below has the details and can arrange the reservations for accommodations.  You can easily find the location on the map provided on that site.  Their rates are guaranteed to be the lowest and it is free to cancel or change dates.
Things to do in the British Virgin Islands (aside from scuba diving)
The British Virgin Islands offer quiet places to relax and many options for outdoor adventure, as well as shopping, restaurants, and nightlife.  Here are a few places and activities to consider:
Sailing, Baths, Spa Treatment, Local Seafood (Lobster, Conch), Island Hopping, Cycling, Horseback Riding, Kayaking, Kite Surfing, Zipling, Anegada (1-hour boat ride), Street Food, Craft Beer (Cooper Island), Willy T Floating Bar, Cane Garden Bay, Smugglers Cove (Tortola), Brewers Bay, White Bay (Jost Van Dyke), Sunny Caribbee Spice Shop & Art Gallery (Road Town), The Bubbly Pool, Devil's Bay National Park, North Sound (Virgin Gorda), Soper's Hole (Tortola). Road Town, Sandy Cay, Norman Island, Peter Island, Pirates Bight (Norman Island), Flamingo Pond (Anegada), Paradise Club (Tortola), North Shore Shell Museum (Garden Bay), Gorda Peak National Park, Virgin Gorda Easter Festival, Apple Bay Surfing, Callwood Rum Distillery, The Dogs (Marine & Bird Sanctuary), 170 Lower Estate Sugar Works Museum, Nigel's Boom Boom Beach Bar, Spring Regatta (sailing races).
Photography in the British Virgin Islands
With the colorful corals and encrusting life, gorgonians, macro critters, schools of fish, southern stingrays, eagle rays, reef sharks, turtles, shipwrecks, and fascinating scenes on land, as well, there are many excellent photo opportunities.  For information and reviews of dive cameras, click here:
Scuba Diving Trip Insurance
A cushion for emergencies provides peace of mind when on vacation.  I recommend this diving insurance as they have worldwide coverage and provide scuba divers quality insurance and medical assistance service.
Feedback and Comments
I hope you found this post on scuba diving in the British Virgin Islands interesting and useful. If you have any questions or ideas, please feel free to share them in the comments section.  I'd love to know of any experience you have.  If there is no comments section directly below, click here:  >>comments<<