We may earn money or products from the companies mentioned in this post.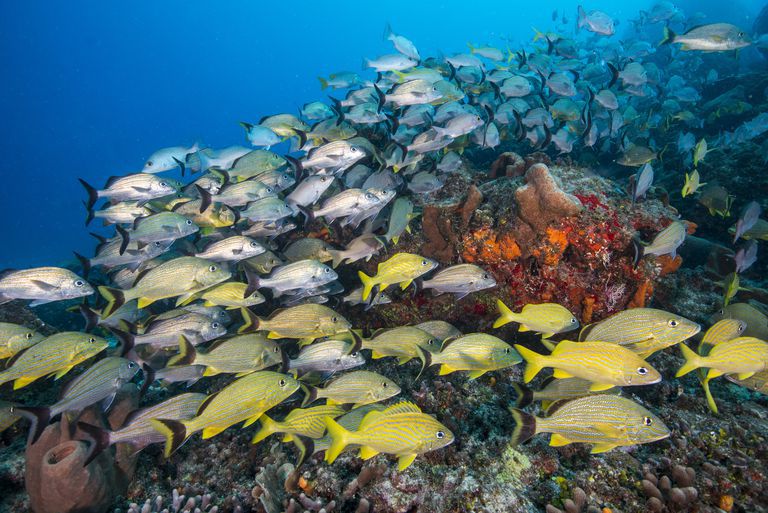 This is the one hundred and thirty-fourth in a series of reviews of the best dive resort locations around the world.  In this post, the focus is on Islamorada, Florida. In addition to this series on dive resort locations, the best worldwide liveaboard diving locations and services are reviewed in their own series.  To check them out, or others in this series, click on Liveaboards/Resorts on the menu at the top and choose a title from the list.
Have you been diving in Islamorada before?  If so, I'd love to know about your experience.  What dive shop or liveaboard did you use?  Which dive spots are the best and what are the conditions there regarding the visibility, current, water temperature, sealife attractions, etc.?  Please post your response in the comments section at the bottom and we'll all learn something we can use.
Scuba Diving in Islamorada Florida
Background – Situated in the Florida Keys just southwest of Key Largo and northeast of the group of keys including Marathon is the incorporated village of Islamorada.  Prior to the incorporation in 1997, Islamorada, which means purple island, referred to Upper Matacumbe Key.  Today the village refers to 5 keys, Tea Table Key, Upper and Lower Matecumbe Keys, Windley Key, and Plantation Key.  Islamorada occupies 7.2 square miles (19 km2), has a population of 6,700, and is around an hour and a half drive from Miami.  The islands are flat and have a foundation of limestone generated from coral reefs.  Known as the "Sport Fishing Capital of the World" to many, it was the long-time home of the baseball hall of famer Ted Williams who became a sporting goods representative for Sears in the 50s and instituted and hosted a number of big fishing tournaments.  Tourism involving fishing, scuba diving, and water sports drive the economy in a much more low key environment than Key West or even nearby Key Largo.  For more demographic and historical information check Wikipedia-Islamorada.
Undersea World – Islamorada is known for its high volumes of game fish like bonefish, tarpon, permit, snook, and redfish which have made it a major sport fishing destination.  Scuba divers likewise come for huge populations of marine life on the east side of the islands.  There are shallow reefs starting right offshore with massive schools of goatfish and French grunts congregating around coral heads and ledges.  Many of the reefs are spur and groove reefs (fingers perpendicular to shore with valleys in between) but there are patch reefs, walls, caverns, and crevices, and a number of historic and scuttled wrecks providing habitat for a broad range of marine life.  Highlights include French and queen angelfish, lobster, crabs, nudibranchs, cowries, big schools of jacks, barracuda, snapper, and surgeonfish, humongous groupers, spadefish, parrotfish, porgies, hogfish, southern stingrays, eagle rays, nurse and Caribbean reef sharks, turtles, dolphins, and even an occasional sawfish or bull shark.  Close to shore attractive reefs can be in depths as shallow as 10 feet (3 meters) suitable for snorkeling and extreme beginners.  There are also sites as deep as 120 feet (38 meters) that can be a challenge for experienced and technical level divers, as well.
Seasons and Conditions – Diving is good year-round in Key Largo.  Average daily air temperature highs hit 90°F (32°C) in July and August and 75°F (24°C) in the coolest months, December through February.  In the summer, water temperatures are in the range of 84-87°F (29-30.5°C) and in winter 70-75°F (21-24°C).  Some divers will need a 3-5 mm wetsuit when the water is at its coolest.  The Gulf Stream provides south to north current, usually mild but occasionally strong, making for comfortable drift diving on some of the sites.  From May to October, it rains more and hurricanes are a consideration.  Visibility ranges from 40-100 feet (12-30 meters) with the best from August to October.  There are conditions suitable for all levels of diver with a number of shallow sites.  More than 15 dive shops operate in Islamorada offering a complete range of training, equipment rental, guiding and boat tours.
None of the major liveaboard yachts travel to Islamorada.  However, there are quite a few that cruise the nearby Bahamas and other Caribbean dive sites.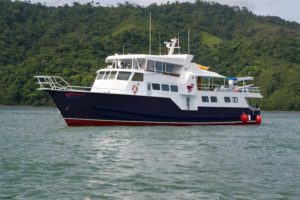 Bahamas Master, Bahamas Liveaboard Diving – Check the Price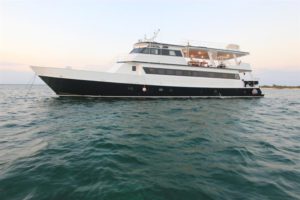 MV Avalon I, Jardines de la Reina, Cuba Liveaboard Diving – Check the Price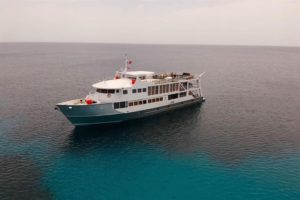 Cayman Aggressor V, Cayman Islands Liveaboard Diving – Check the Price
For reviews of diving in eastern Florida, the Bahamas, and other Caribbean locations, please check out these posts:

Selected Islamorada Dive Sites
Alligator Reef: 20-70 feet (6-21 meters), the USS Alligator, an 86-foot (26-meter) pirate chasing schooner sunk in 1825, has deteriorated with only two piles of ballast stones remaining, forms the base of a rich coral reef of hard and soft corals, sponges, and gorgonians, rich in other marine life including massive schools of grunts, snappers, and goatfish, lone barracudas, nurse sharks, and macro critters in the nooks and crannies like spiny lobster, suitable for all levels of diver (check the top video)
The Eagle Wreck: 80-110 feet (24-34 meters), 287-foot (87-meter) ship scuttled in 1985 to become an artificial reef, rests on her starboard side, well encrusted with colorful corals and sponges, lots of schooling fish like silversides, amberjacks, and grunts, along with groupers, cobia, nurse sharks, and macro critters in the nooks and crannies, suitable for experienced and technical level divers (check the video below)
Davis Reef: 20-60 feet (6-18 meters), has a statue of Buddha, lots of big schools of small fish that attract big schools of grunts and schoolmaster snappers, other attractions include moray eels, parrotfish, angelfish, turtles, and lobsters, suitable for all levels of diver
Conch Wall: 20-110 feet (6-34 meters), steep slope with lots of gorgonians, barrel sponges, pillar coral, and thousands of conchs, a strong current is possible bringing nutrients and pelagics, suitable for experienced level divers
Alexander Barge: 80-105 feet (24-32 meters), barge scuttled to become an artificial reef in 1984, in 1985 the old Whale Harbor Bridge was added, richly encrusted with hard and soft corals, and other invertebrates, lobsters and lots of fish including jacks, grunts, snappers, porgies, hogfish, barracudas, grouper, suitable for all levels of diver
Crocker Wall: 20-50 feet (6-15 meters), a wall that slopes down for 30 feet (9 meters) and continues along the reef for more than 450 feet (137 meters), highlights include schools of grunts and yellowtails, and groupers, suitable for all levels of diver
Hen and Chickens Reef: 15-22 feet (5-7 meters), a group of patch reefs that resemble a hen and her chicks, lots of star and brain coral, sea fans, and ledges providing habitat for rich marine life, suitable for snorkelers and all levels of diver
Things to Do in Islamorada (aside from scuba diving)
For such a relatively low key destination, the historical, cultural, and outdoor activity range is broad.  Here are some sites and activities to look into: Indian Key State Historic Site, Founders Park, Windley Key Fossil Reef Geological State Park, Library Beach Park, Cheeca Lodge and Spa, Lobster Crawl Bar and Grill, Habanos Oceanfront Restaurant, Florida Keys Overseas Heritage Trail, Old Road Gallery, Lobster Trap Art Gallery, Florida Keys History and Discovery Center, History of Diving Museum, Robbie's Marina – Tarpon Feeding, Lignumvitae Key Botanical State Park, Islamorada County Park, Beer Tasting at a Local Brewery, Eco-Adventure and Snorkel Cruise, Kayak or Paddleboard Eco Tour, A Pirates Choice Deep Sea Fishing Charters, Bud and Mary's, Holiday Isle, Theater of the Sea, TripAdvisor's Top Rated Restaurants – Twisted Shrimp, Bayside Gourmet, Midway Cafe & Coffee Bar, Mangrove Mike's Cafe, Overseas Kitchen.  Wikivoyage-Islamorada has more ideas with details.
This video gives you a brief taste.
For fuller details on transportation and tourist matters, go to Wikitravel-Islamorada.
Hotels and Diving – In Islamorada there are numerous lodging options from $111 to $729 per night.  A couple of dozen dive shops in operation, some located within or associated with hotels, offer a full range of services that include equipment rental, diving certification classes, dive guides and boat tours.  The website linked below has the details and can arrange a booking for the lodging.  You can easily find the location on the map provided on their site.  The rates are guaranteed to be the lowest and it is free to cancel or change dates.
Photography in Islamorada
With the colorful coral reefs, a variety of reef tropicals, macro critters, sharks, rays, dolphins, and scenic shoreside targets, as well, there are many excellent photo opportunities.  For information and reviews of dive cameras, click here:
A cushion for emergencies provides peace of mind when on vacation.  I recommend this diving insurance as they have worldwide coverage and give scuba divers a quality insurance and medical assistance service.
Feedback and Comments
I hope you found this post on Islamorada scuba diving interesting and useful. If you have any questions or ideas, please feel free to share them in the comments section.  I'd love to know of any experience you have.  If there is no comments section directly below, click here:  >>comments<<