We may earn money or products from the companies mentioned in this post.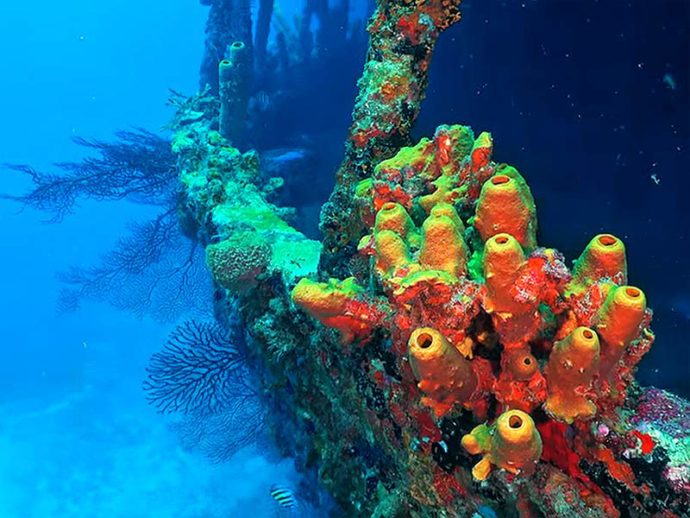 This is the fifty-fourth in a series of reviews of the best scuba diving destinations around the world.  In this post, the focus is on St Lucia.
In addition to this series on dive resort locations, the best worldwide liveaboard dive locations and services are reviewed in their own series.  To check them out, or others in this series, click on Liveaboards/Resorts on the menu at the top and choose a title from the list.
Have you ever been diving in St Lucia?  If so, I'd love to know about your experience.  What dive shop or liveaboard did you use?  Which dive spots are the best and what are the conditions there regarding the visibility, current, water temperature, sealife attractions, etc.?  Please post your response in the comments section at the bottom and we'll all learn something we can use.
Best Scuba Diving in St Lucia
Background – With the Atlantic on one side and the Caribbean Sea on the other, St. Lucia is part of the Lesser Antilles north/northeast of St. Vincent and south of Martinique.  More mountainous than most Caribbean islands it is volcanic in origin has an area of 617 square kilometers (238 square miles) and a population of 178,000.  Mount Gimie is the tallest peak at 950 meters (3,120 feet) and St. Lucia has the novelty of a drive-in volcano.  Half the population lives in rural settings and a half in cities.  The capital is Castries with over 60,000 residents.
The first Europeans to arrive and sign a treaty with the indigenous Caribs were the French in 1660.  The British took over a few years later and the two nations exchanged control many times until 1814 when the British consolidated power.  In 1979 St. Lucia became an independent member of the Commonwealth of Nations.
With an educated population and improved roads, foreign investment has played a big role in the economy with an emphasis on offshore banking, tourism, petroleum storage, and transshipment.
95% of the population is of African/European/Carib background and speak a written form of Patois (Antillean Creole) that is very similar to that spoken in Martinique, Dominica, Guadalupe, and French Guyana.  English speakers can rest easy, though, as English is the national language. About 87% are Catholic or Protestant and the remainder practitioners of Buddhism, Islam, Baha'i, Judaism, and Rastafarianism.
St. Lucia is famous for its variety of Caribbean musical styles including Calypso, Soca, Dancehall, Reggae, Compas, Salsa and Zouk and cuisine with West African, European and East Indian influences.  Sailing and Cricket are popular sports and there is the St. Lucia Jazz Festival in May and Carnival in mid-July.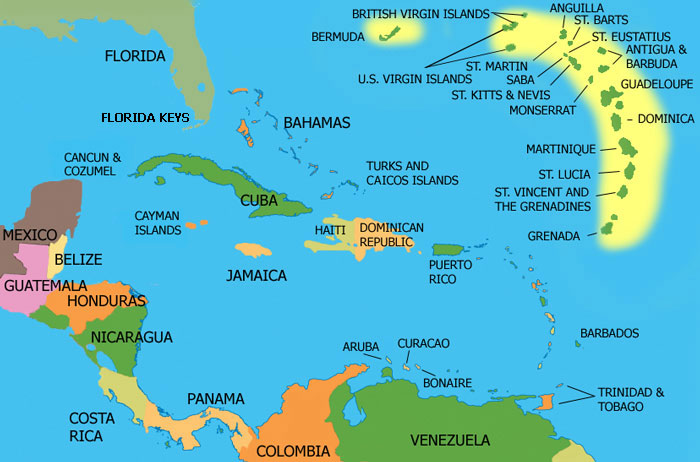 Undersea World – Scuba diving on St. Lucia is done off the Caribbean west coast and most of that from the southern half in two protected areas, the Soufriere Marine Management Area (SMMA) and the Canaries and Anse La Raye Marine Management Area (CAMMA).
The ocean terrain consists of volcanic arches, trenches, pinnacles and rocks with a rich, healthy pristine reef that has an abundance of colorful hard and soft corals, large tube and barrel sponges, gorgonians and black coral.  There are also two shallow wrecks purposely sunk to become artificial reefs, the Lesleen M and the Daini Koyomaru.
Excellent visibility combined with the habitat of nooks and crannies provides a great opportunity for macro photography of creatures like fireworms, sea slugs, garden eels, frogfish, golden spotted eels, morays, slipper lobsters, crabs, tubeworms, scorpionfish, urchins, seahorses, and flying gurnards.  Other highlights include Caribbean reef squid, trumpetfish, yellowtails, cowfish, filefish, squirrelfish, tangs, Creole wrasse, parrotfish, porcupine puffers, stingrays, eagle rays, schooling barracuda and jacks, and turtles.
The northwest side is not dived as frequently and as you near the northern tip surface chop and current can be more challenging.  The wildlife is much the same as on the southerly sites, but the payoff is that they are less crowded and there is a greater likelihood of seeing more big fish and rays.
For reviews of diving in other Caribbean locations, please check out these posts:
Seasons and Conditions – Diving is good in St Lucia all year.
The tropical climate influenced by trade winds features daily high temperatures averaging 29-31°C (84-88°F).
June through November is the hurricane season and is the wettest time with 15-20 days a month during that period with rain.  February through April is the driest season having only 9-10 days a month with rain.
From January through March water temperature is at annual lows of 26°C (78°F).  Annual highs of 29°C (84°F) come from June through October.  Most divers will not need any more thermal protection than a 3 mm wetsuit.
The current is generally mild but variable.
Visibility is typically great from 24-45 meters (80-150 feet).
There are conditions suitable for all levels of diver.  At least 34 dive shops operate on St. Lucia that are equipped with a full range of diving classes, equipment rental, guiding and boat cruises to the offshore sites.
St. Lucia is not an area renowned for liveaboard diving, but there are many cruises in other areas around the Caribbean.  Below are several great yachts to check out: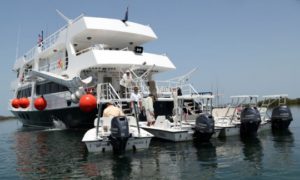 Avalon II, Jardines de la Reina Liveaboard Diving – Check the Price & Details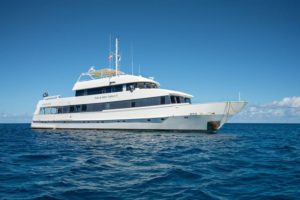 Turks & Caicos Explorer II, Turks & Caicos Liveaboard Diving – Check the Price & Details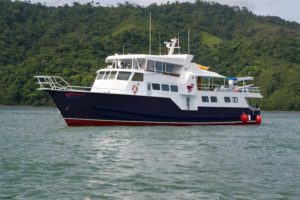 Bahamas Master, Bahamas Liveaboard Diving – Check the Price & Details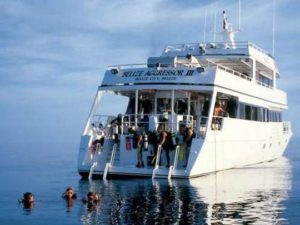 Belize Aggressor III, Belize Liveaboard Diving – Check the Price & Details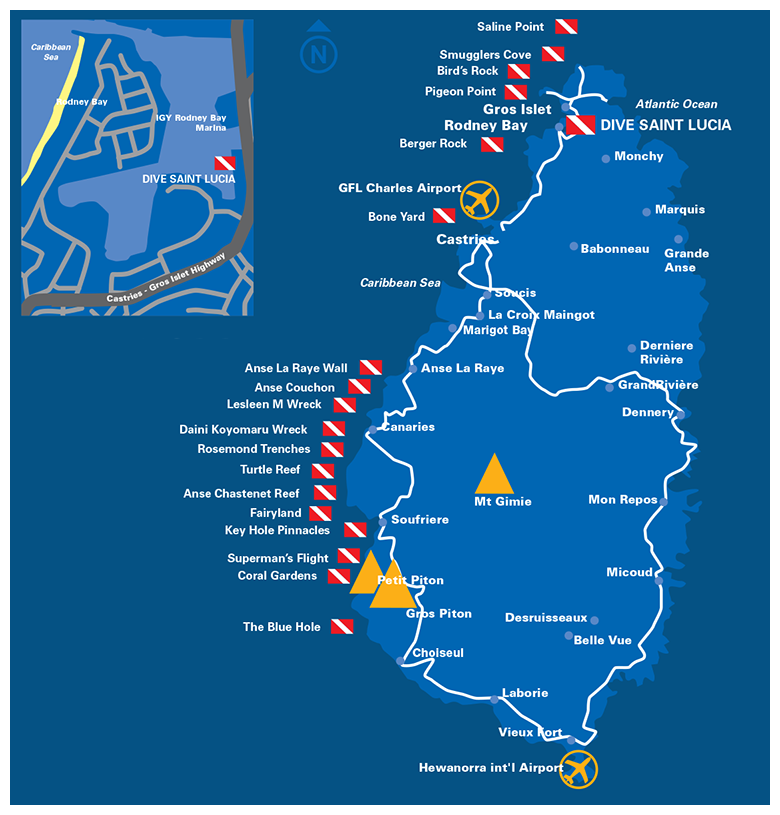 A Sampling of St Lucia Diving Sites
Saline Point (Le Sport): 18 meters (60 feet) maximum depth, most northerly site in front of the Le Sport Hotel where the Atlantic Ocean meets the Caribbean, scorpionfish, flying gurnards, pufferfish, schools of grunts, various eels, turtles and barracuda, possible stronger current, beach entry possible, all levels
Pigeon Island: 18 meters (60 feet), sand and coral at 5 meters (15 feet) progresses to big boulders, moray eels, lobster, eagle rays, great barracuda, all levels
Berger Rock: 8-14 meters (25-45 feet) average depth, marked by a white navigational light, schools of snappers, jacks, grunts, kingfish, sergeant majors and brown chromis, lobster, trumpetfish, eels, good for night dives, all levels
Bone Yard: 10-13 meters (35-45 feet) average depth, torpedoed WWII vessel that limped in toward Castries Harbor and sank on the northern side of the mouth, apparent airplane wing is also there, tropical fish and marine life, lobsters, all levels
Anse La Raye Wall: 18-33 meters (60-110 feet), named for the village, drift dive along a sloping wall with big boulders, lots of brightly colored hard and soft corals and sponges including purple vase and barrel sponges, variety of reef fish, rays on almost every dive, all levels
Lesleen M Wreck: 20 meters (65 feet), 50 meter (165 foot) freighter sunk in 1986 to create an artificial reef, sitting upright on a sandy bottom, easy penetration with access to the hold and engine room, well encrusted in brightly colored hard and soft corals, hydroids and sponges, excellent habitat for macro life, juvenile fish, moray eels, soldierfish, angelfish, moray eels, lobster, hawksbill turtles, all levels
Daini Koyomaru: 33 meters (110 feet), 74-meter (244-foot) Japanese dredger sunk in 1996 to create an artificial reef, resting on its side, large puffers and angelfish, jacks and barracuda, experienced level
Rosemond's Trench: 11 meters (36 feet) maximum depth, valleys and trenches like the fingers of a hand, a small tunnel leading into a chimney, great macro life with seahorses, frogfish and a variety of tropicals, turtles, all levels
Turtle Reef: 12-43 meters (40-140 feet), named for its crescent shape, next to grass beds where turtles feed, steep drop off, lots of fish life, pillar corals and barrel sponges, good macro life, green and hawksbill turtles, experienced level
Anse Chastanet: 6-42 meters (20-140 feet), in the marine park in from of the resort of the same name, a rich reef with peacock flounders, pufferfish, octopus, moray eels, lobster, sea horses and turtles, shallow areas good for snorkeling, all levels
Keyhole Pinnacles: from less than a meter (a few feet) on down to the depths, four volcanic pinnacles, well encrusted with black and orange gorgonians,  seahorses, grouper, schools of snapper and jacks, trumpetfish, filefish, all levels
St Lucia Photos
With the interesting wrecks, colorful corals and encrusting life, gorgonians, macro critters, schools of fish, rays, turtles, and fascinating scenes and historical sites on land, as well, there are many excellent photo opportunities.  For information and reviews of dive cameras, click here:
Hewanorra International Airport on the southern end of the island primarily handles international flights. George F. L. Charles Airport (SLU) is in the north near Castries and is for smaller aircraft flights between islands. 
Taxis are available in cities and at the airport. 
Public mini-buses operate around the island. 
Bicycles, scooters, mopeds, and cars are all available to rent. 
Cruise ships make their stops at the port in Castries.  There is a fast catamaran service to Martinique, Guadalupe, and Dominica from ports in Castries, Marigot Bay, and Rodney Bay.  
At least 34 dive shops are operating on St. Lucia providing a full range of services including equipment rental, dive courses, guiding and boat dive cruises.
Many dozens of hotels and resorts are available from $32 to $1,874 per night.  Many have in house dive operations.  The website linked below is a good source for the available options and can arrange the booking.  Their rates are the lowest and it is free to cancel or change dates.
Things to Do in St Lucia (aside from scuba diving)
Great things to do on St. Lucia: relax in a spa, climb a piton (mountain), tour a botanical garden, go to a fish fry, ride a horse on the beach, ride a zip-line down a mountainside, play in a water park, watch them turn cocoa pods into chocolate, drink fresh coco water, take a sulfur spring bath, buy some spices and crafts, eat saltfish and green figs, go golfing, ride a bike, take a boat charter, go sailing, taste some rum, go to a street party, visit a drive-in volcano, eat barbecue and drink fresh juice on the street, learn a few words of patois and talk to the people, visit an historical site, enjoy a sunset . . . . .   Check out the video below for a glimpse of life on St. Lucia and a few additional leisure options.
A cushion for emergencies provides peace of mind when on vacation.  I recommend this diving insurance as they have worldwide coverage and provide scuba divers a quality insurance and medical assistance service.
Feedback and Comments
I hope you found this post on St Lucia scuba diving interesting and useful. If you have any questions or ideas, please feel free to share them in the comments section.  I'd love to know of any experience you have diving there.  If there is no comments section directly below, click here:  >>comments<<