We may earn money or products from the companies mentioned in this post.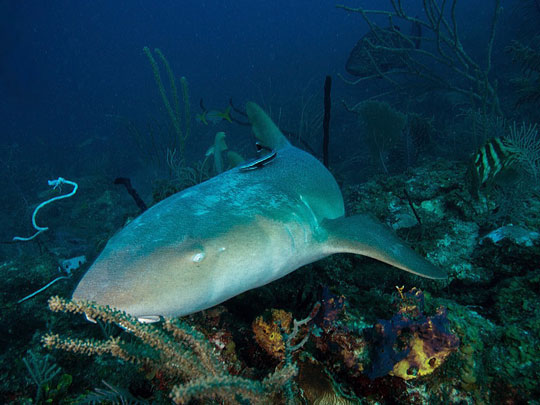 This is the ninety-ninth in a series of reviews of the best scuba diving destinations around the world.  In this post, the focus is on Cuba. In addition to this series on dive resort locations, the best worldwide liveaboard diving locations and services are reviewed in their own series.  To check them out, or others in this series, click on Liveaboards/Resorts on the menu at the top and choose a title from the list.
Have you ever been diving in Cuba before?  If so, I'd love to know about your experience.  What liveaboard or dive shop did you use?  What are the best dive spots and the conditions there like the visibility, current, water temperature, sealife attractions, etc.?  Please post your response in the comments section at the bottom and we'll all learn something we can use.
Scuba Diving Cuba
With a 5,600 kilometer (3,500-mile) coastline and Caribbean climate, Cuba is naturally endowed with beautiful coral reefs and biodiversity.  From the early days of the Communist takeover, Fidel Castro, himself a diver, after meeting with Jacques Cousteau, made protection of the undersea environment a priority.  There are several marine protected areas in place and fishing restrictions otherwise, leaving the reefs in remarkable condition today.
Water temperature is warm enough for maximum protection necessary of a 3 mm wetsuit and the visibility is great running to 40 meters (130 feet).  Diving is possible year-round with some inconvenience during the rain and hurricane season from May through October.
If you are diving on the southwest side surface conditions and current will be little affected in spite of the weather.
There is a great variety of dive sites from shallow mangrove forests and coral gardens, to steep drop-offs, ledges, and caverns, along with some historic wrecks including Spanish galleons and those of WWII vintage.
The reef itself is typified by a good variety of hard corals, lots of gorgonians, and a variety of colorful tube and stovepipe sponges.  There is strong macro life with mollusks, crustaceans, morays, and other critters in the nooks and crannies and lots of reef tropicals and schooling fish including several species of grunt and snapper.  Megafauna is also abundant with humongous jewfish, Nassau and black groupers, tarpon, stingrays, and 7 species of shark including Caribbean and blacktip reef sharks, silky, lemon, bull, nurse, hammerhead, and whale sharks.  Other attractions are green and hawksbill turtles, manta and eagle rays, stingrays, and saltwater crocodiles.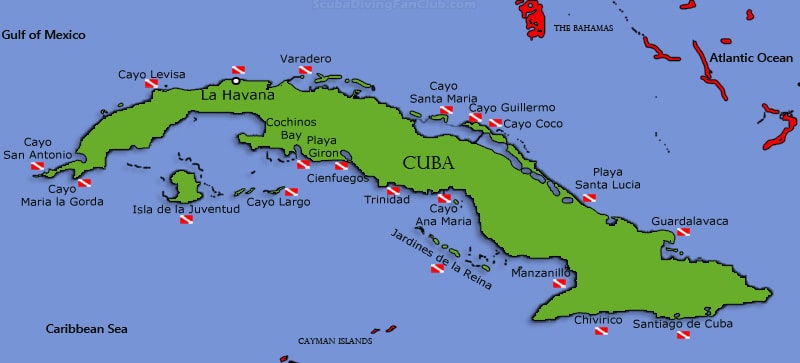 Selected Best Dive Sites Cuba
Jardines de la Reina (Gardens of the Queen): reachable by liveaboard, premier dive site in the country, 80 kilometers (50 miles) off the southern coast, much of it in a protected national park, part of a barrier reef with a mangrove nursery, deeper terrain of walls, slopes, and caverns, rich variety of corals, sponges, and gorgonians, lobster, green morays, schools of grunts and snapper, huge jewfish and grouper, 7 species of shark, turtles, tarpon, stingray, saltwater crocs, Spanish Galleons, little current, excellent visibility. Here is my review of Jardines de la Reina Liveaboards:  >>Best Cuba Scuba Diving Liveaboard Jardines de la Reina<<
Maria la Gorda and Cayo San Antonio:  part of the Great Natural Park Guanahacabibes, a UNESCO Natural Biosphere Reserve, with 50 dive sites, most sites start at 5 meters (15 feet) just offshore, there are steep walls, swim-throughs, and caves, some sites are known for huge black coral forests and gorgonian fans, lots of marine life including lobster, crabs, moray eels, big Nassau groupers, barracuda, jacks, possible manta rays, and whale sharks, also some 18th-century pirate wrecks and Spanish galleons, little current.
Isla de la Juventud (Isle of Youth): also known as Treasure Island, one hour flight from Havana and a 45-minute drive from there to the Punta Frances National Park, a marine protected area, in the southern end, 56 dive sites, accessible by boat ride within one hour, walls, tunnels, caves, and wrecks, Nassau and black groupers, tarpons, barracuda, jacks, turtles, eagle rays, several species of shark, little current.
Cayo Largo: over 50 dive sites, many shallow, most sites require a 10-30 minute boat ride, some an hour or two away, beautiful and colorful coral formations, swim-throughs and gorgonian covered walls, huge variety of sponge and coral species, lobster, eels, snappers, grouper, nurse and Caribbean reef sharks, barracuda, pelagics, whale sharks, and manta rays, excellent visibility, little current.
Cienfuegos: on the southern coastline with several dive centers and resorts, over 50 dive sites with lots of reef fish, impressive coral formations, walls, caves, and shipwrecks, one 6 meter (20 foot) high coral formation is known as Notre Dame due to the similarity to the famous cathedral (before it burned), barracudas, turtles, humongous jewfish, eagle rays, whale sharks.
Varadero: 16-kilometer (10-mile) stretch between Matanzas Bay and the western edge of Jardines del Rey, several dive centers are there, sandy shelf with many coral heads and formations, caves, lots of fish, the area includes the Parque Submarino Cayo Piedra del Norte with a wrecked submarine fully encrusted in coral and invertebrate life.
Jardines del Rey (Gardens of the King) and Cayo Coco: white sandy beaches, on the northern coast close to the Bahamas Channel, 10 kilometer (6.25 mile) long coral reef running from 10-30 meters (35-100 feet) in depth, lots of fish, parrotfish, angelfish, big schools of tarpon, jacks, and snapper, spadefish, groupers, barracuda, sharks.
Guardalavaca: 18 kilometer (11 mile) long area off the beach, several dive operations and resorts, variable underwater terrain with hills, valleys, gentle and steep drop-offs, walls, and caves, shallow coral gardens, lots of gorgonians, coral, and sponges, fishlife includes, snapper, jewfish, Nassau, black, and yellowfish groupers, sea bass.
Santiago: on the southern coast spread over 100 kilometers (62.5 miles) of shoreline, several dive centers,  narrow shelf with large coral crags, narrow channels, big sponges and gorgonians, many mollusks and crustaceans, shipwrecks, huge groupers.
Cuba Liveaboard Diving
There are three liveaboard dive boats cruising Cuba's Jardines de la Reina.  Here is my review of the boats and diving there and links to the liveaboard vessels and booking: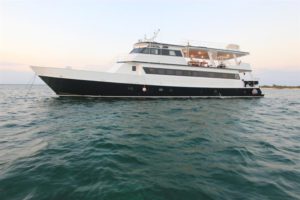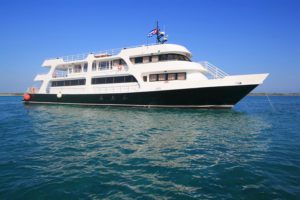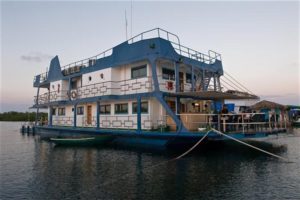 Here are my reviews of eastern Florida other Caribbean dive locations and liveaboards:
Things to do in Cuba (aside from scuba diving)
It's a big country full of history, culture, and scenery.  Here are a few possibilities of things to do and places to see:  smoke a Cuban cigar or learn how to roll one, visit a tobacco farm, ride in a classic American car, tour Havana, visit Morro Castle, drink a real mojito, Cuban rum, or daiquiri, visit Trinidad, swim in a cenote, go dancing, hike in Topes National Park, practice your Spanish, go to Vegas Grande Waterfall, eat a real Cuban sandwich or dine at a Cuban cafeteria, stay at a Casa Particulieres (homestay), eat fresh lobster, ride a bull.
This video gives a nice feel for life in Cuba and the options for a visitor.
Cuba Hotels, Transportation, and Diving Services
Air – Jose Marti International Airport in Havana is the major port of entry that handles flights from Canada, Mexico, Europe, Beijing, and several US cities including Charlotte, Newark, and Miami.  Antonio Maceo Airport in Santiago also links to Jamaica, Haiti, Miami, Toronto, Madrid, and Paris.  There are many flights between the many domestic airports.
Train – There is only one reliable train service, the overnight Tren Francés between Havana and Santiago which runs on alternate days.
Boat – There used to be a ferry from Cozumel, which is now out of service.
Bus – Two long-distance lines with aircon are in operation, Viazul and Astro.  Viazul also has onboard toilets.  One other line to provincial destinations primarily for local customers is also available, however, it is frequently crowded.
Shared Taxis (Collectivos) – 3-5 passengers can share this type of vehicle with the price being similar to a Viazul ticket.
Taxis – There are government and private versions that are a convenient way to get around cities. Vehicles are usually grouped around hotels and airports.
Rental Cars are readily available, but beware of scams and that any traffic accidents or infractions can leave you stuck in the country for many months settling up in court prior to being allowed to leave.
Hitchhiking – There are regular stops along major highways for certain vehicles to pick up hitchhikers.  They are known as Amarillo (yellow) points named for the yellow uniforms of the administrators there.  These are often full-service rest sites with water, food, and a place to rest.
For more complete details of tourist information, please go here:  Cuba – Wikitravel
Hotels and Diving – The major diving areas like those described here have dive shops to service them that provide a broad range of diving services.  PADI is not well represented, however, there are many that follow SSI standards and provide diving classes.  For hotels and accommodations, car rental, Cuba tours and excursions, and international and domestic airline bookings, this Cuban travel service is highly recommended.  Many of the hotels and resorts have an in-house dive shop or are affiliated with one.
Cuba Photos
With the pristine coral reef, variety of sharks, rays, grouper, reef fish, wrecks, and other underwater attractions, and scenic and historic shoreside targets, as well, there are many excellent photo opportunities.  For information and reviews of dive cameras, click here:
A cushion for emergencies provides peace of mind when on vacation.  I recommend this diving insurance as they have worldwide coverage and provide scuba divers a quality insurance and medical assistance service.

Feedback and Comments
I hope you found this post on Cuba scuba diving interesting and useful. If you have any questions or ideas, please feel free to share them in the comments section.  I'd love to know of any experience you have diving in Cuba.  If there is no comments section directly below, click here:  >>comments<<