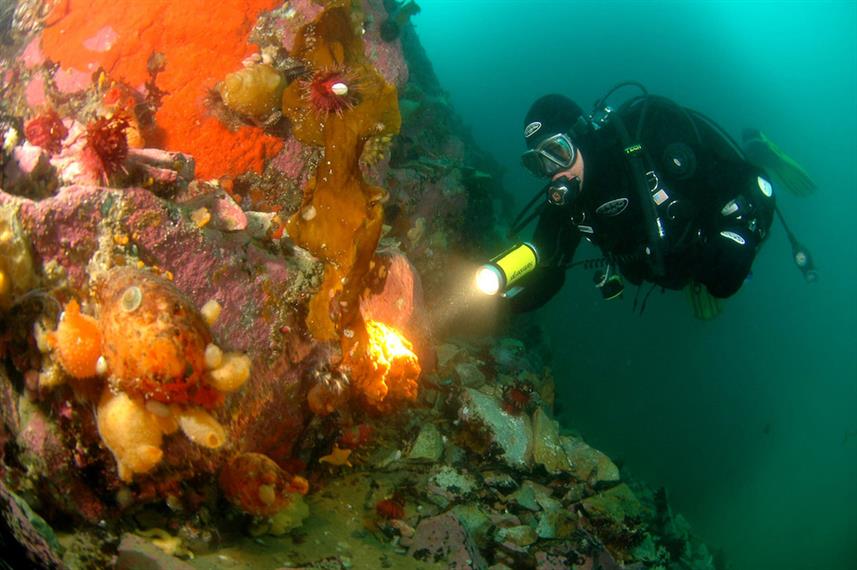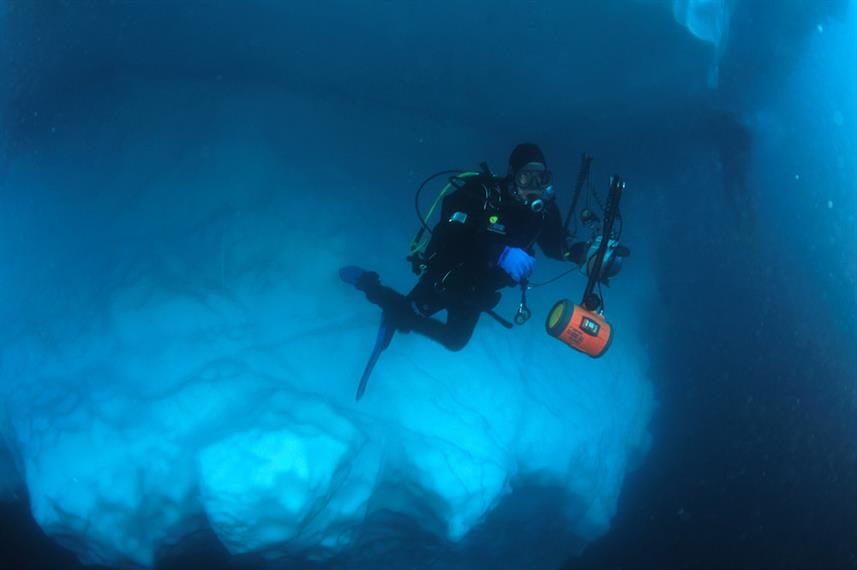 This is the twenty fourth in a series which introduces and describes the various dive services and sites for worldwide liveaboard dive safaris.  The focus in this one is on Arctic and Antarctic liveaboards.
In addition to this series on liveaboards, the best worldwide dive resort locations and services are reviewed in their own series.  To check them out, or other liveaboards, click on Liveaboards/Resorts on the menu at top and choose a title.
Scuba Diving Antarctica and the Arctic
On these cruises the vast majority of guests are not diving.  There is strong emphasis on sight-seeing and lots of shore time with wildlife.  In the Antarctic there will be some soft climbing of mountains, kayaking the shorelines and encounters with gentoo and emperor penguins, orcas, sea lions and leopard seals hunting.  In the Arctic there is hiking, snowshoeing, kayaking and encounters with polar bears, reindeer and humpback whales.  The Aurora Borealis may also appear.
Diving is from tenders or shore and will be shallow, to 60 feet (18 meters) only.  Divers should bring their own equipment, including a drysuit, and have previous experience using it in cold water. The aim is for 1-2 dives per day, based on conditions.
For some advice and information about drysuits, please click here:  Top 10 Scuba Drysuits of 2019 Compared and Reviewed
In the Antarctic, many of the creatures seen from the boat or on land (ice) will also highlight the underwater experience – penguins, leopard seals, sea lions and orcas.  There also will be kelp walls, sea snails, starfish and giant isopods, among many others.
In the Arctic, diving highlights include sea lions, lobster, crabs, sea hedgehogs (urchins), ice formations and wrecks.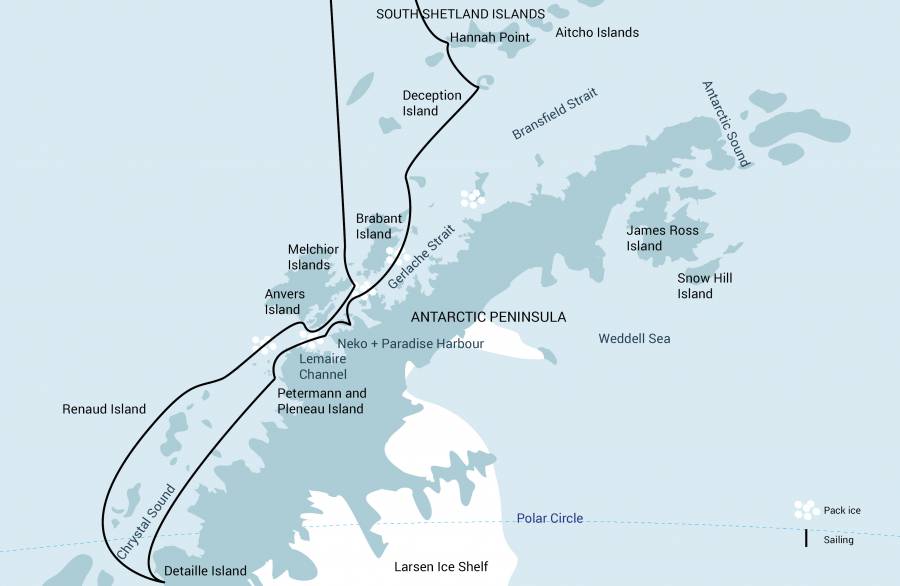 Arctic and Antarctic Liveaboard Dive Boats
The two ships cruising the Arctic and Antarctic waters are large and designed to handle the cold and icy conditions.  They do a significant number of sight-seeing trips configured with differing stops and destinations.  Some of these tours also include scuba diving, but most of the guests will be watching or participating in other activities while the divers do their thing.
MV Ortelius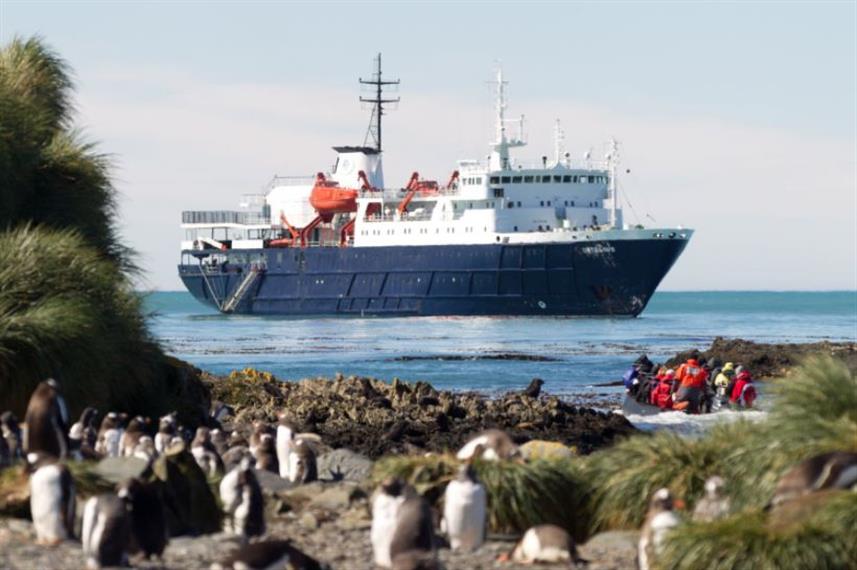 Dives the Arctic and Antarctic regions
Antarctic expeditions include diving in February and March 2019
Antarctic itineraries to the Antarctic Peninsula, South Georgia, South Shetlands, Ushuaia
No Arctic diving expeditions in 2019, check the schedule in 2020 when it is published
Arctic itineraries (when scheduled) to Spitsbergen
Laundry service, daily housekeeping, audio & video entertainment, library, TV in cabins, air conditioned saloon, aircon cabins, sun deck, paid internet, en-suite bathrooms, observation deck, western food
English speaking crew
Dives to depths of 30-60 feet (9-18 meters)
1-2 dives per day based on conditions
Cold water and dry suit experience a prerequisite
Snorkelers and non-divers welcome
Experienced and qualified dive crew
Tenders for diving
Emergency life rafts
Check out Antarctic tours on Liveaboard.com
Check out Arctic tours on Liveaboard.com
MV Plancius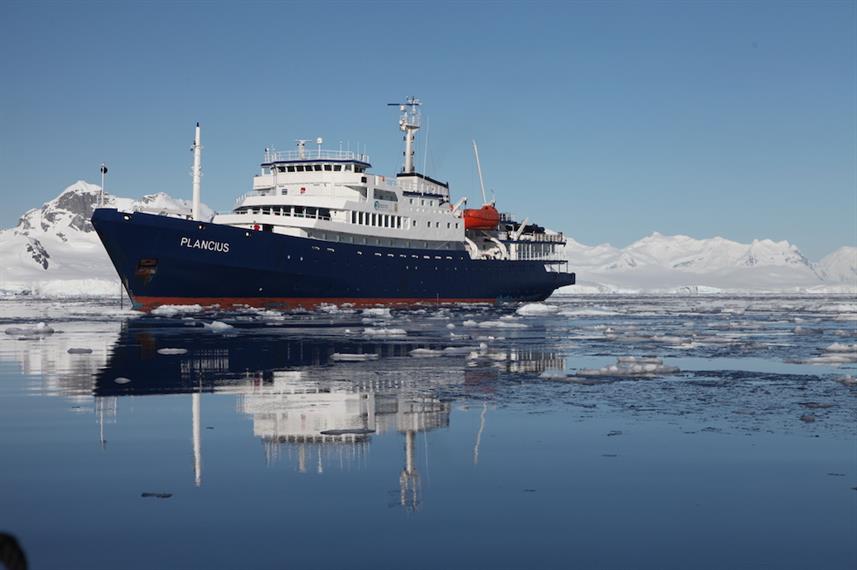 Dives the Arctic and Antarctic regions
Antarctic expeditions include diving from November through March yearly
Antarctic itineraries to the Antarctic Peninsula, Base Camp Cruises, Falkland Islands, South Georgia, South Shetlands, Ushuaia
Arctic diving expeditions include diving from May through September yearly
Arctic itineraries include Aurora Borealis, Northern lights cruise Iceland, Spitsbergen
Laundry service, daily housekeeping, audio & video entertainment, library, TV in cabins, air conditioned saloon, aircon cabins, sun deck, indoor saloon, paid internet, en-suite bathrooms, observation deck, western food
English speaking crew
24 diver limit on Antarctic cruises
Dives to depths of 30-60 feet (9-18 meters)
1-2 dives per day based on conditions
Cold water and dry suit experience a prerequisite
Snorkelers and non-divers welcome
Experienced and qualified dive crew
Tenders for diving – 10 Mark V zodiacs
Emergency rafts
Check out Antarctic tours on Liveaboard.com
Check out Arctic tours on Liveaboard.com
MV Ortelius
MV Plancius

Length

91 m
89 m
Guests

116
116
Crew

52
47
Equipment

Provide Your Own
Provide Your Own
Nitrox

No
No
Snorkeling
Yes
Yes
Price/Day Antarctica
$587
$137
Price/Day
the Arctic

$335
$431
I hope you found this post on Arctic and Antarctic liveaboards interesting and useful.  If you have any questions or ideas, please feel free to share them in the comments section.  If there is no comments section directly below, click here:  >>comments<<