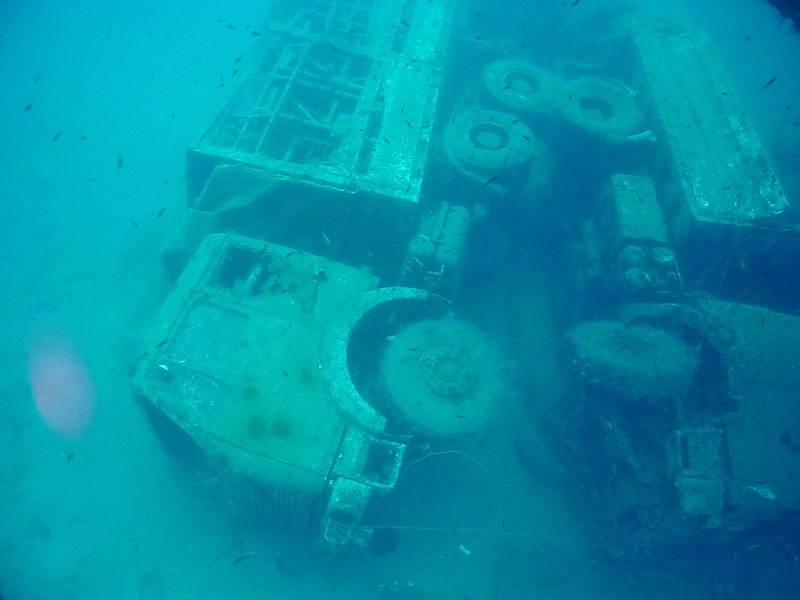 Updated May 29, 2022
This is the one hundred and third in a series of reviews of the best dive resort locations around the world.  In this post, the focus is on Cyprus. In addition to this series on dive resort locations, the best worldwide liveaboard diving locations and services are reviewed in their own series.  To check them out, or others in this series, click on Liveaboards/Resorts on the menu at the top and choose a title from the list.
Have you ever been diving in Cyprus before?  If so, I'd love to know about your experience.  What dive shop or liveaboard did you use?  Which dive spots are the best and what are the conditions there regarding the visibility, current, water temperature, sealife attractions, etc.?  Please post your response in the comments section at the bottom and we'll all learn something we can use.
Scuba Diving in Cyprus 
Background
Located south of Turkey and west of Syria and Lebanon, Cyprus is the third largest island in the Mediterranean, behind only Sicily and Sardinia in area.
With a population of around 1.2 million, the Republic of Cyprus is recognized by the United Nations as a single nation.  In fact, though, the northern 35% of the country is controlled by Turkey and calls itself the Turkish Republic of Northern Cyprus.  There is an UN-controlled Green Zone as a buffer between the Turkish and Greek areas as well as two UK-controlled bases.
The airport in Nicosia, the largest city, previously the major airport in the country, is in the UN buffer zone and out of use since 1974.  There are some protocols about entry and exit points into the country, but today it is fairly easy to make the necessary arrangements.
While there is a certain historic animus between the two groups, they share many cultural values and practices.  Greek Cypriots make up 77% of the population and Turkish Cypriots 18%.
There are two mountain ranges with a central plain separating them.  Mount Olympus is the tallest peak at 1,952 meters (6,404 feet).
The 2012 Eurozone banking crisis had a major economic effect resulting in substantial foreign aid to assist recovery.  The economy is based on offshore businesses, financial services, shipping, and tourism, and recently natural gas exploration has come into the picture.
Undersea World
Diving in Cyprus is renowned for its crystal clear water, gentle sea conditions, attractive reefs and marine life, and a number of wrecks.
Some of the sites can be accessed right off a sandy beach or rocky coastline and others require a boat to reach the varied undersea terrain that includes caves and ancient archaeological features and artifacts.
There are grassy areas and richly encrusted rocky outcrops with a nice array of Mediterranean life like flounder, cornetfish, wrasses, cuttlefish, octopus, nudibranchs, snails, bream, triggerfish, grouper, barracuda, and turtles.
Some of the wrecks found the seafloor through scuttling to create artificial reefs and others occurred through more natural circumstances with the highlight of the Zenobia wreck near Larnaca.
The Amphorae Caves off Paphos are another highlight with ancient pottery within.
Dive locations and facilities are situated around the island in Larnaca, Limassol, Paphos, Polis, Kyrenia, Famagusta, and Paralimni/Protaras.
Seasons and Conditions
The best time for diving in Cyprus is from March through November.
Air temperature is moderate to warm all year with daily averages from 11°C (52°F) in January to 27°C (80°F) in July and August.
Water temperature consistently stays from 17 to 27°C (63-80°F) during the March through November dive season.  Divers should be prepared to wear 7 mm wetsuits or drysuits with a hood and gloves when the water is at its coolest.
The dry season pretty much corresponds with the diving season.  Surface conditions are smooth until the winter storms whip up the sea and disturb visibility.
Visibility is normally in a range of 20-35 meters (68-120 feet) during the dry season and a few meters less during the rains.
Currents are generally not a factor.
There are sites suitable for all levels of diver. At least 50 dive shops are in operation around the island located near the popular dive sites.  They offer a full range of diving coursework, equipment rental, guiding, and boat cruises.
For information about cold water gear, please check out my review:
Liveaboard Diving
There are no major liveaboard yachts cruising Cyprus but there are some others to European sites: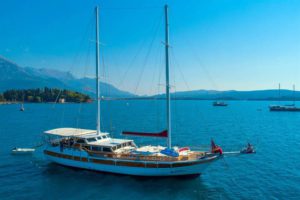 Sadri Usta – Montenegro Liveaboard Adventure Cruise – Check the Price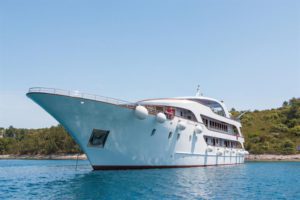 MV Futura – Croatia Liveaboard Adventure Cruise – Check the Price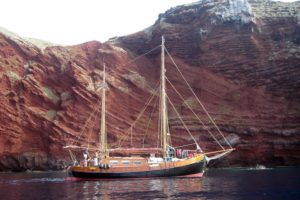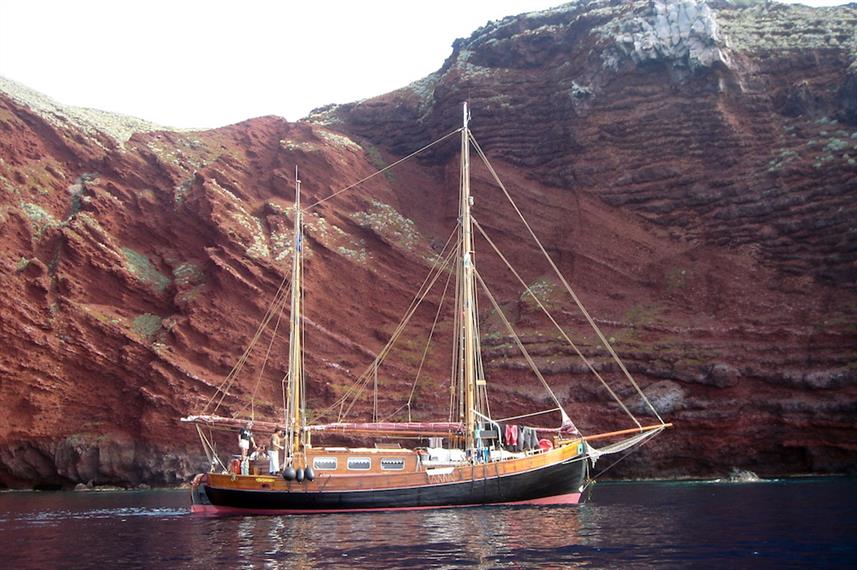 Norseman, Tuscan Archipelago Scuba Diving Liveaboard – Check the Price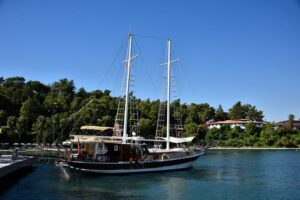 Fethiye Diving Expeditions, Turkey Scuba Diving Liveaboard – Check the Price
For my reviews of other Mediterranean and Adriatic diving, please check out these posts: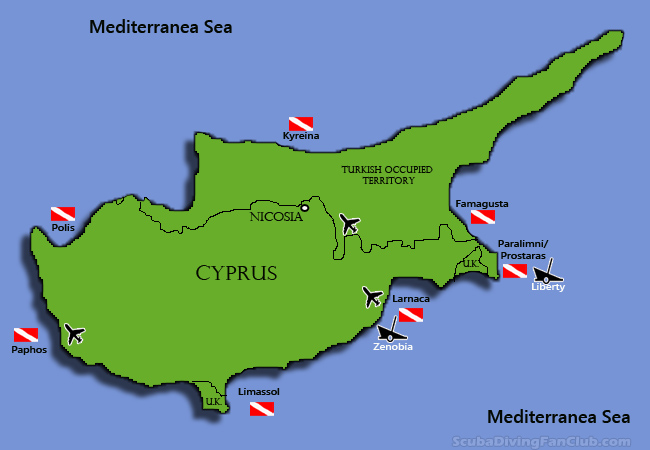 Selected Cyprus Dive Sites
Zenobia Wreck, Larnaca: 17-43 meters (68-141 feet), 178-meter (584-foot) Swedish ferry sunk on her maiden voyage off Larnaca in 1980, largely intact, propellers in place, lying on her port side on a rocky and sandy seabed, easy penetration of the ship's cafeteria and huge holds, 100 trucks still on board chained to the hold and suspended from the walls, schooling barracuda and tuna, big grouper, experienced and technical level
Amphorae Caves, Paphos: 5-12 meters (16-40 feet), many gullies and caves with encrusted ancient clay storage jars (amphorae), some stuck in the ceilings of caves, all levels
The Canyon, Cape Greko National Park, Ayia Napa near Paralimni/Prostaras: 22 meters (73 feet), accessible from shore, beneath the cliffside, rocky formations, rich marine life, stingrays, experienced level
Jubilee Shoals, Avdimou, Limassol: 60 meters (200 feet) maximum depth, a wall with caves, a tunnel, and accompanying pinnacles, drop-off from 20-60 meters (68-200 feet), macro life including octopus and moray eels, jacks, and tuna along the wall, experienced and technical levels
Manidjin Island, Paphos: 6-25 meters (20-83 feet), small island 10 minutes from Coral Bay Harbor, a wall with a cave and swim-through, the cave encrusted with calciferous algae, often there are schools of yellowfin barracuda, experienced level
Devil's Head, Akamas Peninsula, Polis: 11 meters (38 feet), caves and interconnecting tunnels, lots of marine life, including green and leatherback turtles during the summer, all levels
Green Bay, Protaras: 10 meters (35 feet), statues and columns, a feeding station with lots of marine life, good training area, all levels
Costandis Wreck, Limassol: 24 meters (80 feet), Soviet trawler built in 1989 and scuttled in 2014 to create an artificial reef, marine life is still developing, conveniently just offshore from the Imperial Crowne Plaza Hotel, big open area swim-throughs, all levels
Lady Thetis Wreck, Limassol: 18 meters (60 feet), Cypriot passenger ship scuttled to become an artificial reef in 2014, many easy swim-throughs, marine life is still developing, currently a habitat for damselfish, bream, and grouper, all levels
The Chapel, Ayia Napa near Paralimni/Prostaras: 30 meters (100 feet), shore access, a wall with sponges, octopus, scorpionfish, old amphorae are also there, experienced level
Cyprus Things to Do (aside from scuba diving)
Cyprus is bathed in history with many historic sites along with scenic beauty and cultural aspects to enjoy.  Here is a list of considerations:  Adonis Baths, Church of St. Lazarus, Stavro Vouni Monastery, Paphos Mosaics, Cape Greco, Millomeris Waterfalls, Avakas Gorge, Hala Sultan Tekke, Kykkos Monastery, Amathus, The Archaeological Museum of Limassol, Limassol Castle, Kolossi Castle, Limassol Zoo, Cyprus Museum, Choirokoitia, Pafos Zoo, Pierides Museum, Protaran Ocean Aquarium, Thalassa Petra tou Romiou, Kato Paphos Archaeological Park, Medieval Castle of Paphos, Tombs of the Kings, Leventis Gallery, and don't forget food, drink, and nightlife.
This video shows some intriguing spots and gives a nice overview of options for a visitor.
Cyprus Transportation, Hotels, and Diving Services
Transportation
Air – Larnaca International Airport is the entry point for flights from around Eastern and Western Europe and many Middle East Capitals.  There are no flights from the south to the north within Cyprus.  There is a public bus from the airport to central Larnaca.  There is also a domestic airport in Paphos.  Shuttles run from both airports directly to Nicosia and Limassol.
Boat – A few ferries run between the ports in the south to Greece and Crete.  There is a ferry to Turkey running from Kyrenia.
Buses – Cyprus has a comprehensive bus system all around the country.
Shared Taxis run from 6 or 7 am and stop service at 5 or 6 pm.  They will take you from point to point anywhere within city limits.
Cars are available for rent.  Beware of incompetent and careless drivers and poorly marked roads.  Driving is on the left.
Bicycling is popular on motorways and on mountain routes.  Routes marked with the letter "A" indicate bicycling is prohibited.
For more complete details of tourist information, please go here:  Cyprus – Wikitravel
Hotels and Diving
There are hundreds of hotel and lodging options of all levels in Cyprus starting at around $15 per night.  At last count, there were 50 dive shops around the island.  A number of them are located in or affiliated with resorts and offer a range of services including equipment rental, diving certification classes, dive guides, and boat tours.
The website linked below has the details and can arrange the booking.  You can easily find the location on the map provided on this site.  Their rates are guaranteed to be the lowest and it is free to cancel or change dates.
Cyprus Photos
With the beautiful reefs, a variety of fish, wrecks, macro critters, and scenic shoreside targets, as well, there are many excellent photo opportunities.  For information and reviews of dive cameras, click here:
Scuba Diving Trip Insurance
A cushion for emergencies provides peace of mind when on vacation.  I recommend this diving insurance as they have worldwide coverage and provide scuba divers a quality insurance and medical assistance service.
Feedback and Comments
I hope you found this post on Cyprus scuba diving interesting and useful. If you have any questions or ideas, please feel free to share them in the comments section.  I'd love to know of any experience you have diving in Cyprus.  If there is no comments section directly below, click here:  >>comments<<