We may earn money or products from the companies mentioned in this post.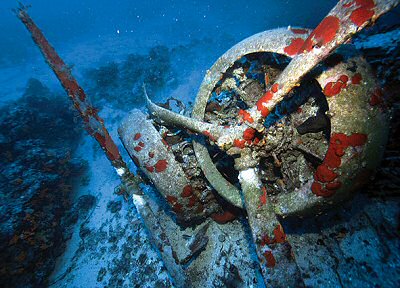 This is the ninetieth in a series of reviews of the best dive resort locations around the world.  In this post, the focus is on Crete. In addition to this series on dive resort locations, the best worldwide liveaboard diving locations and services are reviewed in their own series.  To check them out, or others in this series, click on Liveaboards/Resorts on the menu at the top and choose a title from the list.
Have you ever been diving in Crete before?  If so, I'd love to know about your experience.  What dive shop or liveaboard did you use?  Which dive spots are the best and what are the conditions there regarding the visibility, current, water temperature, sealife attractions, etc.?  Please post your response in the comments section at the bottom and we'll all learn something we can use.
Scuba Diving on Crete
Background – The largest Greek island of Crete is situated 160 kilometers (100 miles) south of the Greek mainland and 645 kilometers (403 miles) from Libya.  260 kilometers (162 miles) long and 60 kilometers (37.5 miles) in width, it was the center of the Bronze Age Minoan Civilization from 2,700-1,420 BC, the earliest in Europe.  The population today of 633,000 uses services and tourism to drive the economy with 3,000,000 visitors annually.  Agriculture and stock raising are traditional livelihoods that are still factors.  It is an island of hills and valleys with Mount Ida the highest point at 2,456 meters (8,058 feet).  The climate is primarily Mediterranean with some snow in the mountains from November to May.  The southern coastal area is in the North African climatic zone with more sunny days and higher temperatures throughout the year.  For more demographic, historical, and cultural information, click here:  Wikipedia – Crete
Undersea World – Crete has a colorful, remarkably rich Mediterranean reef with an interesting variety of subsea terrain including volcanic rocky reefs, walls, caves, caverns, arches, and swim-throughs in exceptionally clear water with little to no current.  Most of the caves are suitable for all levels of diver.  The list of rich marine life is long with several plant varieties, colorful sponges, hard and soft corals, and black coral trees in places, anemones, tube anemones, tube worms, crinoids, scorpionfish, octopus, squid, cuttlefish, moray and conger eels, and slipper and spiny lobster.  Various mollusks, crabs, nudibranchs, seahorses, shrimps, flying gurnards, octopus, cardinalfish, soldierfish, several varieties of wrasse, black gobies, razorfish, star-gazers and even more great macro critters can be found on the dive sites of Crete.  More sizable attractions include grouper, common stingrays, brown rays, schools of jacks and barracuda, loggerhead turtles, occasional tuna, dolphins, porpoises, monk seals, and the possibility of sperm whales and hammerhead sharks.  There are several notable plane and shipwrecks that are mostly reasonably shallow and don't require advanced technical diving skills.
Seasons and Conditions – It's possible to dive all year in Crete.  Average air temperatures are 24-26°C (75-79°F) from May to September and 11-20°C (52-68°F) from October to April.  The water temperature reaches a high of 26-27°C (79-82°F) in August and a low of 17°C (63°F) from January to March.  At the coolest, some will want a 7 mm wetsuit or a drysuit.  Current is minimal and visibility is usually great running from 15-35 meters (50-116 feet).  Rain does not often disturb diving for long with the dry season from April to September.  Most of the diving is not deep and there are sites suitable for all levels.  Shore access is often possible.  At least 47 dive shops offer a full range of diving coursework, equipment rental, guiding and boat cruises.
Here is my review regarding the range of gear suitable for cold water diving:
There is not a liveaboard that directly cruises the Crete dive sites, but there is a boat that goes to the not too distant Tuscan Archipelago (Italy).  Here is my review and links to that liveaboard: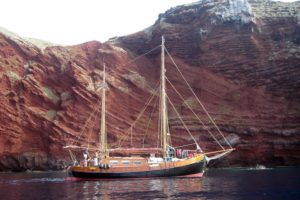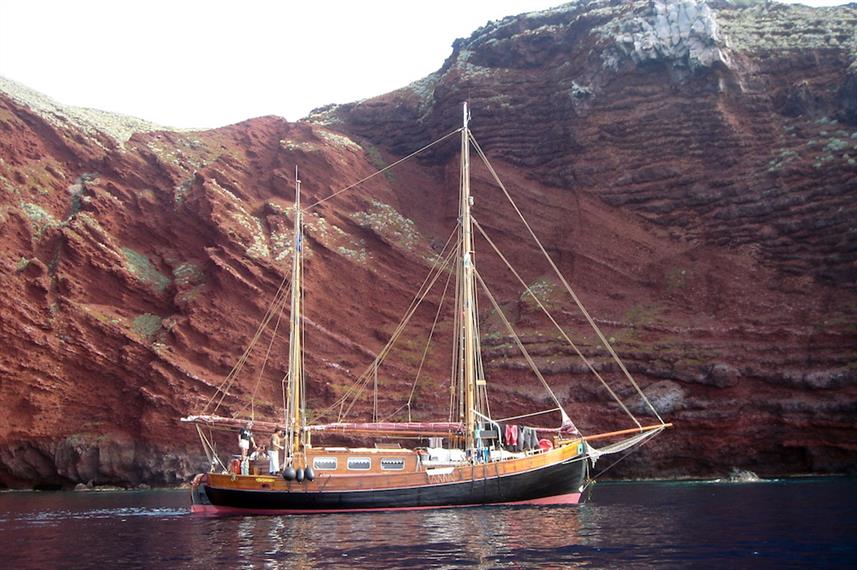 Norseman, Tuscan Archipelago Liveaboard – Check the Price

Selected Crete Diving Sites
Big Anchor: 33 meters (110 feet) maximum depth, shore or boat entry, near Agia Pelagia (north side), 400 year old anchor protruding from the sandy seabed at 27 meters (90 feet), nice reef with rich marine life to the maximum depth, big grouper over 1 meter in length, large sponges, experienced level
Blue Cave: 22-30 meters (73-100 feet), boat entry, Agia Pelagia (north side), 11 meters (38 feet) wide and 15 meters (50 feet) deep cave, reef with large rocks outside the entrance with red corals, sponges, and soft coral, jacks, snappers, white bream, nooks and crannies with shrimps, clams, and other invertebrates, experienced level
El Greco Cave: 20 meters (68 feet), shore or boat entry, between Sisses and Agia Pelagia (north side), 30 meter (100 feet) deep cave, entrance 8 meters high x 5 meters wide (25 feet high x 16 feet wide), area around and inside includes tuna, moray eels, grouper, and lobster, stalactites and stalagmites, siphon at the rear permits ascent to an area inside the cave at the surface, experienced level
Islet of Dia: 18 meters (60 feet), boat entry, northeast of Agia Pelagia, 20 meter (68 foot) wreck is there, sunk 130 years ago at high tide, bow at 18 meters (60 feet) and stern at 12 meters (40 feet), rich marine life including big grouper, sponges, colorful encrustations, and clams in and around the wreck and reef, all levels
Kalypso Walls: 40 meters (130 feet) maximum depth, shore entry, Kalypso Bay (south side), walls, rock formations, caverns, colorful sponges, grouper, octopus, starfish, moray eels, all levels depending on the depth
Messerschmitt Bf-109: 24 meters (80 feet), boat entry, Analipsi 10 km (6.25 miles) east of Heraklion, (north side), upside down and broken up, on a sandy bottom, fuselage and wings are intact, one machine gun and ammunition belt remain, tail is 50 meters (170 feet) away at 30 meters (100 feet), rich plant life, moray eels, grouper, small reef nearby, experienced level
Skinaria Bay: 33 meters (110 feet) maximum depth, south of Rethymno (south side), shore or boat entry, rocky seabed, walls, small swim-through, small Skinaria Cave from 10-22 meters (35-73 feet), moray eels, starfish, shrimps, sponges, grouper, experienced level
Mononaftis: 35 meters (116 feet), near Agia Pelagia (north side), shore entry, large site, reefs, rock formations, small caves, canyons, rich marine life including sponges, anemones, mollusks, grouper, conger and moray eels, cuttlefish, squid, crabs, seahorses, scorpionfish, bream, occasional stingrays, barracuda, and dolphins, all levels depending on depth
Elephant Cave: 9 meters (29 feet), boat entry, near Hersonissos (north side), elephant fossils in a cavern, vertebrae, teeth, and a tusk are visible, stalactites and stalagmites, all levels
Crete Photos
With the interesting undersea terrain of arches, caves, and tunnels, colorful encrusting invertebrates and fish, historic ship and plane wrecks, interesting landmarks, shoreside geographical sites, and city scenes as well, there are many excellent photo opportunities.  For information and reviews of dive cameras, click here:
Best Crete Hotels, Transportation, and Dive Shops
Transportation
Air – There are three airports in Crete, the main international airport at Heraklion, a military airport at Chania, and a smaller domestic airport in Sitia.  They all handle frequent flights from Athens and mainland Greece.  The Heraklion Airport is slated to be replaced before long due to it being too close to the city.
Taxis are expensive and not a good option for long journeys.  Short hops and as airport transit they are suitable.
Bus service is frequent and trustworthy.
Ferries – There are regular runs between several ports in mainland Greece and Crete.
Rental cars, dune buggies, 4 wheel drive vehicles, larger group vans and cars, motorcycles, scooters, and bicycles are all easy to find at tourist centers.
For a more detailed expose of transportation logistics and information, please click here:  Wikivoyage – Crete
Lodging and Dive Shops – Crete is well prepared for its 3 million annual tourists with over 1,741 lodging options starting at $6 a night.  There are also at least 47 dive shops all around the island that offer full services including equipment rental, dive courses, guiding and boat dive cruises.  The website linked below has the details and can arrange the booking.  You can easily find the location on the map provided on this site.  Their rates are guaranteed to be the lowest and it is free to cancel or change dates.
Crete Things to Do (aside from scuba diving)
With its long history, archaeological sites and ruins, and beautiful seaside towns and landscapes, there is a lot to see on Crete.  Here are a some of them:  Samaria Gorge, Nautical Museum of Crete, Chrissokalitissa Monastery, Natural History Museum of Crete, Arkady Monastery, Elafonissi, Phaistos Minoan Palace, Spinalonga, Balos Lagoon, Heraklion Archaeological Museum, Cretaquarium, Psychro Cave, Kourtaliotiko Gorge, Koules Fortress, Archaeological Museum of Chania, Agios Minal Cathedral, Nautical Museum of Crete, Knossos Minoan Palace, Mount Ida, Gortina, Gournia.
This video is a nice glimpse of what Crete has to offer.
A cushion for emergencies provides peace of mind when on vacation.  I recommend this diving insurance as they have worldwide coverage and provide scuba divers a quality insurance and medical assistance service.
Feedback and Comments
I hope you found this post on Crete scuba diving interesting and useful. If you have any questions or ideas, please feel free to share them in the comments section.  I'd love to know of any experience you have diving in Crete.  If there is no comments section directly below, click here:  >>comments<<