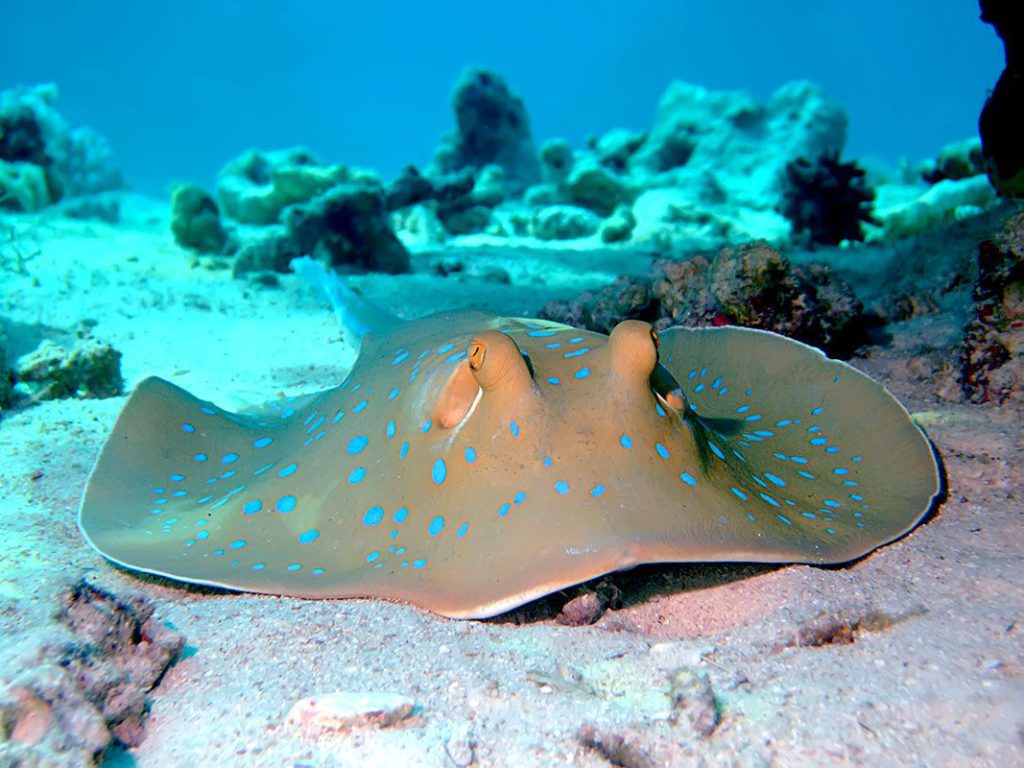 Updated August 9, 2022
This is the sixty-fourth in a series of reviews of the best scuba diving destinations around the world.  In this post, the focus is on Zanzibar, Tanzania.
In addition to this series on diving destinations, the best worldwide liveaboard diving locations and services are reviewed in their own series.  To check them out, or others in this series, click on Liveaboards/Resorts on the menu at the top and choose a title from the list.
Have you ever been diving in Zanzibar before?  If so, I'd love to know about your experience.  What dive shop or liveaboard did you use?  Which dive spots are the best and what are the conditions there regarding the visibility, current, water temperature, sealife attractions, etc.?  Please post your response in the comments section at the bottom and we'll all learn something we can use.
Best Diving in Zanzibar
Background
Zanzibar is a semi-autonomous region of Tanzania consisting of Unguja Island, commonly called Zanzibar, Pemba Island to the north, and many smaller islands.  The Zanzibar archipelago also includes Mafia Island to the south, a part of Tanzania. Including Pemba, the total population is 1,305,000.
Unguja, the main focus of this article, is set 25-50 kilometers (16-31 miles) off the coast of mainland Tanzania and is 85 kilometers (53 miles) long and 39 kilometers (24 miles) wide.  This low-lying island has a high point of only 120 meters (390 feet) and has been occupied by people for over 20,000 years.
Zanzibar long served as a trading base with the Swahili settlements on the mainland and has attracted a diverse group of traders who have made it their base over the millennia including Persians, Arabs, Indians, Malays, Chinese, and later Italian, Portuguese, Omani, and the British.  Today the vast majority of citizens are ethnic Africans with a number of ethnic Arabs, Persians, and Indians.  Swahili is the official language with many residents also speaking Arabic, French, and/or Italian.
Famous for cloves, nutmeg, cinnamon, and black pepper production, these spices are still a part of the economy today, but the market for Zanzibar has suffered from more efficient foreign production.  A palm fiber product (raffia) is also a major crop with tourism becoming increasingly important.
Besides seaside activities, there are a number of endemic species like the red colobus monkey and servaline civet that attract visitors.
Overall the economy is weak and has been influenced by failed socialism from the central government.  The annual per capita income is $656.  Traditional fishing and the production of dugout canoes remain a staple for many.
Undersea World
Zanzibar is renowned for over 500 fish species, diverse underwater terrain with rich reefs, walls, pinnacles, and wrecks with great macro life, a beautiful array of reef tropicals, some big residents, and intriguing pelagic visitors.
Pemba Island, 90 kilometers (56 miles) north of Unguja (Zanzibar), has a variety of sites with highlights including mantas, hordes of mobula rays, eagle rays, turtles, and reef sharks. Near Pemba is Mesali Island with a turtle nesting site and pods of dolphins.
Mafia Island, 150 kilometers (93 miles) south of Unguja Island, is known for snorkeling with whale sharks and has a famous pinnacle where there are pelagics including sailfish and tuna to go along with schools of batfish, turtles, reef sharks and rays, lots of reef fish and great macro critters like leaf fish and nudibranchs.
Unguja Island, the most developed scuba diving location, has dozens of sites mostly around the northern third, though there are sites and services available in other locations to the south, especially around Zanzibar City, where shipwrecks are an attraction.  Unguja has beautiful hard and soft corals, tube and barrel sponges, and great macro critters like ribbon eels, stonefish, frogfish, and a variety of pipefish, seahorses, morays, nudibranchs, and flatworms.  There are over 600 species of fish with highlights like butterflyfish, squirrelfish, angelfish, porcupine puffers, blue-spotted stingrays, fusiliers, bannerfish, Moorish idols, snappers, and grouper.  There are also green and hawksbill turtles, cuttlefish, reef sharks, eagle and manta rays, and seasonal whale and hammerhead sharks.
Seasons and Conditions
It's always nice and warm in Zanzibar and possible to dive year-round.
Average daily high temperatures hit their peak in February and March at 33°C (91°F) and lows of 28°C (83°F) in June through August.
The annual range for water temperature is 25.5-29°C (76-84°F).  A 3 mm wetsuit ought to suffice for most divers when the water is at its coolest.
The heaviest rains come in March through May with another wetter time in November and December.  Some days of diving could be missed at those times.
Most of the sites have mild currents.  A few, particularly some of those offshore, can have a strong current.
Average visibility is from 12-18 meters (40-60 feet) and can extend beyond 60 meters (200 feet) at times on some sites.
There are conditions suitable for all levels of diver.
On Unguja Island where tourism and diving are most developed, there are at least 26 dive shops, mostly located in the north, that can provide training, equipment rental, guiding, and boat tours.  Pemba Island is much more limited in diving services and accommodations and Mafia Island is the most limited of the three.
Liveaboard Diving
None of the major liveaboard yachts travel to Zanzibar.  However, there a quite a few that cruise the relatively nearby Madagascar and Seychelles dive sites.  Please click here for my reviews: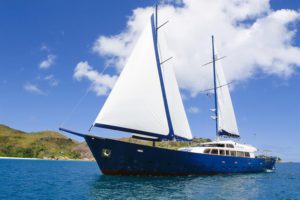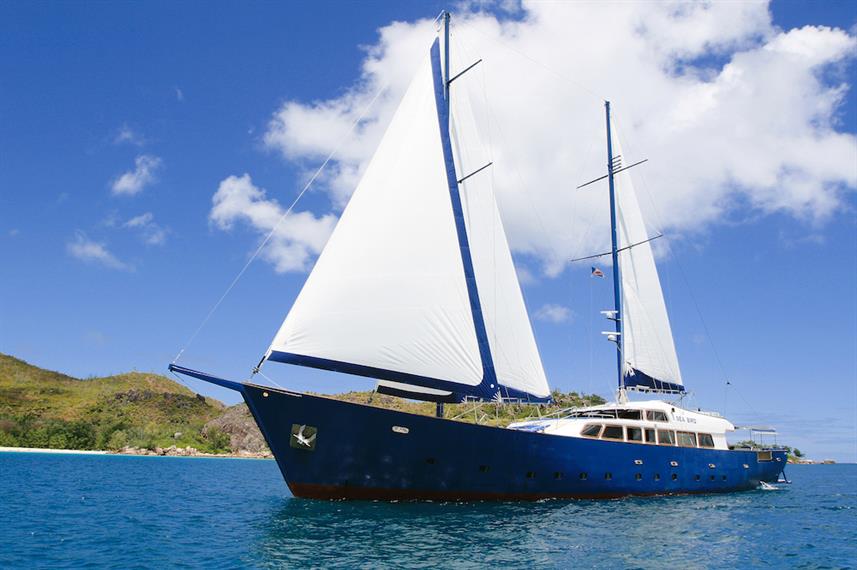 SY Sea Bird, Seychelles Liveaboard Diving – Check the Price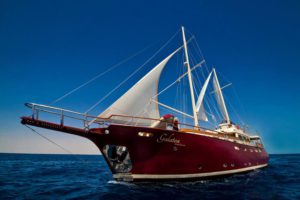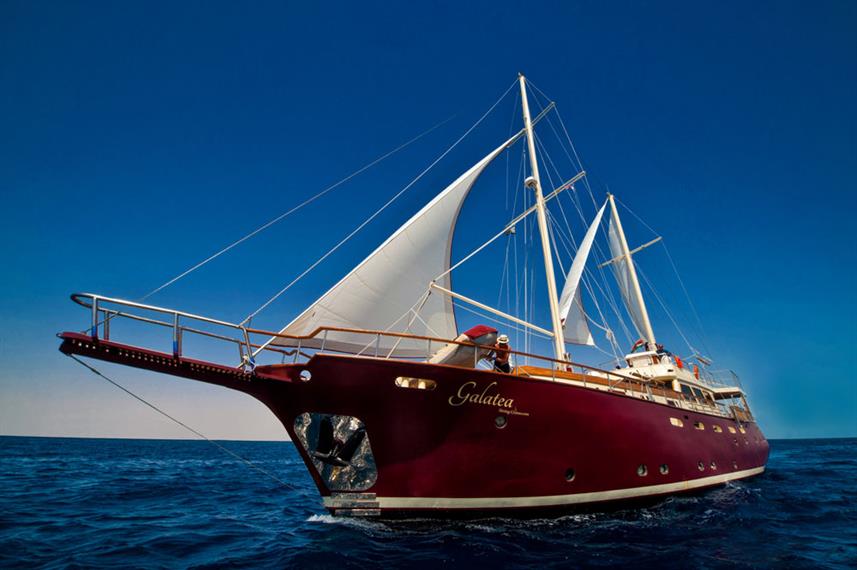 MV Galatea, Madagascar Liveaboard Diving – Check the Price
For my reviews of some other Southwest Indian Ocean resort diving areas, please check these posts:

A Sampling of Zanzibar Diving Sites
Tumbatu Reef: 5-30 meters (16-100 feet), coral wall to 12 meters (40 feet) and gentle slope with coral heads to 20 meters (68 feet) and sandy on down to 30 meters (100 feet), good macro life including ghost pipefish and seahorses, grouper, all levels
Saidi Reef: 14-60 meters (47-200 feet), channel dive, great diversity, big barrel sponges, huge schools of yellow snappers, big Spanish dancers, strong current possible, advanced level
Hunga Reef: 18 meters (60 feet) maximum depth, patch reefs of connected coral heads with hard and soft corals, schools of twin stripe fusiliers and yellow snappers, parrotfish, unicornfish, grouper, emperor angelfish, morays and crocodile fish, trevallies, reef sharks, eagle and manta rays, strong current possible, experienced level
Shamzi Reef: 28 meters (93 feet) maximum depth, fringing reef great for macro and muck diving, small sections of coral to 14 meters (47 feet), small wall from 18-24 meters (60-80 feet), then changing to a slope down to 28 meters (93 feet), many varieties of scorpionfish including weedy and Mauritius scorpionfish, octopus, pipefish, nudibranchs, boxfish, flying gurnards, seahorses, all levels
Leven Bank: 14-30+ meters (47-100+ feet), shoal in the Pemba Channel 15 kilometers (8 miles) off the northern tip of Unguja (Zanzibar), spiraling whip corals, nudibranchs and macro critters, triggerfish, surgeonfish, angelfish, pufferfish, schooling rainbow runners and jacks, honeycomb moray eels, possible large rays, and sharks, frequently has a strong current, advanced level
Kichafi & Haji Reefs: 14 meters (47 feet), two side by side reefs often combined in a single dive, Kichafi has pristine plate, petal and cabbage corals, moray eels within, schooling snappers, spadefish, emperor angelfish, lionfish, moving to Haji lots of soft corals, coral bommies and an arch, octopus, scorpionfish, leaf fish, other macro critters, all levels
Misoli Reef: 30 meters (100 feet), from 10-18 meters (35-60 feet) rich diverse coral reef with a great variety of species, the southeast side has a dropoff to 30 meters (100 feet) with a cave and big groupers, advanced level
Kichwani Wall: 30 meters (100 maximum depth), in the Mnemba Island Marine Conservation Area, steep coral wall with lots of nooks and crannies, leaf fish, nudibranchs, lionfish, porcupine puffers and other macro critters, schools of fusiliers, batfish, snappers, redtooth triggerfish, bluefin jacks, cabbage coral section at 18-30 meters (60-100 feet) with possible turtles or a crocodile fish, possible whitetip and blacktip reef sharks, dolphins, whale shark or humpback whale, experienced level
Zanzibar Photos
With the interesting coral gardens, colorful anemones, sponges, soft corals, and encrusting invertebrates, nudibranchs, crabs, scorpionfish, frogfish, and other macro critters, reef fish, schools of yellow snapper and pelagics, turtles, rays and dolphins, and forests, endemic animals and historical sites on land, as well, there are many excellent photo opportunities.  For information and reviews of dive cameras, click here:
Zanzibar Transportation, Dive Shops, and Lodging
Transportation
There are daily flights from the mainland on several airlines to the large international airport in Zanzibar City.
Several times daily ferry service from Dar es Salaam runs to the pier in the Stone City section of Zanzibar City.
Taxis are available around the island along with dala dala (open-air trucks) and mini-busses.
Cars, bicycles, and scooters are also for rent.  Dhows and speedboats can also be hired for private boat trips.
Dive Shops & Lodging
There are at least 26 dive shops, a number of which are affiliated with resorts, that operate on Unguja (Zanzibar) Island.  They are in operation year-round and offer a full range of services including equipment rental, dive courses, guiding, and boat dive cruises.
There are at least 405 accommodations of every level available around the island from $4 to $804 per night.  The website linked below is a good source for the available options and can arrange a booking.  The most convenient accommodations for diving are on the northern half of the island.
You can easily find the locations on the map provided on this site.  Their rates are the lowest and it is free to cancel or change dates.
Zanzibar Things to Do (aside from scuba diving)
Zanzibar has a unique history and shoreside scenery and natural beauty to match the undersea world.  Here is a list of places and activities to consider:  Old Fort, Zanzibar Butterfly Center, House of Wonders (palace), Beit-el-Sahel (palace), Jozani Forest, various beaches, Kidichi Spice Farms, Nungwi Minarani Aquarium, Spice and Stone Town Tour, Hamani Persian Baths, Chumbe Island Coral Park, Peace Memorial Museum, Anglican Cathedral.  Click on the below videos for a look.
Scuba Diving Trip Insurance
A cushion for emergencies provides peace of mind when on vacation.  I recommend this diving insurance as they have worldwide coverage and provide scuba divers quality insurance and medical assistance service.
Feedback and Comments
I hope you found this post on Zanzibar scuba diving interesting and useful. If you have any questions or ideas, please feel free to share them in the comments section.  I'd love to know of any experience you have diving in Zanzibar.  If there is no comments section directly below, click here:  >>comments<<